06 mars 2015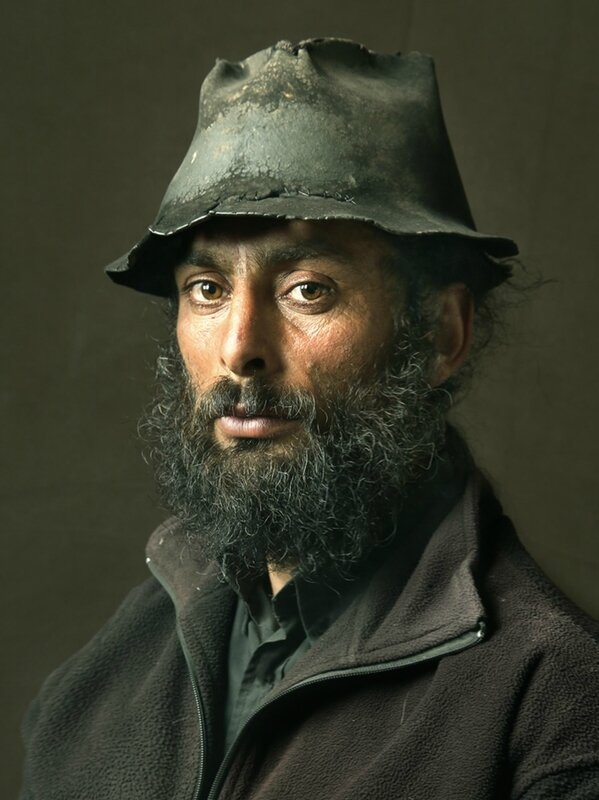 Pierre Gonnord, Anibal 1, 2014.
NEW YORK, NY.- Hasted Kraeutler is pleased to announce The Dream Goes Over the Time, an exhibition of new photographs by French-born, Madrid-based artist Pierre Gonnord (b. 1963), beginning March 5 and running through April 25, 2015.
Working for over a decade as contemporary art's preeminent documentarian of globalization's dark underbelly—insular communities, tribes, and clans that exist almost entirely off the grid, from coal miners and punks to immigrants and gypsies—master portraitist Gonnord's distinctive practice has developed into a lifestyle, taking him on epic journeys through back roads and uncharted terrain in search of characters that live within distinctive social groups, cut off from the rest of civilization.
"People from the ghettos, the outskirts of the city, that flee from a globalized world from which they feel rejected...set out with nothing more than what they have on their back and a dog as their own only travel companion, embarking on a Grand Tour as nomads, with no return ticket, turning their backs on a (certain) world that no longer interests them." - Pierre Gonnord
After investing much careful time and energy with these communities, Gonnord takes their pictures, capturing his protagonists against dark backgrounds from the waist up, in the manner of Old Master painting and portraiture. He frames them as royal subjects: often, they face the camera directly and meet its gaze with searing power. For many, the artist's image is the first and only photograph of them in existence—his archive, therefore, operates as a hallowed sort of a documentary ritual, canonizing peoples and ways of life that are quickly fading from the face of our planet. In a technology-saturated contemporary world that favors self-promotion above all—through selfies, Twitter, Instagram, and innumerable other platforms for networking through social media—Gonnord gives a voice, and a face, to populations that might otherwise risk invisibility and absence from the cyber-pages of history, or even seem not to have existed at all.
The Dream Goes Over The Time, which continues Gonnord's celebration of populations and lifestyles that are in peril, takes its name from a similarly endangered art form: poetry, in this case a poem by renowned Spanish poet Federico García Lorca.The dream goes over time, the poem reads, floating like a sail boat – suggesting at once fragility and resilience. Gonnord's series, fittingly, presenting stark, soaring images of immense strength and beauty. Pictured in poses and positions that are natural to them—mothers cradling their children, elderly women wrapped traditionally in thick black swaths of fabric—the artist's subjects speak both to the personal realm and the collective realm, striking a delicate balance between cultural documentation and individual portraiture. They are never exoticized, but are instead presented as extraordinary, real, and overwhelmingly raw. Similarly, the suite of animal images capture sleek, silvery equines that shimmer in the light. They, too, are part of our world's dwindling biodiversity; they, too, are immortalized by the flash of Gonnord's camera.
Pierre Gonnord has had recent solo exhibitions at such celebrated institutions as the Museo de la Suderurgia y la Minería (Spain, 2014), 21c Museum (Kentucky, USA, 2013), CEART de Fuenlabrada (Spain, 2013), and the SCAD Museum of Art (Georgia, USA, 2013.) His work is in many major public and private collections, including the collections of the Museo Nacional Centro de Arte Reina Sofía in Madrid, the Maison Européenne de la Photographie in Paris, the Centre National des Arts Plastiques in Paris, the Museum of Contemporary Art in Chicago, The Cohen Art Collection in Connecticut, and 21c Museum in Kentucky. Gonnord has had several monographs and catalogs published about his work including Pierre Gonnord: Regards (TF Editores, 2005), Pierre Gonnord (Ediciones Universidad Salamanca, 2008), Pierre Gonnord, Terre De Personne (Lunwerg, 2009), Pierre Gonnord: PHotoBolsillo (La Fábrica, 2012), Pierre Gonnord: Portraits (La Fábrica, 2013), and Pierre Gonnord: The Dream Goes Over Time (La Fábrica, 2014.)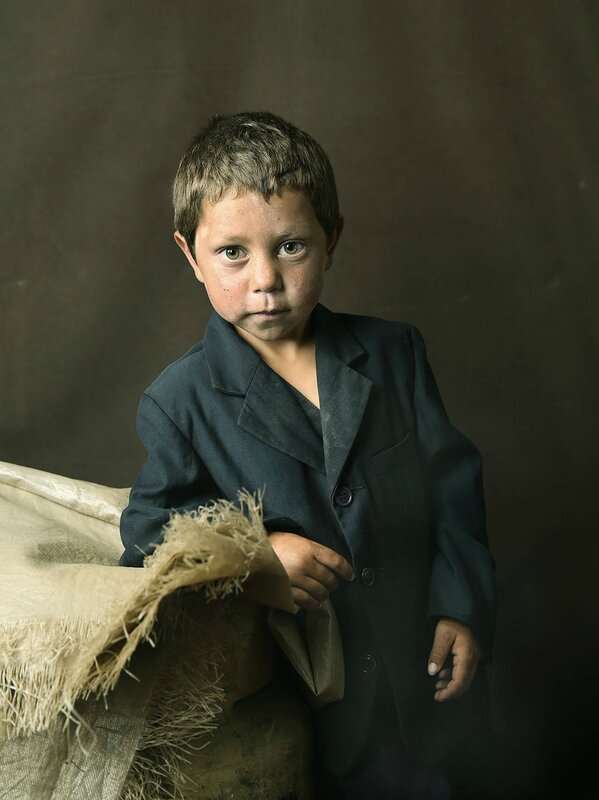 Pierre Gonnord, Rogiero II, 2014.
05 mars 2015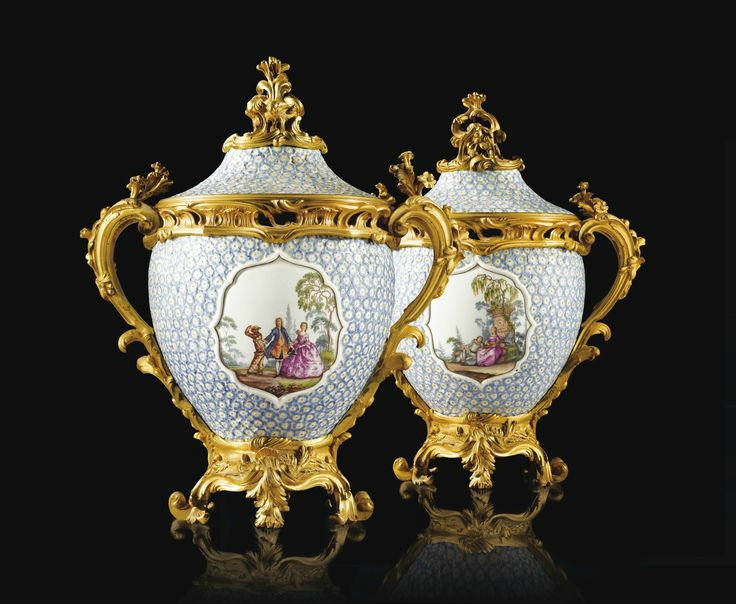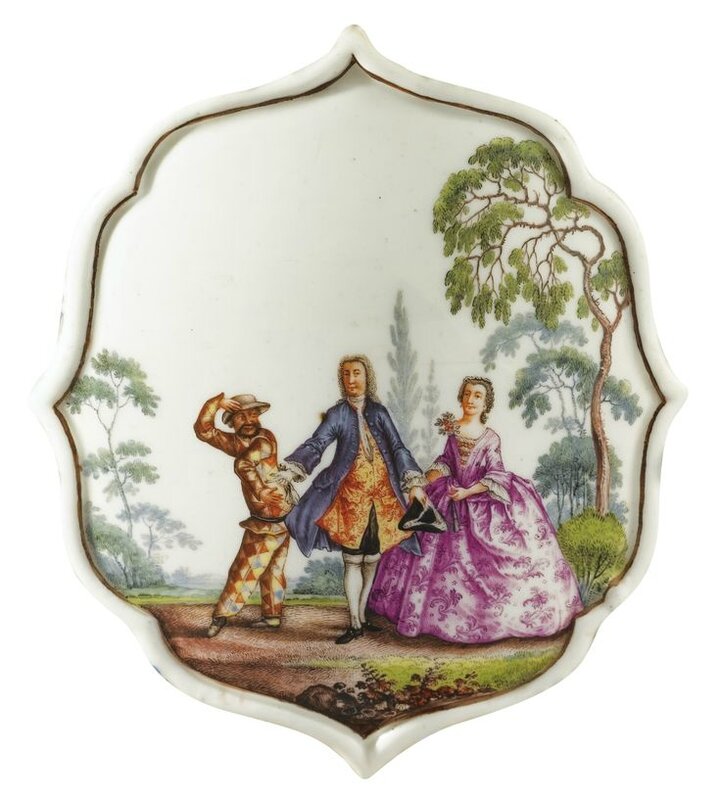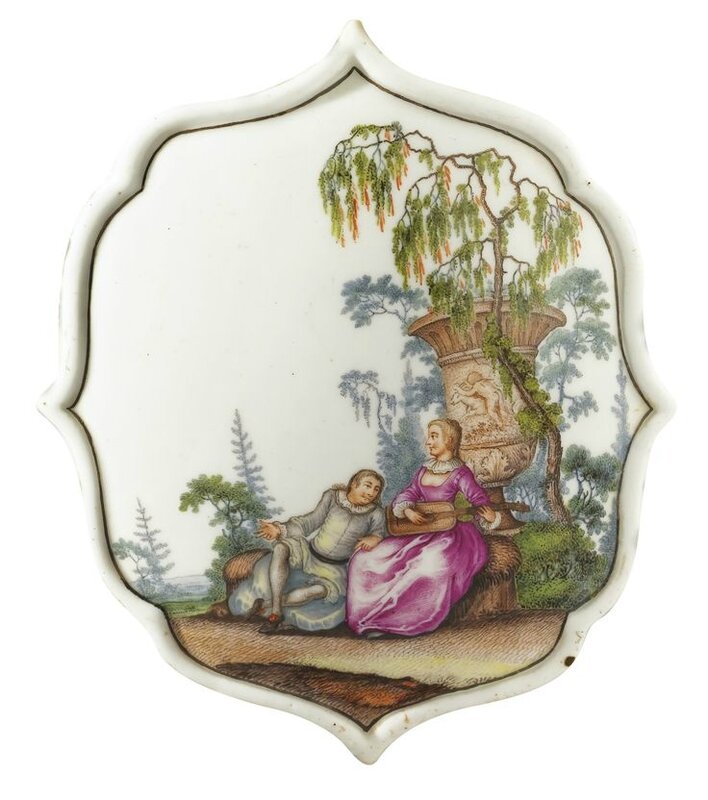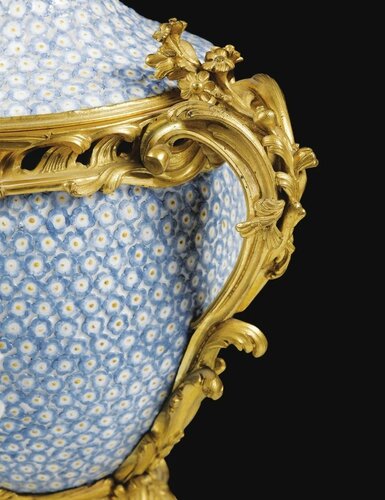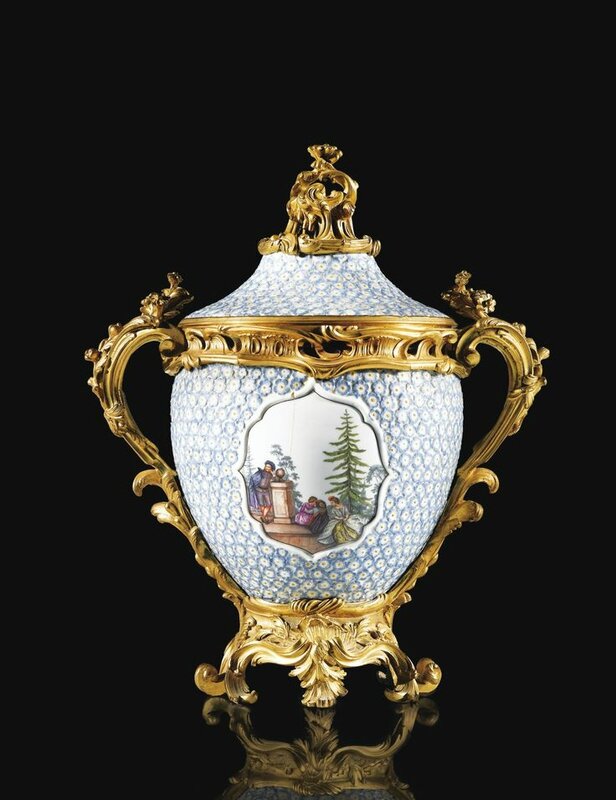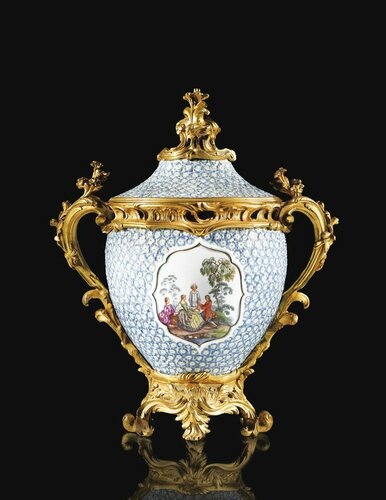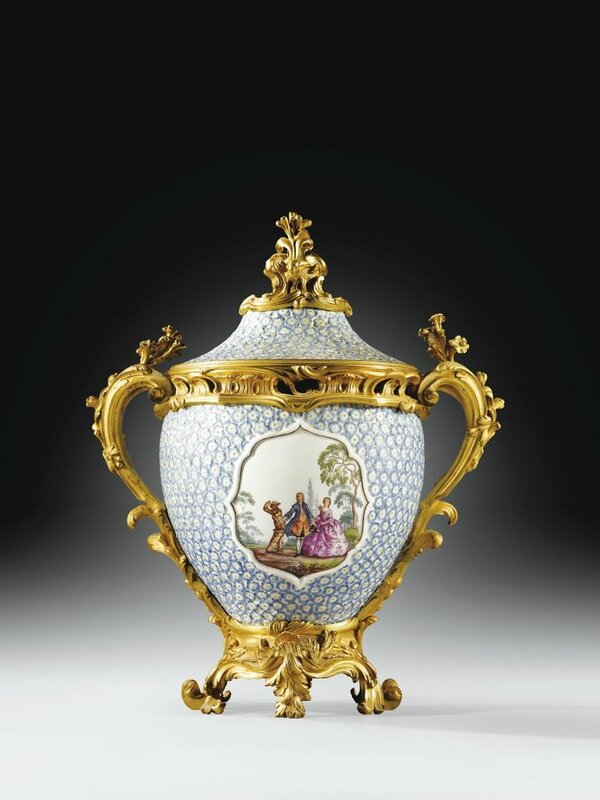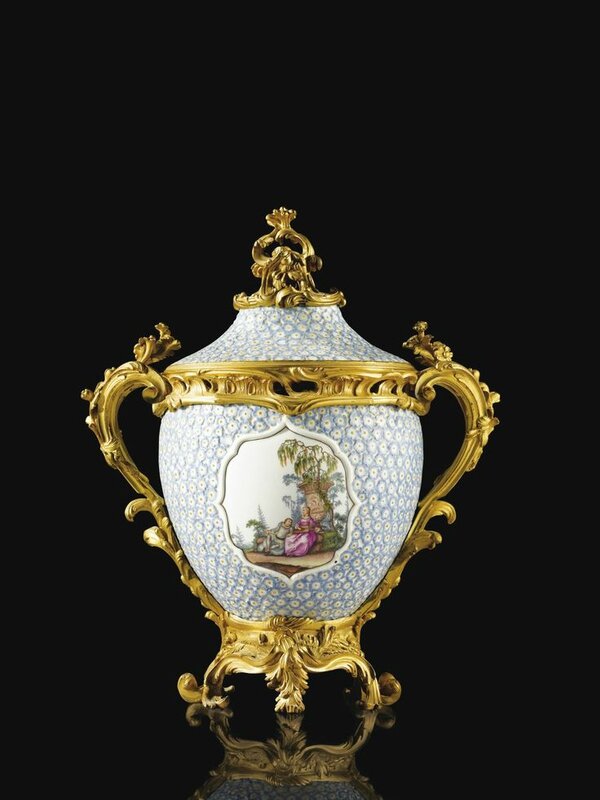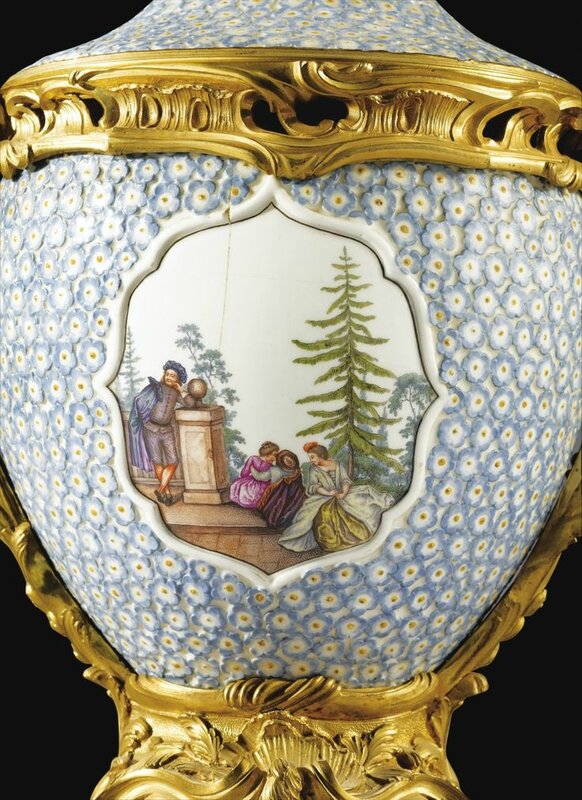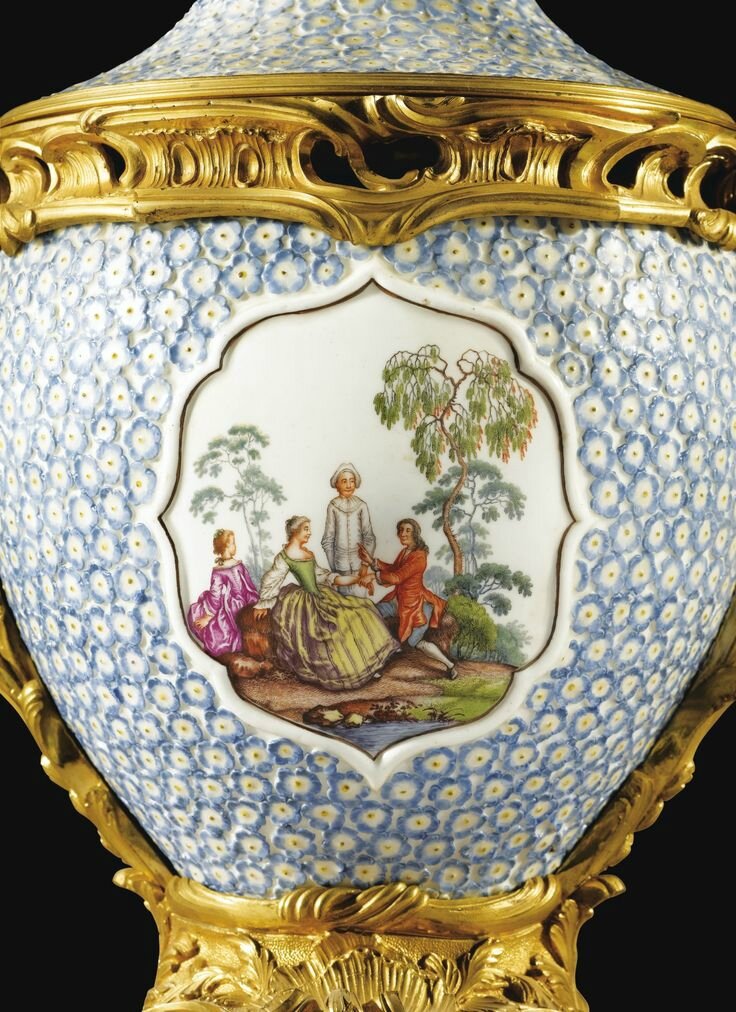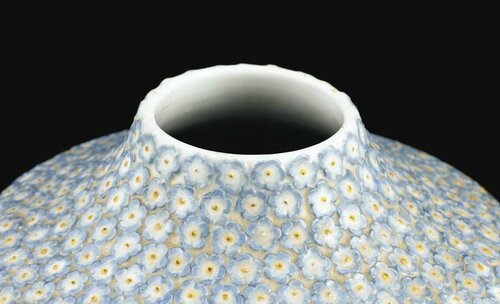 Paire de pots-pourris en porcelaine dure de Meissen "Maiblumen", vers 1748-1752, à monture de bronze doré d'époque Louis XV, attribuée à Jean-Claude Duplessis. Estimation 120,000 — 180,000 EUR. Photo: Sotheby's.
en porcelaine à myosotis en relief, la panse ornée de chaque côté d'un cartouche avec une scène dans le genre de Watteau ; ornementation de bronze doré, anses feuillagées et gorge ajourée ; reposant sur une base ornée de volutes et rinceaux d'acanthe. Quantité: 2. Haut. 40 cm, larg. 31 cm
A PAIR OF GILT-BRONZE MOUNTED MEISSEN PORCELAIN POT-POURRI VASES, THE PORCELAIN CIRCA 1748-1752, THE MOUNTS LOUIS XV ATTRIBUTED TO JEAN-CLAUDE DUPLESSIS. Height 15 3/4 in; width 12 1/4 in.
Provenance: Très certainement la collection du financier Nicolas Beaujon, banquier de la Cour, dans son hôtel particulier, l'hôtel d'Evreux, aujourd'hui le palais de l'Elysée jusqu'en 1787
Vente de la collection de Nicolas Beaujon à Paris, le 25 avril 1787, lot 346
Littérature: S. M. Bennett et C. Sargentson, French Art of the Eighteenth century at the Huntington, 2008, n° 56, pp.160-161
F. J. B. Watson, The Wrightsman Collection, vol. II, New York, 1966, n° 267, A-B, pp. 474-475
P. Hughes, The Wallace Collection Catalogue of Furniture, Londres, 1996, vol. III, n° 278, pp. 1353-1361
Notes: La garniture Beaujon
Nicolas Beaujon (1718-1786), originaire de Bordeaux, receveur des finances de la généralité de Rouen, s'était puissamment enrichi dans des spéculations sur les céréales, suivies de judicieux placements financiers. Les opérations financières menées avec succès par Nicolas Beaujon, lui permirent d'accéder à un poste très important : celui de banquier du Roi et de la Cour en 1770, puis fermier général et conseiller d'État sous Louis XV.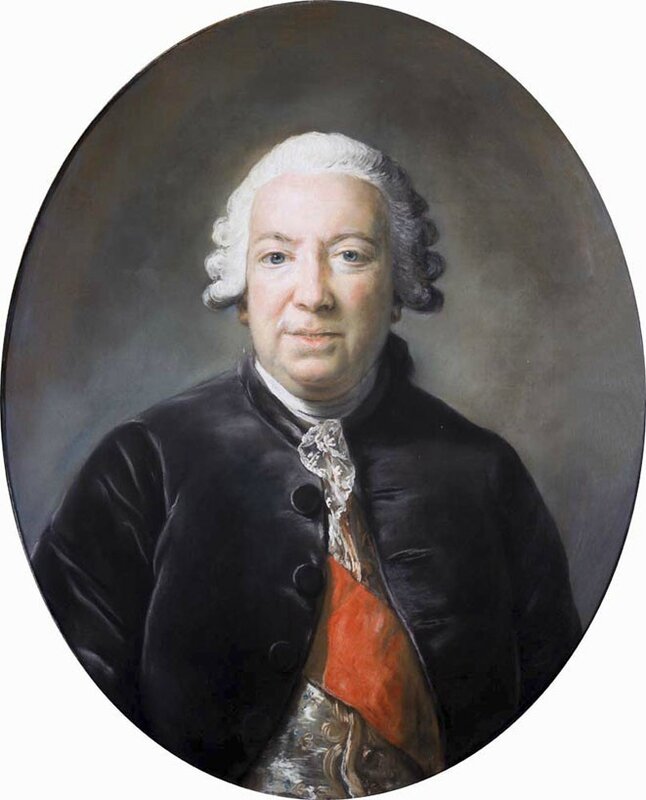 Elisabeth Vigée-Le Brun, Portrait de Nicolas Beaujon.
En 1773, Beaujon achète l'hôtel d'Évreux (actuel palais de l'Élysée) qu'il fait transformer par l'architecte Étienne-Louis Boullée. La collection réunie par Nicolas Beaujon à l'hôtel d'Évreux suscitait l'admiration de ses contemporains qui énuméraient les peintures de maîtres, les bronzes dorés et les porcelaines qui ornaient ses appartements. Beaujon avait réuni une collection de porcelaines d'une incroyable variété de formes et de couleurs qui produisaient un effet des plus élégants dans ses intérieurs : Japon, Chine, Sèvres et Saxe.
Un vase, vendu à Paris, palais Galliera le 20 juin 1968, lot 2, puis identifié par Patrick Leperlier dans la collection Riahi (vente Christie's New York, le 2 novembre 2000, lot 16) comme étant celui de la collection du financier Beaujon, est mentionné dans sa vente le 25 avril 1787 :
345- Un vase à petites fleurs bleu de relief, à cartouches à miniature, orné de gorge, anses et pied en bronze doré. Hauteur 15 pouces 6 lignes (soit environ 40 cm).
Le lot suivant décrit une paire de pots-pourris (vases rond et gorge à jour) :
346- Deux vases ronds, aussi à fleurs (bleu de relief) et miniature, garnis de bouton, gorge à jour, anses & pied à ornements en bronze doré.
L'ensemble, formant une garniture de trois vases, est vendu au marchand Boileau pour 242 livres.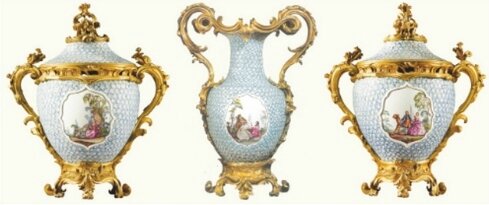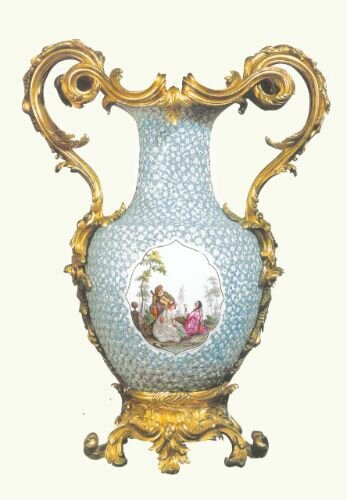 La garniture Beaujon reconstituée avec la paire de pots-pourris Dillée et le vase de la collection Riahi.
Les porcelaines de Meissen Maïblumen à cartouches « Watteau »
Ce type de porcelaine à fond de myosotis en relief et cartouches d'après des compositions de Watteau est relativement rare comme le souligne F. J. Watson (op. cit.). Il semblerait d'ailleurs que certaines formes de porcelaines aient été réalisées uniquement pour être montées, comme les vases Huntington ou les couvercles de nos pots-pourris qui n'ont pas été coupés pour adapter leur monture.
Des pièces à mettre en rapport sont conservées dans les plus grandes collections :
- une paire d'aiguières, collection Wallace, Londres
- une garniture de garniture de trois vases au Victoria & Albert Museum, Londres (comprenant un seul pot-pourri, plus petit, ce qui exclut la provenance Beaujon)
- une paire de vases, collection Huntington en Californie, inv. 27.25 et 26
- une paire de pots-pourris, collection Wrightsman conservée au Metropolitan Museum
- une paire de pots-pourris, Cleveland Museum of art, fonds J. H. Wade, inv. 44.229 et 230
- le pot-pourri à bouquet vendu à Paris, étude Fraysse et Associés, le 9 avril 2014, lot 153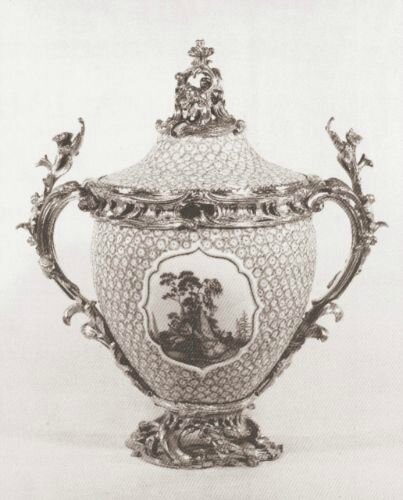 Pot-pourri, d'une paire, musée de Cleveland.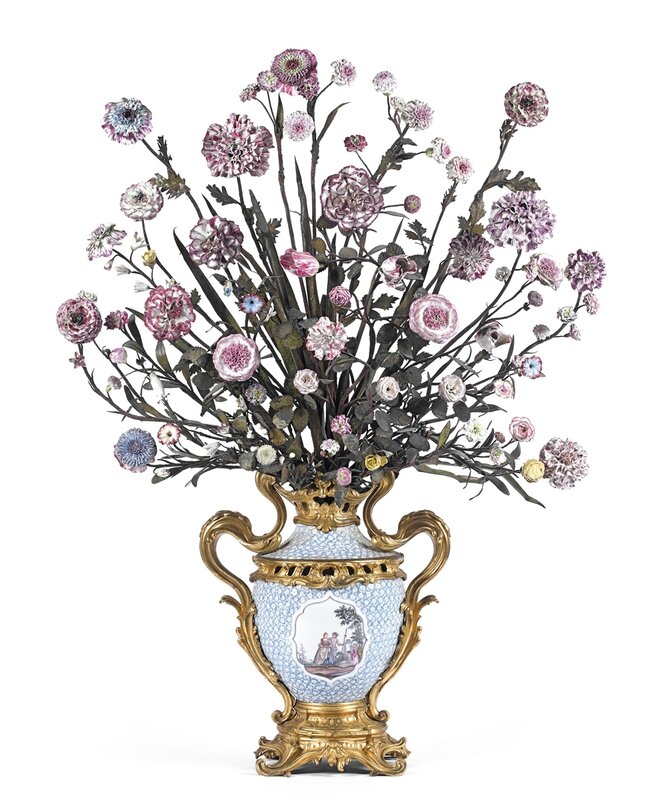 Pot-pourri, vente Fraysse Paris, 9 avril 2014, lot 153.
Pot-pourri, d'une paire, Metropolitan museum, NY
Les quatre cartouches animés de personnages sont directement inspirés de gravures réalisées d'après Watteau et Nicolas Lancret qui reprennent entièrement ou partiellement des compositions des artistes comme "Pour garder l'honneur d'une belle ", "La récreation italienne", "Le glorieux".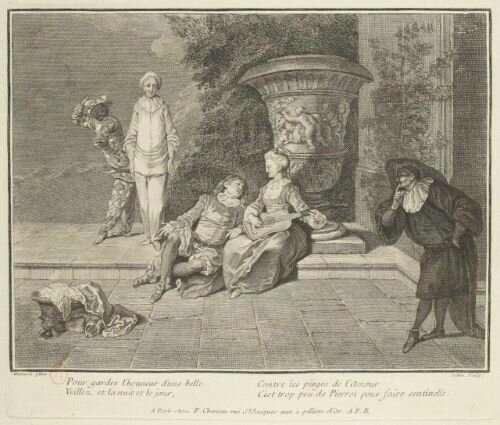 Gravure d'après Watteau
La marquise de Pompadour a possédé des porcelaines de Meissen de ce type montées en bronze doré comme l'atteste le Livre-Journal de Lazare Duvaux qui lui vend le 1er septembre 1750 « Un pot-pourri de Saxe peints de sujets de Watteau, garni en bronze doré d'or moulu pour 120 livres » suivi en juin 1752 pour la seconde pièce de la bibliothèque du château de Crécy : 1138. « Quatre vases égaux de porcelaine de Saxe à fleurs de relief, avec des cartouches de miniatures, montés en bronze doré d'or moulu, à 475 livres, 1900 livres- Un autre vase, même porcelaine, 520 livres ».
Comme nous l'avons évoqué, ce type de porcelaine était principalement destiné à être monté en bronze doré, certainement sous l'impulsion d'un marchand-mercier comme l'avance C. Sargentson, cette hypothèse étant confirmée par les mentions dans le Livre Journal de Lazare Duvaux. Ce marchand-mercier collaborait avec le bronzier Jean-Claude Duplessis (1695-1774) qui pourrait être l'auteur de la monture. En effet « Le marquis [d'Argenson] achetoit furtout chez Duvaux de la porcelaine Céladon garnie de pieds & d montures de bronze doré ; Plus fouvent, poffeffeur de pièces de choix, il chargeoit Duvaux de les monter. Celui-ci le mit en rapport avec le célèbre modeleur Dupleffis, qui, attaché à la manufacture de sèvres, a donné fon nom à une forme de faves et d'affiettes ».
Au-delà de ce lien entre Duvaux et Duplessis, plusieurs pièces citées possèdent les mêmes caractéristiques stylistiques elles-mêmes souvent rattachées au bronzier à travers le vase Duplessis (voir L. H. Roth, French Eighteenth-Century Porcelain at the Wadsworth Atheneum, 2000, n° 59, pp. 103-108).
Sotheby's. Les Dillée : Une dynastie d'experts et de collectionneurs, Paris, 18 mars 2015, 04:00 PM
A molded and enameled porcelain 'dragon and phoenix' snuff bottle, Jiaqing mark and of the period. Estimate US$ 2,000 - 3,000 (€1,800 - 2,700). Photo Bonhams.
Of elongated, tapering ovoid form rising to its waisted neck beneath a flat lip, molded on one side with a three-clawed dragon chasing a flaming pearl and a phoenix turning in flight in pursuit of a beribboned ruyi scepter, amidst dense clouds and formalized flames, framed between bands of ruyi-head above the splayed foot ring and key-fret patterns on the neck; covered all over with turquoise-blue enamels except for the foot pad with traces of gilt; the recessed base incised with the four-character mark in seal script. 2 1/2in (6.4cm) high
Provenance: Asiantiques, 13 January 1995
Notes: Compare two other closely related bottles from the Mary and George Bloch collection, illustrated by Moss, Graham and Tsang, A Treasury of Chinese Snuff Bottles: The Mary and George Bloch Collection, Vol.6, Arts of the Fire, Hong Kong, 2008, pp.460-463, no. 1206, 1207, and sold in these rooms, 23 November 2010, lot 96 and 25 May 2011, lot 96. See also a third example from the collection of Denis S. K. Low, illustrated by Denis S.K. Low, More Treasures from The Sanctum of Enlightened Respect, Hong Kong, 2002, p.197, pl.182.

It is clear that monochrome glazes of varying colors were used to imitate various raw materials such as cinnabar lacquer, lapis lazuli and turquoise matrix. However, early examples of ceramic bottles imitating turquoise matrix dated to the Qianlong period are usually subtly enameled with black lines. By the Jiaqing period, molded porcelain bottles in monochrome colors with dragon and phoenix design were prevalent wedding gifts for the extended Imperial family.
Bonhams. CHINESE SNUFF BOTTLES FROM THE COLLECTION OF BARBARA AND MARVIN DICKER, 16 Mar 2015 10:00 EDT - NEW YORK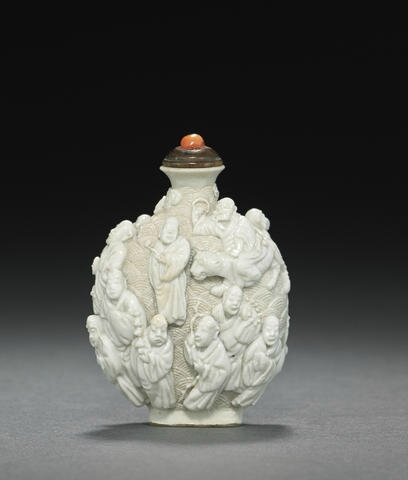 A porcelain snuff bottle with eighteen luohan, Jiaqing period. Estimate US$ 2,000 - 3,000 (€1,800 - 2,700). Photo Bonhams.
Of compressed spherical form with a thin neck, flat lip, tall oval foot ring, molded with a continuous design of the Eighteen Luohan, some with an animal or attribute, a dragon descending from clouds near the neck, the scene picked out on a ground of dense waves; all surfaces except for the foot pad covered with white glaze. 2 3/8in (6cm) high
Provenance: Robert Kleiner, Palm Beach Convention, 30 October 1997
Notes: See similar examples molded with luohan illustrated by Bob C. Stevens, The Collector's Book of Snuff Bottles, no. 278. A cream-glazed example in the Victoria and Albert Museum is illustrated by H. White, Snuff Bottles from China, pl. 115, no. 3.

Luohan (the term is the standard abbreviated Chinese transcription of the Sanskrit arhat) are disciples of Buddha who have transcended the cycle of birth, death, and rebirth and are honored by all beings in heaven and on earth. Their numbers can run into the thousands, but certain groups became established over the centuries, including a group of five hundred of Hindu origin. A standard group of eighteen was well established by the Qing dynasty for depiction in art.
Bonhams. CHINESE SNUFF BOTTLES FROM THE COLLECTION OF BARBARA AND MARVIN DICKER, 16 Mar 2015 10:00 EDT - NEW YORK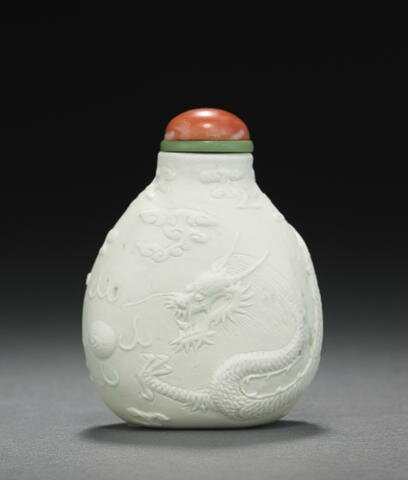 A molded biscuit porcelain snuff bottle, 1820-1880. Estimate US$ 2,000 - 3,000 (€1,800 - 2,700). Photo Bonhams.
Of compressed pear form on a concave foot, short neck, flat rim, carved and molded continuously around the side with a fierce-looking dragon striding through cloud scrolls chasing a flaming pearl, the base incised with a Rongjing Zuo mark in regular script. 2 1/2in (6.4cm) high
Provenance: Hugh Moss Ltd., London, November 1987
Sotheby's, New York, 2 December 1985, lot 6
Paula Hallett
Exhibited: Norton Museum of Art, September-November 1997
Bonhams. CHINESE SNUFF BOTTLES FROM THE COLLECTION OF BARBARA AND MARVIN DICKER, 16 Mar 2015 10:00 EDT - NEW YORK
e
A glazed porcelain snuff bottle carved with figures and landscape, 1820-1860. Estimate US$ 2,500 - 4,000 (€2,300 - 3,600). Photo Bonhams.
The compressed spherical form bottle rising from a concave foot, its cylindrical neck incised with key-fret patterns, the sides well carved with a continuous tranquil landscape with two figures walking across a bridge towards secluded houses nestled in the shades of lush trees along a riverbank, with mountains in distance, covered overall with a thin white enamel. 2 1/8in (5.4cm) high
Provenance: The Asian Art Studio, Inc., acquired August 2011
A. Klein, CA
The Neal W. and Frances R. Hunter collection
Bob C. Stevens
Bonhams. CHINESE SNUFF BOTTLES FROM THE COLLECTION OF BARBARA AND MARVIN DICKER, 16 Mar 2015 10:00 EDT - NEW YORK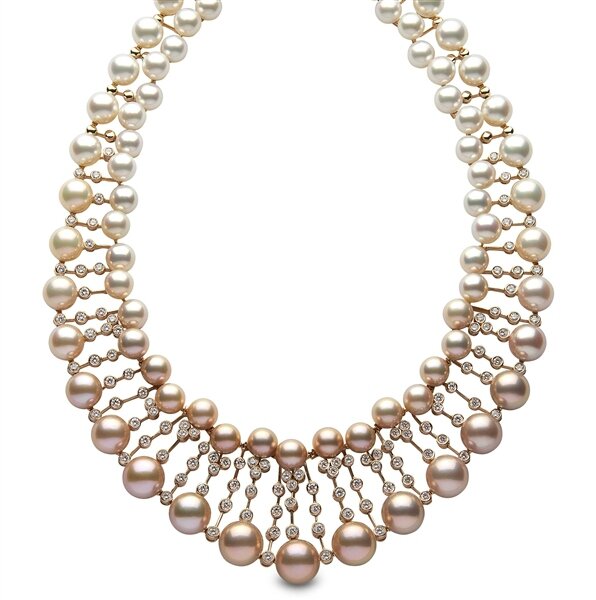 Yoko London. Pink and White Pearl Collar Necklace. 18k rose gold, 9-14mm South Sea and freshwater pearls, 10.88 cts. t.w. diamonds.
An ombre collar pattern is seen on this necklace of white South Sea and pink freshwater pearls, with lines of bezel-set round diamonds spanning the two rows of pearls.
Yoko London. Ombre Pearl Bib Necklace. 18k white gold, 9-14mm South Sea and freshwater pearls, 15.92 cts. t.w. diamonds.
A cascade of twig-like lines accented with diamonds creates this necklace, with an ombre color pattern of white Australian South Sea pearls and pink and Radiant Orchid freshwater pearls.
Yoko London. Pink and Radiant Orchid Pearl Earrings. 18k white gold, 9-14mm South Sea and freshwater pearls, 2.98 cts. t.w. diamonds.
Fluid, branch-like lines dotted with round diamonds accent the white Australian South Sea and pink and Radiant Orchid freshwater pearls featured on these earrings.
Yoko London. Pearl and Diamond Chandelier Earrings. 18k rose gold, 10-14mm South Sea and freshwater pearls, 3.55 cts. t.w. diamonds.
Lines of bezel-set round diamonds lead to the pink freshwater pearls that dangle from these chandelier-style earrings, each with a white South Sea pearl at the top.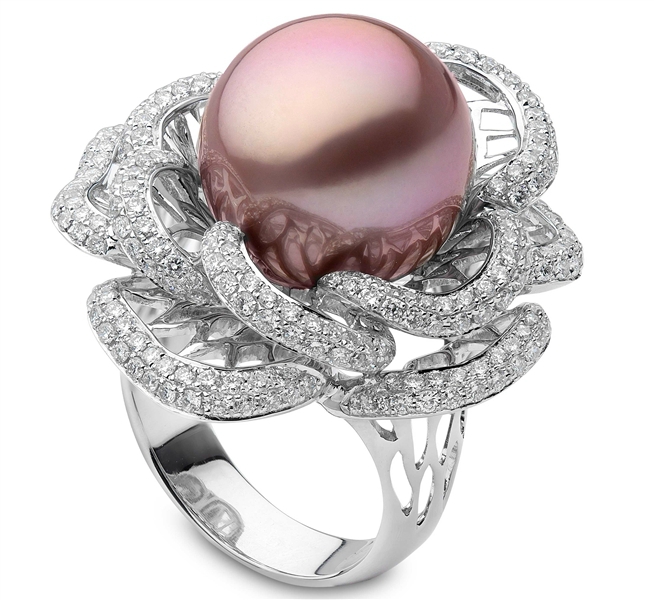 Yoko London. Radiant Orchid Pearl Flower Ring. 18k white gold, 14-15mm freshwater pearl, 1.64 cts. t.w. diamonds.
Diamond-lined petals cradle the Radiant Orchid freshwater pearl at the center of this ring with the design of a flower.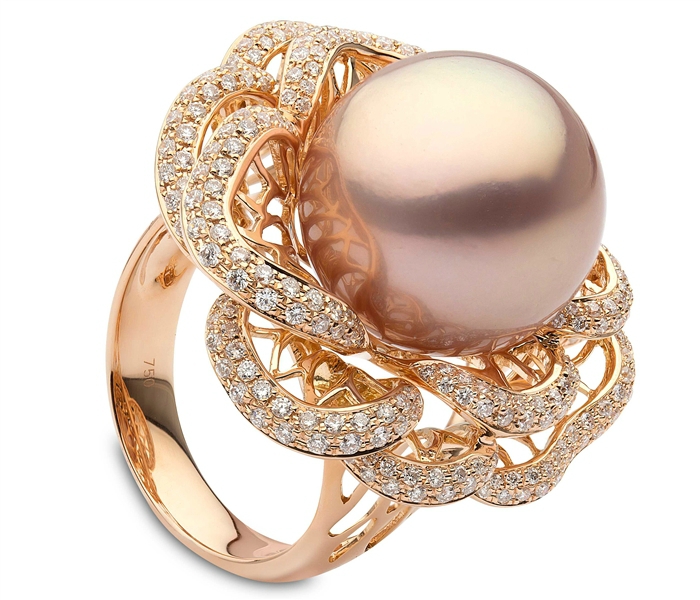 Yoko London. Pink Pearl Flower Ring. 18k rose gold, 15-16mm freshwater pearl, 1.0 cts. t.w. diamonds.
A pink freshwater pearl is nestled at the center of this flower ring, featuring diamond-lined petals.
Yoko London, established in 1973, is one of the world's leading luxury pearl jewellers. Their family-run team travel the globe to source the world's finest pearls, and they boast one of the rarest collections in the world, with many pearls in unique natural colours and exceptional sizes. Their gifted designers and expert craftsmen work together to create pieces which are at the forefront of jewellery trends, combining a contemporary aesthetic, with a timeless elegance. Each pearl is hand-picked for every individual design, and their award-winning creations are intricately tailored to celebrate the captivating beauty of this precious gem. Their dedicated team have been known to spend up to a year locating one pearl, which is perfect in size, colour and quality, to complete a single design.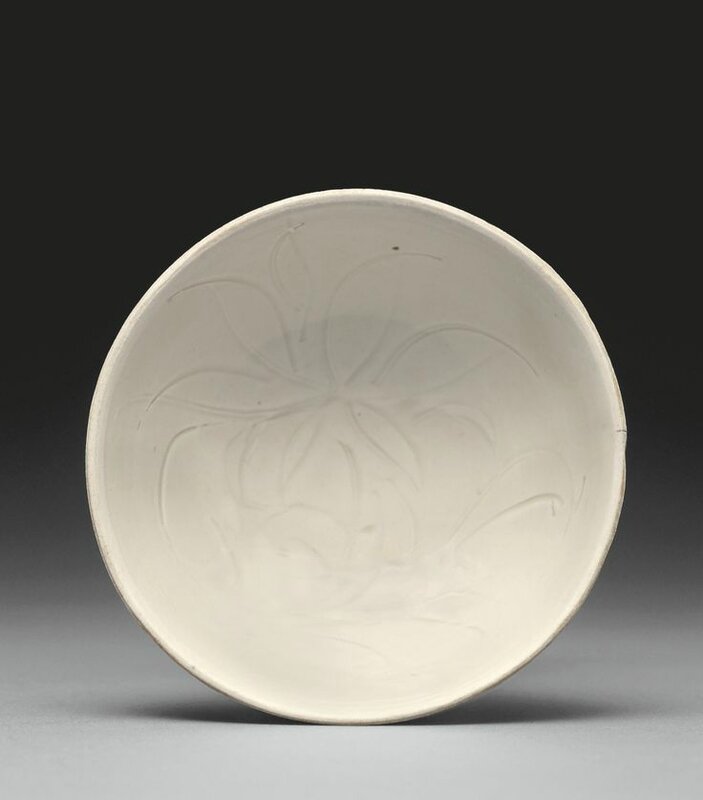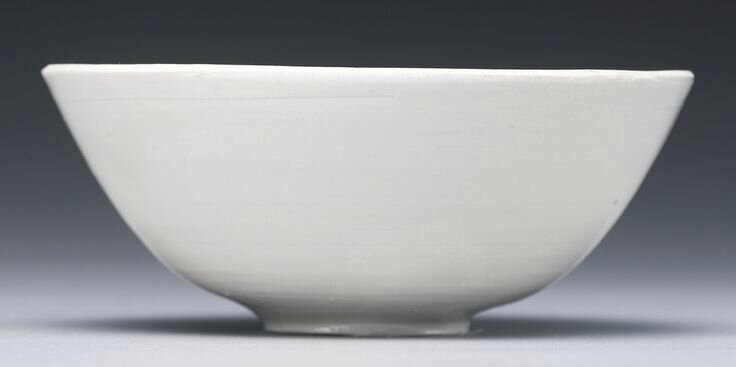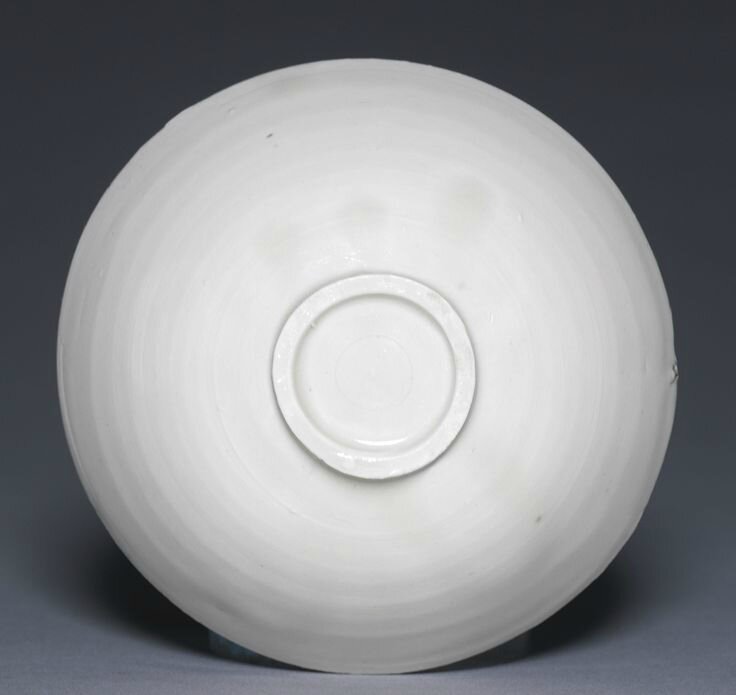 A small carved 'Ding' 'Lotus' bowl, Northern Song dynasty. Estimate 10,000 — 15,000 USD. Photo Sotheby's.
of deep form with rounded sides rising to an unglazed rim, freely carved on the interior with a single lotus spray, covered overall with a creamy ivory-white glaze - Diameter 3 3/4 in., 9.5 cm
Sotheby's. Important Chinese Works of Art New York, 17 mars 2015, 02:00 PM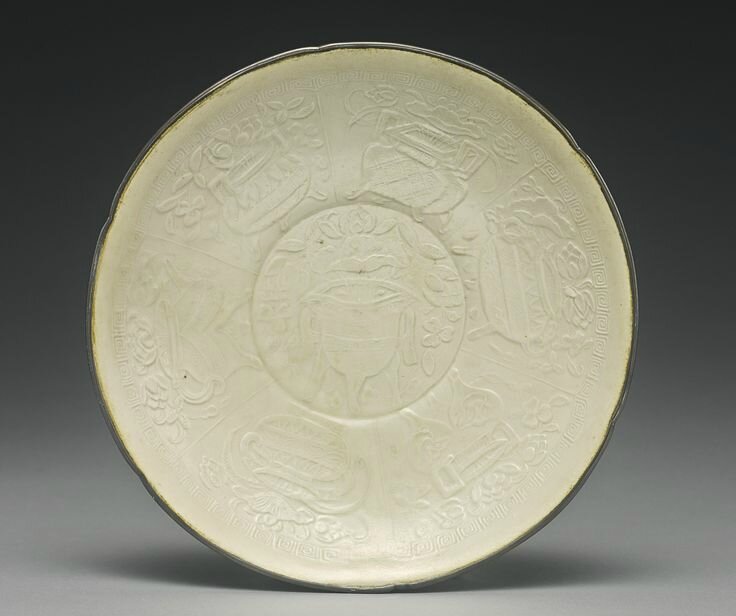 A molded 'Ding' dish, Northern Song dynasty. Estimate 10,000 — 15,000 USD. Photo Sotheby's.
the shallow rounded sides rising from a short foot to a hexalobed rim, molded on the interior with a central medallion of a bronze vessel displaying flowers and surrounded by six further panels of similar design, a band of ruyi borders below the rim, covered overall with a creamy white glaze with characteristic teardrop streaks running down the exterior, metal bound rim - Diameter 7 7/8 in., 20 cm
Property from the Bai Ma Xuan Collection
Notes: See a related Ding bowl with a similar design, in the collection of the National Palace Museum, Taipei, illustrated in Decorated Porcelains of Dingzhou, Taipei, 2014, p. 226, pl. II-157.
Sotheby's. Important Chinese Works of Art New York, 17 mars 2015, 02:00 PM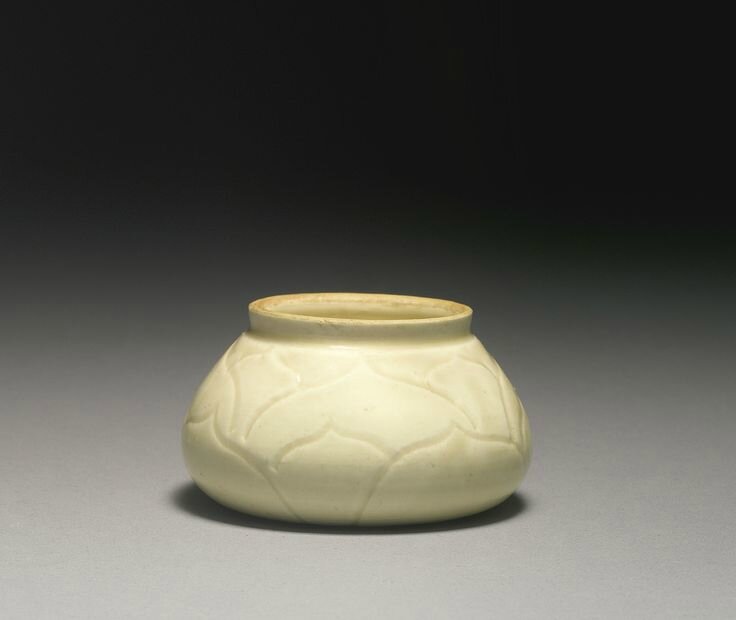 A 'Ding' waterpot, Song dynasty. Estimate 10,000 — 15,000 USD. Photo Sotheby's.
the small jar, in the form of a lotus bud and surmounted by a straight short neck, carved around the sides with an undulating line suggesting overlapping lotus petals, covered inside and out with a ivory glaze tinged with green - Height 1 7/8 in., 4.7 cm
Property from the Bai Ma Xuan Collection
Sotheby's. Important Chinese Works of Art New York, 17 mars 2015, 02:00 PM