04 mars 2015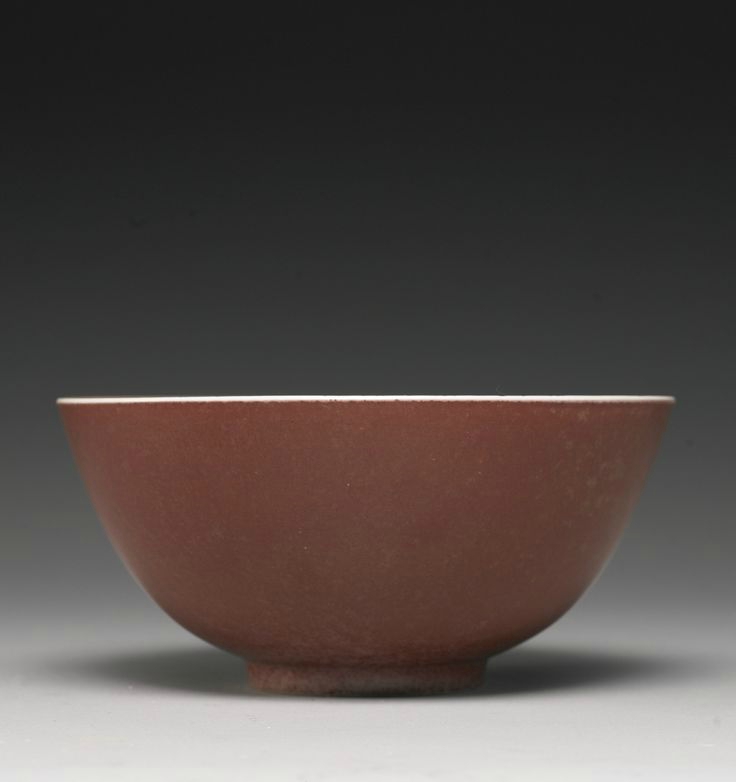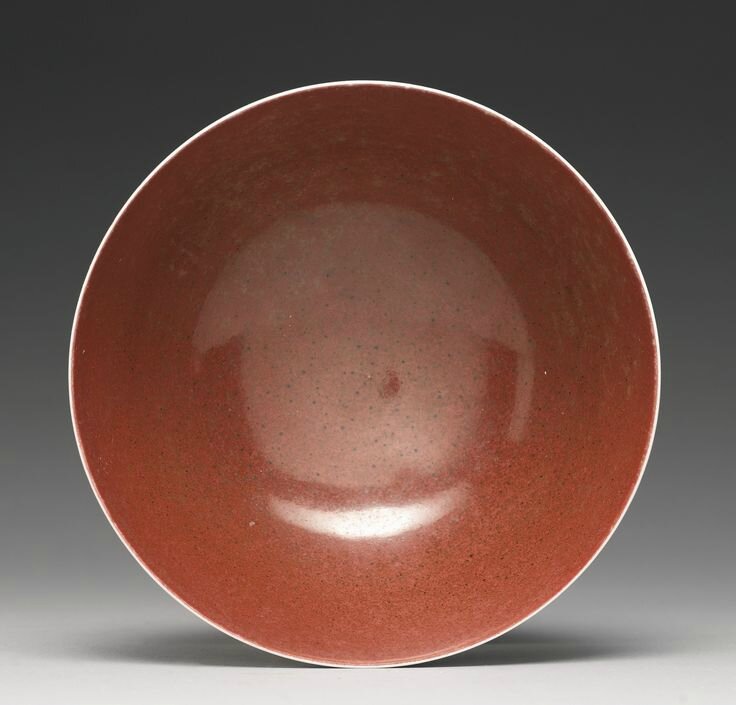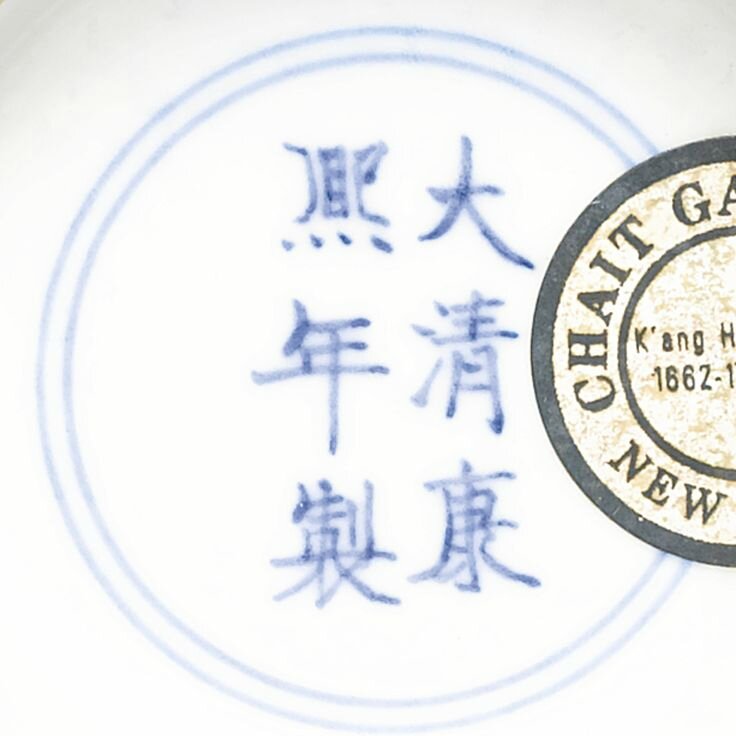 A peachbloom-glazed bowl, Kangxi mark and period. Estimate 15,000 — 20,000 USD. Photo Sotheby's.
he steeply rounded sides supported on a slightly tapered foot, the exterior covered with a rich copper-red glaze characteristically mottled and speckled with flecks of dark green, the interior glazed white and the countersunk base bearing a six-character mark in underglaze blue within a double circle - Diameter 7 1/4 in., 18 cm
Provenance: Ralph M. Chait Galleries, Inc., New York, 1980s.
Sotheby's. Important Chinese Works of Art New York, 17 mars 2015, 02:00 PM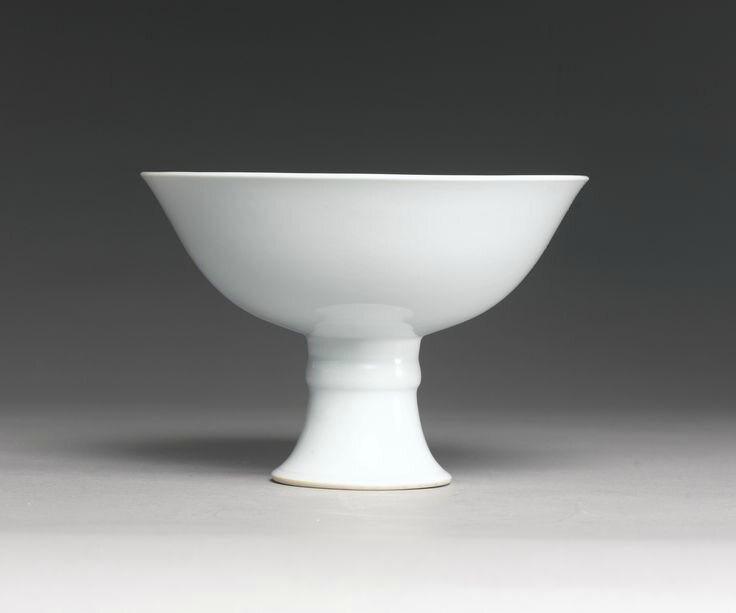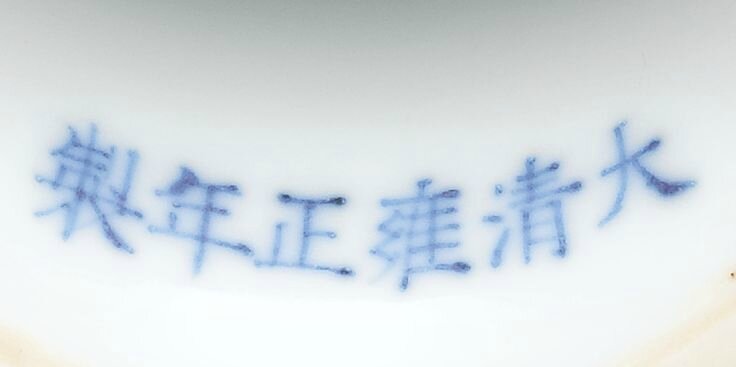 A fine and rare white-glazed anhua-decorated stembowl, Yongzheng mark and period. Estimate 30,000 — 0,000 USD. Photo Sotheby's.
the rounded sides flaring towards the rim, delicately incised on the exterior with the bajixiang (Eight Buddhist Emblems), each tied with ribbons and supported on a stylized leafy lotus bloom, a band of ruyi-heads surrounding the base above the splayed foot incised with further lotus and a band of florets encircling the raised ridge around the midsection, covered overall in a lustrous, even white glaze, the interior of the foot with a six-character reign mark in underglaze blue in a line - Diameter 7 in., 17.8 cm
Provenance: Ralph M. Chait Galleries, Inc., New York, 1980s.
Nots: A similarly incised white stem cup is illustrated in Exhibition of Ch'ing Porcelain from the Wah Kwong Collection, Hong Kong, 1974, no. 51. A closely related example similarly incised but yellow enameled is illustrated by John Ayers, Chinese Ceramics in the Baur Collection, Geneva, 1999, p. 212, no. 315 (A450). Other bajixiang-incised bowls raised on a splayed stem foot are known, such as the one illustrated in Chinese Porcelain - The S.C. Ko Tianminlou Collection, Hong Kong, 1987, pl. 134 (without the raised ridge on the splayed foot); and another formerly from the Greenwald Collection was sold in our Hong Kong rooms 29th October 2001, lot 622 and again Christie's Hong Kong, 1st December 2010, lot 2821.
Sotheby's. Important Chinese Works of Art New York, 17 mars 2015, 02:00 PM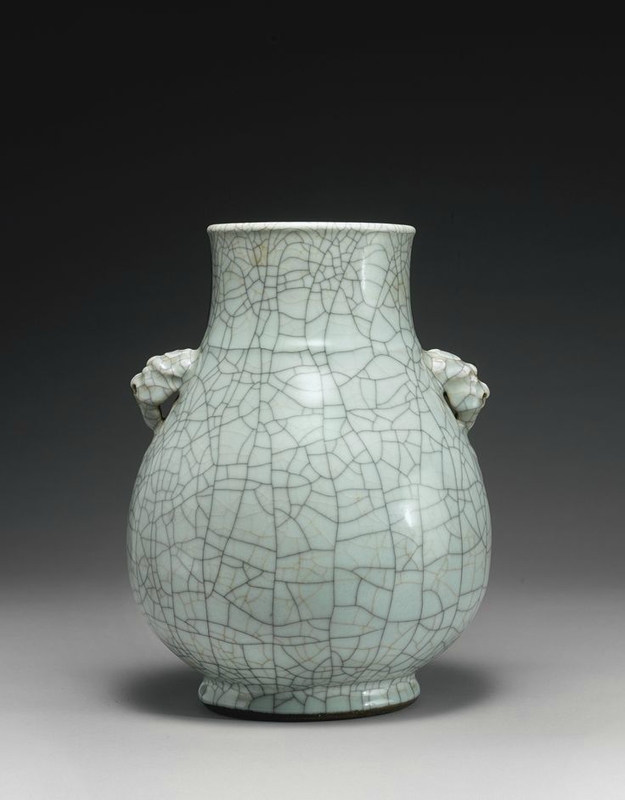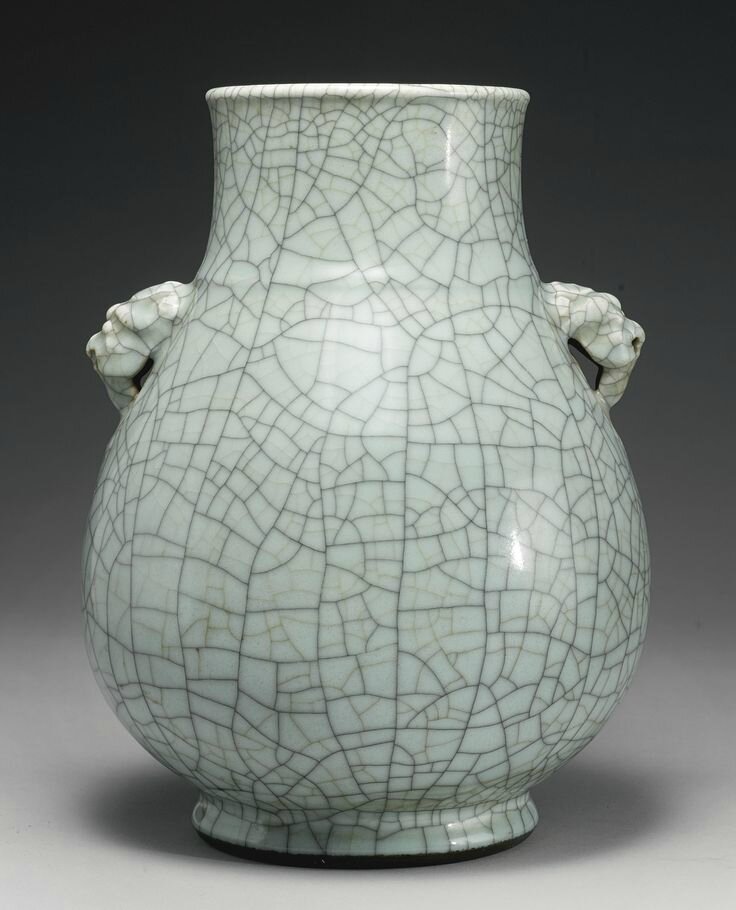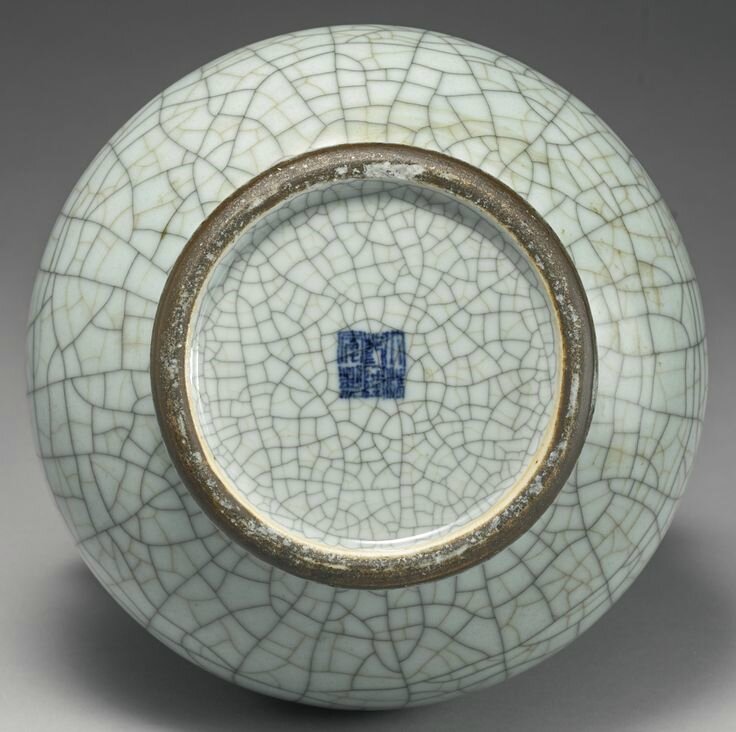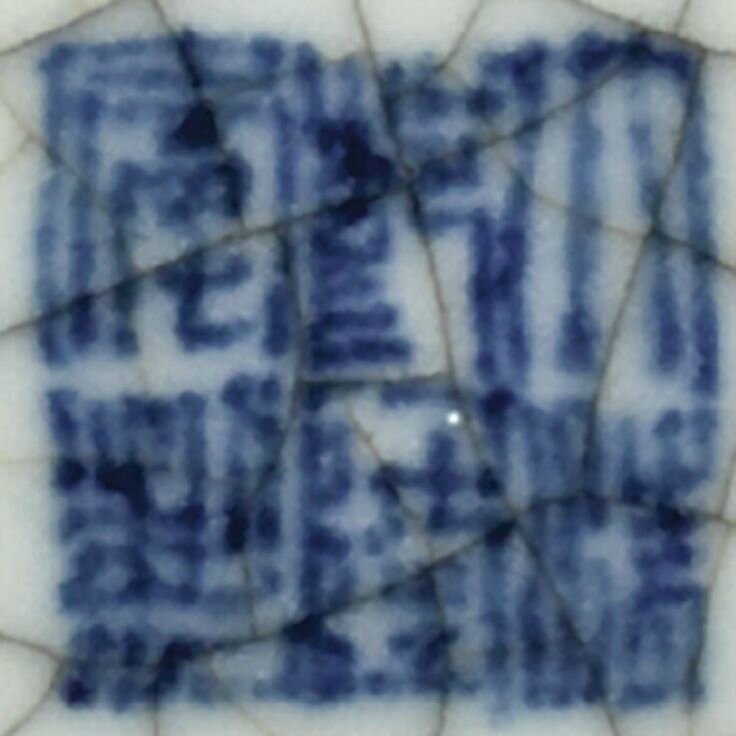 A rare guan-type vase, hu, Qianlong seal mark and period. Estimate 70,000 — 90,000 USD. Photo Sotheby's.
of archaistic hu form, the ovoid body tapering to a waisted flared neck, set to either side with a lion-head-form loop handle at the shoulder, applied overall in a thick pale bluish-gray glaze suffused with a bold network of steel gray and pale gold crackles stopping at the unglazed footring dressed in a dark brown wash in imitation of Song dynasty guan ware, a six-character seal mark in underglaze blue - Height 11 3/4 in., 30 cm
Provenance: Yamanaka & Company, New York, 1943.
Henry Dourif (1881-1967) Huntington, West Virginia and thence by descent.
Exhibition: Yamanaka & Company, Collection of Chinese and Other Far Eastern Art, (in liquidation under the supervision of the Alien Property Custodian of the U.S), New York, 1943, cat. no. 1237.
Yamanaka & Company Catalogue, 1943
Nots: The crisply molded lion-form loop handles on the present piece are striking and appear to be a unique feature varying from the usual shallow applied lion-mask handles with pendent rings or the rarer elephant-head loop handles. The bold feature is a charming 18th century innovation on a vase that in both form and glaze references two well-known early accomplishments of Chinese art: the iconic hu form derived from the great bronzes of the Shang dynasty and the rich crackled glaze of the famed Guan wares of the Southern Song dynasty. The official or Guan ware was produced for the court in the capital, Hangzhou in Zhejiang province. Laohudong in southern Hangzhou appears to have been the most important Guan kiln creating wares with an attractive crackled glaze, a version of which is seen on the present piece. The crackle was purposefully made utilizing refined technical skill to calibrate a cooling rate for the wares that would produce the different layers of fissures and allow them to be filled with two to three different colors. The present piece with its two tones references the jinsi tiexian (gold thread and iron wire).
Such a pointed allusion to the past served to both pay homage to the past while simultaneously noting the technical achievements of the present. Archaism enjoyed a major revival during the height of the Qing dynasty under the Yongzheng and Qianlong emperors. The combination of a precious glaze and ancient form suggests a deep appreciation and respect for the past, together with the want for its preservation.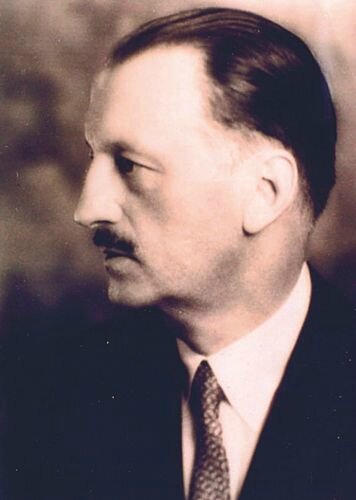 Harry Dourif (1881-1967)
Henri Dourif, co-founder of Standard Ultramarine and Color Company in Huntington, West Virginia, was born in France on April 15, 1881. He graduated from École Centrale in 1904 with the degree of Ingénieur des Arts et Manufactures and then took military training at Nimes. In 1906 he began his industrial career as an engineer with Deschamps Frères, a French company that produced the ultramarine blue pigment. During World War I he was a pilot, promoted to Captain and later awarded the prestigious Croix de Guerre. After the war he returned to the United States and the Standard Ultramarine and Color Company where his talent and dedication helped expand the business earning it a strong international reputation and supplying its products all around the world.
Sotheby's. Important Chinese Works of Art New York, 17 mars 2015, 02:00 PM
Bulgari. Tremblant platinum brooch with yellow and white diamonds (1962). Courtesy of the Fine Arts Museums of San Francisco.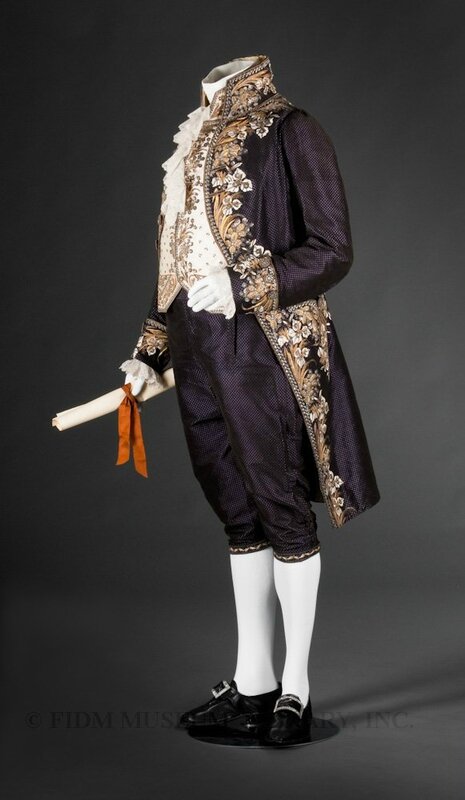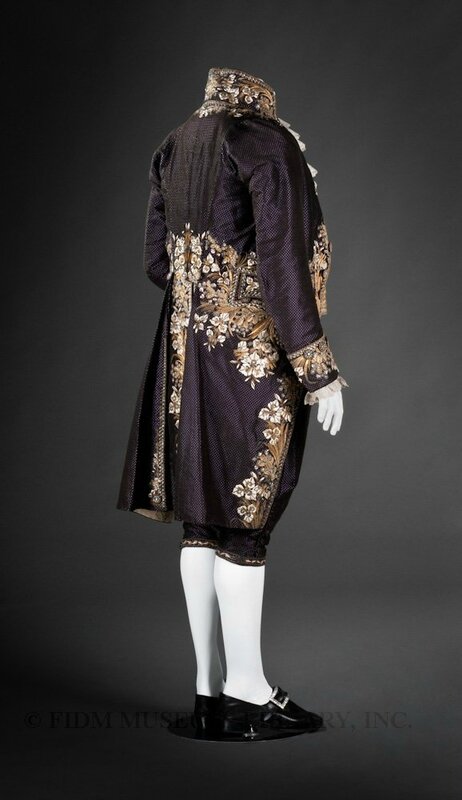 Court suit. Uncut voided silk velvet, silk faille, silk embroidery floss, gold & silver embroidery purl & frieze, rhinestone & metal sequins, c. 1810-14. Paris, France. Gift of Yvonne Hummel. 2008.947.2A-C. FIDM Museum
Austrian composer Johann Hummel (1778-1837) commissioned this court suit for an important performance, possibly at the Congress of Vienna (1814-1815), which was held to reposition the boundaries of Europe after Napoleon's defeat at the Battle of Waterloo. European courts vied with one another for political survival, particularly as Napoleon overthrew ancient monarchies and filled their vacant thrones with his own family members. When paying homage at court, a splendid appearance was de rigueur. By the time he commissioned this suit, Hummel was a successful composer. A contemporary biographer noted: "Having been always very prudent in the management of his affairs, M. Hummel is now in the possession of an independent fortune, such as enables him to keep a carriage, and to live in every respect in the style of the opulent and grand."1
White satin stitch embroidery forms iris motifs, while gold metallic embroidery creates the stems. The buttons are embellished with gold braid and small glass ornaments.
Born in modern day Slovakia, Johann Hummel's family moved to Vienna when they recognized that their child was a musical prodigy. Due to his exceptional talent, Hummel began studying under Mozart when he was only 7 years old. When he was 9, Hummel's family embarked on an extensive European tour. During this four-year tour of European capitols, Hummel honed his composition and performance skills by performing for European royalty, including King George III and the Prince of Orange. Returning to Vienna, Hummel studied with Antonio Salieri and Albrechtsberger. Beethoven, though several years older than Hummel, was a friend and musical rival. Hummel was extremely well-known during his life-time, but his style of classical composition fell out of favor towards the end of his life. His work was almost entirely forgotten until a Hummel score was re-discovered in the late 1950s.
At the time Hummel commissioned this court suit, court dress was increasingly distant from everyday dress. Though lavish, it was an event-specific uniform. By about 1800, luxurious fabrics and heavy embellishment were no longer in fashion for men's suits. Instead, men donned three-piece suits made of sturdy woolen fabrics, with little or no embellishment. Decorative court dress was a remnant of seventeenth and eighteenth century fashions, which favored an equal amount of embellishment for both men and women. In the nineteenth century, excellent tailoring, rather than extraordinary embellishment, would define a fashionable men's suit.
1 "Memoir of Johann Nepomuk Hummel." in The Harmonium, Number XVIII (London: W. Pinrock, June 1824) 104.
(source: FIDM Museum)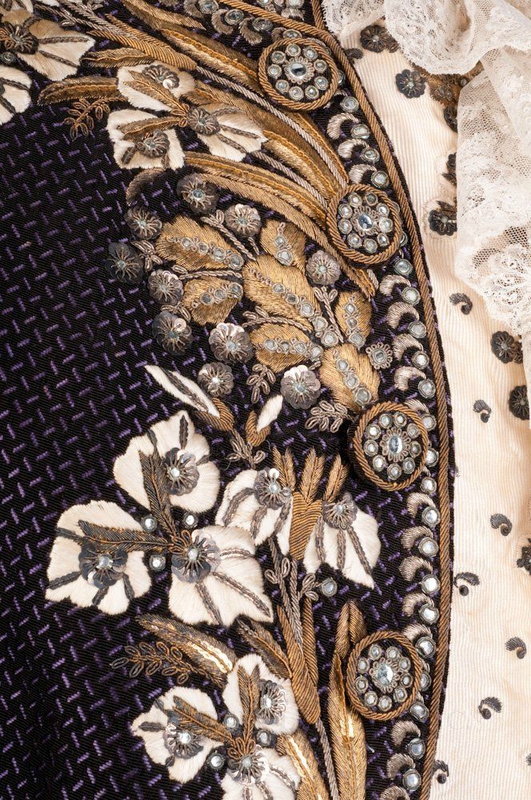 2008.947.2A-C Jacket & vest detail.
2008.947.2A-C Detail showing jacket, vest & breeches.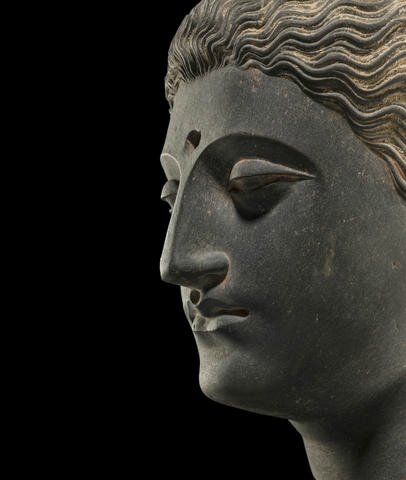 A carved schist head of Buddha, Ancient region of Gandhara, 3rd-4th century. Estimate US$ 50,000 - 80,000 (€45,000 - 72,000).

Photo: Bonhams.
New York - A carved schist head of Buddha from the ancient region of Gandhara, dating to the 3rd or 4th century A.D., is one of the highlights of the Indian, Himalayan and Southeast Asian auction at Bonhams New York on on March 16. The sculpture is an exceptional example of its kind and is estimated at $50,000-80,000.
The smooth, polished surface bears an arresting expression of Buddha's serene enlightenment. The Greco-Roman legacy of Gandharan sculpture and its evolution towards abstraction co-exist seamlessly in the naturalistic curves and the crisp ridges among his features. Gathered into a bun and secured by a fine beaded chain, his rippling hair emanates like rays of resplendent light.
The Gandharan head is accompanied by a letter, dated 2 January 1971, from American diplomat Carl Winberg to the owner's parents. In the document, Winberg, who served in India, Indonesia, Burma and Pakistan, writes of giving the work as a gift.
Mark Rasmussen, Specialist in Indian, Himalayan and Southeast Asian Art at Bonhams, said: 'The market for Gandharan sculpture is stronger than ever and continues to rise, with an unprecedented demand from new and old collectors and institutions throughout the Americas, Europe, South Asia and East Asia. The superior modelling and condition of this head makes it one of the finest examples to appear at auction in recent years, and certainly the finest example of Gandharan sculpture offered at auction this Asia Week.'
The auction will begin at 4 pm.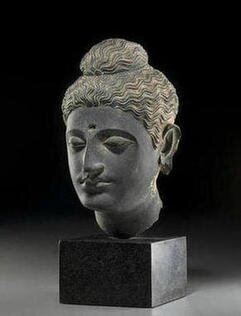 A carved schist head of Buddha, Ancient region of Gandhara, 3rd-4th century. Estimate US$ 50,000 - 80,000 (€45,000 - 72,000). Photo: Bonhams.
With smooth stylized features and thick rippling locks over the ushnisha secured by a chain and disc pendant. 11 3/4 in. (29.7 cm) high
Notes: Capturing a sense of serene interiority, the present lot is a superior example of its kind. Gandharan sculpture's Greco-Roman legacy and its evolution towards abstraction are seamlessly juxtaposed with the naturalistic curves of his nasal sidewall, nostrils, dimples, and chin, and the crisp ridges defining his lips, philtrum, eyelids, and eyebrows.

His locks emanate like rays of a resplendent light, secured by a fine beaded chain with a semi-circular central medallion that appears across a number of seated images of Preaching Buddha held in The British Museum (see Zwalf, A Catalogue of the Gandhara Sculpture in the British Museum, vol. II, London, 1996, pp. 19, 22 & 23, nos 20, 24 & 26).

A letter dated January 2nd, 1971 from Carl Winberg to the current owner's parents notes the bestowal of the head and explains the history of Taxila. Winberg was an America diplomat, Foreign Service officer, and agricultural attaché. He served in India, Indonesia, Burma, Pakistan, The Congo, Australia and Bangladesh, before retiring in 1977.
Provenance: Carl O. Winberg, before 1971
Gift to the current owner's parents by the above
Private Collection
Bonhams. INDIAN, HIMALAYAN & SOUTHEAST ASIAN ART, 16 Mar 2015 16:00 EDT - NEW YORK
1900 Benz Ideal 4 1/2 hp. Chassis no. 2727. Engine no. 2604. Estimate €230,000 - 280,000 (£170,000 - 200,0000). Photo: Bonhams.
STUTTGART.- A rare and fully restored 115-year-old Benz Ideal will be the oldest motor car at the single-marque Mercedes-Benz Sale in Stuttgart, Germany, on 28 March. The annual Bonhams auction will this year feature more than 40 lots of collectors' motor cars.
The Benz Ideal was an early development of the groundbreaking combustion-engined motor car: the Vélocipede (commonly known as the 'Velo'). The impressively restored Ideal offered by Bonhams dates back to 1900, and is estimated at €230,000-280,000 (£170,000-200,000).
Introduced in 1898, the Ideal was designed to compete with models produced by the growing number of manufacturers in the car market at the turn of the century, combining a steel chassis with an impressive 4½ horsepower (1899-1901) single-cylinder engine. It is believed to have been sold new in the U.K. through British Benz Agents, Hewetson's Ltd. and still wears its brass supplier's plaque confirming this.
From its very earliest days, the car was registered in Shropshire, UK, and it was there that it was found in the 1950s. Its discoverers, Ralph Wilde and Jack Moor, subsequently restored the car, and it remained in Moor's family for more than 50 years before coming into the present ownership.
Philip Kantor, Bonhams Head of European Motorcars, said: 'A regular entrant and successful finisher on the London to Brighton Veteran Car Run, this definitive Patent Motorwagen is now 115 years old and going strong – a testament to the strong foundations of Mercedes-Benz engineering.'
Bonhams Mercedes-Benz Sale will take place at 14:30 on 28 March in the Mercedes-Benz Museum, Stuttgart, Germany. The Mercedes-Benz Museum charts the entire history of the world's oldest car manufacturer, with a total of 1,500 unique exhibits featured in the museum.
1900 Benz Ideal 4 1/2 hp. Chassis no. 2727. Engine no. 2604. Estimate €230,000 - 280,000 (£170,000 - 200,0000). Photo: Bonhams.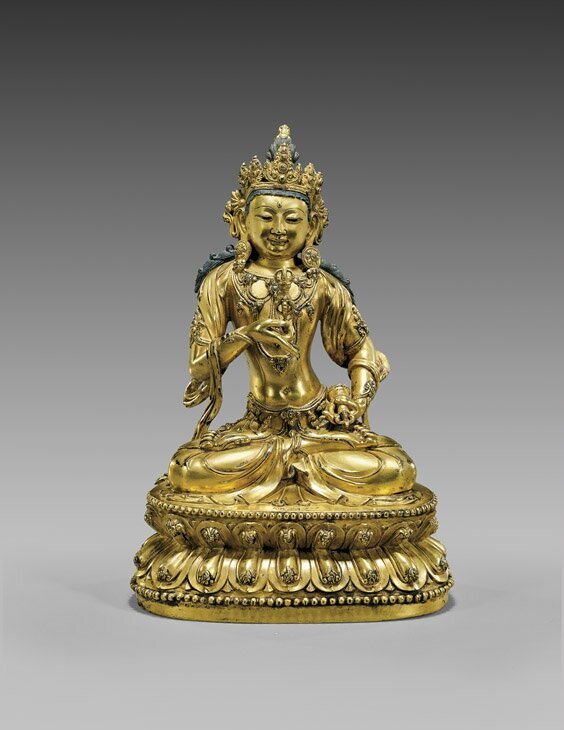 Important gilt bronze Bodhisattva Vajrasattva, Ming Dynasty, Xuande six-character Mark and of the Period. Estimate $400,000-500,000. © I. M. Chait Gallery.

BEVERLY HILLS, Calif. – Asia Week in New York attracts a global contingent of art buyers who travel many thousands of miles – primarily from China – to immerse themselves in a frenzied schedule of specialty shows, exhibitions and other activities around Manhattan. But a new West Coast tradition embraced by Asian art connoisseurs over the past few years literally saves the best for last on their itineraries: I.M. Chait's post-Asia Week auction. This year's event, slated for Sunday, March 22, is timed so collectors can break up their long trip home from New York and bid on superb Asian antiques at the Chait family's comfortable Beverly Hills gallery.
The post-Asia Week auction has become a big hit with international visitors, who enjoy the gracious, red-carpet treatment they receive from the Chait family and staff. This year's auction will follow the same winning formula as in the past. The 488-lot auction includes an exceptional selection of Asian art, jade, ceramics, and bronzes, crowned by a highly important early Chinese Ming Dynasty gilt-bronze figure of a seated Bodhisattva.
A supremely beautiful work of art that was previously held in a private collection, the Bodhisattva figure measures 9 7/8 inches (25.8 cm) high and is incised with a six-character Xuande mark of the period (1426-1435). The artist's fastidious attention to detail is evident in every tiny bead, fold of "cloth" and minute adornment to the deity's crown. I.M. Chait Director of Operations Josh Chait said the figure is expected to reach $500,000-$600,000 at auction, if not more. "It's just that special. It's one of the finest pieces we've ever had the privilege of handling," he said.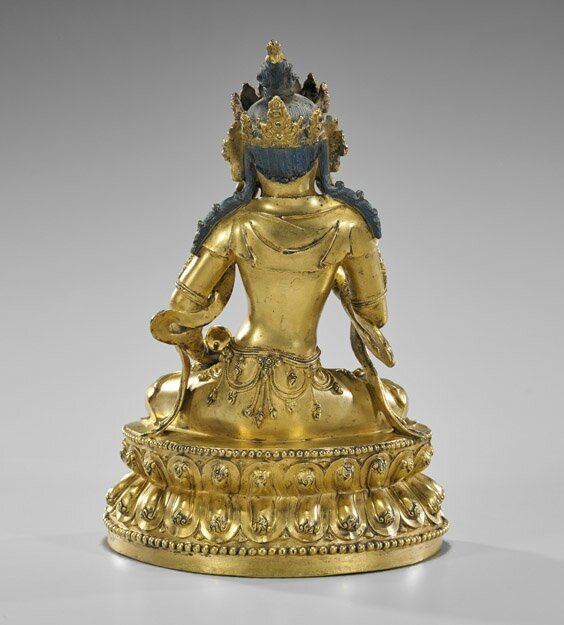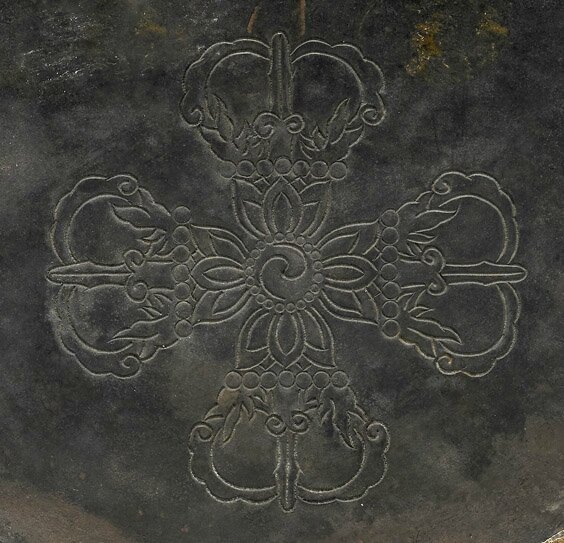 Important gilt bronze Bodhisattva Vajrasattva, Ming Dynasty, Xuande six-character Mark and of the Period. Estimate $400,000-500,000. © I. M. Chait Gallery.
Important Chinese Ming Dynasty, gilt bronze figure; of a seated Vajrasattva, holding up a dorje in his right hand and a bell in his left; wearing an ornate crown and richly adorned in beaded garlands and jewelry; seated in lotus position atop a double lotus base incised with six-character Xuande Mark and of the Period; H: 9 7/8";
Provenance: from a private East Coast collection
The array of exquisite Chinese porcelains is led by a Ming Dynasty Wanli blue and white box of circular form. Its domed cover and sides are profusely decorated with dragons, qilin and other fantastical animals in a continuous pine-tree-dotted landscape. A ruyi-headed cloud motif encircles both the vessel and lid. With a Wanli mark and of the period, the 10¾-inch (dia.) box is entered in the auction with a $50,000-$60,000 estimate.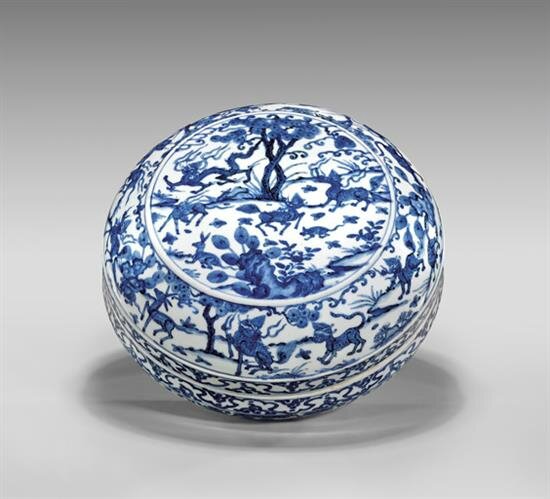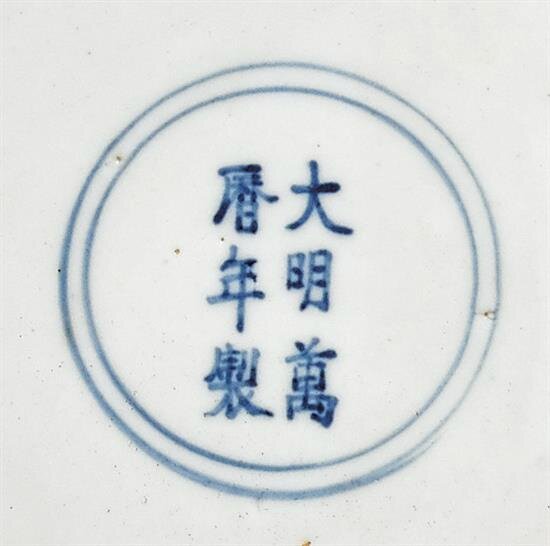 Blue and white porcelain box of circular form, Ming Dynasty, Wanli Mark and of the Period. Estimate $50,000-60,000. © I. M. Chait Gallery.
Superbly detailed and large, Chinese Ming Dynasty, blue and white porcelain box; of circular form, the domed cover and sides with design of dragon, qilin and other fantastical animals in a continuous pine tree dotted landscape, and with ruyi-headed cloud motif border to each rim; Wanli Mark and of the Period; L: 10 3/4"
An antique Chinese jadeite Buddha's hand, is carved to reveal many symbolic details in addition to the main form, including a pomegranate, peaches, lingzhi fungus, and five bats in flight. This very special 19th-century artwork stands 8 1/8 inches tall on an elaborately openwork carved stand. Estimate: $30,000-$35,000.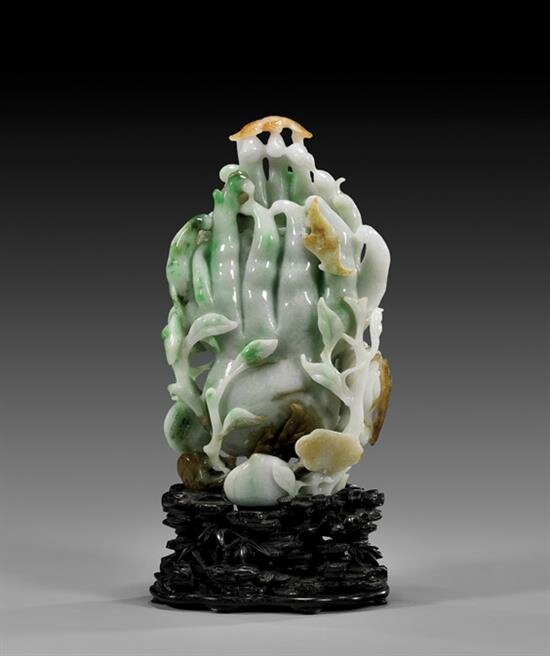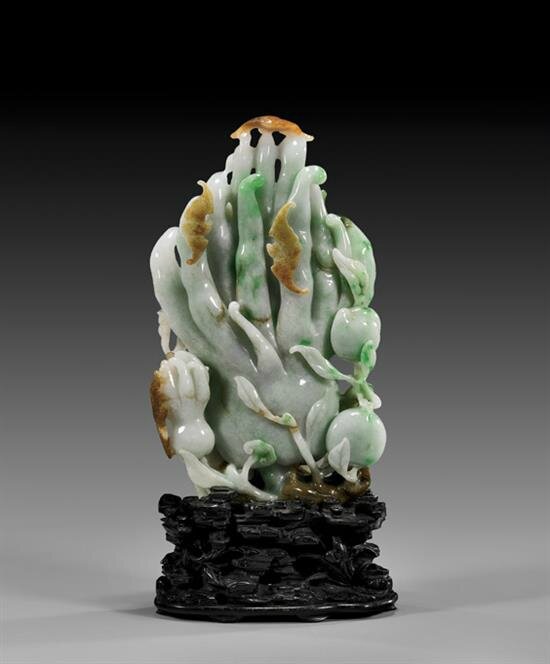 An antique Chinese jadeite Buddha's hand, 19th Century. Estimate $30,000-35,000. © I. M. Chait Gallery.
Important and antique, finely polished Chinese jadeite carving; in the form of a large Buddha's hand citron: with five bats in flight picked out from russet suffusions, together with a smaller citron, peaches, lingzhi fungus and pomegranate borne on a leafy branch; the stone of bright and deep apple green coloration, with some rust color showing; 19th Century; H: 8 1/8"; on original elaborately openwork carved wood stand
Measuring 55½ inches tall, a Chinese Tang Dynasty painted pottery Lokapala in fierce stance is dressed in fine warrior's armor with three-dimensional qilin adornments on the shoulders. The figure stands atop a recumbent lamb that, in turn, lies on a realistic pottery replication of stone. One of several outstanding Tang pottery artworks in the sale, the Lokapala is cataloged and comes with an Oxford TL report. Its pre-auction estimate is $15,000-$20,000.
Lokapala, painted pottery, Tang Dynasty. Estimate $15,000-$20,000. © I. M. Chait Gallery.
Beautifully detailed, Chinese Tang Dynasty painted pottery Lokapala; depicted in a fierce stance, standing atop a recumbent ram, and dressed in fine armor with qilinmotif shoulders; H: 55 1/2"; with Oxford TL Report #C202b59
Also from the Tang Dynasty, is a superbly carved 10-inch white marble model of a guardian lion pinning down and ferociously biting a demon. Presented on a wood pedestal stand, it comes to auction with expectations of reaching $38,000-$42,000.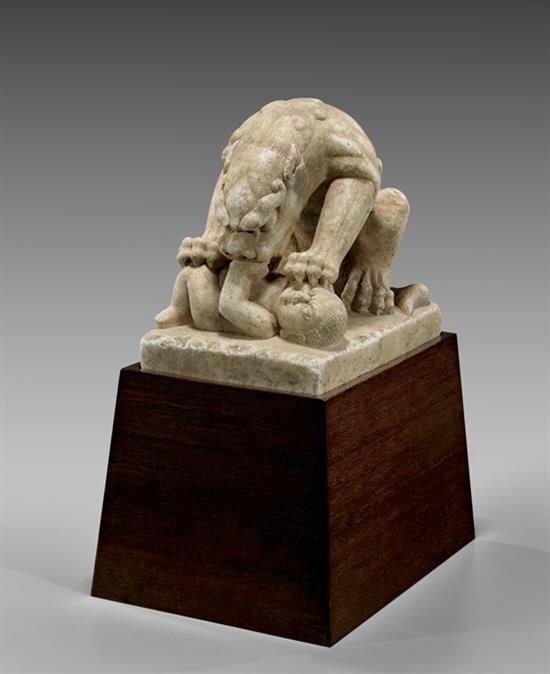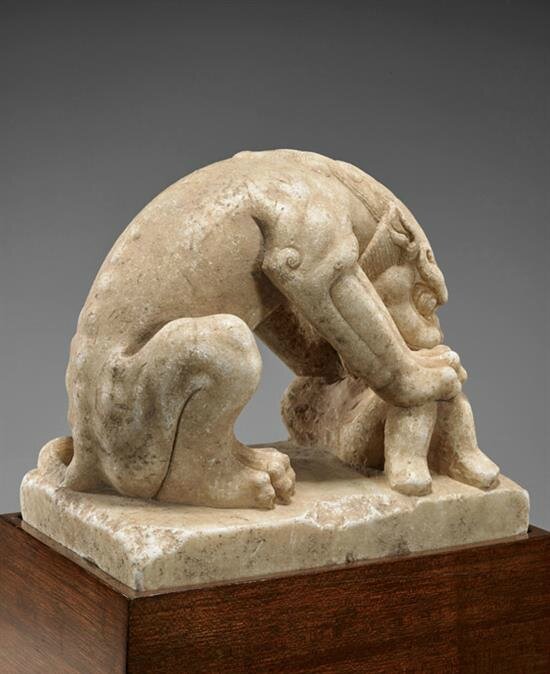 White marble model of a guardian lion, Tang Dynasty. Estimate $38,000-$42,000. © I. M. Chait Gallery.
Superbly carved, Chinese Tang Dynasty white marble model of a guardian lion "quelling" a demon; ferociously pinning him down with its front paws and biting, fine detailing to mane; H: 10", fine wood pedestal stand
A stately nine-post Chinese huanghuali canopy bed with geometrical railings and storage space below is approximately 8ft high. Raised on low feet, this masterpiece of perfectly balanced design and understated sophistication is "for the connoisseur," said Josh Chait. Its presale estimate is $60,000-$80,000.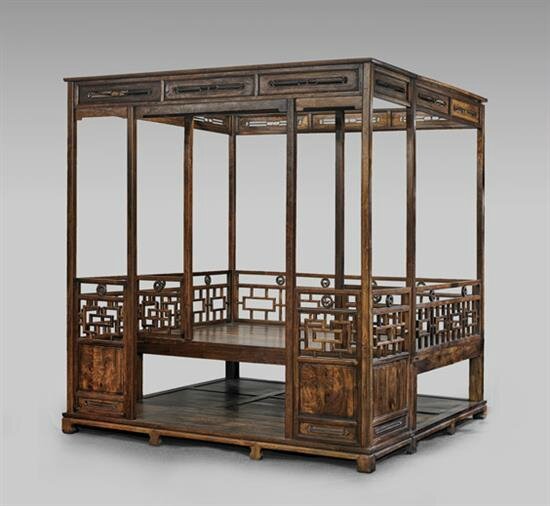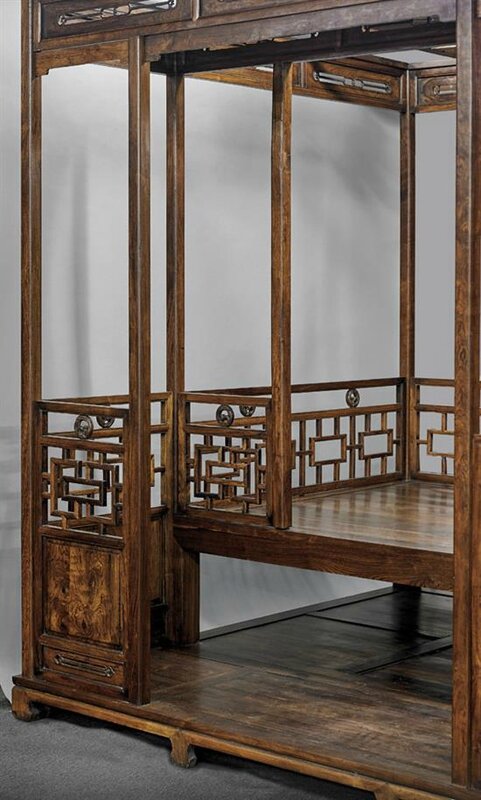 Large Chinese huanghuali wood canopy bed. Estimate $60,000-$80,000. © I. M. Chait Gallery.
Important and large, Chinese huanghuali wood canopy bed; the nine-post squared form with railings of interlocking geometric pattern, with storage space beneath, all raised on low feet; H: 96" (approx.)
In addition to Chinese art and antiques, the auction will include Japanese and Southeast Asian art, and an elite selection of Western estate jewelry. Lot 415 is a magnificent Harry Winston diamond and platinum combination necklace/bracelet with maker's marks for Francois Tavernier. Of graduated floral design with old European-cut centers and marquise-shape "foliage" accented by small-bezel-set rounds, it contains approximately 50.35 carats of diamonds. Its versatile design allows the piece to be worn either as a 16¾-inch necklace or a 6¾-inch bracelet. Its prior sale at Sotheby's (Dec. 5, 2012, Lot #305) adds provenance to the already considerable cachet imparted by the uncompromising Harry Winston name. Estimate: $180,000-$200,000.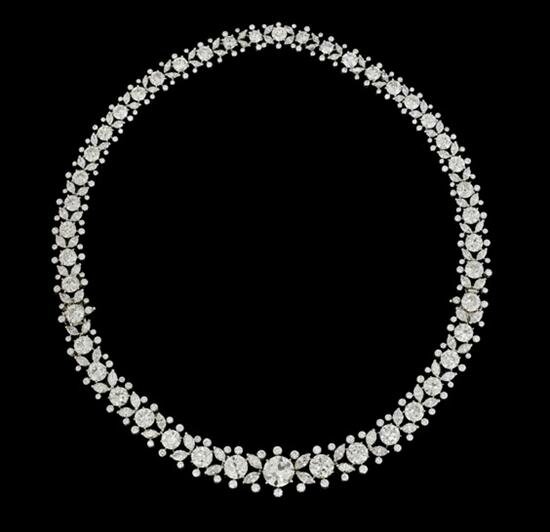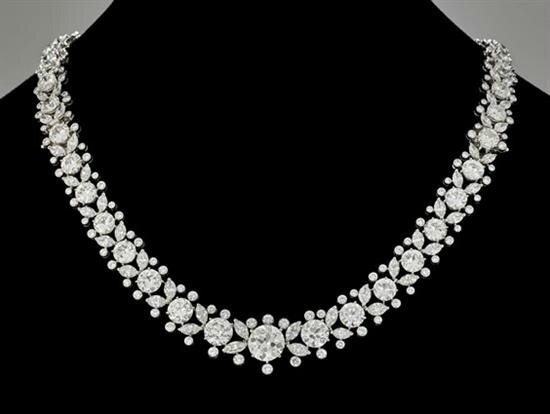 Magnificent Harry Winston diamond and platinum necklace-bracelet combination. Estimate $180,000-$200,000. © I. M. Chait Gallery.
of charming, graduated floral design, comprised of old European-cut centers, with marquise-shape foliage and accented by small bezel-set rounds; cleverly converting for wear as a bracelet; with maker's marks for François Tavernier; diamonds weighing a total of approx. 50.35 Cts.; L: 16 3/4" ( as a necklace); L: 6 3/4" (as a bracelet);
Provenance: Sotheby's, December 5, 2012, Lot #305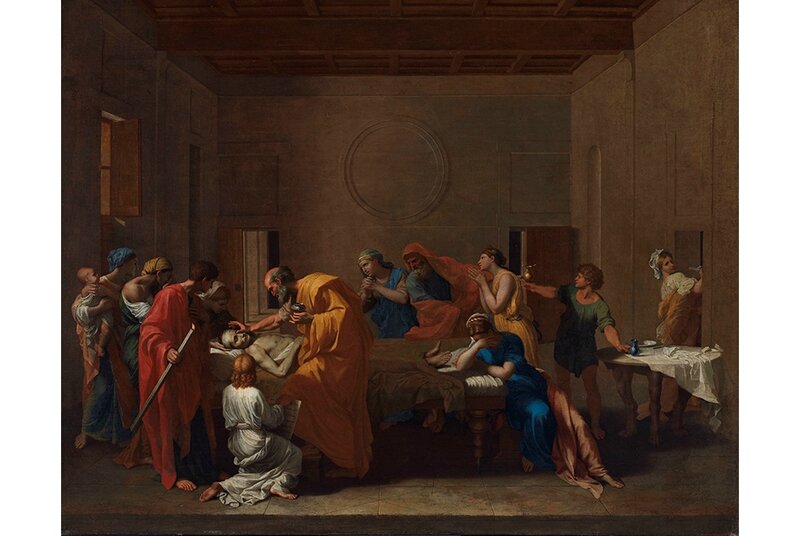 Nicolas Poussin (1594-1665), Sacrament of Extreme Unction, 1638-40. © The Fitzwilliam Museum, University of Cambridge.
LIVERPOOL.- A masterpiece by Nicolas Poussin, one of the greatest artists of the 17th century, will be displayed at the Walker Art Gallery from 6 March to 7 June 2015.
The painting is on tour from the Fitzwilliam Museum in Cambridge, with the Walker Art Gallery providing the only opportunity to see the work in the north of England.
Extreme Unction, or 'final anointing', depicts a powerful and moving scene in which a family gathers at the bedside of a dying man as he is administered his last rites.
Sandra Penketh, Director of Art Galleries, said: "The Walker Art Gallery is delighted to show our visitors this masterpiece. It is one of the most remarkable paintings Poussin ever produced. The picture's composition, detail and its sensitive portrayal of such an intimate moment in life will enthral visitors."
The painting is one of a series known as the Seven Sacraments, seven works depicting the sacraments of the Catholic Church. Poussin (1594-1665) imagined each scene taking place in Ancient Roman times and drew on his extensive study of the art and artefacts of classical antiquity to represent the clothing, setting and structure of the paintings themselves.
Extreme Unction (c. 1638-40) will be displayed alongside two landscape paintings by Poussin from the Walker Art Gallery's own collection: Landscape with Bacchus, Ceres, Nymph and Satyrs (about 1626) and Landscape with the gathering of the ashes of Phocion (1648).
Landscape with Bacchus, Ceres, Nymph and Satyrs was painted shortly after Poussin's arrival in Rome from his native France in the mid 1620s, while Landscape with the gathering of the ashes of Phocion represents the later work for which he is celebrated as the inventor of classical landscape painting.
Xanthe Brooke, Curator of Fine Art (European) said: "Displayed together, the three works span Poussin's entire career and provide a unique insight into the development of this incredibly influential artist's work over the decades. Visitors can also see an intriguing x-ray photograph of Landscape with Bacchus, Ceres, Nymph and Satyrs which reveals how Poussin went about creating his remarkable masterpieces."
Both works from the Gallery's collection came from local collections. Landscape with the gathering of the ashes of Phocion was purchased by the 12th Earl of Derby for Knowsley Hall some time between 1776 and 1782, while Landscape with Bacchus, Ceres, Nymph and Satyrs was in the Liverpool Royal Institution by the mid 1840s.
The Seven Sacraments was commissioned by the renowned collector and scholar Cassiano dal Pozzo and hung in his palace in Rome. However, the set is of particular importance to the UK as it has long been in British collections.
In 1785, the series was sold for £2,000 to Charles Manners, 4th Duke of Rutland, and brought to England. Shortly after, they were publicly exhibited at the Royal Academy of Arts in London. King George III was among those who visited, accompanied by the painter Sir Joshua Reynolds.
The series is no longer complete. Penance was destroyed by fire in 1816, Baptism was sold around 1939 and is now in the National Gallery of Art, Washington, and Ordination was sold in 2011 to the Kimbell Art Museum, Fort Worth, Texas.
The Walker Art Gallery display will also feature a black and white lithographic print titled Landscape, After Poussin by present-day artist and writer Alexander Adams, who was inspired by Landscape with the gathering of the Ashes of Phocion to create this variant copy in 1994.
The Adams print also demonstrates how Poussin continues to influence and attract modern-day and 20th century artists, who have included Cézanne, Picasso and the contemporary English artist Bridget Riley.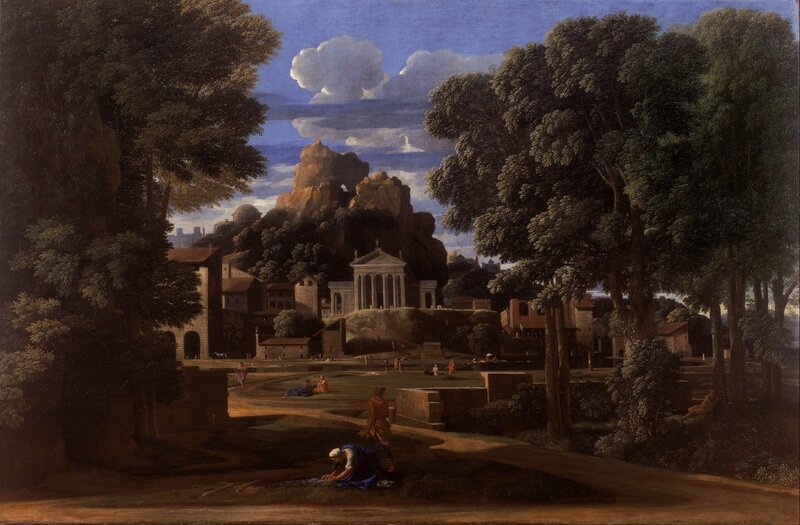 Nicolas Poussin (1594-1665), Landscape with the Ashes of Phocion, 1648. © The Fitzwilliam Museum, University of Cambridge.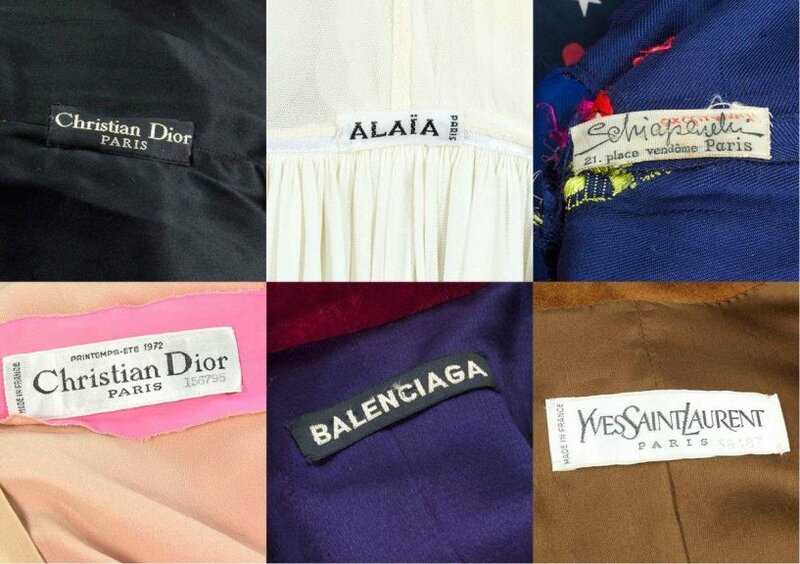 Collection Didier Ludot.
PARIS - Pour la première fois à Paris, Sotheby's aura l'honneur, avec le concours de Kerry Taylor Auctions, de mettre en vente la collection personnelle de Didier Ludot le 8 juillet à la galerie Charpentier.
Doit-on encore présenter Didier Ludot ? Le plus grand, si ce n'est le seul, « antiquaire de mode » français. Les vitrines magiques de sa galerie du palais-royal sont une visite parisienne incontournable pour tout amoureux de la mode. Depuis plus de quatre décennies et parallèlement à son activité de marchand, Didier Ludot a collectionné une à une les pièces de Haute Couture les plus rares. C'est ce jardin secret qui nous est aujourd'hui dévoilé : Didier Ludot confie le soin à Sotheby's France de vendre aux enchères une partie de sa collection personnelle.
De Paul Poiret à Yohji Yamamoto en passant par Madame Grès, Christian Dior, Cristobal Balenciaga, Azzedine Alaïa, Jean-Charles de Castelbajac, John Galliano ou Comme des Garçons, Didier Ludot nous offre ici un panorama complet de l'histoire de la mode au XXe siècle. Les 150 pièces que composent cette vacation sont un vibrant hommage à la haute couture française et au savoir-faire ancestral de ses artisans, couturiers, brodeurs, plumassiers, peaussiers, dentelliers, etc.
Chaque pièce a été sélectionnée avec soin pour sa technique, sa singularité, la spécificité du couturier qui l'a créée ou l'originalité de la femme qui l'a portée. C'est à ces femmes, célèbres ou anonymes, que Didier Ludot doit sa vocation. Cette vente lève le voile sur leur garde-robe : la petite robe noire pailletée Chanel ayant appartenu à Romy Schneider, la pochette Jacques Fath de la duchesse de Windsor et le chapeau Yves Saint Laurent de Loulou de la Falaise, le manteau Balenciaga de Mona Bismarck, les robes sculpturales d'Alaïa créées pour Bettina, l'impeccable veste de Monsieur Dior conçue pour Josette Day, le coffret à bijoux Cartier de Barbara Hutton, etc… Elégantes d'hier ou d'aujourd'hui, ces femmes n'en finissent pas de nous faire rêver.
Sotheby's est fière aujourd'hui d'accompagner ce collectionneur passionné et inconditionnel qui s'érige désormais en passeur et s'inscrit dans un rôle de transmission. Grâce à cette vente, Didier Ludot offre à ses robes une nouvelle vie, un nouveau propriétaire et se fait le héraut d'un monde où le raffinement rencontre l'intemporel.
La collection réservera de belles surprises parmi les 150 vêtements et accessoires, réalisés entre 1924 et le début des années 2000. Ces pièces uniques, conservées dans leur état original, toutes porteuses d'histoire, toutes emblématiques d'un moment de mode, du style d'un créateur, composent un ensemble d'une qualité rare.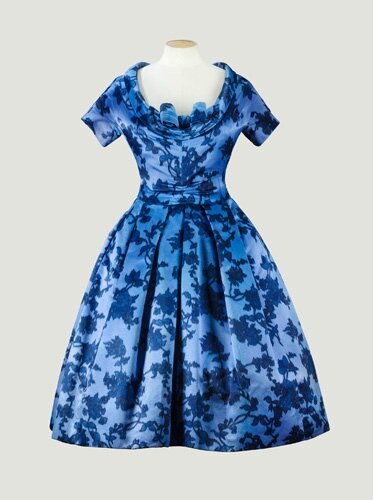 Christian Dior – Hiver 1957. Robe en ottoman bleu lavande modèle « Louveciennes ».
Dernière collection de Monsieur Dior.
Christian Dior – Winter 1957. "Louveciennes" dress.
This model came from Dior's last collection.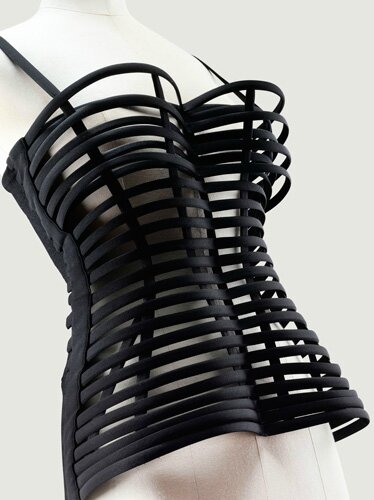 Yamamoto – Hiver 2006. Bustier cage en jersey noir.
Modèle porté à quasiment chaque passage du défilé hiver 2006.
Yamamoto – Winter 2006. Cage corset in black jersey.
This model worn at nearly each moment of the Winter 2006 show.
Pierre Balmain – Hiver 1953. Robe de cocktail en velours noir, entièrement brodée de roses en mousseline par la Maison Lesage.
Pierre Balmain – Winter 1953. Black velvet cocktail dress embroidered with chiffon roses by the Lesage Company.
Yves Saint Laurent – Automne / Hiver 1968. Robe de cocktail en daim entièrement brodée de pierreries par la Maison Lesage.
Modèle porté par Marisa Berenson, photographié par Irving Penn pour le magazine Vogue en 1968. Un modèle identique figurait dans l'exposition rétrospective consacrée à Yves Saint Laurent au Petit Palais du 11 mars au 29 août 2010, reproduit dans le catalogue de l'exposition L'intégrale Yves Saint Laurent, Haute Couture 1962-2002 aux éditions Lamartinière. Un autre modèle est conservé au Kobe Museum.
Yves Saint Laurent – Fall / Winter 1968. Buckskin cocktail dress embroidered with precious stones embroidered by Lesage.
This piece was worn by Marisa Berenson, photographed by Irving Penn for Vogue magazine in 1968. A model was shown at the Yves Saint Laurent retrospective at the Petit Palais, 11 March to 29 August 2010 and reproduced in the exhibition catalogue. Another model is kept at the Kobe Museum.
Balenciaga - 1960. Robe du soir en satin noir au bustier brodé d'œillets.
Balenciaga - 1960. Black satin evening dress embroidered with carnations on the bodice.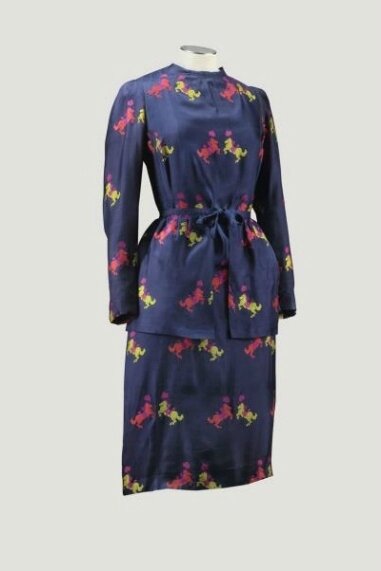 Schiaparelli – Eté 1938. Robe en twill de soie collection « Circus ».
Une veste issue de cette mythique collection reprenant le même motif de petits chevaux est conservée au Victoria and Albert Museum de Londres.
Schiaparelli – Summer 1938 Silk twill dress from the "Circus" collection.
A jacket from this legendary collection, with similar iconography forms part of the in the Victoria and Albert Museum in London.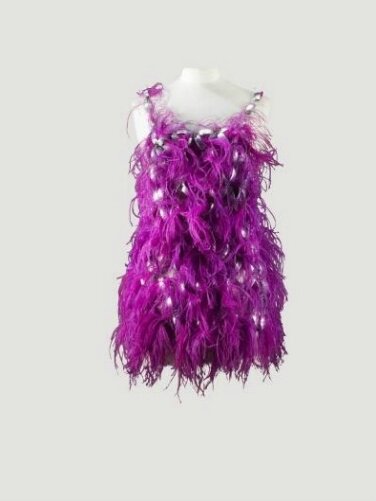 Paco Rabanne - 1969 Mini robe en métal et plumes de marabout. Provenance : Mademoiselle Dani.
Robe spécialement créée pour la chanteuse Dani à l'occasion de son spectacle à l'Alcazar en 1970.
Rabanne - 1969. Mini-dress in metal and ostrich feathers. Provenance: Ms Dani.
This dress was especially designed for the singer Dani for her show at the Alcazar in 1970.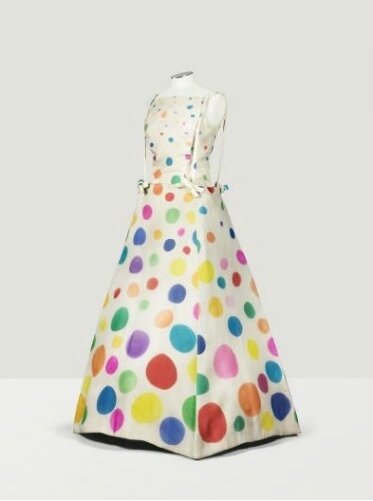 Marc Vaughan – 1973 Robe du soir carrée en organdi peint à la main de cercles multicolores. Provenance : Madame Marc Vaughan, muse du couturier.
Il s'agit d'un prototype, témoignage des recherches menées par le couturier sur la coupe et l'architecture dans ses vêtements.
Vaughan - 1973. Square evening dress in organdie with hand-painted multicolour circles. Provenance : Ms Marc Vaughan, the couturier's muse.
This was a prototype, reflecting the couturier's experiments with the cut and architecture of his garments.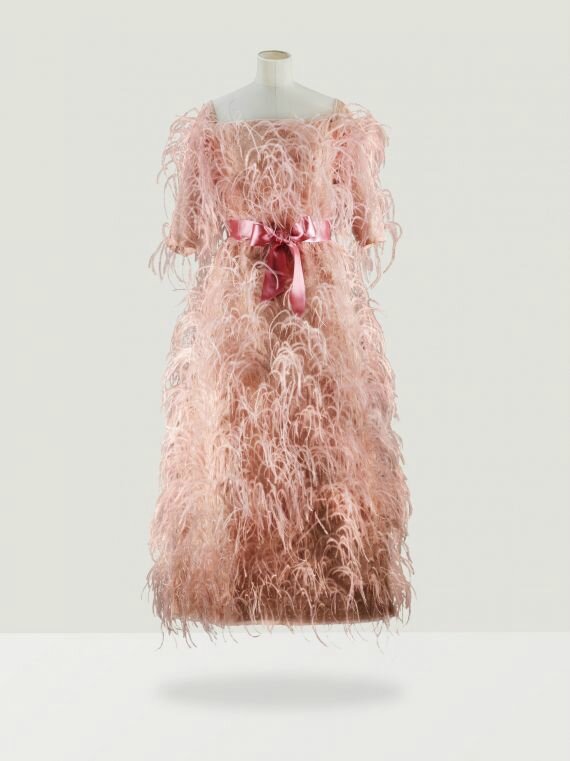 Balenciaga - 1965. Robe du soir en tulle point d'esprit de Brivet entièrement appliquée de plumes roses par Albert. Provenance : Madame Francine Weisweiller.
Cet exceptionnel exemple est le fruit d'une collaboration entre les artisans de la mode les plus célèbres de l'époque. Il fut prêté pour l'exposition rétrospective consacrée à Balenciaga au Musée des Tissus de Lyon en 1986 et reproduit dans le catalogue. Elle a appartenu à l'une des parisiennes les plus élégantes de son temps, muse de Cocteau et grande amie du couturier, Madame Francine Weisweiller.
Evening dress in point d'esprit tulle by Brivet, entirely covered with appliqué pink feathers by Albert. Provenance : Ms Francine Weisweiller.
This remarkable piece arose from a collaboration between the most celebrated craftspeople in fashion at that period. It was loaned for the Cristobal Balenciaga retrospective at the Musée des Tissus in Lyon in 1986. It belonged to Cocteau's muse, Francine Weisweiller: one of the most elegant Parisian women of her time.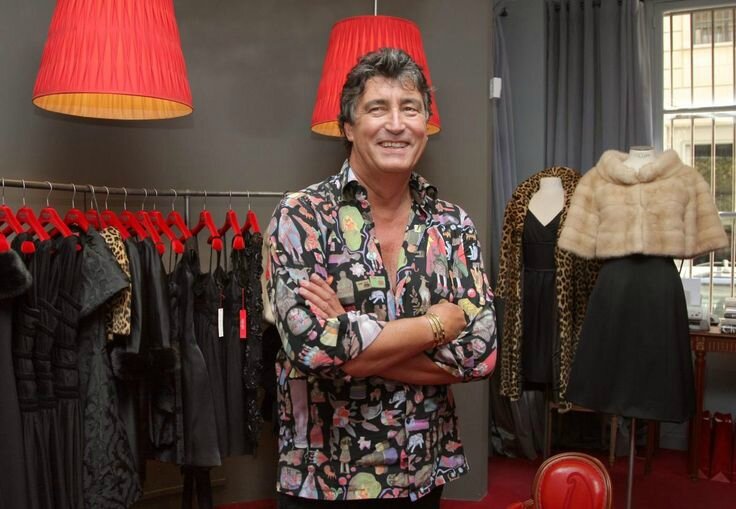 Didier Ludot.
PARIS - For the first time in Paris, Sotheby's, in association with Kerry Taylor Auctions, announces the sale of fine haute couture from the renowned Didier Ludot collection on 8 July at the Galerie Charpentier.
Didier Ludot, France's greatest "fashion antiquarian", surely needs no introduction. The magical showcase of his legendary Palais-Royal gallery is a must for any fashion-lover visiting Paris. Specialising and dealing in vintage fashion for more than forty years, he has carefully selected and set aside for his own personal collection many of the most important pieces he has handled.
With designs by Paul Poiret, Yohji Yamamoto, Madame Grès, Christian Dior, Cristobal Balenciaga, Azzedine Alaïa, Jean-Charles de Castelbajac, John Galliano and Comme des Garçons, Didier Ludot's collection provides a comprehensive overview of 20th century fashion. The 150 items in the sale are a vibrant tribute to French haute couture and the time-honoured expertise of its craftspeople, who include tailors, embroiderers, leatherworkers, feather merchants, and lace makers.
Each piece was carefully chosen by Monsieur Ludot for its technical skill and beauty, sometimes to reflect the trademark style of the couturier who created it, or the elegance of the woman who wore it. It is to these women, famous and anonymous alike, to whom Didier Ludot owes his vocation.
This sale unveils their wardrobes and individual style: the Chanel "little black dress" with sequins owned by Romy Schneider; the Duchess of Windsor's psychedelic 60's dress; Loulou de la Falaise's Yves Saint Laurent hat; Mona Bismarck's Balenciaga cape; the sculptural dresses Alaïa created for Bettina; the impeccable Dior jacket designed for Josette Day; Barbara Hutton's Cartier jewel box – and so the list goes on. These elegant women of past and present are an endless inspiration for our fantasies.
There are some stunning surprises among the 150 garments and accessories, produced between 1924 and the early 2000s. These unique pieces still in their original condition – all redolent with history, all emblematic of a moment in fashion, or a designer's style – make up a collection of extraordinary quality. They will appeal to private collectors, museums and stylish women the world over who buy vintage fashion to wear.
Today, Sotheby's and Kerry Taylor Auctions are proud to assist a passionate, wholehearted collector who has now decided to pass on his treasures. Through this sale, Didier Ludot gives new life and new owners to his dresses, as the harbinger of a world where the exquisite meets the timeless.