03 mars 2015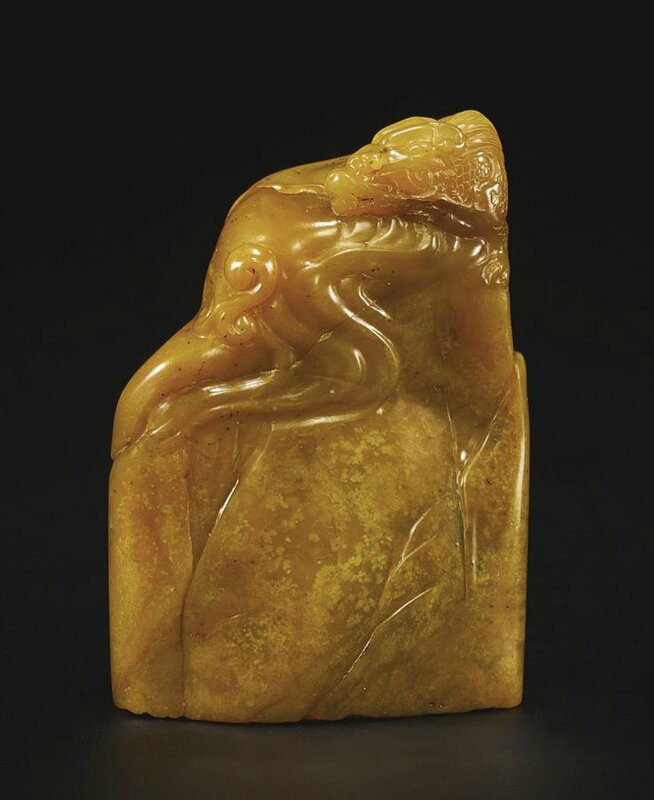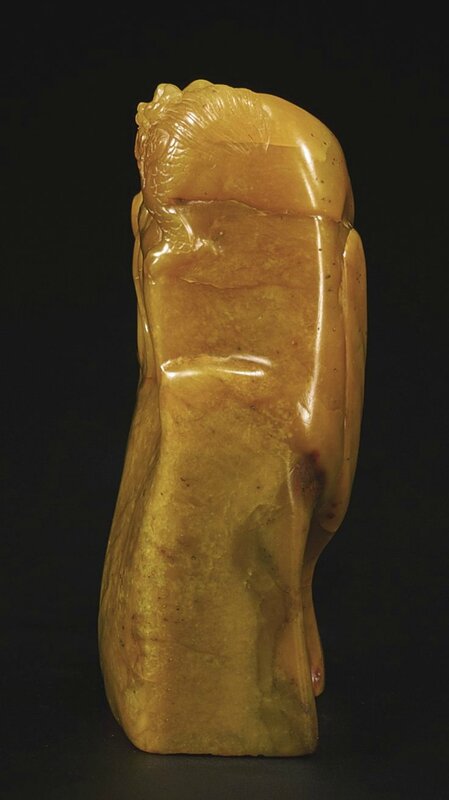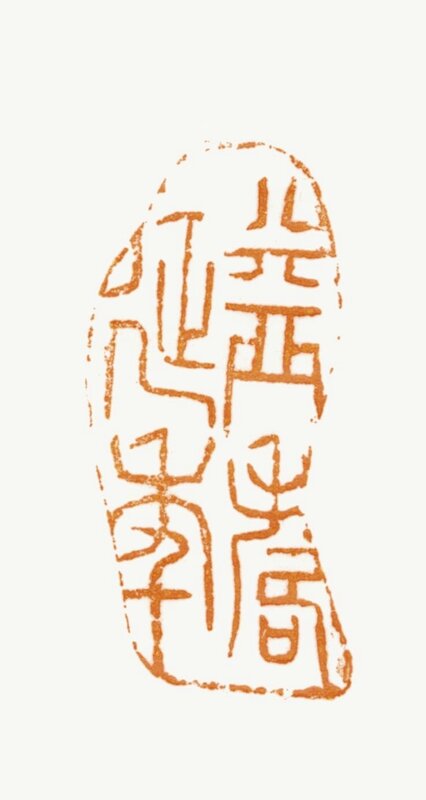 A fine soapstone 'YAN SHOU YI NIAN' seal, Qing dynasty. Estimate 7,000 — 9,000 USD. Photo Sotheby's.
naturalistically carved with a dragon emerging from clouds, the stone of soft yellow tone, the inscription reading: YI SHOU YAN NIAN (good for longevity) - Height 2 1/8 in., 5.4 cm
Sotheby's. Inscriptions: History as Art New York, 17 mars 2015, 01:30 PM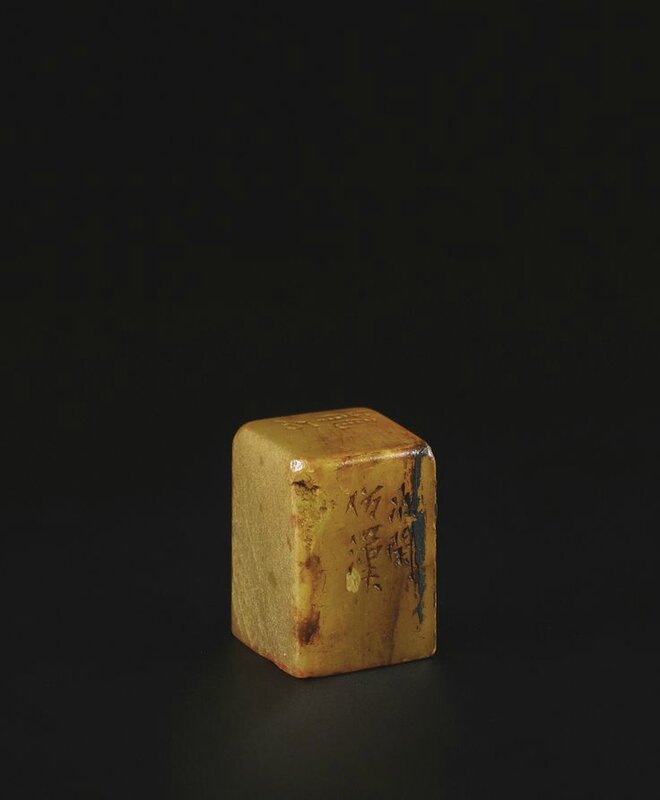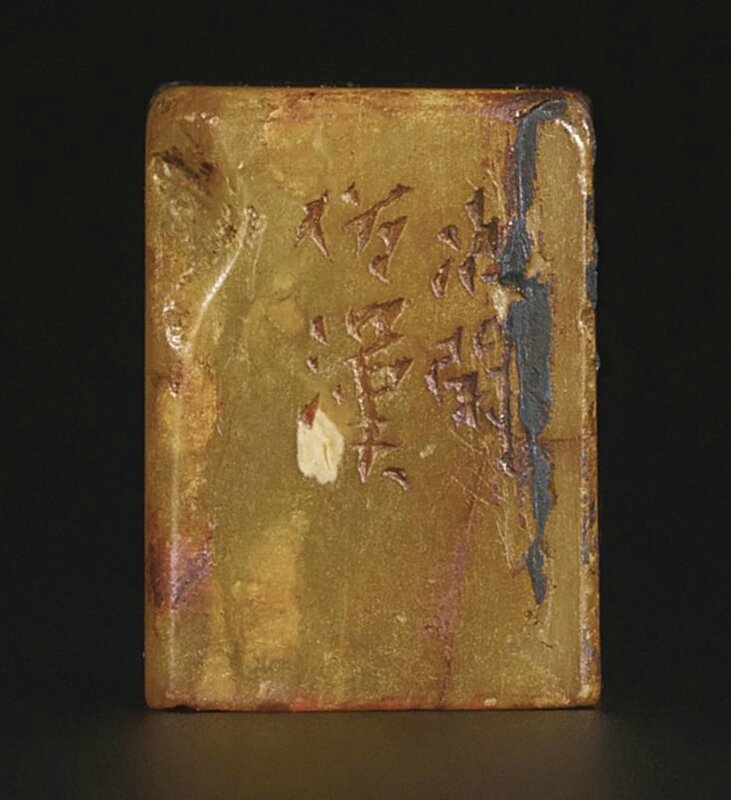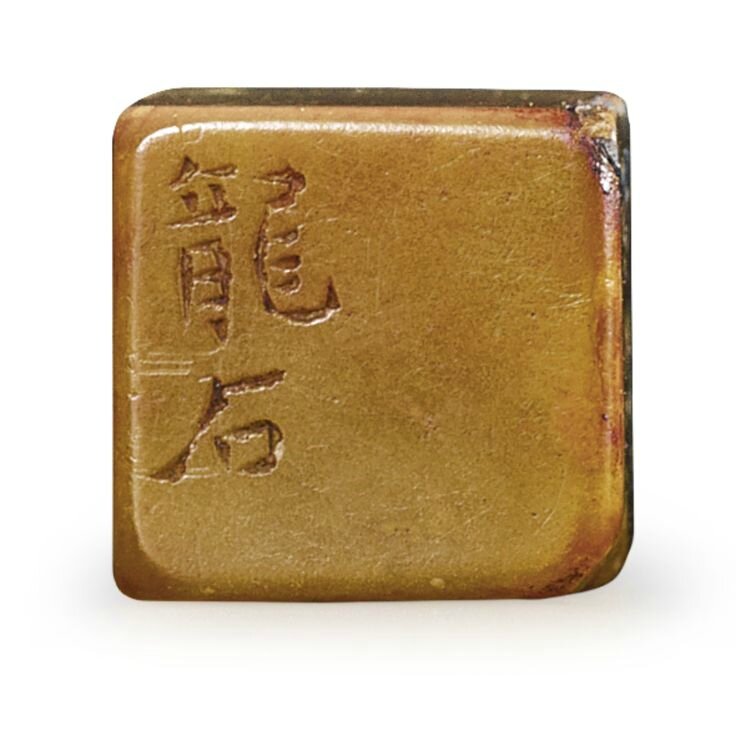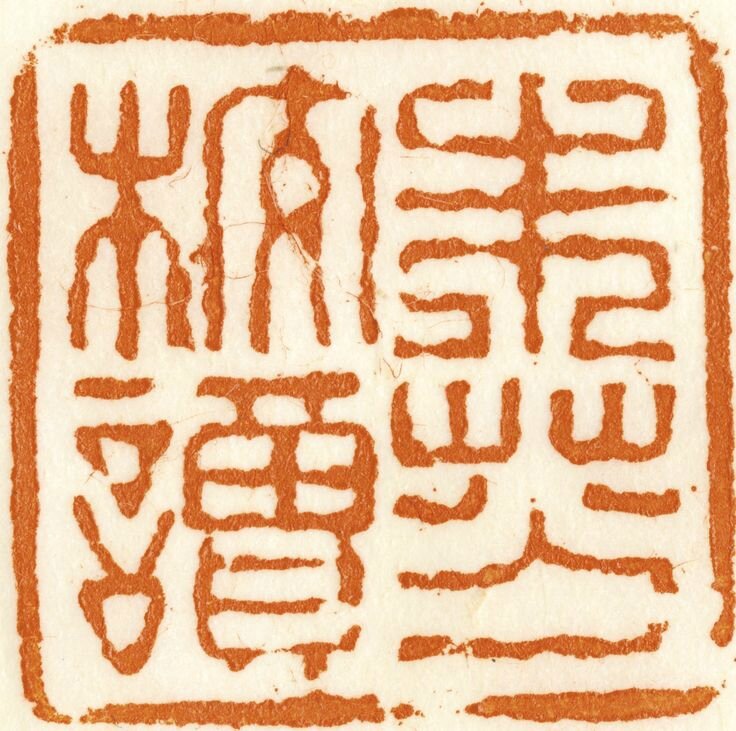 A Tianhuang seal carved by Zhao Zhichen (1781-1852). Estimate 8,000 — 12,000 USD. Photo Sotheby's.
of rectangular form, the seal face reading ZHU FEN JIAO DU (Proofread by Zhu Fen), the side is signed CI XIAN FANG HAN (Cixian emulating the Han style). Height 7/8 in., 0.9 cm
Notes: Cixian is the studio name of the famous artist and seal carver Zhao Zhichen (1781-1852). Zhao was a native of Qiantang (today's Hangzhou), the leader of the Zhe School carving tradition. The seal was made for another known scholar Zhu Fen, from Haining, who was a collector of books and a publisher.
A different signature is found on the top side of the seal: Long Shi, which is the studio name of another contemporary seal carver Yang Xie (born 1781). It may suggest that the earlier inscription by Yang was erased and the stone was reused for the current inscription.
Sotheby's. Inscriptions: History as Art New York, 17 mars 2015, 01:30 PM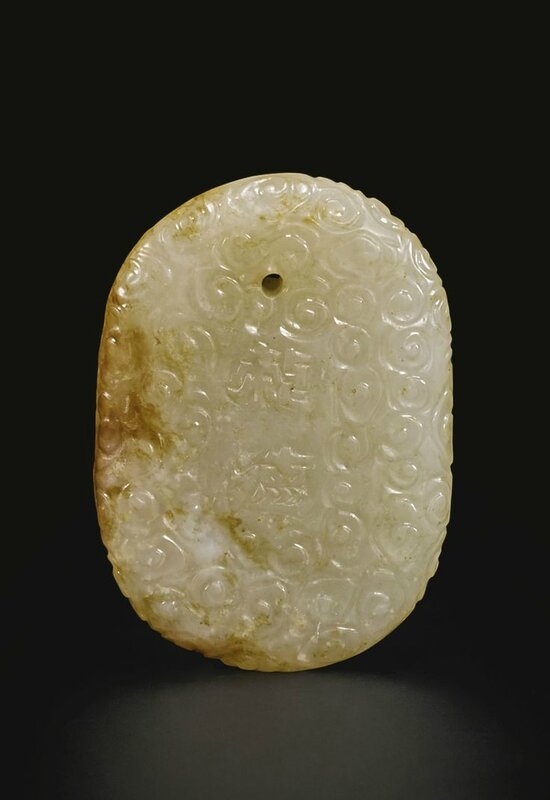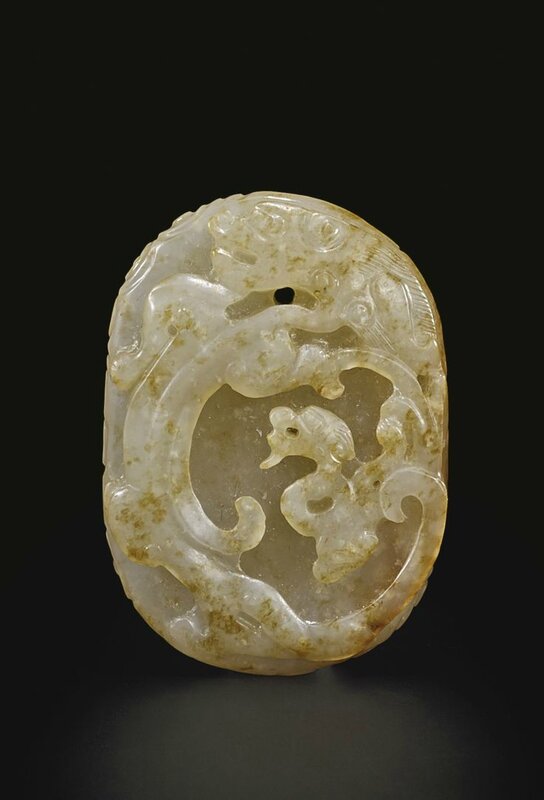 A white jade 'Dragon' plaque, Qing dynasty, 17th-18th century. Estimate 50,000 — 70,000 USD. Photo Sotheby's.
of oval shape, carved with two dragons on the front and a two-character inscription Long De (Virtues of Dragon) on the back, surrounded by spiral cloud patterns - Height 2 in., 5 cm
Sotheby's. Inscriptions: History as Art New York, 17 mars 2015, 01:30 PM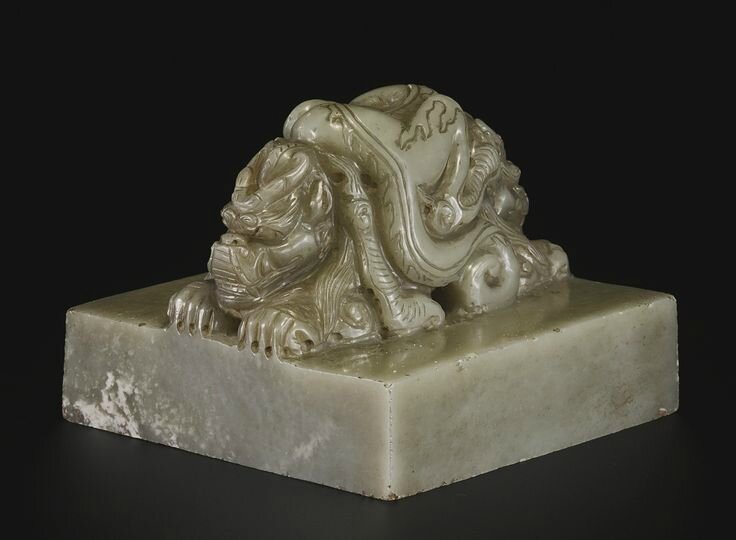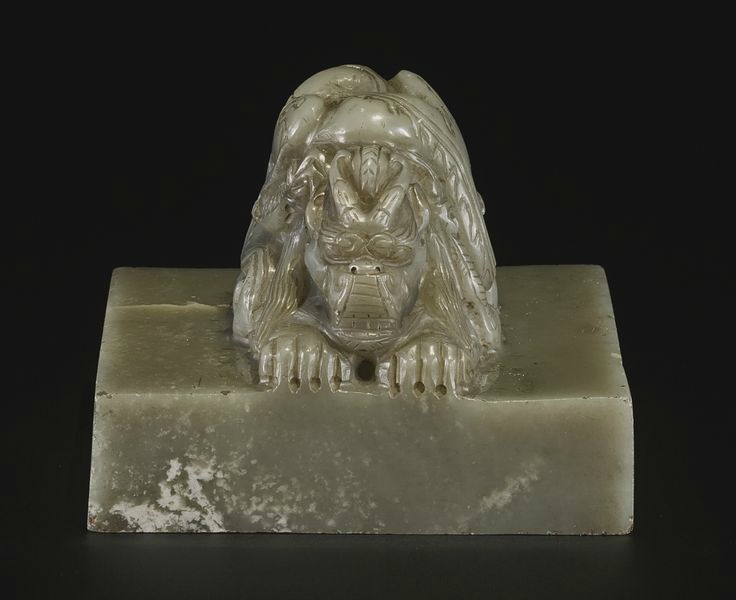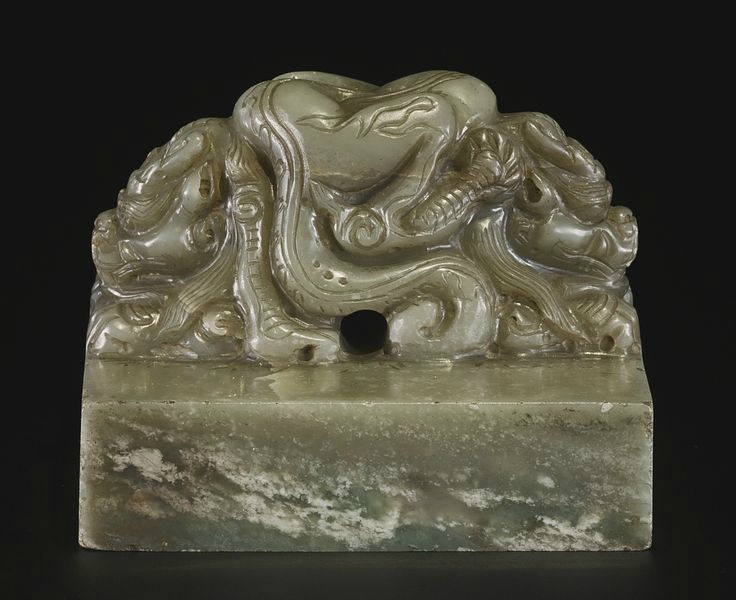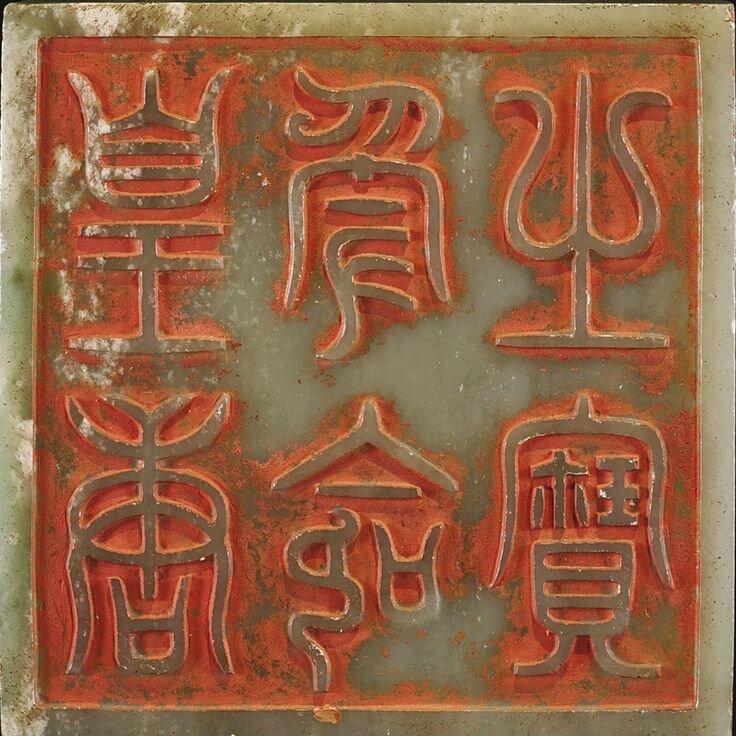 A pale celadon jade seal with inscription 'HUANG TANG SHOU MING ZHI BAO', probably Ming dynasty. Estimate 20,000 — 30,000 USD. Photo Sotheby's.
of large square form, surmounted by two addorsed crouching dragons, with wide open eyes, snub noses and upright horns, the arching intertwined scaleless bodies pierced through the center with an aperture for a cord - Width: 5 1/2 in., 14 cm
Provennce: Collection of Robert von Hirsch, prior to 1977, thence by descent.
PROPERTY FROM THE COLLECTION OF LOLO SARNOFF
Notes: The inscription reads: HUANG TANG SHOU MING ZHI BAO, and is translated as "Treasure of the Great Tang who was granted with the Mandate of Heaven".
In Chinese historical literature it is recorded that many rulers of different dynasties, starting from the first emperor of Qin to the last of the Qing dynasty, were granted the 'seal of the mandate of heaven' (shoumingxi), but few examples have survived. This jade seal has been ascribed to the Tang dynasty, is obviously a fictitious attribution, probably due to some historical and political motivation. The carving of the dragon and the style of inscription, suggests a Ming dynasty date.
Sotheby's. Inscriptions: History as Art New York, 17 mars 2015, 01:30 PM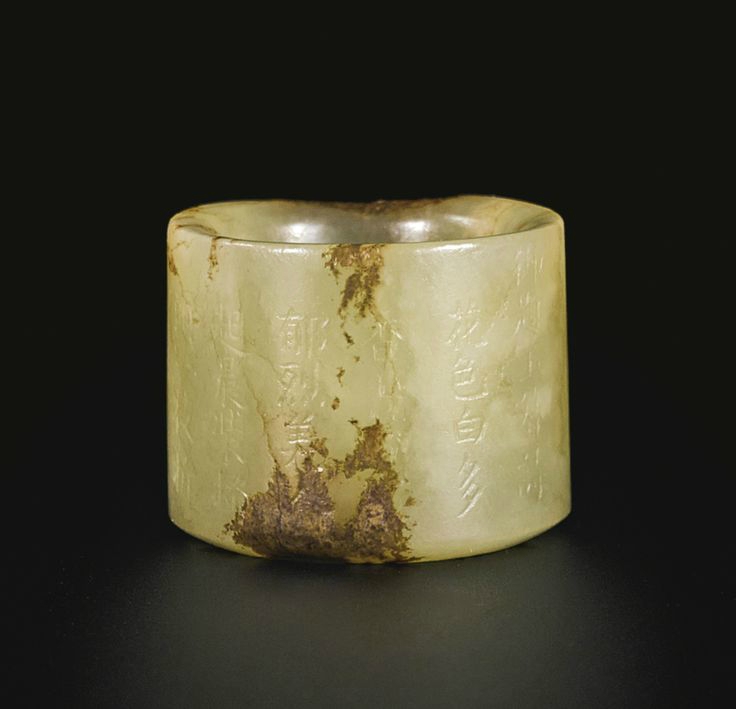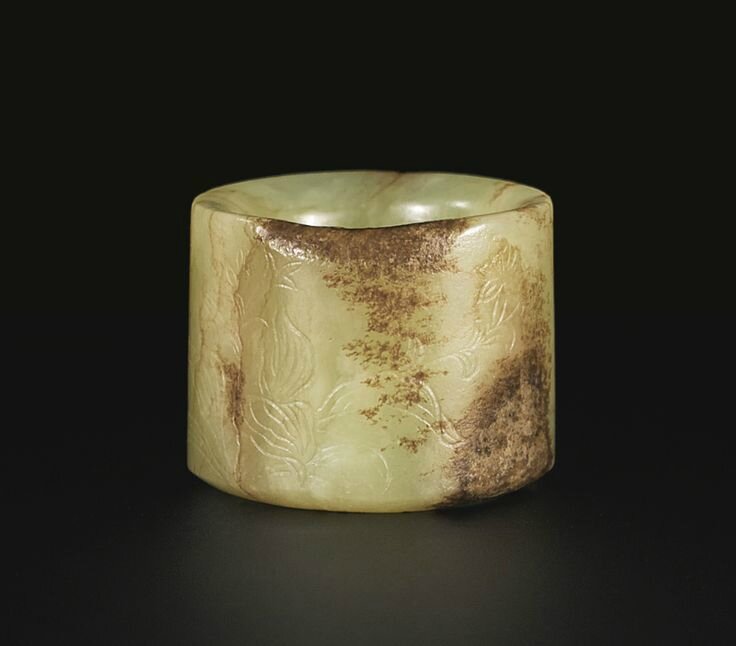 A rare Imperial yellow jade archer's ring inscribed with a poem by the Qianlong emperor, Qing dynasty, Qianlong period. Estimate 50,000 — 70,000 USD. Photo Sotheby's.
of characteristic cylindrical shape, the exterior incised with a flower (identified as Hosta Plantaginea aschers), accompanied by a poem written by the Qianlong Emperor, well worn with areas of russet inclusions - Diameter 1 in., 2.5 cm
Notes: English translation of the inscription:
The 'Jade Hairpin' Poem*
Of the flower that are white and fragrant,
The 'jade hairpin' has the strongest scent;
My beauty rises in the morning to have her makeup,
And plucks one for her hair.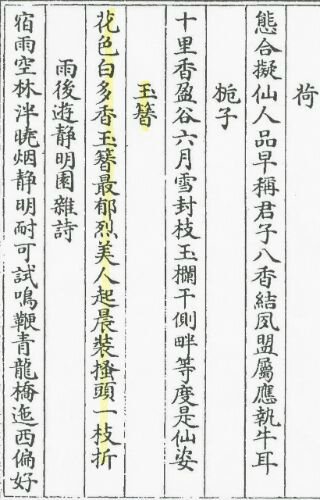 Qianlong's poem "Jade Pin Flower", in Gaozong yuzhishi erji, juan 87.
Sotheby's. Inscriptions: History as Art New York, 17 mars 2015, 01:30 PM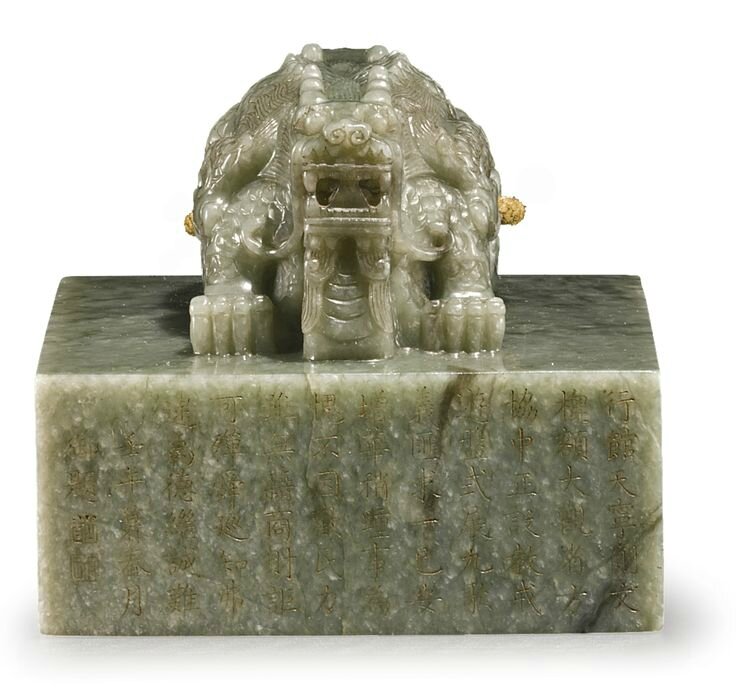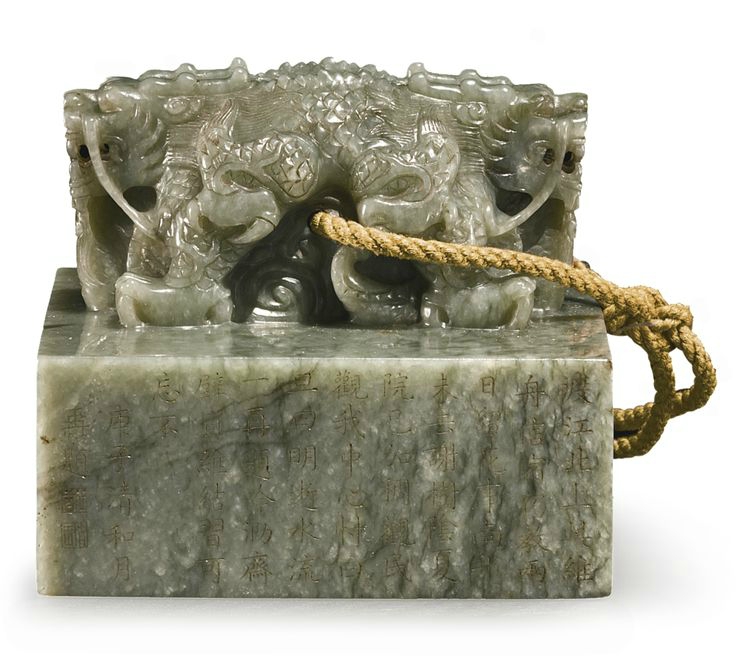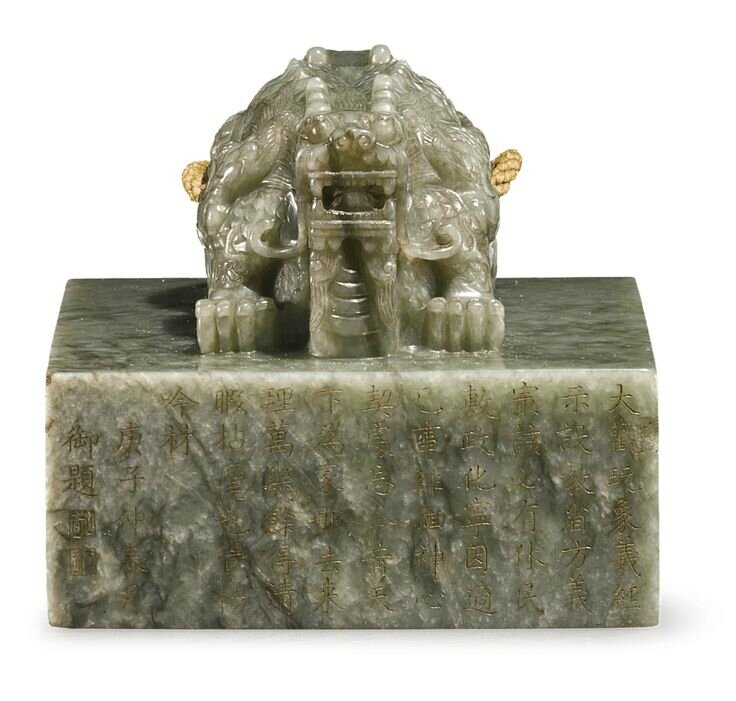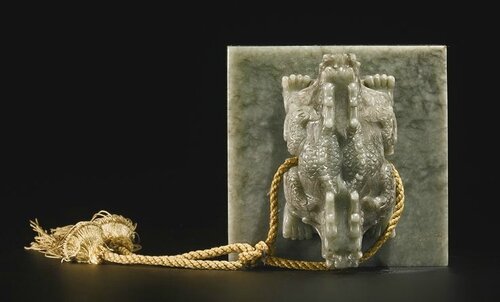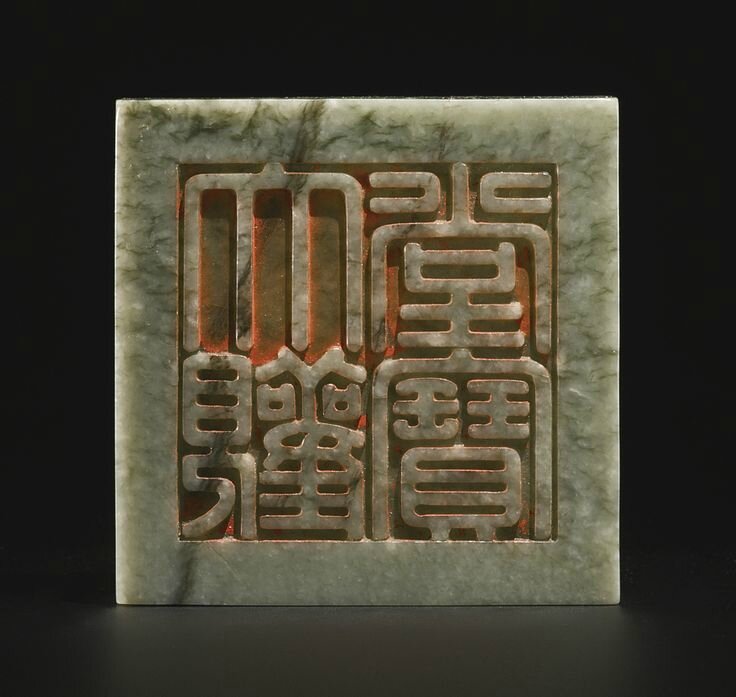 DA GUAN TANG BAO: An important Imperial jade seal, Qing dynasty, Qianlong period. Estimate 1,000,000 — 1,500,000 USD. Photo Sotheby's.
of square form, surmounted by two intertwined dragons back to back, each dragon finely carved with bulging eyes and open-jawed baring sharp fangs, the body covered with small scales and flowing mane, an aperture drilled through the center for a yellow silk string, the seal face bears an inscription of four characters DA GUAN TANG BAO in zhuanshu, the sides incised and gilt with four Qianlong poems in kaishu - Height 3½ in., 8.9 cm; Width 4 in., 10.2 cm
PROPERTY FROM THE COLLECTION OF LOLO SARNOFF
Notes: The inscription on the face reads: DA GUAN TANG BAO ("Seal of the Hall of Great Observation"). The inscriptions on the sides are four poems written by the Qianlong Emperor, all about the Da Guan Tang in Yangzhou where he stayed during his inspection tours to the south. They can be translated as:
(1)
In the palace, at the side of the Tianning Temple
Is a panel above the door, inscribed "Great Observation".
I have come to assist in righteousness and order,
To establish learning, but no roaming and lingering.
I make a display to show the meaning of the nine songs,
Not to seek personal satisfaction for myself,
But to enhance the palace, should be of shame not delight.
Although there is no cost to the common people,
Is it right to rely on the wealth of merchants?
I know I cannot match the inspection tours of Shun
And how difficult it is to maintain the virtue of Yi.
2)
My southern tour again stopped here, not for indulgence and entertainment.
The exhibition again is of essential teaching; although happy, I dare not take pleasure trips.
Where do these feelings come from? Shameful and ill at ease.
I take it as a warning, a deterrent from personal pleasure.
I may renounce idleness, for it tangles and tires the spirit.
I look up at the stars above, but the constellations are hard to see.
(3)
The images in the Great Observation Hall illustrate the meaning of heaven.
Establishing teaching and its meaning is at the heart of everything.
It is essential to comfort the people, and carry out policies.
It is not for personal pleasure that I travel around.
When my heart meets the gods, we forget past and present.
The world becomes my home, from where I come and go.
Amidst all the official business, I find a rare moment of peace
And enjoy the relief as my inkbrush twists out a poem
4)
Crossing the river to the north on this little boat,
To stay for two days in the palace, having meditation.
The flowers in the south are still in bloom,
The shadows of trees in the summer courtyard grow darker.
To see the people, to see myself, I must observe my heart
And say that the morning sun is bright and waters will flow
One after another, I write poems on my study wall
Privately acknowledging it is a habit I cannot give up.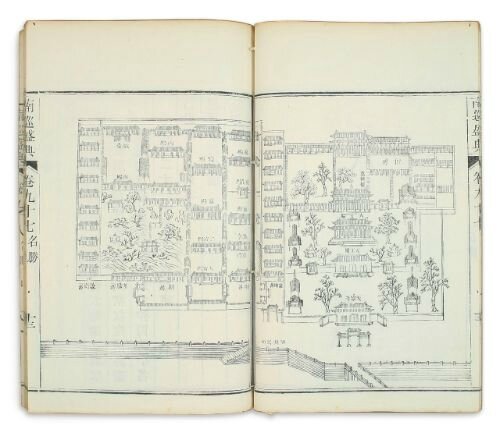 Drawing of the Tianning Monastery Travel Palace in the Nanxun shengdian, juan.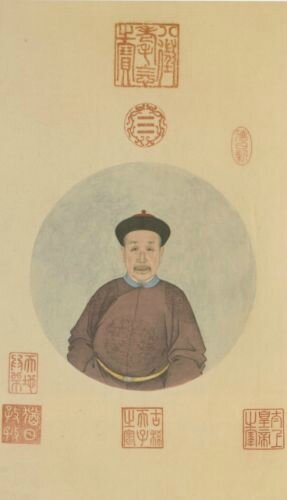 Portrait of the Qianlong Emperor. Courtesy of the National Palace Museum, Taipei.
Seal impression of the Da Guan Tang Bao, from Gugong bowuyuan eds. Qingdai di hou xiyin pu, 2013, vol. 6, juan 2 .
Sotheby's. Inscriptions: History as Art New York, 17 mars 2015, 01:30 PM
Johannes Vermeer, A Lady Writing, about 1665. Oil on canvas. National Gallery of Art, Washington, Gift of Harry Waldron Havemeyer and Horace Havemeyer, Jr., in memory of their father, Horace Havemeyer, 1962.10.1 Courtesy, Museum of Fine Arts, Boston.
BOSTON, MASS.- The Museum of Fine Arts, Boston, has announced loans of important paintings by Johannes Vermeer and Rembrandt van Rijn for its upcoming landmark exhibition Class Distinctions: Dutch Painting in the Age of Rembrandt and Vermeer (October 11, 2015–January 18, 2016). Vermeer's The Astronomer (1668) will be on loan from the Musée du Louvre in Paris, while the artist's A Lady Writing (about 1665) will be on loan from the National Gallery of Art in Washington, DC. Works by Rembrandt in the exhibition will include The Shipbuilder and his Wife (1633) on loan from Her Majesty Queen Elizabeth II and the full-length, life-size Portrait of Andries de Graeff (1639) from Museumslandschaft Hessen Kassel in Germany. They will join the two seated full-length portraits by Rembrandt from the MFA's collection, Reverend Johannes Elison and Maria Bockenolle (both 1634).
A Lady Writing portrays a privileged woman engaged in the art of letter writing, associated in 17th-century Holland with a certain level of education and wealth. Belonging to the same elite world, The Astronomer represents a "gentleman amateur" engaged in scientific inquiry that had relevance to the maritime navigation crucial to the mercantile interests of the young country. The Shipbuilder and his Wife shows a particularly successful and wealthy professional charged with providing ships to this nation of seafarers, while the Portrait of Andries de Graeff depicts a confident member of the Amsterdam ruling class who amassed one of the largest fortunes in the city. This painting belongs to the section of the exhibition dedicated to Regents and Wealthy Merchants, which also includes three seminal portraits by the great Haarlem master, Frans Hals.
The exhibition will feature 75 carefully selected 17th-century Dutch paintings—all of the works with the exception of the MFA's pair of Rembrandt portraits on loan from important European and American public and private collections. These masterpieces include portraits, genre scenes, landscapes and seascapes by Jan Steen, Pieter de Hooch, Gerard ter Borch and Gerrit Dou, among others, displayed in categories broadly arranged according to the three primary social classes—upper, middle and lower. To further illustrate the distinctions among the classes, three tables will be set with decorative arts, similar objects that would have been used by each of the classes but that diverge in material and decoration, including salt cellars, candle sticks, mustard pots and linens.
Organized by the MFA, this groundbreaking exhibition is accompanied by a publication that features essays by a team of distinguished Dutch scholars and exhibition curator Ronni Baer, the MFA's William and Ann Elfers Senior Curator of Paintings.
Rembrandt Harmensz. van Rijn (Dutch, 1606–1669), "The Shipbuilder and his Wife": Jan Rijcksen (1560/2 ‑ 1637) and his Wife, Griet Jans, 1633. Oil on canvas. Lent by Her Majesty Queen Elizabeth II. Courtesy, Museum of Fine Arts, Boston.
An Outstanding 'Guan' Octagonal Vase, Southern Song Dynasty; height 21.9 cm. Expected to fetch in excess of HK$60 million / US$7.7 million. Photo Sotheby's.
HONG KONG.- Sotheby's Hong Kong Chinese Works of Art Spring Sales 2015 will take place on 7 April at Hall 5, Hong Kong Convention and Exhibition Centre, led by an outstanding Southern Song 'Guan' Vase from a Japanese Collection (Expected to fetch in excess of HK$60 million / US$7.7 million) which has been unseen in the market for four decades, as well as two theme sales respectively dedicated to the Yongzheng and Qianlong emperors of the Qing dynasty, two of the greatest art patrons and collectors in Chinese history. Also noteworthy are a magnificent carved celadon, famille-rose and underglazed-blue 'boys' vase, the Robert H. Blumenfield collection of bamboo carvings in addition to imperial porcelains and works of art from a Hong Kong private collection. Altogether, the six sales will offer more than 250 lots with a total estimate of approximately HK$600 million / US$76 million*.
Nicolas Chow, Sotheby's Asia Deputy Chairman and International Head of Chinese Works of Art, said, "We are privileged to offer this season some of the most outstanding Chinese works of art to come to the market in recent history. The Southern Song Guan vase, a masterpiece of ceramic art, and the jade seal that the Yongzheng Emperor used to impress on his own calligraphy are worthy of the finest public or private collections."
Auction Highlights:
GUAN – FROM A JAPANESE COLLECTION.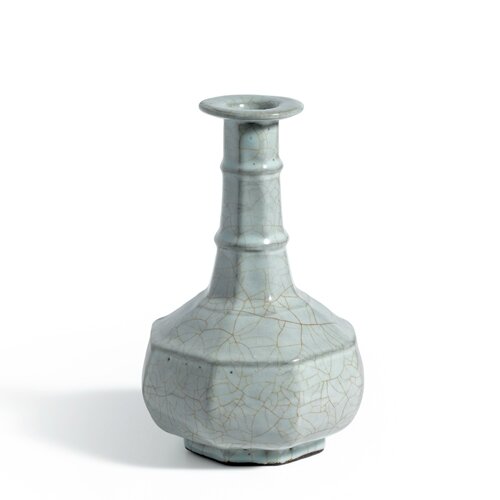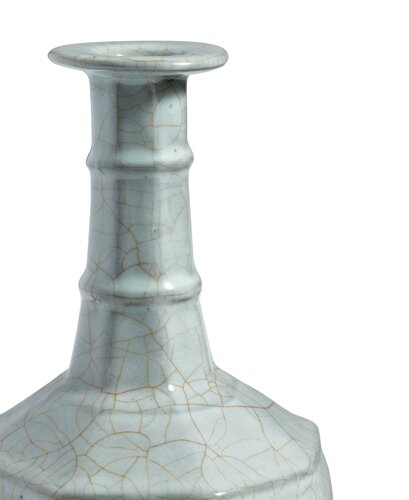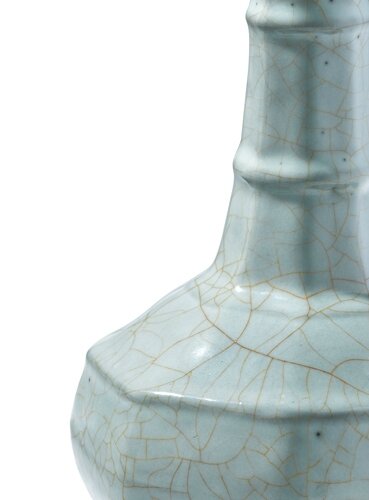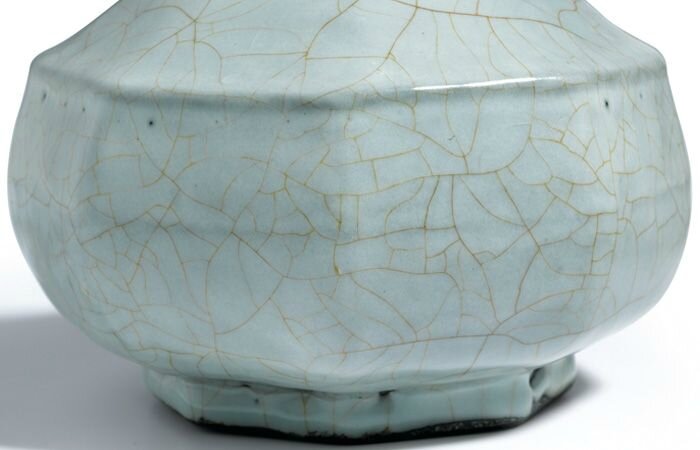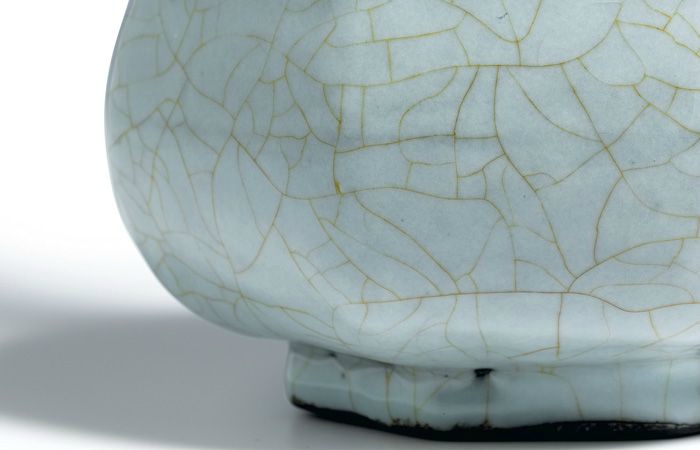 An Outstanding 'Guan' Octagonal Vase, Southern Song Dynasty; height 21.9 cm. Expected to fetch in excess of HK$60 million / US$7.7 million. Photo Sotheby's.
Guan yao, the fabled 'official ware' specially created for the imperial court of the Southern Song (1127-1279) in Hangzhou in south China, is perhaps the most desirable and certainly one of the rarest types of Chinese ceramics. It showcases Chinese potters at the height of their ingenuity, technical know-how and aesthetic vision. The works of art they conceived embodied the leitmotifs of China's highly educated scholar-officials, the ruling elite of the Song.
The shape reflects the Song dynasty fascination with archaic bronzes. The exquisite, unctuous glaze of the present vase with its smooth pleasing texture, milky-blue tint and subtle gloss was achieved through gradual application of multiple layers and presumably successive firings. The thick coating thus formed softly envelopes the angular shape, rounding off all sharp angles to create an object that invites being held. The distinct web of veins of the large-scale crackle, probably provoked by a well-controlled cooling process after the last firing and subsequent staining, acts like a design formed by nature, giving the whole piece an aspect as if carved out of one large boulder of a fine jade-like stone.
Although widely admired and avidly imitated, actual examples are exceedingly rare even in the Palace Museums of Taipei and Beijing, since despite the expertise of the craftsmen, a satisfactory outcome was difficult even at the time. Only three other vessels representing Song guan ware at its best have ever appeared at auction. The present vase, originally purchased from Sotheby's London in July 1975, from the collection of John Henry Levy, has been carefully preserved the last forty years in a Japanese collection, from where the record-breaking Ru washer emerged in 2012, selling for an unprecedented HK$207.86 million / US$27 million. Kept until last, the current vase was the one the collector cherished and valued the most highly.
YONGZHENG - TREASURES FROM THE AGE OF HARMONY AND INTEGRITY
The Yongzheng Emperor is celebrated among historians and connoisseurs as a distinguished aesthete and art patron. Under his brief thirteen-year rule, the Imperial workshops within the Forbidden City came into full bloom by virtue of the Emperor's meticulous involvement in the production and quality control. The most luxurious materials were painstakingly gathered, the most skilled craftsmen summoned from afar and techniques perfected to levels never to be surpassed.
The present sale pays homage to the exacting eye and elegant taste of the Yongzheng Emperor . The nineteen objects selected here encompass some of the finest porcelain produced in Jingdezhen, and include as a group of exceedingly rare works of art – jade, soapstone, crystal, agate, glass, bronze, lacquer – manufactured in close proximity of the Emperor at the court and under his direct guidance. Every piece in the sale is inscribed with a reign mark, or of a type documented as being directly commissioned by the Emperor. It is unprecedented to have assembled a group of such quality and rarity.
An Extremely Rare Imperial White Jade 'Yongzheng Yubi Zhi Bao' Seal with original Ivory-Inlaid Box and Cover. The seal: Qing Dynasty, Kangxi Period. The seal face: Qing Dynasty, Yongzheng Period. Seal 7.5 x 6.1 x 6.1 cm; box and cover 9.1 x 9.1 x 8.6 cm. Est. HK$30 – 40 million / US$3.8 – 5.1 million. Photo Sotheby's.
This jade seal with its original box, one of only five recorded jade examples from the Yongzheng reign, ranks among the most important works of art of the period to come to light in recent history. The seal face translates as 'Treasure penned by his Majesty the Yongzheng Emperor' and the seal is impressed on his own calligraphy and paintings. It is exceptional to find such a seal preserved with its original box, which, like the seal itself, is recorded in the archives of the Forbidden City.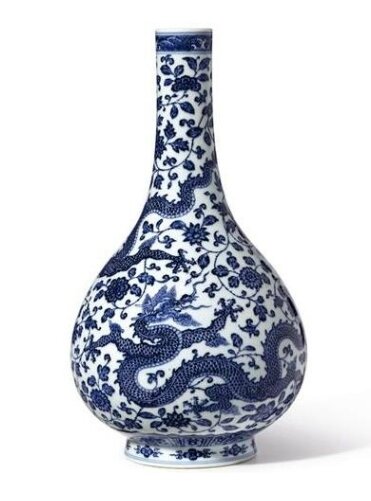 A Fine and Superbly Painted Blue and White 'Dragon' Vase, Mark and Period of Yongzheng; height 38.6 cm. Est. HK$40 – 60 million / US$5.1 – 7.7 million. Photo Sotheby's.
This magnificent dragon vase epitomises the Yongzheng Emperor's admiration for early Ming dynasty porcelain and his endeavour for aesthetic excellence. The dragon motif is emblematic of the Emperor and, by extension, imperial power. The brilliant deep blue cobalt, applied to replicate the 'heaping and piling' effect of early Ming underglaze blue designs, reflects the high level of technical achievement of the kilns in Jingdezhen during the period. No other example is known from the period.
QIANLONG – POET AND COLLECTOR
Prince Hongli (1711-1799), the Qianlong Emperor, is one of the most prolific poets and writers in China's literary history, with more than 40,000 poems composed by him. He is also recorded in history as one of the most zealous collectors, with an art collection of enormous scope and size, which included antiques, archaistic works and contemporary art. His enthusiasm is reflected in the numerous inscriptions compiled in anthologies, and in his commemorative poems and compositions preserved on the surface of the finest paintings, calligraphy, porcelains and jades. The present sale offers four pieces formerly in the imperial collection of the Qianlong Emperor.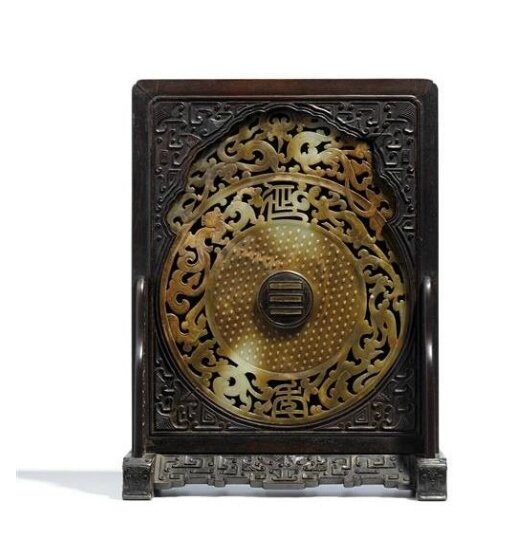 An Exceptionally Large and Extremely Rare Dated Zitan Mounted Archaic Jade Bi Disc Jade. Disc: Eastern Han Dynasty. Stand: Qing Dynasty, Qianlong Period, dated in accordance with 1770; height 30 cm; disc 23.8 cm. Est. HK$30 – 40 million / US$3.8 – 5.1 million. Photo Sotheby's.
The superb Eastern Han jade bi disc features painstakingly carved and reticulated dragon and phoenix motifs. The carved words Yan Nian ('elongated lifespan') stand for the longevity of the emperor as well as the eternal prosperity of Qianlong's reign, a symbolic reflection of his quest for legitimacy as a ruler and his right to the Mandate of Heaven. The jade disc itself is of outstanding quality and superbly carved. Inscribed, dated and preserved with its original zitan stand, it is arguably the greatest inscribed work of art from the Qianlong Emperor's collection that remains in private hands.
IMPERIAL PORCELAIN AND WORKS OF ART FROM A HONG KONG PRIVATE COLLECTION
This sale presents a selection of 24 objects from an Asian private collection, ranging from imperial porcelain from the Xuande period, in the Ming dynasty, to Kangxi, Yongzheng and Qianlong in the Qing dynasty. There is also a number of rare imperial works of art, kesi and albums.
An Imperial Kesi Album of Poems On 'West Lake', Mark and Period of Qianlong; 37.8 by 25.7 cm. Est. HK$4 – 6 million / U$510,000 – 770,000. Photo Sotheby's.
The Qianlong Emperor was particularly drawn to the beauty and elegance of the landscapes in southern China. When revisiting, he would compose poems, and then upon returning to the Forbidden City, would order imperial albums of all the poems he had composed on them.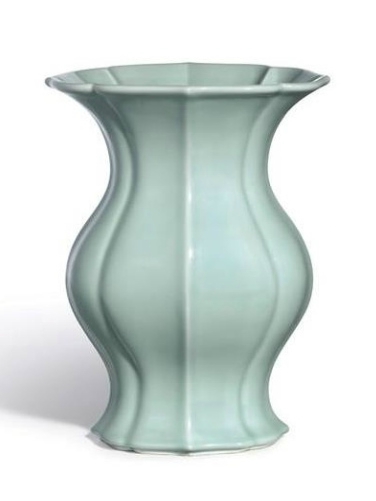 A Fine and Rare Celadon-Glazed Vase, Seal Mark And Period Of Qianlong; height 37.9 cm. Est. HK$8 – 12 million / US$1 – 1.5 million. Photo Sotheby's.
Of exceptional graceful form covered with a luminous celadon glaze, this vase is an impressive example of the remarkable technical developments made to meet the specific taste of the Qianlong Emperor, which was characterised by the imitation of antiques, innovation and flair. Its simplicity of form and absence of decoration was a new stylistic trend resulted from research into celebrated Song glazes. Published in the collection of Taji Shuichi in Tokyo in 1983, it has exceptional provenance.
IMPORTANT CHINESE WORKS OF ART
The sale will feature a diverse range of important Imperial porcelain and works of art from the Ming and Qing dynasties, highlighted by a magnificent carved-celadon, famille-rose and underglaze-blue 'boys' vase.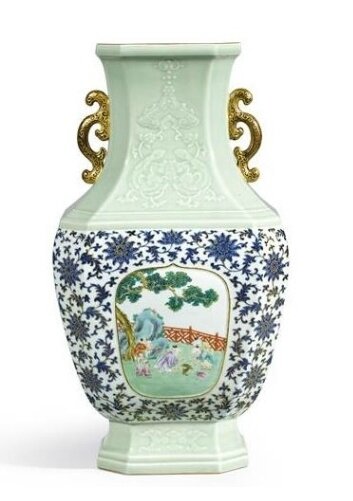 A Magnificent Carved Celadon-Glazed, Famille-Rose and Underglaze-Blue 'Boys' Vase, Seal Mark and Period of Qianlong; height 44 cm. Est. HK$50 – 70 million / US$6.4 – 9 million. Photo Sotheby's.
This exceptional vase is a tour-de-force, combining celadon glaze with relief design, famille-rose and underglaze-blue painting. Acquired by the currently owner in France twenty years ago, it is extremely rare with no other comparable published example, and is of the uttermost refinement. The subject of children at play was favoured for its auspiciousness inspired by paintings by court artists such as Jin Tingbiao.
THE ROBERT H. BLUMENFIELD COLLECTION OF BAMBOO CARVINGS
Passionately collected over 30 years by the American collector Robert H. Blumenfield, this is an outstanding assemblage of bamboo carvings, reflecting the superb output of literati taste bamboo produced in the late Ming and early Qing dynasties. Encompassing all the major categories, the collection includes figure carvings, brushpots, incense burners and exquisite miniatures produced for the scholar's desk.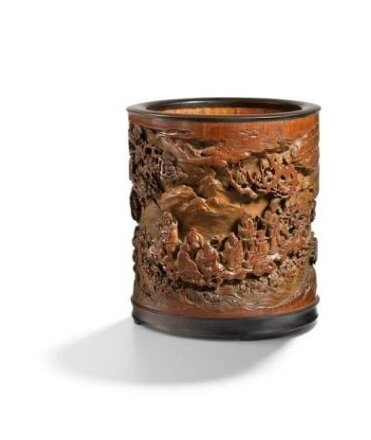 A Superb Carved Bamboo 'Eight Daoist Immortals' Brushpot. Attributed to Gu Jue, Qing Dynasty, Kangxi Period; height 17 cm. Est. HK$2.5 – 3.5 million / US$320,000 – 450,000. Photo Sotheby's.
*Estimates do not include buyer's premium and prices achieved include the hammer price plus buyer's premium.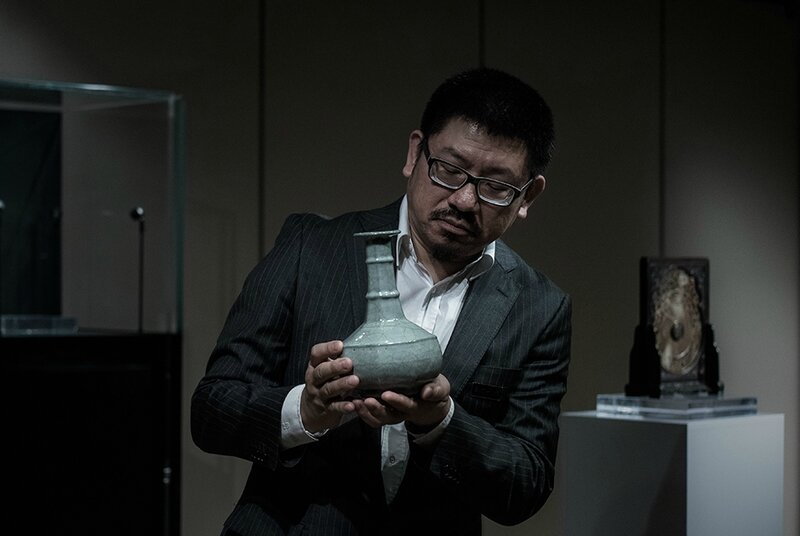 A Chinese Guan Vase of the Southern Song Dynasty is shown to the media in Hong Kong on March 2, 2015. The rare vase is expected to fetch more than 60 million HKD (7.7 million USD) at Sotheby's Hong Kong Chinese Works of Art Spring Sales 2015 which will take place on April 7, 2015. AFP PHOTO / Philippe Lopez.
A Sotheby's Hong Kong specialist Yongzheng Jade Seal. Photo: Sotheby's.
02 mars 2015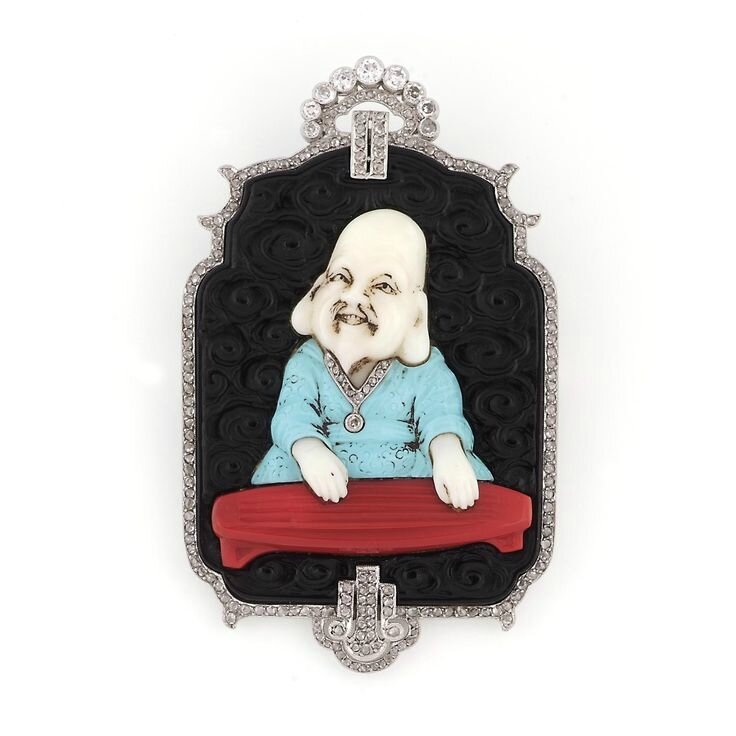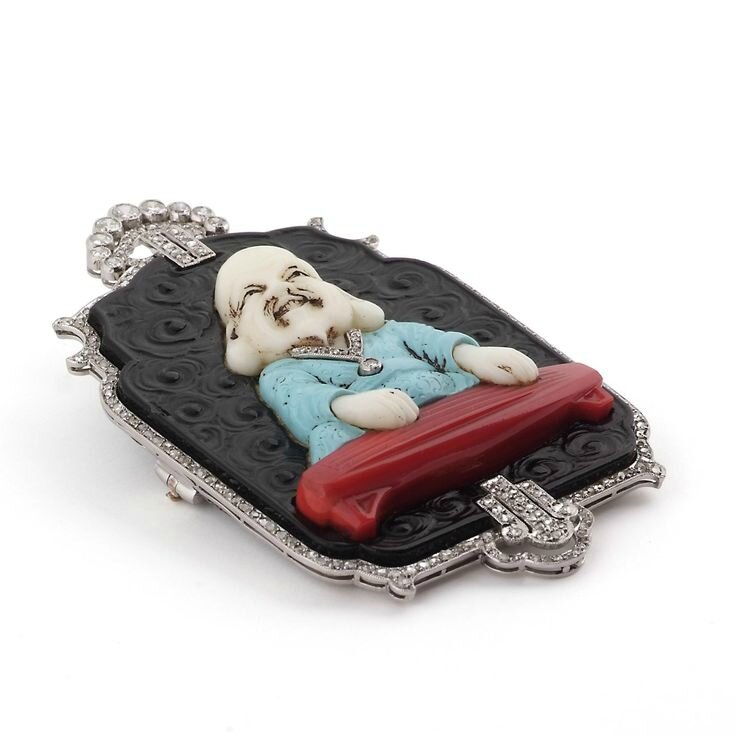 A Japonisme glass and diamond brooch-pendant, circa 1915, attributed to Lacloche Frères. Photo courtesy Symbolic & Chase
Of Japonisme design, centring on the figure Hotei, one of the seven Japanese God of Fortune, playing a Koto, composed of carved glass imitating turquoise, coral and white agate, embellished with a rose-cut diamond necklace, upon a black glass plaque carved with swirling motifs, within a stylised traditional Japanese architectural border set with rose- and circular-cut diamonds. Price: £50,000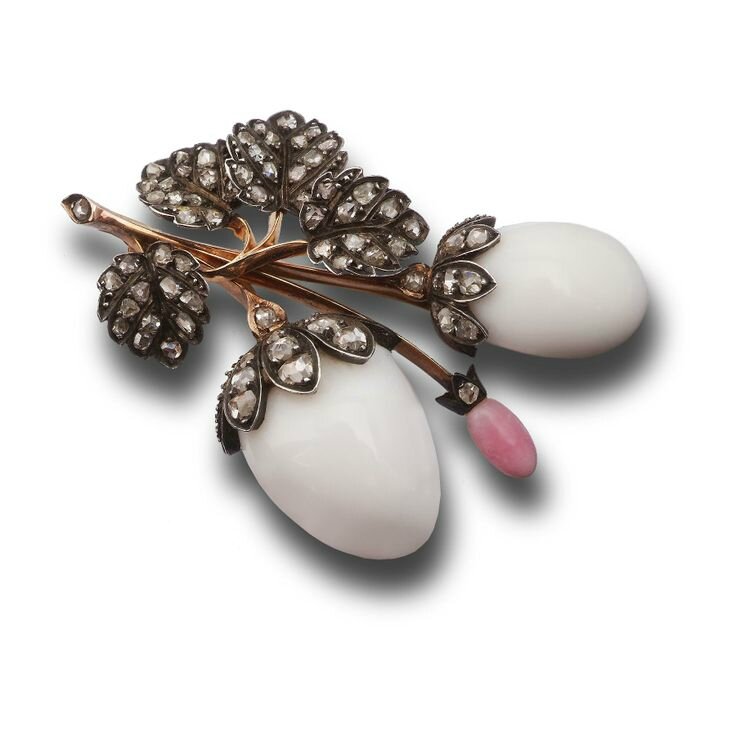 A conch pearl and diamond brooch, English, circa 1880. Photo courtesy Symbolic & Chase
Of floral design, the flower buds set with two oval white conch pearls of circa 52 and 76 grains and one pink conch pearl of circa 2 grains, to leaves accented with rose-cut diamonds, mounted in silver and gold. Sold.