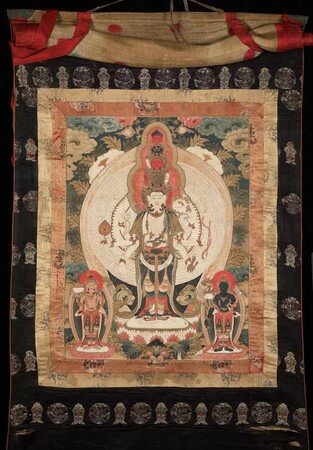 Avalokitesvara with a Thousand Arms and Thousand Faces (Tibet, 19th century); mineral and vegetable pigments on cotton; Bernard-Murray Collection
BERKELEY, CA.-The University of California, Berkeley Art Museum and Pacific Film Archive (BAM/PFA) presents Parting the Curtain: Asian Art Revealed, an exhibition of treasures from the museum's diverse collection of historical Asian art, as well as exceptional works on generous long-term loan from the collections of Louise Gund and Warren King. The more than fifty works in the exhibition represent a wide geographical range -- India, Tibet, China, and Japan -- and span 10,000 B.C. through the 20th century. These works include a collection of rare Tibetan religious statues and meditative paintings, or thangkas, on public display for the first time ever in the Bay Area. The ongoing exhibition is now open.
Lire la suite http://www.artdaily.com/section/news/index.asp?int_sec=2&int_new=21073
Bhaishajyaguru or Medicine Buddha (Tibet, 15th century); gilt bronze; on long-term loan from Louise Gund.