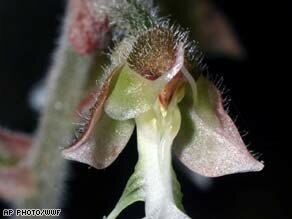 Anoectochilus annamenis, a new orchid species found in Vietnam.
A new snake species, called white-lipped keelback, discovered in Vietnam.
Gastrodia theana, a very rare leafless orchid discovered in Vietnam.
A new species of skipper from the genus Zela discovered in Vietnam.
Saccolabiopsis viridiflora was named after its white to light green colored flowers.
HANOI, Vietnam (AP) -- Scientists have discovered 11 new species of plants and animals in Vietnam, including a snake, two butterflies and five orchid varieties, the World Wildlife Fund said Wednesday.
The new species were found in a remote region known as the "Green Corridor" in Thua Thien Hue province in central Vietnam, the international conservation group said.
The new snake species, the white-lipped keelback, generally lives near streams and eats frogs and other small animals, the WWF said. It has a yellow-white stripe along its head, red dots on its body and can grow to more than 30 inches long.
The new butterfly species are among eight discovered in Thua Thien Hue since 1996. One is a "skipper," a butterfly that flies in a quick, darting motion.
Three of the new orchid species are leafless, which is unusual for orchids, the WWF said. The other new plant species include one in the aspidistra family, which produces a black flower and can subsist in low light, and an arum, which produces yellow flowers surrounded by funnel-shaped leaves. Lire la suite http://edition.cnn.com/2007/TECH/science/09/27/vietnam.new.species.ap/index.html