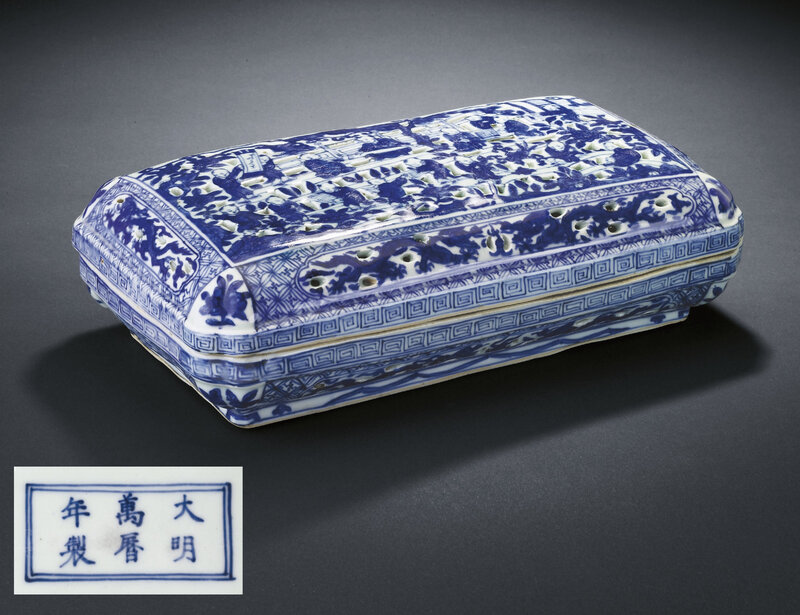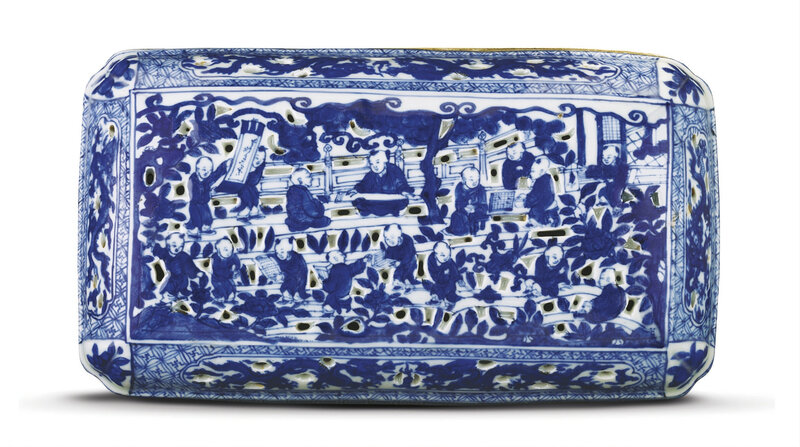 Lot 1855. A fine and extremely rare blue and white pierced box and cover, Wanli six-character mark and of the period (1573 - 1620); 12 3/8 in. (31.4 cm.) long. Estimate HKD 800,000 - HKD 1,200,000. Price Realized: HKD 4,567,500 (USD 587,851). © Christie's Image Ltd 2008
Of rectangular form with canted corners, decorated in vibrant tones of cobalt blue to the finely pierced cover with a scene of sixteen boys at play, pre-occupied at various scholarly and leisurely pursuits including playing the qin, reading, playing weiqi, all set within a balustraded gardens framed within blossoming branches and vines, the rounded sides of the cover and box with further pierced panels of confronting dragons reserved on a trellis-diaper ground with flower sprigs at the corners, the rims of the box and cover encircled by key-fret borders, box.
Note: Previously sold at Sotheby's Hong Kong, 31 October 1995, lot 379.

It is extremely rare to find a box and cover of Wanli mark and period this large size, with such lively painting and with an openwork cover, and no closely comparable piece appears recorded. The rich tones of purple tinged cobalt blue found on this box epitomise the ideal and distinctive colbalt blue of the late Ming.

Wanli rectangular blue and white boxes are more commonly found without openwork panels and decorated on the covers with dragons, crane or phoenix. Two Wanli-marked boxes decorated with the '100 boys' pattern have been sold at auction, the first, a circular box and cover from the T.Y. Chao and Jingguantang collections, was sold at Christie's New York, The Jingguantang Collection Part II, 20 March 1997, lot 80; the other, an octagonal box and cover, was sold at Christie's Hong Kong, 29 April 2002, lot 611. A smaller rectangular box and cover with a simplified version of the design with just three boys on the cover within dragon panels is in the National Palace Museum, Taipei, illustrated in Blue-and-White Ware of the Ming Dynasty, Book VI, Cafa, Hong Kong, 1963, col. pl. 8.

A Wanli-marked box with a similar openwork cover in the Palace Museum collection, Beijing is illustrated, Blue and White Porcelain with Underglaze Red (II) - The Complete Treasures of the Palace Museum, vol. 35, Hong Kong, 2000, no. 186.
This 'hundred boys' pattern depicting the figures of boys in a larger format is seen on compressed ovoid jars such as the earlier Jiajing-marked examples, the first from the J.M. Hu Family and Jingguantang collections, sold at Christie's Hong Kong, 27 November 2007, lot 1738; and the other, also from the J.M. Hu Family collection, is now in the Tianminlou Foundation, illustrated in Chinese Porcelain, The S.C. Ko Tianminlou Collection, vol. 1, Hong Kong, 1987, pl. 35. The present jar is unusual in that it presents the same theme, more complex in composition, with the figures in a smaller scale in a larger garden landscape.
Christie's. Hong Kong. Important Chinese Ceramics and Works of Art. 27 May 2008