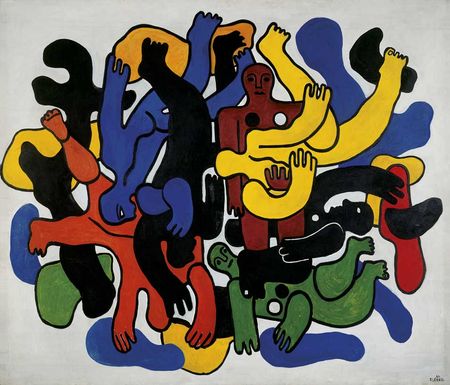 Fernand Léger, Les grands plongeurs noirs, 1944, The Big Black Divers, Oil on canvas, 189 x 221 cm. Musée national d'art moderne / Centre de création industrielle, Centre Pompidou, Paris, datio 1982. © 2008, ProLitteris, Zurich
BASEL.- Fondation Beyeler presents today Fernand Léger: Paris – New York, on view through September 7, 2008. Fernand Léger (1881-1955) is a classic. The cool style and bold color of his paintings wrote a chapter in art history. Represented with several major works, Léger is a key artist in the Beyeler Collection as well. In fact, his famous statement that the pretty is the greatest enemy of the beautiful became the motto for Ernst and Hildy Beyeler's collecting activity – sufficient reason for the Fondation Beyeler to devote a large special exhibition to the artist. This is a concentrated retrospective, a review of the key phases of Léger's career from 1912 to 1955, of a kind not seen in Switzerland for many years. The overture is formed by the Cubist-influenced early work, executed in Paris, centered around Femme en bleu and the Contrastes de forme, followed by the legendary, post-World War I series of canvases on the theme of the city and modern technology (La ville, Les disques). By way of the formally highly developed still lifes and figurative paintings of the 1920s and 30s – including famous "Tubist" works of the 1920s – the exhibition leads to monumental canvases from Léger's American exile in 1940-45, such as the spectacular paintings on the key theme of Plongeurs, or Divers. The conclusion is formed by the Constructeurs and the large formats of the final years, in which Léger treated sumptuous color and drawing separately, in an unprecedented way.

Selected works on paper and Léger's important experimental film, Ballet mécanique, of 1924, supplement the show, which is based principally on paintings. Léger is revealed to have been one of the greatest style-shaping artists of modernism across its whole range. The visual language he helped to develop lent modernism a widely understandable form of expression. Not least under the impression of the gruelling years in the trenches of World War I, Léger's art increasingly reflected a humanity all its own. Like many artists of his generation a member of the Communist Party, Léger was especially interested in the rhythm of the modern big city and daily life in industrial society. His work exerted great influence on modern art, notably on styles oriented towards large-scale objectivity (muralism, social realism, Pop Art).

Apart from reviewing the classical phases of Léger's career, the exhibition has a special focus, as suggested by its subtitle – the artist's links with America. Unlike, say, Picasso, Léger traveled there several times (in 1931, 1935 and 1938) and spent a considerable period, 1940-45, in U.S. exile, especially in New York. A number of major works emerged there, often as the result of commissions, of which a few central ones are on view in the exhibition, as designs or in finished form. These include the designs for Nelson A. Rockefeller's residence in New York, and the monumental, ten-meter-wide mural Les plongeurs, painted on commission from the architect Wallace K. Harrison in 1942 on Long Island, and sensationally on loan here from the Museum Ludwig in Cologne. Léger was deeply impressed by the United States. New York as an architectural work of art in its own right, the country's modern, technological spirit and dynamic lifestyle, lastingly shaped the French artist and his approach.

The influence was reciprocal, for Léger's art fed back into that of his host country. First works of his appeared in the States early on, and by the 1930s he was already viewed there as one of the leading figures of European modernism. Though this topic – "Léger and the United States" – is certainly present in the literature, it has yet to be addressed in a comprehensive exhibition. The Fondation Beyeler intends to close this gap and shed new light on Léger. This is why the exhibition features not only major works executed in the U.S. but key works by American artists who received stimuli from Léger, incorporated these in their work, and instituted a dialogue with his art.

The focus is on leading representatives of the Pop Art generation who were highly receptive to Léger: Roy Lichtenstein (1923-1997), Ellsworth Kelly (*1923), Kenneth Noland (*1924), Robert Rauschenberg (*1925), Al Held (*1928-2005), Andy Warhol (1928-1987), Jasper Johns (*1930), James Rosenquist (*1933), and Frank Stella (*1936). These artists sometimes make quite direct reference to Léger, or have developed conceptions whose European fundamentals were largely passed on through his art. A good example is the assembly-like composition preferred by Léger, in which the above named artists were especially interested. Works by these artists, as "special guests," are interspersed in the chronologically arranged Léger rooms. This enables us to see Léger's development from a contemporary point of view, and thus to rediscover the continuing currency of his con-ceptions. Against this background, Léger not only appears in the well-known role of "chief technician of modernism," but as a European forerunner of Pop Art avant la lettre.

The exhibition continues a tradition at the Fondation Beyeler. As early as 1999, "Cézanne and Modern Art" strikingly illustrated the way in which great modern artists were influenced by the Master of Aix. In 2004, in "Francis Bacon and the Tradition of Art," we took the opposite tack, demonstrating how artists from Titian to Alberto Giacometti shaped Bacon's approach. With the present exhibition in the series, we look into the question of Fernand Léger's effect on American art. Assistance in conceiving the exhibition was provided by Ellsworth Kelly and the Roy Lichtenstein Foundation, New York.

On view are over 100, many large-format works, including about 80 paintings, a selection of works on paper, and a Léger film, as well as about 20 paintings and several works on paper by American artists. Significant loans have been provided, among others, by Musée national Fernand Léger in Biot, the Kunstmuseum Basel, Nationalgalerie Berlin, the Art Institute of Chicago, the Museum Ludwig in Cologne, the Tate London, the Solomon R. Guggenheim Museum, the MoMA, and Metropolitan Museum in New York, the Musée d'Art Moderne de la Ville de Paris, and the Musée National d'Art Moderne (Centre Pompidou) in Paris, and the Philadelphia Art Museum. Also included in the exhibition are major works from private collections around the world. Exhibition curator is Philippe Büttner, Fondation Beyeler.

The exhibition is accompanied by a catalogue, published by Hatje Cantz Verlag, Ostfildern, containing essays by Christian Derouet, Brigitte Hedel-Samson, Yve-Alain Bois, Philippe Büttner, Raphaël Bouvier, and Daniel Kramer, an interview with Roy Lichtenstein by Katherine Jánszky Michaelsen, and a detailed biography of the artist by Nelly Maillard. Also included are statements by American artists on Léger, those by Ellsworth Kelly, James Rosenquist, and Kenneth Noland written expressly for this volume. The catalogue comprises 208 pages with 201 illustrations, 190 in full color, and is priced at CHF 68.