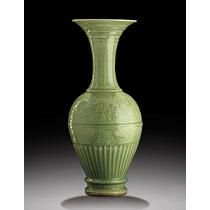 Un grand vase Yen-Yen en céladon Longquan - dynastie Ming, XVE siècle
An exceptional Longquan celadon yen yen vase, Ming dynasty, 15th century
de forme traditionnelle avec un long col évasé et un haut pied avec deux bandeaux en relief, à décor incisé en cinq registres séparés par des lignes horizontales de rinceaux de pivoines sur la panse et l'épaulement, de grandes feuilles de bananier enveloppant le col, et une frise cannelée autour du pied, recouvert d'une belle glaçure translucide céladon claire s'assombrissant dans le creux des ciselures. 62.5cm, 24 5/8 in. Estimé: 30,000—40,000 EUR
PROVENANCE: Sydney L. Moss, London.
LITERATURE AND REFERENCES: The World's Great Collections. Oriental Ceramics, vol. 8, Tokyo, 1982, pl.188.
Bo Gyllensvärd, Chinese Ceramics in the Carl Kempe Collection, Stockholm, 1964, pl. 149.
Chinese Ceramic Treasures, a Selection from the Ulricehamn East Asian Museum, Including The Carl Kempe Collection. The Museum of Art and Far Eastern Antiquities in Ulricehamn, Ulricehamn, 2002, no. 369, p. 220.
CATALOGUE NOTE:
A 'Longquan' celadon vase of this type with incised peony scroll decoration and inscribed with a date equivalent to A.D. 1454 is included in Margaret Medley, Illustrated Catalogue of Celadon Wares in the Percival David Foundation of Chinese Art, Section 7, London, 1997, pl. 238; another related example with a peony scroll motif in relief on a combed ground is published in Sekai toji zenshu, vol. 14, Tokyo, 1976, pl. 231. A further comparable piece is included in Regina Krahl, 'Longquan Celadon of the Yuan and Ming Dynasties', Transactions of the Oriental Ceramic Society, 1984-85, vol. 49, p. 52, pl. 23.
See a slightly larger vase of this type sold in our Hong Kong rooms, 27th October 1992, lot 25; another, from the collection of John T. Pool, sold in our Los Angeles rooms, 13th March 1974, lot 50; and one from the Warren E. Cox collection sold in our New York rooms, 28/29th September 1989, lot 183.
Sotheby's Paris. From Neolithic to Qing, Chinese Ceramics from Two Private Collections from two European collections. 12 Juin 2008