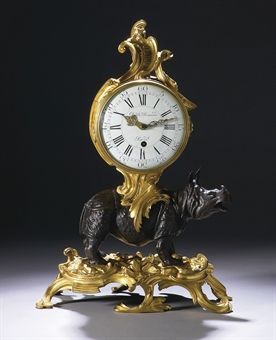 PENDULE AU RHINOCEROS D'EPOQUE LOUIS XV

En bronze ciselé, patiné et doré, le cadran et le mouvement signés Claude Monnier/AParis, surmontés d'un cartouche rocaille, supportés par un rhinocéros, reposant sur une terrrasse rocailleuse, soutenue par des volutes de feuillage
Hauteur: 56 cm. (22 in.), Largeur: 38 cm. (15 in.) - Price Realized: €72,500 ($112,854)
Notes: Les pendules ornées de rhinocéros, éléphants, taureaux et lions étaient très en vogue au XVIIIème siècle. Les ornemanistes employèrent tout leur génie à créer une incroyable variété de détails sur ces pendules, suivant ainsi la versatilité des goûts et les événements contemporains. Les dessins étaient ainsi diffusés dans les plus prestigieux ateliers.

L'arrivée d'un rhinocéros vivant à Rotterdam en 1741, son voyage jusqu'à Versailles au début du mois de janvier 1749 et enfin à Paris le 3 février 1749 (où il resta jusqu'en avril) créa un véritable émoi auprès de la population mais aussi auprès des artistes qui s'empressèrent de le dessiner pour l'incorporer dans plusieurs oeuvres dont des pendules. Les marchands-merciers furent bien sûr prompts à saisir cet évènement pour créer un véritable engouement pour les les animaux exotiques dont le rhinocéros (voir T. H. Clarke, The Rhinoceros from Dürer to Stubbs 1515 - 1799, Sotheby's Publications, Londres, 1986).

Jean-Joseph Saint Germain fut sans doute le bronzier qui détermina l'archétype de la pendules au rhinocéros. Il en créa trois variantes. La première s'inspire de la célèbre gravure de Dürer en montrant un rhinocéros aux pattes trapues. Un exemplaire se trouvait dans la collection Alexander, vente Christie's New York, le 30 avril 1999, lot 115 (167 500 Dollars).

La seconde version s'inspire du rhinocéros de Joachim Kändler, modelé à Meissen en 1747 après sa visite à Dresde. Il est représenté la tête levée (voir H. Ottomeyer, P. Pröschel, et al., Vergoldete Bronzen, Munich, 1986, vol. II, p. 525, fig. 2). Un exemplaire fut quant à lui vendu chez Christie's New York, le 2 novembre 2000, lot 181 (182 000 Dollars).

L'ultime version fut créée en 1749 lors du séjour du rhinocéros à Paris. Un exemplaire est conservé dans la collection Grog-Carven au Louvre (voir P. Kjellberg, Encyclopédie de la Pendule Française du Moyen Age au XXe siècle, Paris, 1997, p. 129, fig. D).

Aucune des pendules au rhinocéros connues ne sont signées par le même horloger, soulignant encore la popularité de ce modèle. Notre pendule n'échappe pas au caractère insolite de chacune: elle n'est pas sommée comme la plupart d'un indien mais d'un cartouche rocaille aux ramures encadrant le cadran. Ce dernier n'est pas comme souvent posé directement sur le rhinocéros mais est soutenu par une console en volute lui conférant une grande légèreté.
Christie's Paris. IMPORTANT MOBILIER ET OBJETS D'ART. 25 juin 2008