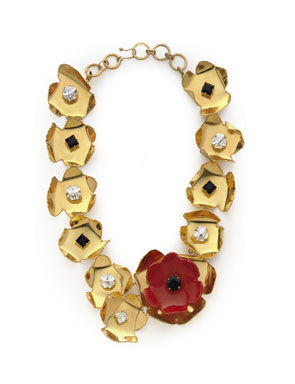 Yves Saint Laurent cut-out floral necklace, Spring/Summer 1990 (estimate: $1,000-1,500) price realized: $1,125
NEW YORK, NY.- Christie's New York kicks off the summer season in high-gear with a selection of highfashion vintage couture pieces to be sold in the Interiors July 1-2 sale.

The sale includes a special tribute to the late legendary French fashion designer Yves Saint Laurent with an offering of clothing and jewels spanning nearly every decade of Saint Laurent's career, from a 1958 Yves Saint Laurent for Dior cocktail dress, to a trademark Jackie-O favored YSL Rive Gauche camel cable knit and fox fur trim sweater from the 1970s, to a floral-form necklace of goldtone metal, resin and rhinestones shown for the Spring/Summer 1990 collections.

Additionally, a roster of fashion's A-list names feature pieces by Christian Lacroix, Thierry Mugler, Balenciaga, Mainbocher, and the iconic Gianni Versace, with the latter couturier's acclaimed 'Prima Ballerina' jacket of pink moiré and beads from the Spring/Summer 1992 collection – a showstopper of the sale. Other fun and fabulous warm-weather wears are a lime green 1960s two-piece dress by Courrèges and a late 1970s funky metal matching set of choker and ear-clips by Paco Rabanne, while a Chanel crystal sautouir, an Hermès alligator mini Kelly bag, and four flamboyant eveningwear specialties from Italian designer Roberto Capucci, finish off the group with the perfect touch of elegance.

Highlights include:
Yves Saint Laurent for Dior evening dress, 1958 (estimate: $1,000-1,500) price realized: $1,063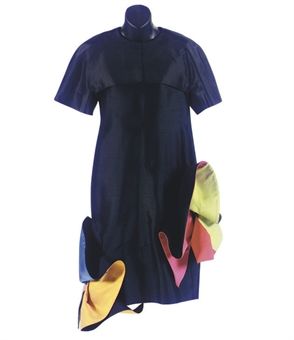 Roberto Capucci Roma cocktail dress (estimate: $400-600) Price Realized: $375


Paco Rabanne metal and beaded choker and ear-clips, late 1970s (estimate: $1,200-1,800) Price Realized: $2,375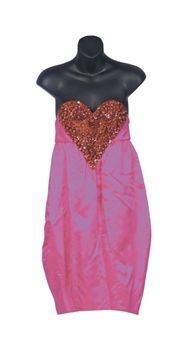 Thierry Mugler pink satin 'heart' cocktail dress, early 1990s (estimate: $300-400) Price Realized: $6,875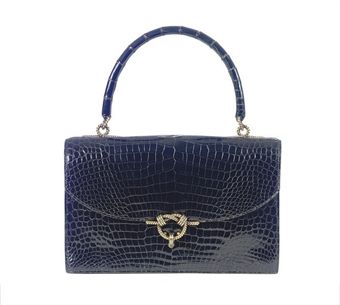 Hermès crocodile 'sac cordeliere' handbag, 1961 (estimate: $2,000-3,000) price realized: $6,875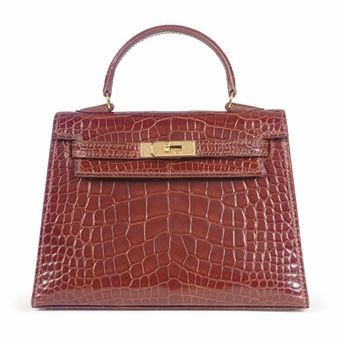 Hermes alligator mini kelly bag (estimate: $4,000-6,000) Price Realized: $8,125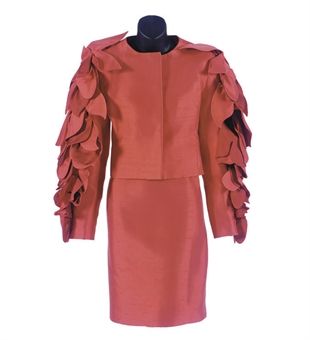 Roberto Capucci red silk 'petal' applique two-piece ensemble (estimate: $500-700)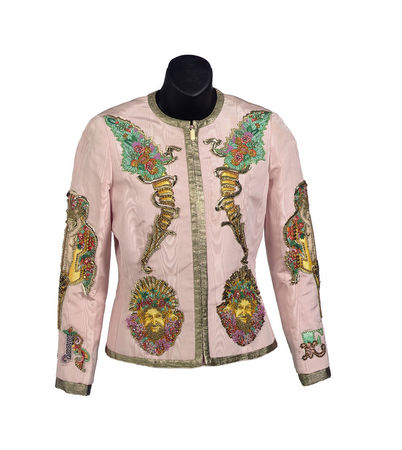 Versace Couture 'Prima Ballerina' jacket, Spring/Summer 1992. Estimate: $3,000-5,000.
(CHRISTIE'S IMAGES LTD. 2008)