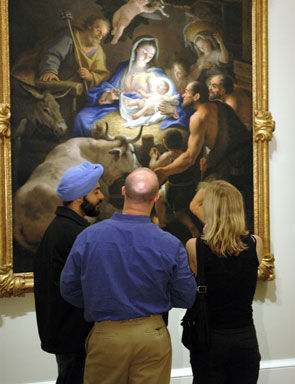 Visitors admire VMFA's "Adoration of the Shepherds" by Paolo de' Matteis (Italian, 1662-1728). (Photo by Travis Fullerton, © 2008 Virginia Museum of Fine Arts).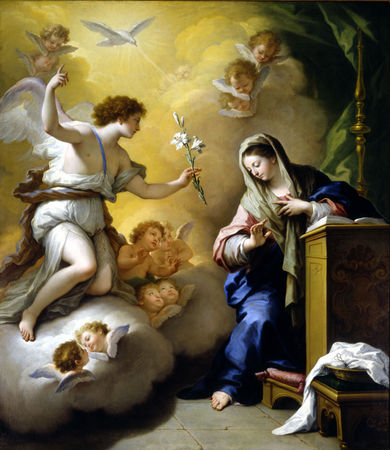 "The Annunciation" by Paolo de' Matteis (Italian, 1662-1728). (Photo: St. Louis Art Museum).
RICHMOND, VA.- This loan reunites two great masterpieces by the Italian late-Baroque painter Paolo de' Matteis: VMFA's own "Adoration of the Shepherds" and the St. Louis Art Museum's "Annunciation." Originally commissioned as a pair by the Duchess of Laurenzano, a celebrated Neapolitan patroness of the arts, these glorious examples of religious painting have not been exhibited together in recent times. The loan presents a rare opportunity to explore the two works' creation, display and visual relationship and to encourage ongoing scholarship on de Matteis and late-Baroque painting.

Paolo de Matteis (also known as Paolo de' Matteis) (9 February 1662 - 26 January 1728) was an Italian painter.

He was born in Cilento near Salerno, and died in Naples. He trained with Francesco di Maria in Naples, then with Luca Giordano. He came to the employ of the Spanish Viceroy of Naples. From 1702-1705, de' Matteis worked in Paris, Calabria, and Genoa. In Genoa, he painted an Immaculate conception with St. Jerome appearing to St. Sevrio. Returning to Naples, he painted decorative schemes for Neapolitan churches, including the vault of the chapel of San Ignatius in the church of Gesu Nuovo in Naples. He also painted an Assumption of the Virgin for the Abbey at Monte Cassino. Between 1723-1725, de' Matteis lived in Rome, where he received a commission from Pope Innocent XIII.

He had as pupils Inacio de Oliveira, Bernardes Peresi, and members of the Sarnelli family including Francesco, Gennaro, Giovanni, and Antonio Sarnelli. Others who were his pupils were Giuseppe Mastroleo and Nicolas de Filippis.