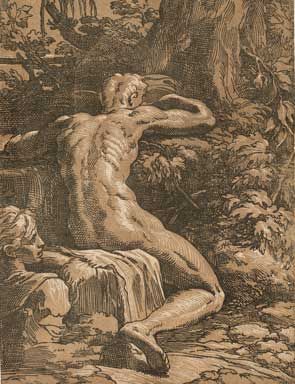 Antonio da Trento, Narcissus, 1527–29, Chiaroscuro woodcut, two blocks (brown), 289 x 180 mm. Geneva, Cabinet des estampes (Georg Baselitz Collection), Album Spencer, p. 57 (67). Photo: Peter Ertl, Albertina, Vienna
FRANKFURT.- The Department of Prints and Drawings of the Städel Museum presents a comprehensive exhibition of prints by the Italian painter Girolamo Francesco Mazzola, commonly known as "Il Parmigianino" (1503−1540), through 7 September 2008. The core of the show will be provided by 50 sheets from the collection of the painter, graphic artist, and sculptor Georg Baselitz (born in Deutschbaselitz, Saxony, in 1938), who has been collecting Mannerist prints for a long time and was able to purchase a highly valuable group of Parmigianino's prints a few years ago. In addition to these works from the Baselitz Collection, which the artist donated to the Cabinet des estampes of the Musée d'art et d'histoire in Geneva some time ago, the presentation also includes four loans from the Albertina in Vienna and the Staatliche Graphische Sammlung in Munich, as well as about 25 sheets from the Department of Prints and Drawings of the Städel Museum. Thus, the exhibition "Parmigianino and His Circle. Prints from the Baselitz Collection" assembles nearly all prints made by Parmigianino himself or in immediate connection with him and shows an oeuvre that exerted a great stylistic influence on Mannerism and sixteenth-century Italian graphic art in general.

It was in 1965 when Georg Baselitz, having been granted a scholarship for Florence, came across the graphic art of Italian Mannerism. He saw copperplate engravings, etchings, and woodcuts which offered no harmonious beauty, no fixed canonical form, and often no technical perfection. Yet, Baselitz was immediately fascinated by the sheets' austere aesthetics, their sometimes almost provoking originality and inventiveness, and the pleasure in technical experiments they conveyed. He was enthralled by the works' openness and directness, and since the sheets, only little appreciated at that time, were offered for a comparatively reasonable price, he began collecting them. "The relatively low prices were advantageous for me. Mannerist prints were lowly valued and suffered from the misunderstanding that they were reproductions. But I found that the artists' design, i.e. their individual development of forms and invention, manifested itself to a greater extent and more concisely in these drawings than in prints north of the Alps. They were more direct, more random, and more offensive in their manner," says Baselitz.

After some years, Baselitz had to sell his first holdings for financial reasons; but as soon as he could, he began to collect Mannerist prints again. The more his collection developed, the greater his interest in sheets by that prominent and highly appraised artist who played the central role in the development of Mannerist graphic art: Parmigianino. Good copies of etchings by his own hand and chiaroscuro woodcuts after his designs were rare on the art market and could, if at all, only be purchased at high prices. Yet a few years ago, Baselitz was able to close this gap with a spectacular acquisition: he bought the so-called "Album Spencer," an old volume comprising nearly all of Parmigianino's graphic works in excellent copies, from an art dealer. The "Album Spencer" had been put together, probably by French art dealers, for the English aristocratic family of the Spencers in the eighteenth century and was sold by the family in the 1980s.

Girolamo Francesco Mazzola, called "Il Parmigianino" (Parma 1503−1540 Casalmaggiore near Parma), was arguably one of the most important and influential painters of the generation after Raphael (who died in 1520). Compared to Raphael's classical outlook, Parmigianino developed an artificially intensified ("Mannerist") style characterized by gracefulness and sensuality, tension and elegance. After early successes in his home town Parma (he was considered a wunderkind), he went to Rome in 1524, hoping to be entrusted with representative commissions, as Raphael and Michelangelo had been before him and thus become world-renowned. Following the example of Raphael, for whom Marcantonio Raimondi had engraved and thus copied and disseminated numerous works, Parmigianino soon approached a copperplate engraver, too: it was Gian Giacomo Caraglio (1505−1565) whom he provided with drawings as models for copperplate engravings. Probably at the same time, Parmigianino began experimenting with the technique of etching. This method had only been developed in the south of Germany around 1500. In etching (adopted from German ätzen = to etch), a copper plate is covered with a waxy ground that is resistant to acid (the so-called etching ground), into which the drawing is scratched. The plate is dipped into a bath of acid where the acid "bites" into the metal where it has been exposed; then the picture sunk into the plate can be printed. This technique has the advantage that it does not require the laborious training a copperplate engraver has to undergo to master his craft; it can be learnt within a short time, and it suited a brilliant draftsman such as Parmigianino very well because of its character. In the early sixteenth century, it had the disadvantage that people had only little experience concerning the chemical features of the etching ground and the acids to be used. Parmigianino was the first artist in Italy who dedicated himself thoroughly to the artistic possibilities of this graphic technique and tried to achieve painterly effects with it − effects which not only came up to those of his paintings' coloring, but perhaps even more so to the subtle impressions conveyed by his masterful drawings.

Parmigianino's interest in exploring new media as forms of expression and new printing techniques also becomes manifest in the fact that he concerned himself not only with copperplate engraving and etching but also with another, then recent, printing technique: the chiaroscuro woodcut. As with his engravings, he did not make the prints himself but cooperated with expert woodcutters. Not one, but several differently colored cut blocks are used for chiaroscuro prints whose very specific, often astounding effects depend on the interplay of these "tone blocks." The chiaroscuro woodcut is not only the first color printing technique without subsequent coloring but also an independent and highly suggestive form of artistic expression.

In Rome, Parmigianino met Ugo da Carpi (ca. 1480–1532), the pioneer of this technique in Italy. Da Carpi had begun to make chiaroscuro prints after drawings by Raphael a few years before and closely cooperated with the artist. The Städel Museum is in possession of a drawing by Parmigianino based on such a woodcut by Ugo da Carpi which was most probably made in Rome. On the other hand, Parmigianino seems to have provided da Carpi with drawings and have worked with him to execute woodcuts after them around the same time. After the Sack of Rome, the pillage of the city by troops of the Habsburg Emperor Charles V, had sent both artists fleeing, they continued their collaboration in Bologna. It was Rome or Bologna that saw the production of the masterpiece resulting from this association: the chiaroscuro woodcut "Diogenes," which can be presented in three different copies in the exhibition. In Bologna, two other woodcutters, Antonio da Trento and Niccolò Vicentino, also executed chiaroscuro woodcuts after drawings by Parmigianino.

The exhibition has been presented at the Staatliche Graphische Sammlung in Munich from November 2007 to February 2008 and will now be shown in a slightly modified version and with some additional works from the collections of the Städel Museum in Frankfurt as its second stop.
Ugo da Carpi (after Parmigianino), Saturn or Allegory of Time, ca. 1526/27 or ca. 1527–30. Chiaroscuro woodcut from four blocks, first state. Department of Prints and Drawings, Städel Museum, Frankfurt am Main. Photo: Michael Kolod.