Michael Kimmelman writes: "Germany has long been funny about its relationship to local stardom and to the very notion of celebrity, which makes "Pigozzi and the Paparazzi," at the Helmut Newton Foundation in Berlin, a particularly fascinating and revealing exercise."
A 1981 photograph taken in Cannes by Helmut Newton for French Vogue. Photo: Photograph from the Helmut Newton Estate
With some 350 pictures, it's a breezy affair, not too logical, but never mind. It mostly recalls the glory days of the Côte d'Azur, the Via Veneto and Studio 54, with Edward Quinn's gorgeous photographs from Cannes in the '50s, and enough current celebs thrown in to grease the turnstiles.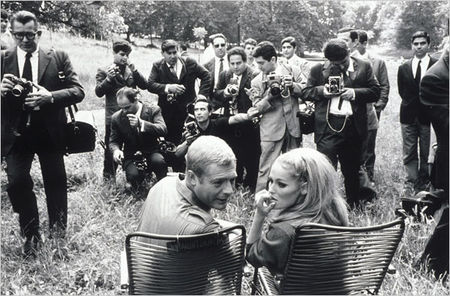 Marcello Mastroianni and Ursula Andress in Rome (1964) by Tazio Secchiaroli. Photo: Davide Secchiaroli
A few classics by Weegee don't really qualify as paparazzi shots, and neither, strictly speaking, do the dozens of snapshots by Jean Pigozzi, the Italian businessman, art collector and amateur shutterbug who likes to hold out a camera, arm's length, and take fish-eyed pictures of himself beside famous pals. They're strangely hypnotic: your neighbor's vacation slides in which Pamela Anderson, Mick Jagger and Mel Brooks keep turning up.
"Lovers at the Palace Theater" (circa 1945) by Weegee (Arthur Felling) Photo: Weegee/International Center of Photography, via Getty Images
Whatever. The show advertises itself as the first survey of paparazzi in this country, and that makes sense. Chalk up Germany's ambivalence toward homegrown celebrity to what Ulf Poschardt, the founding editor of the German version of Vanity Fair magazine and now an editor at the newspaper Welt am Sonntag, the other day called "aggressive egalitarianism." "The complete affirmation of yourself is considered kitsch here," he said. "You can't do it."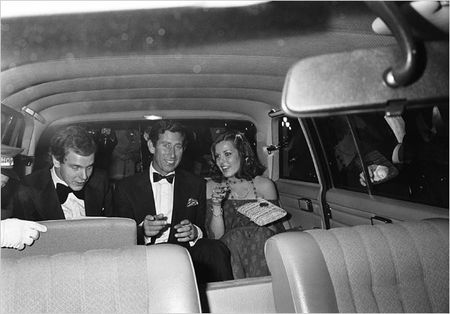 Prince Albert, Prince Charles and Princess Caroline in a limousine in Monte Carlo, 1977. Photo: Daniel Angeli, courtesy Agence Angeli
Patrick von Ribbentrop, a 35-year-old clothing entrepreneur, put it somewhat differently. He attributes the state of German celebrity culture, such as it is, to "a marketing problem."
"Being a wealthy individual, you also have to be willing to be in the public eye. Then you have to have a whole system for promotion."
Giovanni Agnelli jumps from his boat in St. Tropez (1977) by Daniel Angeli. Photo: Photograph from the Helmut Newton Foundation
The key word, explained Dagmar von Taube, a society reporter for Welt am Sonntag, is Bescheidenheit, modesty. Next door to Germany, the French president lives in a palace with his new wife, a fashion model turned pop singer. But here the chancellor, Angela Merkel, occupies a plain little house in the middle of town.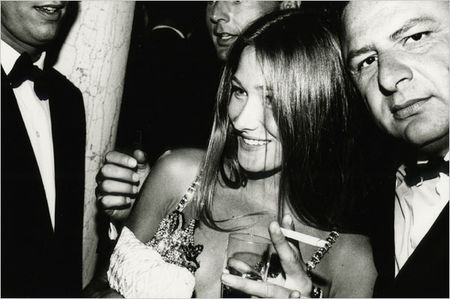 As is his habit, Jean Pigozzi took a picture of himself in illustrious company, in this case Carla Bruni, in 1991. Photo: Photograph from the Helmut Newton Estate
Sure, Germans read German celebrity magazines like Bunte and Gala, and would-be Carries in their Manolo Blahnik knockoffs jammed the red carpet when "Sex and the City" opened a few weeks ago. But particularly in this capital of cool, locals take pride in ignoring stars like Christina Ricci and Madonna when they're walking down the street or eating in a restaurant.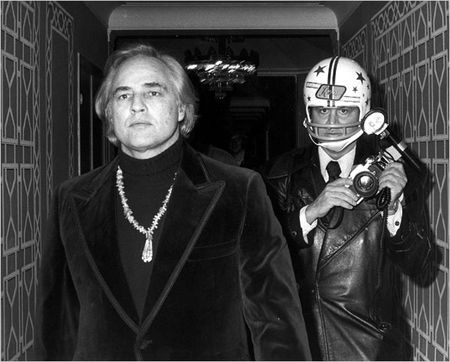 Marlon Brando and Ron Galella in New York. (1974) Photo: Paul Schmulbach/Courtesy Galerie Wouter van Leeuwen, Amsterdam
"In Munich, they love celebrities," Claudius Seidl, an editor for Frankfurter Allgemeine Zeitung, pointed out. Fifty-odd years ago, he said, before globalization, Germans, both East and West, fawned more over their own celebrities. But today's stars are dwarfed by Brad Pitt and Angelina Jolie's twins.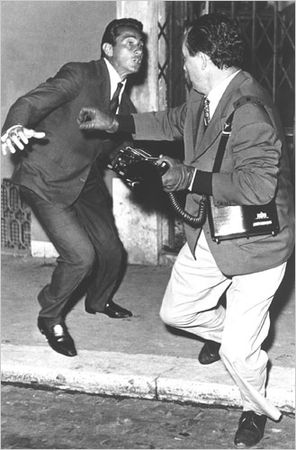 Walter Chiari and Tazio Secchiaroli in Rome (1958) by Elio Sorci. Photo: c) Davide Secchiaroli
"That said," Mr. Seidl continued, "it's true there is a general embarrassment among Germans about being famous for being famous. Unless you are a world-class star, you must be intellectual and appear normal; otherwise you're considered trash."
"Linea Italiana" shot by Newton in Rome in the 1970s. Photo: Photograph from the Helmut Newton Estate
At the Helmut Newton Foundation, the show ends with Newton's staged and stately fashion shots of models pretending to be stars surrounded by paparazzi. A native Berliner, Newton fled to escape Nazi persecution and was inspired to make his career as a photographer by, among other people, Erich Salomon, who later died at Auschwitz. Newton grasped the comic pleasures of celebrity, minus the guilt.
But then, he spent most of his life in places like Los Angeles and Monaco, not Germany.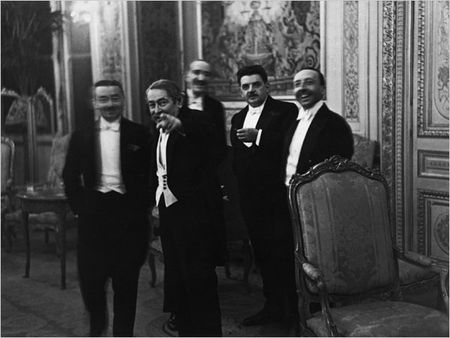 French foreign Minister Aristide Briand, second from left, points to the photographer Erich Salomon, who sneaked into a meeting at the Quai d'Orsay in Paris on August 31, 1931. Photo: Erich Salomon/Berlinische Galerie
Lire l"article: Berliners Get a Crash Course in Glittery Celebrity Culture de MICHAEL KIMMELMAN