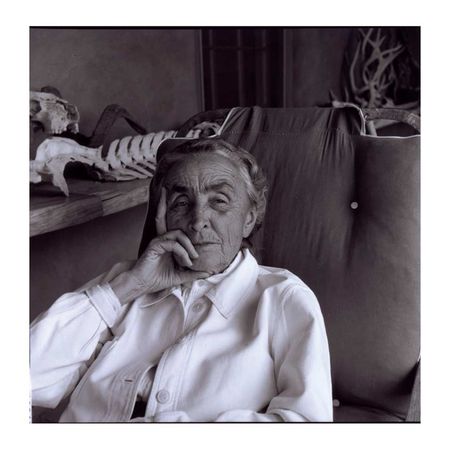 Todd Webb (United States, 1905–2000), Georgia O'Keeffe at Ghost Ranch, 1963, gelatin silver print, 4 1/2 x 4 1/2 inches, Portland Museum of Art, Maine. Gift of the Evans Gallery and Todd and Lucille Webb
SANTA FE, NM.- The Georgia O'Keeffe Museum is pleased to present an exhibition of paintings by Georgia O'Keeffe (1887-1886) with photographs taken of her from the 1910s through the 1980s. She is one of the most significant artists of the 20th century, and this is the first exhibition to pair her paintings and photographs made of her to establish the two opposing public images of the artist that were created during her lifetime – one by her husband as of 1924 and dealer as of 1916, world-famous photographer, Alfred Stieglitz, and another by the artist herself. The exhibition will include 60 photographs, along with 18 works by the artist that address the changing relationship between her art and her public image during the course of her long career.Georgia O'Keeffe and the Camera: The Art of Identity features works by such famous photographers as Alfred Stieglitz, Ansel Adams, Eliot Porter, Todd Webb, Irving Penn, and Arnold Newman. The exhibition will be on view to the public September 26, 2008 through February 1, 2009.

Georgia O'Keeffe is best known for her paintings of large-scale flowers, New York cityscapes, animal bones, and the landscape of New Mexico. Her extraordinary career focused first on a highly innovative exploration of abstraction and shifted towards powerful representation and heightened realism after the mid-1920s. Georgia O'Keeffe and the Camera: The Art of Identity explores the essential role that photography played in establishing her reputation, promoting her career, and creating her public persona. O'Keeffe's lasting fame rests on the strength of her work and the inspiring story of her life. Photographs made by her art dealer-husband, her friends, celebrity portraitists, and photojournalists all serve to tell various versions of that tale.

O'Keeffe and her connection with photography began with Alfred Stieglitz in New York in 1917. Early in her career, she was primarily an abstract artist and a leading member of one of the avant-garde art movements that blossomed in New York in the 1910s and 1920s.

It was Stieglitz's version of O'Keeffe's life, told through the eyes of a modern art impresario and impassioned lover, which captured the critics' attention and the press. His photographs of O'Keeffe established her first public image as a sexually liberated woman.

A shift in O'Keeffe's persona and art can be seen beginning in the mid-1920s and especially after she traveled from New York to New Mexico in 1929. Photographs of O'Keeffe in New Mexico by photographers such as Ansel Adams, John Loengard, and Todd Webb increasingly shaped a new public image of the artist—as a rugged individualist whose hard work and determination allowed her to realize herself fully as an artist and a person. She finally settled in New Mexico in 1949.

O'Keeffe posed for the leading celebrity portraitists of her day including Yousuf Karsh, Arnold Newman, and Irving Penn. By allowing magazine photographers into her two homes at Abiquiu and Ghost Ranch, O'Keeffe further supplied the public with views and written descriptions of her private world. Fusing traditional New Mexican architecture with her taste for modern design, O'Keeffe's houses came to represent a version of Santa Fe modernism. By consciously cultivating press coverage of her career and her lifestyle, O'Keeffe achieved and maintained celebrity status for decades, not only in the art world, but also in the population at large. O'Keeffe's astute understanding of the power of the photographic image and the power of the press, both of which she had come to understand through Stieglitz, became a critical tool in fashioning her popular identity and a key to her abiding fame.

Along with photographs, the exhibition showcases examples of O'Keeffe's paintings and works on paper that mark major moments in the development of her art: the early abstract drawings, the large-scale depictions of flowers as if seen close up, the first landscapes in New Mexico from the 1930s, and the late architectural studies of her homes at Ghost Ranch and Abiquiu.

Co-curators for the exhibition are Susan Danly, Curator of Graphics, Photography, and Contemporary Art, Portland Museum of Art, and Barbara Buhler Lynes, Curator, Georgia O'Keeffe Museum, and The Emily Fisher Landau Director, Georgia O'Keeffe Museum Research Center. The exhibition is accompanied by a catalogue published by Yale University Press featuring all the works in the exhibition and essays from Lynes and Danly.

This exhibition was co-organized by The Portland Museum of Art, Maine, and The Georgia O'Keeffe Museum, Santa Fe, New Mexico. The exhibition was made possible in part by a generous grant from The Burnett Foundation. Additional support for this exhibition and related programming was received from The Annenberg Foundation, Kerr Foundation, New Mexico Arts (a division of the Department of Cultural Affairs), Santa Fe Arts Commission and 1% Lodgers Tax, New Mexico Department of Tourism, William Randolph Hearst Foundation, MSST Foundation, JP Morgan Foundation, the Kaiserman-Robinson Family, and the Members of the Georgia O'Keeffe Museum.
Georgia O'Keeffe (United States, 1887–1986), Blue Line, 1919, oil on canvas, 20 1/8 x 17 1/8 inches, Georgia O'Keeffe Museum, Santa Fe. Gift of The Burnett Foundation and The Georgia O'Keeffe Foundation