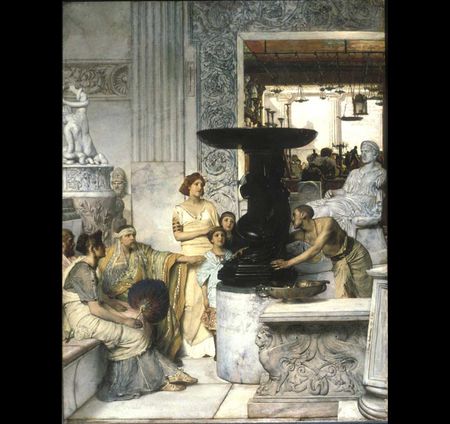 Lawrence Alma-Tadema, The Sculpture Gallery, 1874, oil on canvas. Gift of Arthur M Loew, Class of 1921A; P.961.125.
HANOVER, NH.- The Hood Museum of Art at Dartmouth College has developed a focused display centered on its most important nineteenth-century European painting, The Sculpture Gallery (1874) by Sir Lawrence Alma-Tadema (1836–1912). The exhibition, Alma-Tadema and Antiquity: Imagining Classical Sculpture in Late-Nineteenth-Century Britain, on view through September 28, 2008, features the painting, related prints, photographs, and three of the original ancient Roman objects on loan to the Hood from Pompeii and Herculaneum that Alma-Tadema personally examined and included in the work. The Sculpture Gallery was Alma-Tadema's largest and most ambitious painting, and it recreates Roman architecture, sculpture, and decorative objects with archaeological precision. The artist's depiction of the display and sale of classical statues and other decorative objects emphasizes the role of sculpture as an integral part of everyday life in antiquity, rather than as a timeless ideal, and reveals the originality of the subject and its elaborate construction. The Hood's painting will also be included in upcoming exhibitions at the National Gallery of Art and the Los Angeles County Museum of Art.

This exhibition was organized by the Hood Museum of Art and is generously supported by a grant from the Kress Foundation and by the George O. Southwick 1957 Memorial Fund.