Layered in myth and legend, Shiva "the Auspicious" is of paramount importance to the Kathmandu Valley. As the object of worship for the Shaiva tradition of Hinduism, he is both creator and destroyer, simultaneously embodying the destructive and creative forces of the universe. Shiva has a long history and is said to have more than a thousand names to define his many forms and special qualities. The name for Shiva preferred by the Hindus of Nepal is Mahadeva (the Great God), but he is also known as Maheshvara (the Great Lord), Pashupati (Lord of the Animals), and Bhairava (the Terrible One) when wrathful. Furthermore, sacred places for devotion and pilgrimage are located throughout the Kathmandu Valley and relate to the different stories and manifestations of Shiva. One common narrative portrays Shiva as a householder with a wife and two sons. His spouse, Parvati, the Great Goddess, also plays a leading role and, like her husband, has many names and legends. She is Uma when seated next to Shiva, Parvati when daughter of Himavat—God of the Himalayan mountains—and the ferocious Durga when slaying demons. Their two children are also renowned throughout Nepal; the beloved elephant-headed god, remover of obstacles, Ganesha, and the commander of the divine armies, Kumara Kartikeya.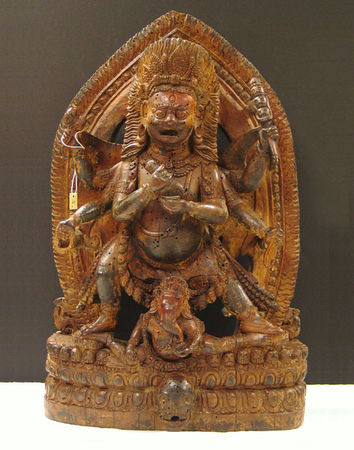 Mahakala, The Great Black One, Nepal; 18th century, Wood
Rubin Museum of Art, C2005.4.3 (HAR 65387)
The wrathful Mahakala is a protector of the Kathmandu Valley and is practiced by both the Buddhist and Hindu religions. Well balanced with a heavy-set body, this work is carved in wood, a common material for Newar artists. Mahakala's many arms hold his attributes: curved knife and skull cup, skull garland prayer beads and lasso, double sided drum (damaru) and tantric staff. Below, Mahakala is supported by Ganesha positioned in an unusually severe and visually painful splayed posture.
Panchmukha Bhairava, The Terrible One with Five Faces, Nepal; 14th century, Copper alloy with inlay
Rubin Museum of Art, C2003.33.1 (HAR 65256)
Shiva in his form as the wrathful Bhairava wields weapons in his multiple arms and glares with a fanged grimace. A blood sacrifice or alcohol are traditional offerings used in the worship of this wrathful form of the god Shiva. The sculpture's five heads and ten arms, with almost all attributes still intact, make for a beautiful composition. The earrings on this sculpture represent Shiva's iconography: a snake for the right and a ring for the left.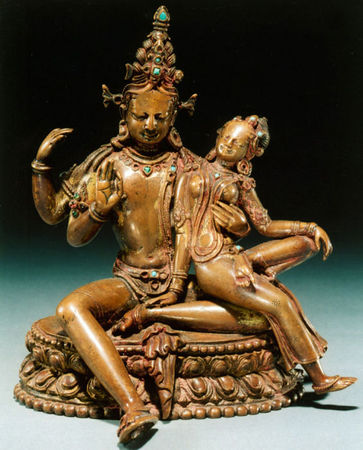 Shiva and Parvati, Nepal; 13th century, Metal
Rubin Museum of Art, C2005.16.12 (HAR 65434)
Of the many Shiva themes depicted in Nepalese sculpture, most popular is that of the divine couple Shiva and Parvati. Noticeable in this sculpture are their worn foreheads and remnants of vermillion coloring that indicate this bronze was used as a domestic shrine object for generations. It is common practice in Nepal, as in India, to anoint the images daily with vermillion. Shiva occupies much of the marriage set, sitting in a relaxed and playful posture (lalitasana), the pleats of his wrapped skirt (dhoti) draping over the base. His two upper hands, now empty, would have held a trident and string of prayer beads. His primary right hand performs the gesture of fearlessness (abhayamudra) and the corresponding left hand supports the separately cast figure of Parvati. Adorned much like her husband, but without the single emblematic skull earring and crescent moon, Parvati sits on Shiva's left thigh with her right leg pendent and her left folded across her right thigh. Her left hand gently rests on the knee and she sits back relaxed, passing an adoring glance at her partner. Despite the divinity of the subjects, the theme of this work is essentially human in flavor and is cast by Newar artists with much love and intimacy.
Kumara, General of Shiva's Armies, Nepal; 13th century, Metal
Rubin Museum of Art, C2004.14.10 (HAR 65337)
Ganesha. The Elephant-Headed God and Remover of Obstacles, Nepal; 17th century, Copper alloy
Rubin Museum of Art, C2004.22.2 (HAR 65369)
Shiva Vishvarupa. Universal Form of Shiva and Consort, Nepal; mid-19th century, Pigment on cloth
Rubin Museum of Art, C2003.20.2 (HAR 65250)
The name Vishavarupa is understood as "universal form." In this painting the viewer has the sense that the deity takes up all available space–the entire world is seen as divine. The female consort embraced by Shiva is in complete harmony with the mustached male god and appears to blend into her partner. The couple dances atop a dais supported by the lesser Hindu gods within an aureole of fire, surrounded by charnel ground scenes and other manifestations of the great god Shiva.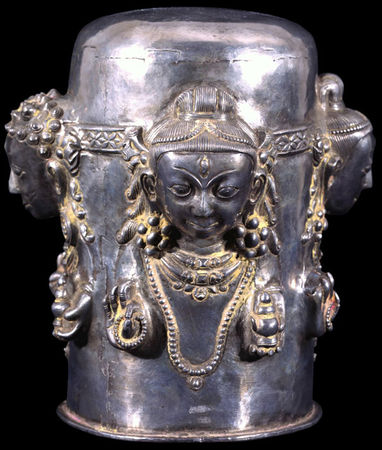 Four-Faced Lingam, Nepal; 19th century, Silver; répoussé
Rubin Museum of Art, C2002.39.1 (HAR 65176)
The Lingam is the most ubiquitous symbol of Shaivism and the primary cult object worshipped in Shiva temples. Commonly represented in this symbolic form, Shiva is depicted as an erect phallus, referred to as a Lingam or Shivalingam. This form represents his regenerative and creative energy. In its simplest form, the Lingam is a plain columnar object with either a rounded or flattened top. The multi-faced Shivalingam, common in the Kathmandu Valley, has four faces, along with an abstract formless fifth face above. These five faces represent five aspects of the god along with five geographic holy places of India and Nepal.
Head of Bhairava, Nepal, 16th c., Respousse gilt copper
Durga, Nepal, 1400 - 1499, Metal, Copper Inlay
Collection of Rubin Museum of Art, (item no. 65028)
From the Lands of Gods @ Rubin Museum of Art, New York. March 14 – November 10, 2008