Goethe's Corridor, 1977 © Barbara Bloom
BERLIN.- The Martin-Gropius-Bau presents an exhibition of works by the American artist Barbara Bloom. In a world saturated with images, Barbara Bloom makes visually abundant art that examines the nature of looking. Internationally known for her meticulously crafted works that are precisely detailed and flawlessly executed, Bloom rarely presents a singular image or object, but concerns herself with the relationships between objects and images, and the meanings implicit in their placement and combination. Bloom's artwork uses beauty as a premise for investigating illusion, fragility, and transience.

Bloom is one of the leading artists of postmodern generation of artists that includes Cindy Sherman, Richard Prince, and Barbara Kruger. She is particularly noted for her witty and elegant installations, which often combine objects that she has collected with ones manufactured.

This exhibition will include many components of her past artworks, such as her noteworthy The Reign of Narcissism, and Esprit de l'Escalier, along side newly made pieces, as well as specimens from her vast personal collections of ephemera and objects gathered from wide ranging sources. In each case, she repositions the work or adds new elements, not only to blur the lines between self-made and found material, between past and present, but also to acknowledge how meaning is constructed by context.

As suggested by the title, this exhibition is comprised of – and is a meditation on – collections. It is a hybrid form: a combination of a self curated mid-career retrospective, estate sale, and self-portrait. Bloom has built her career out of questioning appearances and exploring the desire for possessions. Here she challenges conventional perceptions with wry commentaries on the shifting notions of value, the practice of collecting, and the norms of the retrospective.

Among the many improbable objects presented here are a Playboy magazine in Braille, postage stamps featuring the works of contemporary artists, a chair upholstered with fabric bearing the artist's dental X-rays, a pornographic image printed on a grain of rice, ceramic bowls that have been broken and repaired with gold, and a carpet depicting the cover of the first edition of Vladimir Nabokov's novel Lolita.

The exhibition is divided into eleven collection sections: Innuendo, Framing, Doubles, Broken, Songs, Naming, Charms, Blushing, Belief, Reading In, and Stand Ins. These idiosyncratic categories are, by necessity allusive. Thy functions as clues, guideposts that allow us to navigate a path through her images and objects. Engaging the viewer in a dialogue and revealing Bloom's unique vision. Produced in conjunction with the exhibition is a copiously illustrated catalogue conceived and designed by the artist, with texts by Dave Hickey and Susan Tallman. One could describe the The Collections of Barbara Bloom as an installation piece as an artist's retrospective, and this accompanying volume as an artist's book masquerading and catalogue raisonné.

Barbara Bloom was born in Los Angeles in 1951; she studied at Bennington College, and with John Baldessari at the California Institute of the Arts. For many years she lived and worked in Amsterdam and Berlin. She has exhibited at the Museum of Modern Art, New York; the Museum of Contemporary Art, Los Angeles; the MAK, Vienna; the Serpentine Gallery, London; Kunstverein München; Kunsthalle Zürich; and other international venues, including the Venice Biennale where she received the Due Mille Award. She is the recipient of other awards from Guggenheim Foundation, The Wexner Center for the Arts, and the Getty Research Institute. She currently lives and works in New York City.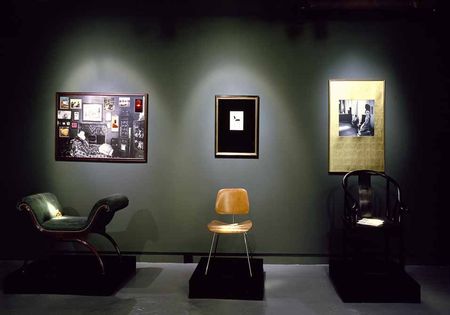 The 7 Deadly Sins, 1987 © Barbara Bloom