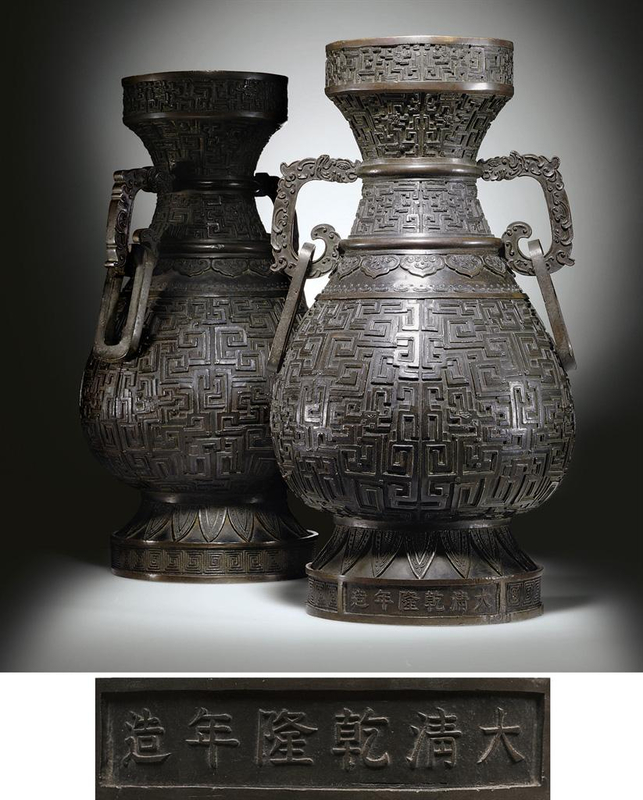 Lot 601. An important and very significant pair of imperial bronze altar vases, Qianlong six-character cast marks in a line within a panel and of the period (1736-1795); 19 7/8 in. (50.5 cm.) high (2) - Estimate : $600,000 - $800,000. Unsold. © Christie's Images Ltd 2008
Each very heavily and crisply cast in relief with a dense pattern of angular dragon scroll on the body below a ruyi band encircling the shoulder, the dragon scroll repeated on the waisted neck and the upright sides of the mouth, with a pair of dragon loop handles suspending loose oblong rings, the whole raised on a flared foot cast with a band of pendent blades above a band of key fret interrupted by the panel enclosing the reign mark, with dark patina.
Note: This pair of magnificent vases exemplifies the artistic and technical quality of bronze vessels cast for the imperial court. They would have been made as part of a five-piece temple or altar garniture comprising a censer, a pair of vases and a pair of pricket candlesticks, all of equally impressive size and weight. As they bear a Qianlong reign mark it is most likely that they were made for a specific shrine or temple within the Forbidden City.

Sacrificial ceremonies were among the most important rituals of the Qing court, with the emperor attending, if not performing, all of the major rites. Buddhism was the primary religion of the Qing dynasty and there were numerous Buddhist shrines and temples, as well as altars in the private quarters of the emperor and empresses. All of these necessitated ritual paraphernalia, including altar garnitures, which were made in various materials including bronze, porcelain and cloisonné enamel, and these garnitures were of varying size.

A complete garniture in bronze, but of far more simple design, is illustrated by Wan Yi, et al., in situ in the shrine in the Hall for Worshipping Buddhas, Daily Life in the Forbidden City, New York, 1988, p. 467. Three different bronze altar garnitures can be seen in a photograph of the Qin An Temple illustrated by Yu Zhuoyun, Palaces of the Forbidden City, Hong Kong, 1986, pp. 198-9, pl. 222. Another imperial bronze five-piece garniture of larger size (vases 29½ in. high) also heavily cast, but with dragons, and with Qianlong reign marks, was sold at Sotheby's, Hong Kong, 11 April 2008, lot 2826.
A pair of imperial bronze vases of this impressive type, but slightly smaller size (16¾ in. high), also with Qianlong marks, but of fanghu form and decorated with dragons and phoenixes, were sold at Sotheby's, Hong Kong, 9 October 2007, lot 1322. See, also, the pair of massive (36½ in. high) imperial bronze vases cast with Qianlong reign marks from the Alfred Morrison Collection, Fonthill House, sold in our London rooms, 9 November 2004, lot 17. Of the same shape as the present vases, they were cast with phoenixes.

Both vases have incised inscriptions in the interiors of the necks making reference to their weight, and numbers which may be a location or inventory reference. One bears a mark of 68 jin and the number wushiyi (51) and the second bears a mark of 66 jin and the number sishiqi (47) which has been partially effaced. The actual weight of the vases is 84½ lbs. and 81½ lbs respectively.
Christie's. Masterpieces of Chinese Art. 17 September 2008. New York, Rockefeller Plaza.