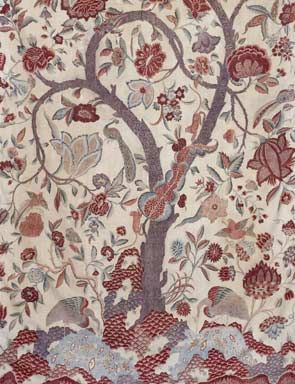 Chintz Hanging: Coromandel Coast (circa 1700 – 1740).
LONDON.- The Art Fund, the UK's leading independent art charity, has helped the Ashmolean Museum of Art and Archaeology to acquire an exceptional Indian textile which will be showcased in its new West meets East gallery. The charity gave a grant of £5,000 towards the £22,000 purchase price.

The Ashmolean Museum has a superb collection of Indian dyed textiles made for the Middle Eastern and South-East Asian markets, however, Chintz Hanging: Coromandel Coast (circa 1700 – 1740) is the first piece in their collection which was made specifically for the European market.

David Barrie, Director of The Art Fund, said: "I am delighted that The Art Fund has enabled the Ashmolean to secure this very beautiful work of art which will be displayed in the new West meets East gallery. The textile perfectly exemplifies the artistic and cultural exchanges which this new gallery is designed to explore."

The chintz demonstrates the eastern fashion which swept Britain and Europe in the 17th and 18th centuries. The fine quality of the textile can be seen in the design. The cloth was painted with resist and mordant prior to dying, a process which was repeated several times to obtain the different colours. This complex technique was perfected in the textile workshops of South-East India.

Dr Ruth Barnes, Project Curator of the Textiles Gallery in the Ashmolean Museum, said: "This chintz is an important addition to our Indian textile collection, which is already remarkable for its quality and size. The Museum has long been hoping to acquire a work like the Chintz Hanging to complement our collections."

The Ashmolean Museum is currently undergoing a major development which will introduce 39 new galleries over five floors, and will incorporate an innovative redisplay of the collections. Entitled Crossing Cultures Crossing Time the display strategy will present visitors with new ways of understanding how civilisations which have shaped our modern societies developed as part of an interrelated network, rather than in isolation. By making appropriate comparisons and connections, the display concept traces the journey of ideas and influences through the centuries and across continents.

In the last two years The Art Fund has provided the Ashmolean Museum with grants totalling more than £100,000 towards over 70 objects which are held in diverse collections; spanning late antiquity to the 20th century, originating from East and West.

Chintz Hanging: Coromandel Coast was purchased for £22,000, with a grant of £5,000 from The Art Fund, £9,000 from the V&A Museum Purchase Fund, £3,000 from the Friends of the Ashmolean and the remaining amount coming from the Museum's funds.