Ronald Reagan, former Governor of California, March 4, 1976, © 2008 The Richard Avedon Foundation
WASHINGTON, DC.- This fall, the Corcoran Gallery of Art premieres a special exhibition, Richard Avedon: Portraits of Power, in conjunction with the presidential election season in Washington, D.C. Bringing together more than 200 of Richard Avedon's political portraits of the country's power elite for the first time, the Corcoran presents many rarely-seen and some never-before-exhibited or published photographs.

Richard Avedon, America's pre-eminent editorial portraitist and fashion photographer, photographed the faces of politics throughout his career. Juxtaposing images of elite government, media, and labor officials with counter-cultural activists and ordinary citizens caught up in national debates, Richard Avedon: Portraits of Power will explore a five-decade taxonomy of politics and power by one of the country's best-known artists.

"Richard Avedon is, undisputedly, the most important of American portrait photographers," said Paul Roth, curator of photography and media arts at the Corcoran. "At this moment, as we move toward an historic presidential election season in Washington, Avedon's political portraits seem utterly of the moment: an education on the last 50 years of our history and, at the same time, a vital lesson about power."

Richard Avedon: Portraits of Power includes photographs from the 1950's through the artist's death in 2004, displayed chronologically and grouped within Avedon's specific editorial projects.

Avedon, with unparalleled access afforded by his fame and his work for such magazines as Harper's Bazaar, Vogue, Egoiste and The New Yorker, photographed important figures of the American political scene throughout his career. In addition to single portraits commissioned to accompany magazine profiles, the artist made several extended photographic essays with political themes.

Among these, his groundbreaking 1976 portrait series "The Family" is most significant. Commissioned by Rolling Stone magazine, Avedon made 69 portraits depicting elected officials, government bureaucrats, lawyers and lobbyists, captains of industry and union leaders—all representatives of the American political, military, media and corporate elite.

Avedon photographed people on both sides of the civil rights debate for his 1964 book Nothing Personal (1964), and in the late 1960s and early 1970s he documented the American anti-war movement and the war in Vietnam. In 1993, Avedon combined past work with new images for a nostalgic New Yorker photo-essay called "Exiles: The Kennedy Court at the End of the American Century." In 2004, the artist accepted a New Yorker commission to make portraits that would illustrate "a sense of the country" during a politically fractious time. While working on the project in Texas, Avedon suffered a cerebral hemorrhage; he died a short time later. "Democracy" was published by The New Yorker in incomplete form just before the election.

This exhibition traces one artist's fascination with the animating forces of American democracy. Seen together, the photographs comprise a kind of historical group portrait, showing key figures from a half-century of political life. They provoke questions about the complex motivations of portraitists and their subjects, who work—sometimes at cross-purposes—to depict or project an image that conveys personal history, character, ambitions, and ideals. Finally, they reveal an extraordinary career-long investigation into the complex nature of power. Surrounded by the faces of the powerful, leaders and ordinary citizens alike, the audience is itself empowered by the dialogue that results between those who use power to exercise control and those who seek it to affect change.

Richard Avedon: Portraits of Power is organized by the Corcoran Gallery of Art. The exhibition is organized with the cooperation of The Richard Avedon Foundation, New York, and Fraenkel Gallery, San Francisco.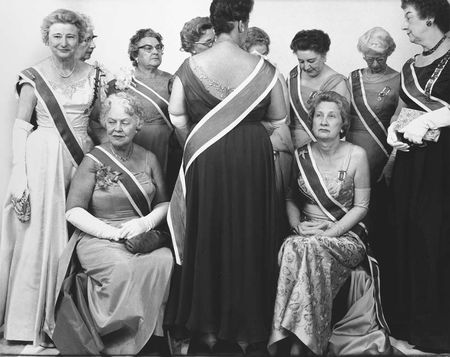 The Generals of the Daughters of the American Revolution, DAR Convention,
Mayflower Hotel, Washington, D.C., October 15, 1963, © 2008 The Richard Avedon Foundation