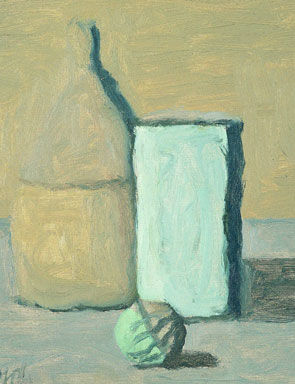 Giorgio Morandi, Natura morta, 1964. Oil on canvas 25.5. x 30.5 cm Bologna, Museo Morandi © Giorgio Morandi by SIAE 2008.
NEW YORK.- A landmark presentation of paintings, watercolors, and etchings by the seminal 20th-century master Giorgio Morandi will be on view at The Metropolitan Museum of Art this fall. The first complete survey dedicated to this acclaimed Italian artist in more than a quarter century and the first ever in this country, Giorgio Morandi, 1890-1964 comprises some 110 works that document the entire course of his career and all phases of his oeuvre. The exhibition features Morandi's iconic still lifes as well as his rare self-portraits and landscapes, nearly all of which are brought together for the first time ever from great collections formed in collaboration with the artist himself – those of scholars and critics who were close to him and of the privileged Italian collectors for whom he reserved his best work.

The exhibition, which is arranged thematically as well as chronologically, includes some of Morandi's earliest pictorial experiments, his metaphysical paintings of the post-World War I years, the classical still lifes and landscapes that he produced as a mature artist, and the nearly monochromatic, dissolved images of his last years. Shown together, Morandi's paintings, watercolors, and etchings reveal his singular genius in seeking to evoke the poetry and monumentality in familiar objects and settings, attempting, in his own words, "to touch the depth, the essence of things."

The early part of Morandi's career is the most difficult to reconstruct, as he destroyed much of his work from this period. Nonetheless, the quiet eloquence that came to typify his mature style is already evident in some of his earliest extant paintings, as will be demonstrated by a number of important loans from Italian museums. The undulating lines and muted tones in a still life from 1916 suggest the influence of Giotto (Collezione Gianni Mattioli on loan to Collezione Peggy Guggenheim, Venice). The simple geometry and brighter hues of a still life from 1920 reveal Morandi's debt to Piero della Francesca (Pinacoteca di Brera, Milan). Morandi's brief involvement with the pittura metafisica movement is represented by, among other works, a still life from 1918, in which such unrelated objects as a pipe, a sculpted head (milliner's prop?), a bottle, and a box are brought together for their interesting shapes rather than for any symbolic meaning (Fondazione Magnani-Rocca, Mamiano di Traversetolo). Two rare attempts to show the human figure – Morandi's self portraits – are particularly fascinating. The artist paints himself in exactly the same way that he would a still life – without emotion or psychological insight (Uffizi, Florence; Fondazione Magnani-Rocca). One of the most astonishing works in the exhibition – a still life of 1942 – appears to show only the bottom half of a grouping of objects. When the art historian and theoretician Carlo Ludovico Ragghianti commented that the upper half of Morandi's original work was weak, the artist cut away the top, framed the lower half, and gave the unusual composition to Ragghianti (Private Collection). Also on view will be several series – reunited specifically for the exhibition – in which the same composition is reworked multiple times with slight variations in the point of view; the placement or color of a single object within the composition; or the intensity of light and contrast (Museo Morandi, Bologna). The exhibition will culminate with examples of Morandi's later, so-called "dissolved" works. A watercolor of 1963, for example, at first appears to be comprised of flat zones of color and abstract shapes (Fondazione Magnani-Rocca). Upon prolonged viewing, however, the real objects – in this case, a vase and two pots – reveal themselves.

Giorgio Morandi was born in Bologna in 1890, and entered the Accademia di Belle Arti in that city in 1907. His early works show the influence of Paul Cézanne, but he also experimented briefly with Cubism, Futurism, and the pittura metafisica (metaphysical painting) associated with Giorgio de Chirico. By the early 1920s, Morandi's unique style – focusing on subtle gradations of hue and tone among a small group of objects arranged and re-arranged in compositions that vary slightly from one to the next – began to evolve. Through his signature repetition of a small number of simple motifs and economy of color and value, Morandi paved the way for minimalism.

In addition to artistic output, Morandi was an educator who taught drawing in the elementary schools around Bologna from 1914 until 1929 and etching at the Accademia di Belle Arti in his own city from 1930 to 1956. He showed his work in the Novecento italiano exhibitions of 1926 and 1929, and was awarded first prize for painting at the 1948 Venice Biennale, and grand prize in the 1957 São Paolo Biennale. The Italian filmmaker Federico Fellini paid tribute to Morandi by featuring one of his paintings in his emblematic masterpiece La Dolce vita (1960).

Morandi's famous reclusiveness – he granted only one interview for publication during his lifetime and created few paintings other than those for his friends and long-time supporters – together with his choice of subject matter have led to his marginalization within the framework of modern art. Giorgio Morandi, 1890 – 1964 will introduce a new audience to his remarkable achievement and will seek to re-establish his rightful place within the international history of 20th-century culture.
Giorgio Morandi, Natura morta, 1954. Oil on canvas 26 x 70 cm Mart, Museo d'Arte Moderna e Contemporanea di Trento e Rovereto, Collezione Augusto e Francesca Giovanardi. Archivio fotografico Mart © Giorgio Morandi by SIAE 2008