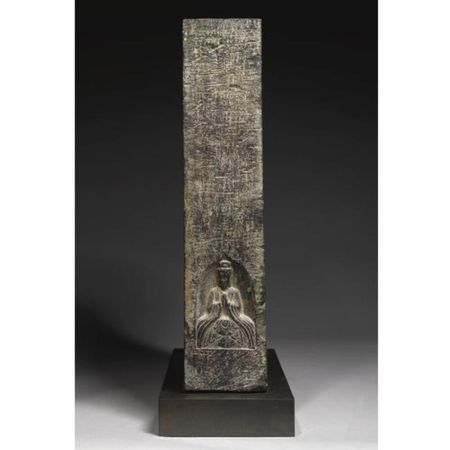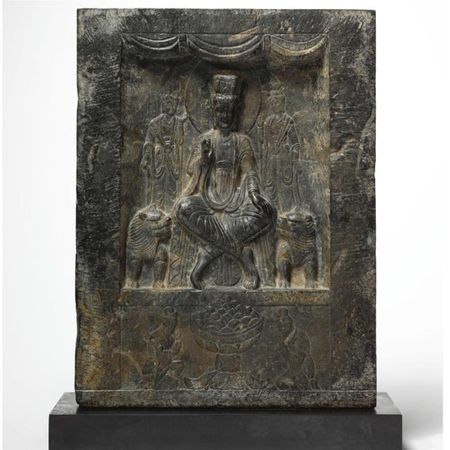 A very rare limestone Buddhist stele. Northern Wei dynasty (AD 386-535)
Carved on one side with a niche containing Shakyamuni Buddha flanked by two bodhisattvas surrounded by festooned draperies, two further bodhisattvas on either side contained in narrow niches, an apsara flying above each, the lower register carved in low-relief with two praying donor figures flanking a tazza of food, guarded by two seated lions, the other side carved with bodhisattva Maitreya seated cross-legged in a deep niche wearing finely carved pleated robes, flanked by two lions, two attendants carved in low-relief standing behind, the lower register carved with two kneeling donor figures flanking a tazza of food, the two narrow sides carved with a small figure of Buddha inside a niche, an inscription, much abraded, visible down one side - 17 5/8 by 13 3/4 by 3 7/8 in., 45.1 by 33.6 by 9.8 cm - 120,000—160,000 USD - Lot Sold. 116,500 USD
PROVENANCE: Eskenazi and Co., London (until July 1988).
Thereafter with the present owners.
NOTE: The present stele is most unusual for its compact size and for its crisp and detailed carving that can be found on all four sides indicating that it was made as a portable dedicatory piece with the intention to be viewed from all sides. It is also remarkable for its rich and colourful combination of iconography that has been worked in both high and low-relief carving that provides, in some measure, a theatrical flair to the piece. It demonstrates great sophistication on the part of the carver who has been introduced to the naturalistic models from India and has created an object that is not only beautiful but also represents a didactic message. It was during the Northern Wei dynasty (AD 386-535) that a new genre of Buddhist devotional sculpture, such as steles with carved images, arose and started proliferating in China. These works were carved with images and often inscribed with the date, donor's name and purpose.
The present stele follows the established tradition of rendering Shakyamuni Buddha on the front in conjunction with the bodhisattva Maitreya, a reference to his life, on the back. The choice of iconography is typical and includes the pair of bodhisattvas flanking the central figure and the two figures, representing the donors or patrons, praying in front of a food offering. However it is generally rare to find an additional pair of bodhisattvas accompanying Shakyamuni as seen on this stele. The patrons are also depicted on the back of the stele, in a kneeling position, below the seated Maitreya. Placing the main figures in niches may have been an attempt to reproduce in miniature the caves of Longmen where thousands of Buddhist images were carved at the time.
No other closely related example appears to be recorded, although stylistically similar carvings can be found in a number of museums and important private collections. For example, see a stele in the Royal Ontario Museum carved with the figure of Buddha, flanked by bodhisattvas on each side, seated under similar looped drapes illustrated in Hai-wai yi-chen: Chinese Art in Overseas Collections: Buddhist Sculpture, vol. II, Taibei, 1990, pl. 14; and another related stele in the Kyoto National Museum included in Saburo Matsubara, Chinese Buddhist Sculpture, Tokyo, 1966, pl. 146a, together with a stele in the Shanghai Museum, pl. 146b.
The bodhisattva Maitreya, depicted seated with ankles crossed and flanked by two guardian lions seated at its feet, is inspired by carvings found in the Longmen caves. See two Longmen figures in the Museum Rietberg, Zurich, illustrated in Osvald Siren, Chinese Sculptures in the von der Heydt Collection, Zurich, 1959, pls. 11 and 12. Another figure also attributed to Longmen was included in the exhibition Ancient Chinese Sculpture, Eskenazi, London, 1978, cat. no. 8; one in the Metropolitan Museum of Art, New York, is published in Alan Priest, Chinese Sculpture in the Metropolitan Museum of Art, New York, 1944, pl. XXIII; and several figures in situ in the Guyang Cave at Longmen are published in Longmen shiku, Beijing, 1980, pl. 25.
See also a domed rectangular stele carved on all four sides in a related style, with a pair of confronting lions carved in comparable low-relief technique below the seated Buddha, sold in these rooms, 20th March 2002, lot 40.
Sotheby's. Fine Chinese Ceramics & Works of Art including Chinese and Japanese Art from The Collection of Frieda and Milton Rosenthal. 16 Sep 08. www.sotheby's.com