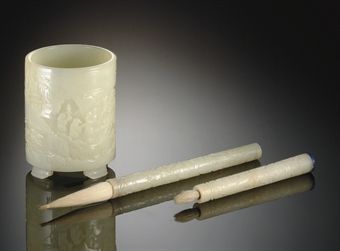 A pale greenish-white jade brushpot ans two jade brushes. 18th/19th century
The cylindrical brushpot raised on four bracket supports and well carved in relief around the sides with a mountainous scene where two bearded immortals and an attendant carrying auspicious objects are shown on a rocky path between a pine tree and a temple, a third immortal holding a staff and a peach seen framed by the edges of rock faces on the reverse; the longer of the two brushes carved in relief with a horned two-clawed dragon leaping amidst lotus scroll, the shorter brush handle also carved with a two-clawed dragon, its body twisted around the handle amidst lotus scroll, with lapis lazuli cap at one end, both with key-fret borders - Brush pot 4 5/8 in. (11.8 cm.) high; brushes 7 3/8 and 5¾ in. (18.7 and 14.6 cm.) long (3) - Estimate: $40,000 - $60,000 - Price Realized: $194,500
Provenance : Stephen Junkunc, III.
Notes : The pleasing proportions and fine carving on the current brushpot would have made it the ideal addition to the scholar's desk. It is also rich in symbolism, and carries with it several auspicious wishes. Two of the immortals hold peaches, which are associated with Shoulao and are symbols of longevity. Another immortal carries with him a vase (ping), which is a pun for peace (ping'an). From this vase emerges a shuangxi character, representing double happiness. The young attendant who follows behind carries with him another vase containing a halberd (ji) and a stone chime (qing), forming the rebus 'jiqing', or 'auspicious happiness.'

A jade brush handle similar to the larger of the two in this lot, also carved with a writhing two-clawed, front-facing dragon set amidst a leafy lotus scroll was sold in these rooms, 19 March 2008, lot 428.
Christie's. Masterworks of Ancient and Imperial China. 17 September 2008. New York, Rockefeller Plaza. www.christies.c om