Jacques Mahé de La Villeglé
39, quai de Grenelle, 1973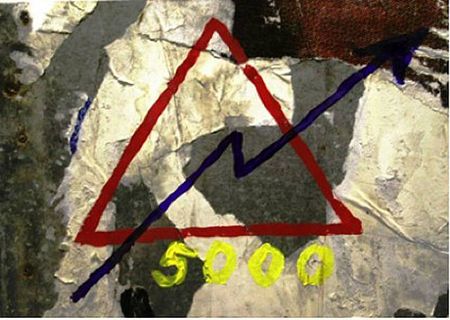 Mimmo Rotella
Alto voltaggio, 1994
"By appropriating posters to make paintings, I had the feeling I was taking back what commerce had stolen from culture' - Jacques Villeglé
Jacques Mahé de La Villeglé
42, rue de Turbigo, 1973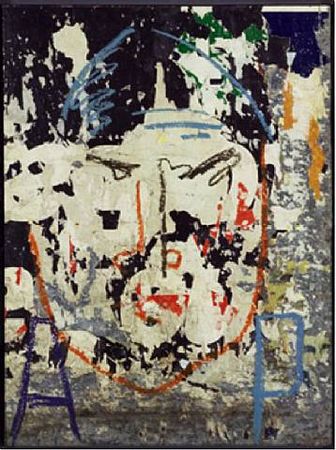 Mimmo Rotella
Autoritratto, 1987
The Mayor Gallery will present an exhibition of work by artists Mimmo Rotella and Jacques Villeglé. The exhibition will present a selection of mixed-media work, which investigates the detritus of the urban landscape and the process of reclamation. Both artists were members of the Nouveaux Réalisme group, alongside Yves Klein and Jean Tinguely amongst others, who sought to bring life and art closer together. Contemporaries of American Pop Art, their common language was a method of direct appropriation, a recycling of an industrial and advertising driven reality.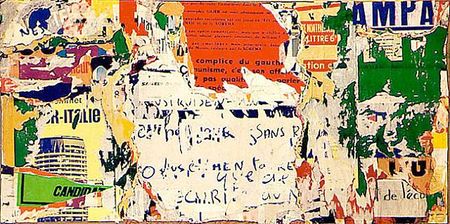 Jacques Mahé de La Villeglé
61, rue au Maire, 1973
Mimmo Rotella
Autoritratto 3, 1990
Mimmo Rotella (1918-2006) was an Italian artist best known for his 'decollages' made from weathered film posters that he stripped off the streets in Rome. Convinced that everything in art had already been done, Rotella initiated the discovery of the advertising poster as artistic expression. He began producing this distinct style of work in the early 1950's and nothing illustrates more vividly the hectic post-war art scene than his ingenious and provocative collages. In 1964 Rotella represented Italy at the Venice Biennale. His early works were exhibited in "High and Low" at the Museum of Modern Art, New York in 1990, and in 1994 he was included in "The Italian Metamorphosis," a major survey of post-World War II Italian art at the Guggenheim Museum, New York.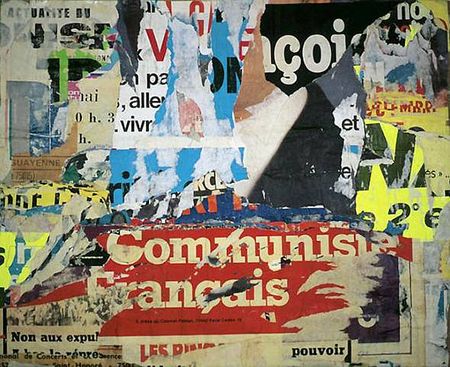 Jacques Mahé de La Villeglé
74, rue de Bretagne, 1979
Jacques Villeglé (b.1926) is a French mixed-media artist famous for his 'anonymous laceration' work which focuses on the nameless and marginal remains of civilization. Villeglé creates a personal language by stealing vandalized posters from the streets of Paris, and imbuing them with social and political meaning. His work pushes past the urban chaos and reveals the beauty hidden in the multiple layers of torn paper marked by anonymous hands. Villeglé's work is held in the permanent collections of the Museum of Modern Art, New York and the Tate Modern, London. The Pompidou Centre, Paris is currently holding a major retrospective of his work.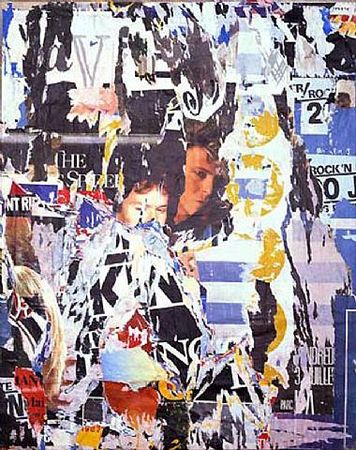 Jacques Mahé de La Villeglé
Les Dessous du Sébastopol, 1987
Mimmo Rotella
Elton, 1990
This exhibition is designed to highlight the complex language that underpins the artists' work as the act of appropriation differs with each artists' interpretation. Focusing predominantly on their later work, the exhibition demonstrates the divergence of styles; Rotella explored his process of 'overpainting' inspired by the prevalence of graffiti by imposing pictorial symbols and slogans onto the canvas, whereas Villeglé retained a consistent style and remained true to his original practice of 'anonymous laceration'.
Jacques Mahé de La Villeglé
Métro Arts-et-Métiers, 1983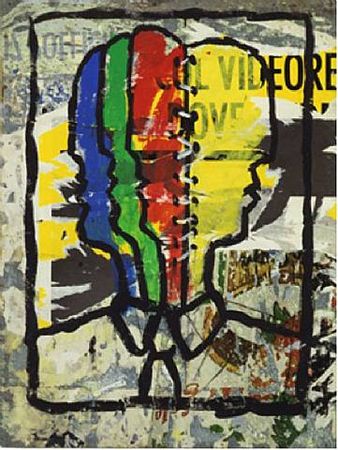 Mimmo Rotella
Il voltafaccia, 1990
The Mayor Gallery, 22A Cork Street , London, W1S 3NA United Kingdom
Jacques Mahé de La Villeglé
Rue du Cherche-Midi, 1991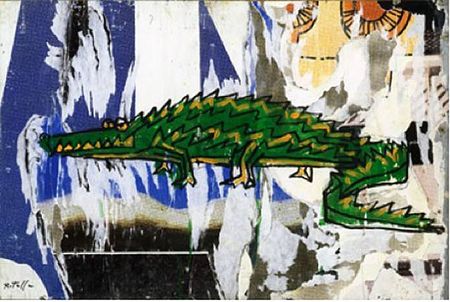 Mimmo Rotella
Margherite nell'aria, 1989
Jacques Mahé de La Villeglé
Rue du Départ, 1970
Mimmo Rotella
Nomad, 1988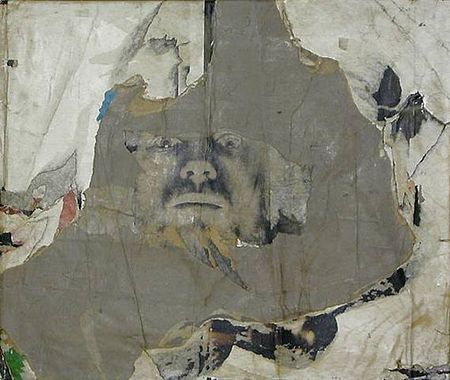 Jacques Mahé de La Villeglé
Rue du Pont-Neuf, 1975
Mimmo Rotella
Sena Titolo, 1987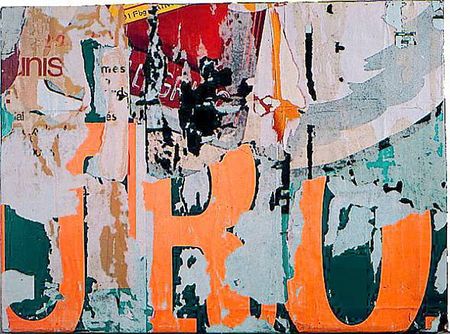 Jacques Mahé de La Villeglé
Théâtre de l'Ambigu, 1972
Mimmo Rotella
Scherzo moderno, 1990