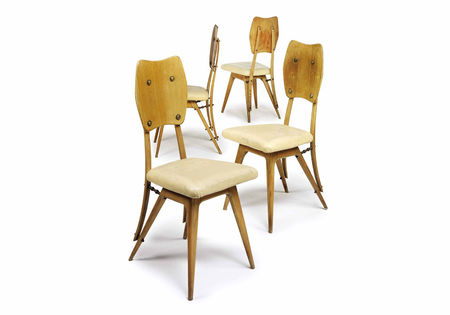 A unique set of four dining chairs by Carlo Mollino, circa 1950 (estimate: £80,000-120,000). Photo: Christie's Images Ltd. 2008
HONG KONG.- The inspiration of creative genius shines through in the dynamic works to be offered at Christie's 20th Century Decorative Art & Design sale on Wednesday, 28 October 2008. Crossing the spectrum of key styles and periods, this tightly edited sale provides rare and captivating examples which epitomize their genre. Strong Italian works are led by the star lot – a unique set of four dining chairs by Carlo Mollino, circa 1950 (estimate: £80,000-120,000) as well as a private collection of Fontana Arte, a superb selection of Bugatti furniture and Post-War Italian lighting. Elsewhere, the sale comprises an exquisite collection of Viennese silver work, very rare Bauhaus works and exemplary Art Nouveau and Art Deco. International treasures spanning England, France, Italy, Germany and Austria, with estimates ranging from £2,000 to £120,000 are presented to the global market. The sale as a whole is expected to realize in the region of £1.5million.

Carlo Mollino's designs are among the most sought after in the world. In June 2005 Christie's New York established a world auction record for the artist when a 1949 unique Mollino table sold for $3.8million against a presale estimate of $150,000-200,000. The set of four dining chairs offered in this auction (estimate: £80,000-120,000), circa 1950 were commissioned specially by the current vendor's father. Respectively numbered I, II, III and IV on the inside rear of the seat frames, they were executed by Apelli & Varesio in laminated and solid ash, with brass fittings and off-white Resinflex upholstery. The patron acted upon the insightful advice of his friend, a professor of Architecture at the Politecnico di Torino, who was a friend and colleague of Mollino. Examples of this design were also utilized, in a red palette, in Casa Editores Lattes, Turin, one of Mollino's most expansive professional commissions of the early 1950s. This unique set, which is in superb condition and epitomizes the aesthetic pleasure of line and balance which Mollino's works express, will generate enormous excitement from collectors and institutions.

Fontana Arte: A Private Collection from a Roman Apartment:
Fontana Arte was founded in Milan in 1933 by Gio Ponti and Luigi Fontana who together with Pietro Chiesa, as artistic director, produced innovative high quality glass ware, lighting and glass furniture. In 1945 the company was acquired by St. Gobain, and in 1954 Max Ingrand was appointed artistic director. Ingrand's arrival inaugurated an artistic revolution with the firm; concentration turned upon highly sculptural and abstracted forms, executed by highly-trained apprentices.

The 13 works offered from this collection trace this renowned firm's stylistic progression. Two of the earliest works, dating to circa 1940, include a large circular green tinted mirror (estimate: £3,000-5,000) and a Pietro Chiesa wall mounted green tinted mirror-glass corner cabinet (estimate: £4,000-6,000). A glorious array of lighting from the late 1950s and mid 1960s is led by a striking Max Ingrand light sculpture, 1957 (estimate: £10,000-15,000), a triple shade chandelier, 1958 (estimate: £8,000-12,000) and a Saturne suspension light, 1965 (estimate: £7,000-10,000).

Demonstrating the playful humour of Fontana Arte founder Gio Ponti are two small works offered outside of this collection, two cut and folded metal sculptures from 1978, one of a mask (estimate: £1,800-2,400) and the other a dog (estimate: £2,000-3,000).

Post-War Italian lighting offered elsewhere in the sale further reflects the creative renaissance of Italian design in the aftermath of the Second World War, which had left Italian manufacture and infrastructure in disarray. In Milan, small studios emerged, each employing no more than 30 skilled artisans, specializing in the creative production of avant-garde lighting. Firms such as Arredoluce, Arteluce, Stilnovo and O-Luce set the tone of a new visual dialogue in the genre. Examples featured in this sale range from a late 1940s Arredoluce floor lamp (estimate: £2,000-3,000), a Gino Sarfatti table lamp (estimate: 3,000-4,000) and an Angelo Leli uplight (estimate: 6,000-9,000) both from 1951, to a pair of Etore Sottsass Elle lights, 1970 (estimate: £5,000-7,000) and a very rare early Archizoom Associati San Remo floor lamp, circa 1970 (estimate: £5,000-7,000).

Carlo Bugatti's name is synonymous with a fusion of vibrant experimentation and superb craftsmanship which result in combinations of rich colors, textures, shapes and patterns that electrify the senses. It is rare for Bugatti works to be signed, though five of the seven works offered in this sale, which are executed in walnut and vellum with copper inlay, bone and silk, are either signed or possess the painted Bugatti mark. Offered from a private European Collector, certain models were exhibited at the 1902 International Exhibition, Turin and range from two chairs, with estimates of £10,000-15,000 and £3,000-4,000, as well as a throne chair (estimate: £2,000-3,000). There is a substantial cabinet, circa 1900, which is reputed to have originated from Ettore Bugatti's home (estimate: £30,000-40,000) and an elegantly proportioned cabinet, circa 1902 (estimate: £10,000-15,000).

Rare Bauhaus
Christie's are proud to present two important, unique illuminating Bauhaus alabaster sculptures by Otto Werner. The son of a porcelain modeler, Werner was in the first roster of students to enroll in 1919 at Walter Gropius's newly established progressive arts and crafts school – the Bauhaus. The sculptures date to 1921 and 1922 and are offered for sale by descendents of the artist; an obelisk (estimate: £30,000-40,000) and a larger abstracted architectural sculpture (estimate: £40,000-60,000). They are unique examples of works produced in one of the smaller Bauhaus workshops, where, under the guidance of some of the leading practitioners and theorists, the Bauhaus ideology began to crystallize. Produced within a few months of each other, these sculptures are significant artifacts reflecting the highly progressive, experimental and influential identity of the early Bauhaus. A further stunning work is a Bauhaus Dessau wall tapestry from the late 1920, which was executed under the supervision of, if not by, Gunta Stölzl. Stölzl embraced the inclusion of new materials such as cellophane threads, exemplified here (estimate: £10,000-15,000).

Vienna - An Artistic Renewal
Focusing on the power of line, principally through works in silver by Josef Hoffman, 18 lots offered from a single collection provide valuable insight into the sensibilities that drew international acclaim to Vienna's brilliant artistic community exactly 100 years ago. In 1908 Gustav Klimt and his Secessionist associates worked with Josef Hoffmann and his avant-garde designer contemporaries to stage an historic exhibition Die Kunstschau in Vienna. A generation of creative spirits had, in the preceding decade, established the city's creative credentials as a centre of artistic activity of international stature and relevance. Now, in 2008, Christie's celebrate the Kunstschau exhibition as a defining moment in the flowering of a revitalized, multi-faceted creativity in the city. Josef Hoffmann along with Koloman Moser set up the artisan co-operative Wiener Werkstätte in 1903, under the patronage of Fritz Warndörfer; they sought a comprehensive synthesis of the arts.

Headlining the collection, which features trays, bowls, cigarette cases, vases, flower basket, mirrors and bottle stops, is a Hoffman Friederike Maria Beer Box and Cover, circa 1908 (estimate: £20,000-30,000). Friederike Maria Beer-Monti, with the box just to the left of her head, was one of Gustav Klimt's lovers and sitters. This box was passed by descent to the current vendor from Beer-Monti. Other highlights include very stylish flatware by Carl Otto Czeschka in a Weiner Werkstätte presentation box, circa 1910 (estimate: £10,000-15,000) and a chic dessert knife and fork by Hoffman, 1903 (estimate: £8,000-12,000), as well as a Fledermaus Café cruet stand, circa 1906 (estimate: £8,000-12,000).

Art Nouveau (1890-1914)
It is with great pleasure that Christie's present a wonderful collection of Art Nouveau furniture, glass and metalwork. The 29 lots provide key examples by a roll call of many of the most respected names of the period from Louis Majorelle, Emile Gallé and Edouard Colonna, to Jacques Gruber, Hector Guimard, Daum Frères, Edgar Brandt and Portois and Fix. Leading the array of glass is an exquisite, very rare Emile Gallé cameo vase 'parlant', circa 1900 (estimate: £30,000-40,000). The furniture includes two salon suites circa 1900, one by Portois & Fix (estimate: £20,000-30,000) which epitomises the languid beauty of the period and another with sleek elegant lines by Edouard Colonna (estimate: £15,000-20,000). Louis Marjorelle's works possess charming character, with vitrines comprising a bronze duck handle (estimate: £8,000-12,000) and inlaid fruitwood depicting geese, circa 1898 (estimate: £20,000-30,000), as well as a very rare pair of bronze candelabra from 1900 which are a good height and convey the very essence of sinuous Art Nouveau (estimate: £25,000-30,000) one of pair. Notable smaller works include two original cast iron Parisian Métropolitain panels, 1900 (estimate: £4,000-6,000).

Art Deco (1925-1939)
Amongst the many captivating Art Deco works already detailed, a further exemplary sculpture is a patinated bronze Cat by Edouard Marcel Sandoz, circa 1926 (estimate: £20,000-30,000). This work is sold with a collection of correspondence between the artist and his private nurse Joan Wilson, to whom he gifted the sculpture which has passed by descent to the current vendor.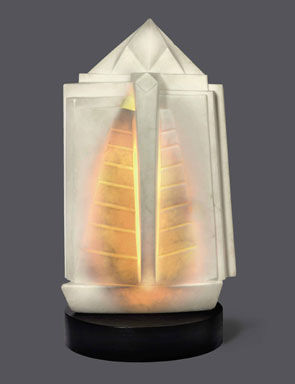 A large abstracted architectural sculpture (estimate: £40,000-60,000). Photo: Christie's Images Ltd. 2008.