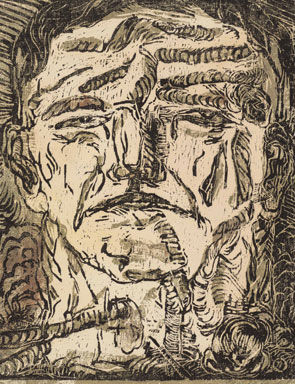 Georg Baselitz, Big head, 1966. Woodcut, 2 blocks, 48,5 x 40,8 cm. Photo: Martina Gadiot Staarliche Graphische Sammlung Munchen
MUNICH.- As far back as the 1970s the Staatliche Graphische Sammlung München began collecting drawings and prints by Georg Baselitz. In 1972, in one of the first museum exhibitions, it showed works on paper by the artist. Twelve years later it organised a major exhibition of his early prints, which then went on tour to Geneva, Paris and London, among other venues.

The reason behind the current exhibition are more than 300 prints from the collection of Duke Franz von Bayern that, in collaboration with the State of Bavaria, have been donated to the Graphische Sammlung as a way of marking the institution's 250th anniversary. This makes the Munich collection one of the most significant, comprehensive and complex collections of works by the artist. It is made up principally of trial prints and unique pieces of outstanding quality from the years 1964 to 1983.

Georg Baselitz – who celebrated his seventieth birthday in January, 2008 and who recently moved to Bavaria – discovered the medium of print early on in his career. His main focus has always lain not so much in the aspect of reproduction as in experimenting with possibilities of such diverse techniques as drypoint engraving, aquatinta, vernis mou and wood- and lino-cutting. By referring back to the motifs of his drawings and paintings, his prints have created an oeuvre that commands an independent position alongside his painted works. The prints allow the viewer to trace the developmental phases of wellestablished themes in the work of Baselitz.

The exhibition, which was previously held in the Dresden Kupferstich-Kabinett, presents a selection of over 150 works on paper demonstrating the creative process towards the final print. The presentation aims to reflect the workshop nature of the exhibition.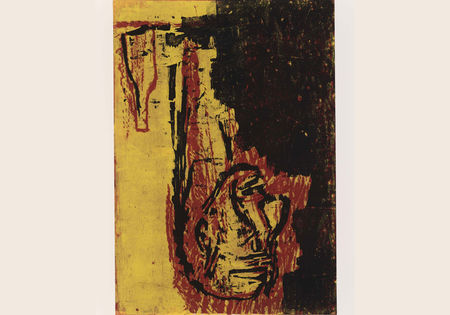 Georg Baselitz, Head and Bottle, 1981/82. Woodcut, 3 blocks, 100,2 x 70 cm. Photo: Martina Gadiot Staarliche Graphische Sammlung Munchen