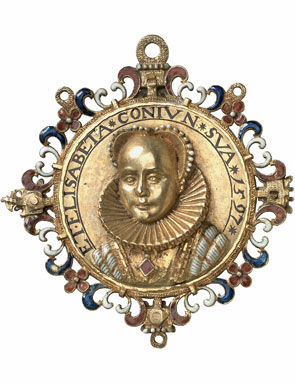 Jakob Gladehals? The Elector Johann George, 1597, object d'art with medal cast, gold, enameled with setting, 59 mm
VIENNA.- From the rich holdings of the Numismatic Collection on Berlin's famed Museum Island over 200 of the most beautiful and historically important medals commissioned by rulers from the House of Hohenzollern – Electors of Brandenburg and after 1701 Kings of Prussia – have been selected.

Of particular importance are late Renaissance objects d'art that feature gold medals in precious settings, one of the highlights of the exhibition. From the Baroque period come allegorical medals that celebrate historical events and glorify the Great Elector (1640-1688), and Frederick I, the first King of Prussia (1688-1713). Sebastian Dadler, Johann Höhn and Christian Wermuth are the period's celebrated masters of this art. A number of exquisitely modeled wax models by Raimund Falz, the most important medal-maker in Berlin during the Baroque period, have survived. They clearly document the outstanding skills required and the various technical challenges artists encountered when modeling and casting medals. The reigns of the neo-classicist King Frederick William III (1797-1840) and of King Frederick William IV (1840-1861), a celebrated connoisseur, marked high-points of this demanding yet delicate art. Important artists, among them Henri François Brandt (1789-1845) from Switzerland, and Leonhard Posch (1750-1831), a native of the Tyrol, collaborated with local artisans to achieve an unrivalled flowering of this subtle small-scale art in Germany's northern-most kingdom.

The country's final three kings – William I, Frederick III and William II – were also German Emperors; the abdication of the last of these rulers in 1918 marked the end of both the monarchy and of four centuries of art commissioned by and glorifying the ruling dynasty. Contrasting the rich Habsburg holdings in the permanent collection of the Coin Cabinet in Vienna with this sumptuous selection from Berlin offers new and exciting insights into medals celebrating two of Europe's leading dynasties. In addition to the choice medals from Berlin, a number of magnificent and rare examples of medals strucked in Brandenburg-Prussia – but now in the Coin Collection in Vienna - will also be on show in the exhibition.

This is the Numismatic Collection's first visit to the Kunsthistorisches Museum in Vienna. The curators of the exhibition are Bernd Kluge and Wolfgang Steguweit.
Jakob Gladehals? The Elector Johann George, 1597, object d'art with medal cast, gold, enameled with setting, 59 mm