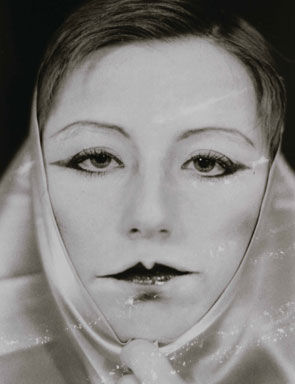 Cindy Sherman. Printer: Charles Griffin, Inc. Untitled, 1975/2004. C Print, Sheet: 8 x 10 in. (20.3 x 25.4 cm) Image: 3 3/4 x 7 in. (9.5 x 17.8 cm) Gift of Linda S. Ferber. Courtesy of the Artist and Metro Pictures
BROOKLYN, NY.- One of the most influential conceptual artists of the twentieth century, Cindy Sherman, will be honored at the sixth annual Women in the Arts luncheon on Friday, November 6, 2008. Proceeds from the event, which is organized by the Museum's Community Committee, a volunteer organization, will benefit a wide range of Museum programs.

Cindy Sherman uses photography to address the role and representation of women in the media and society, as well as the role of the contemporary artist. After moving to New York City in 1976, she began photographing herself dressed as fictional women that reference popular culture. Even though her work uses elements of portraiture, Sherman's photographs deviate from documenting a specific person by portraying female archetypes like the housewife, the prostitute, the woman in tears, and the divorcee. In her landmark series, the Complete Untitled Film Stills (1977-1980), Sherman stylized herself in the fashion of film noir and B movie actresses. Cindy Sherman has created groundbreaking work with her Sex series (1992), where she photographed medical mannequins to address the NEA's funding controversy over Robert Mapplethorpe's photographs, and in her history portraits, where she once again photographs herself to create variations of archetypal paintings. She also directed the film Office Killer (1997).

Cindy Sherman was born in Glen Ridge, New Jersey, in 1954 and is a graduate of the State University of New York College at Buffalo and currently resides in New York City. Her photography has been shown extensively throughout the world including galleries in Japan, Germany, and France, and her work has been collected by the Modern Museum of Art, New York; Musée du Jeu de Paume, Paris; and the Brooklyn Museum. Cindy Sherman was a recipient of the MacArthur Fellowship in 1995.

The program will begin at 11 a.m. with an overview of Ms. Sherman's distinguished career and an introduction to the artist. This will be followed by the Award Presentation by Director Arnold L. Lehman, and a Reception and Luncheon in the newly refurbished Beaux-Arts Court of the Museum. After lunch, guests will have the added opportunity to view the newly installed Contemporary Art Gallery: 21, Selections of Contemporary Art from the Brooklyn Museum.