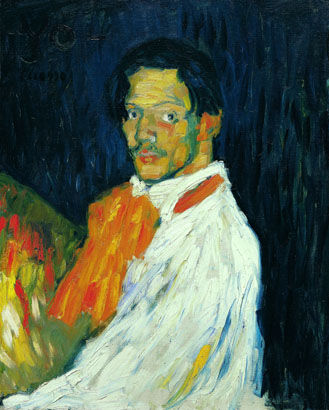 Yo, Picasso, Pablo Picasso. Paris, 1901 Huile sur toile, 73,5 x 60,5 cm, Collection particulière © Succession Picasso, 2008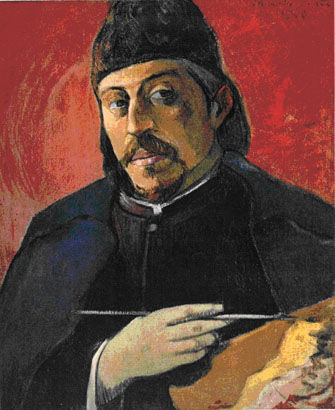 Autoportrait à la palette, Paul Gauguin, hiver 1893-1894 Huile sur toile, 92 x 73 © Collection particulière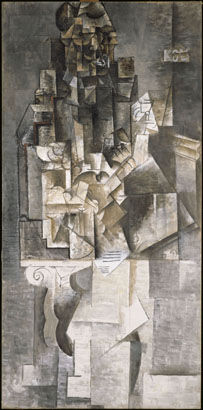 Homme à la guitare, Pablo Picasso, automne 1911-1913 Huile sur toile, 154 x 77,5 cm. Musée Picasso, Paris © Succession Picasso, 2008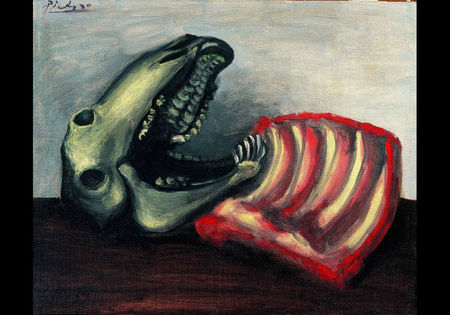 Pablo Picasso, Nature morte au crâne de mouton Royan, 6 octobre 1939. Oil on canvas, 50.2 x 61 cm. Collection Vicky et Marcos Micha, Mexico © Succession Picasso, 2008
Pablo Picasso se forme très tôt aux règles strictes de la pratique académique auprès de son père, José Ruiz-Blasco, professeur à l'Ecole des Beaux Arts et directeur du musée de Málaga, comme durant son cursus (1893-1899) à l'Ecole des Beaux-Arts de la Corùna, à la Lonja (Barcelone), puis à l'Académie San Fernando (Madrid).
Dessins d'après l'Antique, statuaire et architectonique, copies de toiles des grands maîtres espagnols, étude de l'histoire de l'art européen sont au cœur de cette formation, enracinée dans la tradition picturale humaniste qui nous rappelle que Picasso est un peintre né au XIXe siècle (1881). Académies, peinture d'histoire, scène de genres, compositions épiques ou religieuses, rendu bitumeux, grandes machines, concours, peinture officielle, galerie de peinture, forment le quotidien, la référence et la perspective de son apprentissage.
L'oppression ressentie par Picasso, jeune artiste virtuose, qui ne dessina jamais comme un enfant mais eut immédiatement à se confronter à Michel-Ange et Raphaël, nourrira pour longtemps un désir de subversion qui le conduisit à la plus radicale des innovations formelles, le Cubisme, comme à la fondation de l'art moderne.
A la fois jeune maître académique (médaillé dès l'âge de 19 ans) et acharné destructeur des formes établies, Picasso mena sans discontinuer un dialogue tendu avec la grande tradition de la peinture.
Sa posture n'est pas - comme chez d'autres artistes de sa génération - le simple reflet d'une époque en pleine mutation, mais un élément moteur, constitutif de son projet pictural. Il opère depuis sa première grande composition à sujet allégorique, Derniers Moments (1896), jusqu'aux dernières toiles d'après Vélasquez, Titien et Rembrandt, où règnent sous les masques de mousquetaires, musiciens et matadors, le motif d'un autoportrait obsessionnel. La période des « variations » d'après Delacroix, Vélasquez ou Manet (1950-1962), forme l'épisode le plus connu et explicite de cette démarche de relecture critique qui traverse l'ensemble de son œuvre.
L'exposition Picasso et les maîtres présentée aux Galeries nationales du Grand Palais se veut un premier bilan. Quelque 210 œuvres se trouvent rassemblées pour l'occasion, issues des collections les plus prestigieuses, publiques et privées, nationales et internationales.
Confrontant passé et présent, au-delà des ruptures stylistiques et des innovations formelles, l'exposition présente dans un parcours croisant approches thématique et chronologique, au gré de la peinture de Picasso et en la prenant pour seul guide : Greco, Vélasquez, Goya, Zurbarán, Ribera, Melendez, Poussin, Le Nain, Dubois, Chardin, David, Ingres, Delacroix, Manet, Courbet, Lautrec, Degas, Puvis de Chavannes, Cézanne, Renoir, Gauguin, Douanier Rousseau, Titien, Cranach, Rembrandt, Van Gogh. Espagnols, Français, Italiens, Allemands, ces peintres forment la trame plurielle d'un motif serré où la peinture apprend de la peinture.
Un cannibalisme pictural sans précédent est à l'œuvre dans la démarche de Picasso qui érige en système, la peinture de la peinture.
En rupture avec les procédés académiques de transmission et de reproduction de la tradition - copie, paraphrase, citation - cette méthodologie nouvelle place la peinture au cœur de la connaissance du monde. Transposition, mimétisme, détournement, dénaturation forment quelques unes des figures de la stratégie déployée par Picasso à l'égard de ses peintres de prédilection. Il aura ainsi fécondé le modus operandi de la création moderne et contemporaine, la tirant aussi parfois du côté de la duplication perverse, de l'ironie et du pastiche. Anne Baldassari, Extrait de l'introduction au catalogue de l'exposition
Grand nu au fauteuil rouge, Pablo Picasso. Paris, 5 mai 1929 Huile sur toile, 195 x 129 cm. Musée Picasso, Paris © Succession Picasso, 2008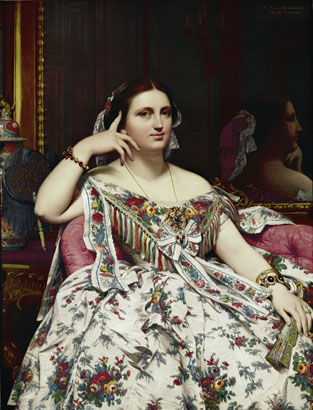 Madame Moitessier, Jean Auguste- Dominique Ingres, 1856. Huile sur toile, 120 x 92,1 cm © The National Gallery, Londres
L'Infante Marguerite, Pablo Picasso, Cannes, 14 septembre 1957. Huile sur toile, 100 x 81 cm. Museu Picasso, Barcelone © Succession Picasso, 2008
PARIS.- Pablo Picasso was trained in the strict rules of academic painting at a very early age, first by his father, José Ruiz-Blasco, a teacher at the fine art school in Málaga and director of the Malaga Museum, and then as a student (1893-1899) at the fine arts school of La Corùna, at La Lonja (Barcelona), and then at the San Fernando Academy (Madrid). Drawings from the antique, statuary and architectonics, copies of paintings by the great Spanish masters and the study of the history of European art formed the core of this training, rooted in the humanist pictorial tradition which reminds us that Picasso was born in the 19th century (1881). Academic drawings, history paintings, genre scenes, epic or religious compositions, sombre effects, large, pretentious canvases, competitions, official painting and art galleries were the daily labour, the references and prospects of his formative years.

The oppression felt by the virtuoso youth, who never drew as a child does but was immediately confronted with Michelangelo and Raphael, long nourished a subversive urge which drove him into the most radical formal innovations, Cubism, and to the foundation of modern art.

Simultaneously a brilliant academic artist (he won a medal at 19) and a rabid destroyer of established forms, Picasso kept up an ongoing dialogue with the grand tradition in painting. His posture was not – as it was in many artists of his generation – merely a reflection of a period in the throes of change, but the driving force shaping his pictorial ambitions. It operated from his first major composition on an allegorical subject, Science and Charity (1896), until the last canvases after Velazquez, Titian and Rembrandt, in which an obsessive self-portrait lurked beneath the masks of musketeers, musicians and matadors. The period of "variations" on Delacroix, Velazquez or Manet (1950-1962) forms the best-known and most explicit episode in this process of critical revisiting which runs throughout his work.

Bringing together 210 works from the most prestigious public and private, French and international collections, Picasso and the Masters at the Galeries nationales du Grand Palais takes stock of this process.

Confronting past and present, going beyond changes in style and formal innovations, the exhibition presents, in a cross between thematic and chronological approaches, guided by Picasso's painting alone: El Greco, Vélasquez, Goya, Zurbaran, Ribera, Melendez, Poussin, Le Nain, Dubois, Chardin, David, Ingres, Delacroix, Manet, Courbet, Lautrec, Degas, Puvis de Chavannes, Cézanne, Renoir, Gauguin, Douanier Rousseau, Titien, Cranach, Rembrandt, Van Gogh. Spanish, French, Italian, or German, these artists are the multifaceted framework of a narrow motif in which painting learns from painting.

Unprecedented pictorial cannibalism is at work in Picasso's approach. He made painting of painting into a system. Breaking away from the academic procedures of the transmission and reproduction of tradition – copy, paraphrase, quotation – this new method put painting at the very heart of knowledge of the world. Transposition, mimicry, deviation, distortion are some of the figures in the strategy used by Picasso in the treatment of his favourite painters. He thus fertilised the modus operandi of modern and contemporary creation, sometimes also pulling it towards perverse duplication, irony and pastiche.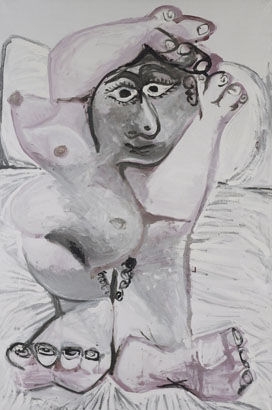 Nu couché, Picasso Pablo 14 juin 1967. Huile sur toile, 195 x 130 Musée Picasso, Paris © Succession Picasso, 2008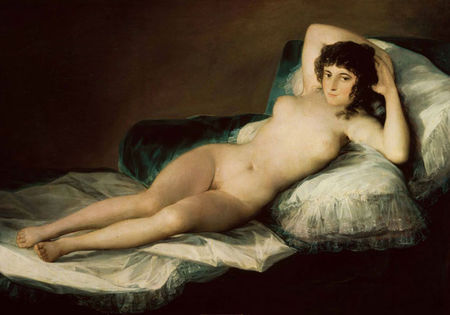 Francisco de Goya, Maja desnuda. 1797-1800. Oil on canvas, 97 x 190 cm Museo Nacional del Prado, Madrid.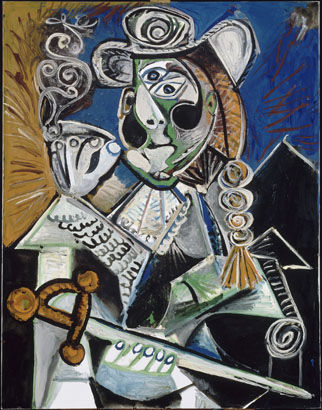 Le Matador, Pablo Picasso, 4 octobre 1970. Huile sur toile, 145,5 x 114 cm, Musée Picasso, Paris © Succession Picasso 2008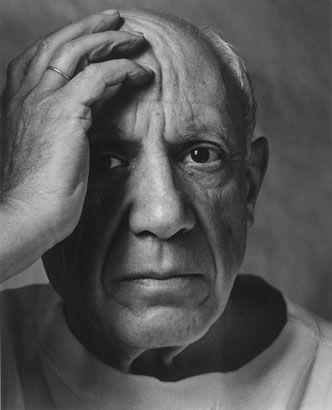 Pablo Picasso, Vallauris 1954, Arnold Newman - Epreuve gélatino-argentique. Paris, Musée Picasso, archives Picasso © Photo Béatrice Hatala © Arnold Newman Estate/Getty Images © Succession Picasso, 2008