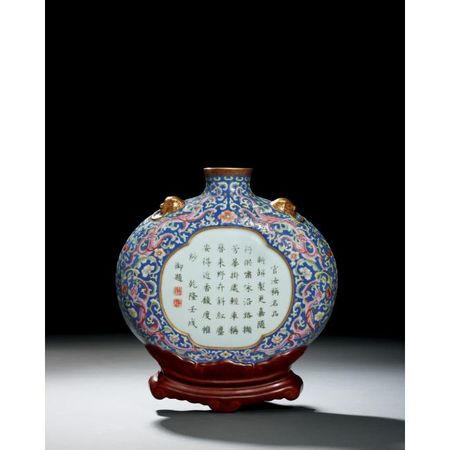 A rare blue-ground 'famille-rose' imperially inscribed wall vase. Seal mark and period of Qianlong. Photo Courtesy Sotheby's
the flat-back vessel of oval shape with a globular body rising to a waisted neck and everted rim, moulded with a quatre-lobed panel enclosing a six-column inscription ending with Qianlong renxu (corresponding to 1742), all reserved on a vibrant blue ground decorated with four qilong dragons with long sinuous bodies floating amid feathery leafy scrolls, clutching the curling stems in their mouths and between their claws, the shoulder flanked by a pair of animal mask handles suspending fixed rings, with a key-fret below the mouthrim and embellished in gilt, the interior of the mouthrim glazed purple, all supported on a faux-bois stand with three ruyi-shaped feet, the underside of the base inscribed with the seal-mark in gilt, the reverse set with a slot for attaching to the wall - 24.9 cm., 9 7/8 in.- Lot Sold: 1,220,000 HKD
PROVENANCE: Acquired from a London dealer based in Grays Mews in the mid-1980s.
Thereafter with the present owner.
NOTE: The translation of the poem is as follows:
While Imperial Ru ware is of renowned quality,
This new vase is made even finer.
Since it follows me about I offer it this song,
And along the road pick fragrant blossoms for it.
Where it hangs is just right for my light carriage,
But when hairclaps approach wild blossoms in it bend away.
Though they never allow such worldly dust get close,
They let their rich fragrance permeate my curtain gauze.
The present piece is an excellent example of the dexterity of 18th century imperial porcelain manufacturers at Jingdezhen who produced an immense variety of styles and constantly devised further novelties to satisfy the Qianlong emperor's predilection for idiosyncratic forms and designs. Once a large palette of enamel colours was attained, the possibilities were virtually unlimited. During Qianlong's reign, and often under his personal supervision, simulations that were often difficult to distinguish from the 'real' were produced and these pieces became the trompe-l'oeil of ceramics. The present pair of wall vases, with bases simulating wood and imitation-bronze mask handles, is a good example of the technique of combining the 'real' with the trompe-l'oeil. Zhu Yan in Tao shuo, published in 1774, noted that "in fact, among all the works of art in gold, embossed silver, chiselled stone, lacquer, mother-of-pearl, bamboo and wood, gourd and shell, there in not one that is not now produced in porcelain, a perfect imitation of the original (fang xiao er xiao)."
Another noteworthy invention of the Qianlong period was the wall vase, which was made in pairs, flattened at the back as though cut in half and was used particularly to be hung inside sedan chairs. In a poem inscribed on one porcelain wall vase, the Qianlong emperor comments on the pleasure provided by these vases when filled with wild flowers, which allow him to enjoy their fragrance while the 'red dust' (cares of the world) cannot reach him (see China. The Three Emperors 1662-1795, exhibition catalogue, Royal Academy of Arts, London, 2005, p. 445). A group of Qianlong wall vases of different forms, several with simulated wood stands, can be seen in situ at the Sanxi Tang (The Studio of Three Rarities) in the Palace Museum, Beijing, illustrated in the exhibition catalogue Treasures from the Palace Museum, Peking, Tokyo, 1982, pl. 33.
Compare related wall vases of various shapes and inscribed with imperial poems and simulated stands; for example see a pear-shaped version sold in these rooms, 29th November 1977, lot 156; an ovoid vase with an imitation lacquer stand, sold at Christie's Hong Kong, 26th April, 1999, lot 526; and another ovoid pair sold at Christie's Hong Kong, 27th April 1997, lot 32. See also an example with a simulated wood stand, but decorated with bands of decoration, sold in our London rooms, 7th April 1981, lot 284.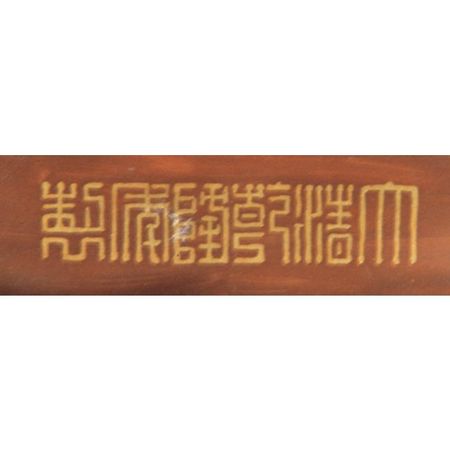 Sotheby's. Legacies of Imperial Power: Treasures from the Imperial Collection. 08 Oct 08. Hong Kong - www.sotheby's.com