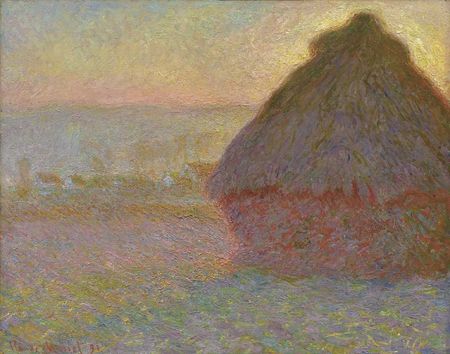 Claude Monet, Grainstack (sunset) 1891, oil on canvas, 73.3 x 92.7 cm. Museum of Fine Arts, Boston, Juliana Cheney Edwards Collection. Copyright Museum of Fine Arts, Boston
SYDNEY.- One of the finest exhibitions of Impressionist art ever held in Australia will open today at the Art Gallery of New South Wales January 2009. Sydney will be the only venue in Australia.

Monet and the Impressionists will have an impressive 29 works by Claude Monet – the master of Impressionism. His work will be exhibited alongside other masterpieces by Renoir, Pissarro, Cezanne, Degas, Sisley and others. Most of these paintings have never been seen before in Australia.

Monet and the Impressionists is drawn from the permanent collection of the Museum of Fine Arts (MFA) in Boston which has one of the finest collections of Monet in the world. Founded in 1870, the MFA benefited from the enthusiasm of local artists and collectors for French landscape painting generally and Impressionist paintings particularly. The painter, John Singer Sargent acted as an advisor to the MFA, and, following his recommendation, works by Monet began to enter the museum's collection from 1889 onwards. The first large survey exhibition of Monet (95 works) was held by the Copley Society in Boston in 1905; the first ever museum survey of Monet's work was organised by the MFA in 1911 (45 paintings); and in 1913 a local collector, Desmond Fitzgerald, opened a purpose-built gallery attached to his house as a permanent shrine to Monet.

The MFA collection is well equipped to show the pre-history of Impressionism as well. It is rich in works by the generation of French artists who brought landscape painting to new prominence during the first half of the 19th century: painters associated with the Barbizon school (Corot, Rousseau and Millet); painters in Normandy who were Monet's first teachers (Boudin and Jongkind); and those who were Monet's mentors during his early days in Paris (Manet). The young Monet took particular interest in these artists, and he was attracted to some of the same locations where they had painted – Fontainebleau, the towns, harbours, cliffs and beaches of the Normandy coast and rural spots within easy access of Paris – the Ville d'Avray, Mantes and so on.

The Impressionist style was a collective creation which had its heyday in the 1880s when the works of Monet, Sisley, Renoir and Pissarro were often difficult to distinguish from each other. During the 1890s, Monet attained great success when he began to exhibit his famous series, astounding the Parisian public through his ability to register the changes of colour and light.

By the beginning of the twentieth century, the surviving members of the Impressionist group had taken very different directions in their work, and there was little that they visibly shared in common anymore. In contrast to former colleagues such as Degas and Renoir, Monet remained staunchly committed to landscape painting and the great Waterlily paintings he painted in the last decades of his life had a massive influence on developments in abstract painting in the mid-twentieth century.

Monet and the Impressionists is curated by George Shackleford, a leading scholar of Impressionism from The Museum of Fine Arts in Boston. George Shackleford will be in Sydney for this exhibition.

Claude Monet will be accompanied by artists including Edgar Degas, Theordore Rousseau, Camille Corot, Jean-Francois Millet, Constant Troyon, Gustave Courbet, Auguste Toulmouche, Eugene Boudin, Johan Jongkind, Edouard Manet, Paul Cezanne, Auguste Renoir, Camille Pissarro, Alfred Sisley, Ando Utagawa Hiroshige and Suzuki Utagawa Hiroshige

Claude Monet Born Paris 1840, died Giverny 1926. Monet's talent was first recognised by the painter Eugene Boudin, whom the 18 year old Monet met in Le Havre. Boudin was the first to encourage him to paint out of doors. Monet's short tenure at Charles Gleyre's art school in Paris also proved decisive because it was there that he met Pierre-Auguste Renoir, Alfred Sisley and Frederick Bazille who shared his anti-academic convictions. After limited success exhibiting in the Salon during the 1860s, Monet became one of the leaders of a group of rebel artists who chose to exhibit independently of the Salon, a group who became known as the Impressionists. Because of his commitment to landscape painting Monet chose to live on the outskirts of Paris, moving far from the capital, finally settling in Giverny, 60 kilometres to the north-west in 1883. In search of challenging motifs, he travelled extensively in France and abroad, making trips to London, Holland, Venice, Norway and the Italian Riviera. Productive well into his eighties, Monet died at the summit of his fame and fortune, universally regarded as the Impressionist.

Ernst & Young is the Principal sponsor of Monet and the Impressionists - "Ernst & Young is proud to support the Art Gallery of New South Wales in bringing Monet and the Impressionists to Australia. Supporting the communities in which we live and work is important and we see this exhibition as an opportunity to provide many, who may not otherwise have, the chance to view what is a truly delightful and unique collection." James M Millar, Area Managing Partner Oceania and Chief Executive Officer, Ernst & Young Australia.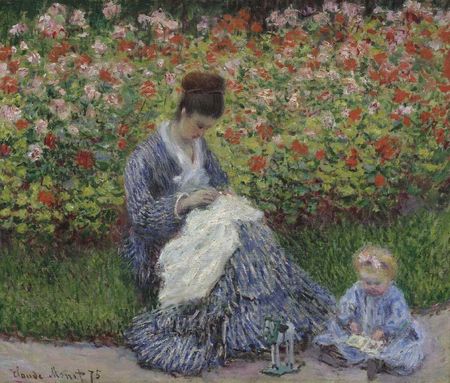 Claude Monet, Camille Monet and a child in the artist's garden in Argenteuil, 1875, oil on canvas, 55.3 x 64.7 cm. Museum of Fine Arts, Boston, anonymous gift in memory of Mr. and Mrs. Edwin S Webster. Copyright Museum of Fine Arts, Boston