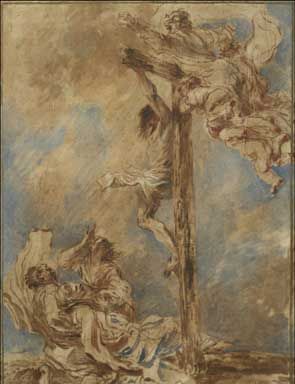 The Crucifixion, c. 1651, by Giovanni Benedetto Castiglione, Oil on paper, 16 x 11 inches, Sterling and Francine Clark Art Institute, Williamstown, Massachusetts
WILLIAMSTOWN, MA.- A magnificent group of rarely seen and unpublished sixteenth- through eighteenth-century Italian drawings will be highlighted in Drawn to Drama: Italian Works on Paper, 1500-1800, an exhibition on view the Sterling and Francine Clark Art Institute on view through January 4, 2009. Selected from the Clark's impressive collection of Old Master drawings and the private collection of Robert Loper, Drawn to Drama will offer a unique opportunity to view this special group of Italian drawings that are dramatic in subject, composition, and execution. Sixty-five drawings including those by Giorgio Vasari, Guercino, Giovanni Benedetto Castiglione, Salvator Rosa, Luca Giordano, and Giovanni Battista Tiepolo are featured in the exhibition.

"The Clark is pleased to be exhibiting for the first time the Robert Loper Collection along with a large selection of our own Old Master drawings," said Clark director Michael Conforti. "It is an exciting opportunity to bring these important works to the public in an exhibition that reveals the artistic process of sixteenth- through eighteenth-century Italian artists."

Drawn to Drama contains a wide range of works, from small rapid sketches to larger and elaborately finished drawings, all focusing on the human figure. The exhibition explores how Italian artists of the sixteenth, seventeenth, and eighteenth centuries used the body as the primary expressive vehicle in depicting scenes from classical history, mythology, and the Bible. These artists were particularly adept at using facial expression, gesture, and posture to convey miraculous, visionary, and dramatic events in a compelling way.

A group of ten drawings by two of the greatest draftsmen of eighteenth-century Venice, Giovanni Battista Tiepolo and his son Domenico Tiepolo, are a highlight of the exhibition. These rarely exhibited drawings from the Clark's collection have not been shown as a group for several decades. Acquired by Clark founder Sterling Clark in the first decades of the twentieth century, they are in particularly pristine condition and therefore demonstrate the two artists' mastery of pen, ink, and wash technique that is the hallmark of their style. Giovanni Battista's handling of ink wash is especially broad and fluid, while that of Domenico is more descriptive and detailed. The exhibition provides a fascinating opportunity to compare directly the two artists' abilities.

The Clark's collection of Old Master (pre-nineteenth-century) drawings was begun in the 1910s by Sterling Clark, who acquired significant drawings by Albrecht Dürer, Peter Paul Rubens, Antoine Watteau, and many others. Between the opening of the Clark in 1955 and recent years, older drawings have been acquired on occasion through both gift and purchase. The collection was greatly enhanced by the acquisition of thirty Italian, Dutch, Flemish, and French drawings from the Steiner Collection in 2003. More recently, in 2007, a suite of sixteen drawings by the great seventeenth-century French landscape artist Claude Lorrain was acquired from the estate of noted collector Peter Sharp. The Clark's world-famous collection of nineteenth-century drawings was further enriched in 2007 when the Clark acquired the Manton Collection, which included numerous drawings by J.M.W. Turner, John Constable, Thomas Gainsborough, and many other leading British artists.

Half of the drawings featured in the exhibition are from the private collection of Robert Loper. In March 2004, Mr. Loper was listed by Art and Antiques as one of the "100 Top Collectors" in America. His collection of Italian Old Master drawings is significant and largely unknown to the public as it has never been published or exhibited. The drawings exhibited in Drawn to Drama are among the finest in his collection and represent the breadth and quality of its contents.

The expressive potential of body language and type is evident in Standing Male Nude by Francesco Fontebasso, from the Loper Collection. In the drawing, a very muscular model faces away from the viewer, yet his pose, leaning back and twisted to one side, implies without the use of facial expression that he is reacting strongly to an event unseen by the viewer. In another work from the Loper Collection, Luca Cattapane's Adoration of the Shepherds, a series of gestures combine to direct the viewer's attention to the drawing's subjects, Mary and Jesus. The gestures are subtle-one shepherd with his hands joined in prayer, another raising his hat in respect, Joseph's outspread arms offering protection to Mary and Jesus-yet effective in directing the viewer's attention to mother and infant.
The Flight into Egypt, c. 1750–60, by Giovanni Battista Tiepolo, Pen and brush with brown ink and brown wash over red chalk on paper, 9 5/8 x 8 inches, Sterling and Francine Clark Art Institute, Williamstown, Massachusetts