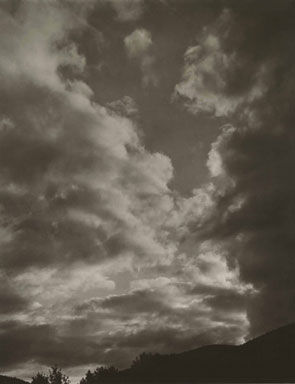 Alfred Stieglitz (American, 1864 - 1946), Music--A Sequence of Ten Cloud Photographs, No. II, 1922 gelatin silver print mounted on paperboard. National Gallery of Art, Washington, Alfred Stieglitz Collection, 1949.3.829
WASHINGTON, DC.- Three important and beautiful series of black-and-white landscape photographs will be showcased in, Oceans, Rivers, and Skies: Ansel Adams, Robert Adams, and Alfred Stieglitz, on view through March 15, 2009 (West Building Ground Floor Gallery 34). This focus exhibition features 21 works in chronological order: ten by Alfred Stieglitz (1864–1946), five by Ansel Adams (1902–1984), and six by Robert Adams (b. 1937). The three series have never before been exhibited together, and Stieglitz's series Music: A Sequence of Ten Cloud Photographs, was last seen in its entirety in 1923. The exhibition is organized by the National Gallery of Art, Washington.

"This small exhibition packs a powerful punch," says Earl A. Powell III, director, National Gallery of Art. "Many of these photographs have been on view separately, but seeing them as three series provides compelling insight into the art of some of America's most beloved photographers."

The Exhibition
The series in this exhibition offer an opportunity to examine the relationship of time to photography and to explore the ways in which photographers have created extended sequences of photographs to expand the pictorial and conceptual boundaries of their work.

In 1922, Alfred Stieglitz made a series of photographs of the sky at his summer home in Lake George, New York. Exhibited the following year to great acclaim at the Andersen Galleries in New York, this series—which Stieglitz titled Music: A Sequence of Ten Cloud Photographs or Clouds in Ten Movements—explores the possibilities of abstraction in photographs of the natural world.

In 1940, Ansel Adams paid homage to Stieglitz in his five-part series Surf Sequence, San Mateo Coast, California. Like his renowned mentor, Adams photographed a landscape he knew well—the coastline south of his home in San Francisco. Looking down from a high elevation, he made a sequence of photographs that recorded the rhythmic pattern of waves breaking on the shore. With each image taken from the same spot, the series reveals the temporal dynamism of nature.

More than 50 years later, Robert Adams explored the same subject in a series of six photographs, Southwest from the South Jetty, Clatsop County, Oregon, 1990 A–F, taken at the estuary where the Columbia River empties into the Pacific Ocean. Best known for his photographs of the collision between contemporary society and the landscape of the American West, Adams, in this series, approaches an abstract and ethereal sensibility that conveys the quiet sublimity of nature.

Stieglitz's series has an almost musical structure, as the series title indicates. Although composed of blocks of bold, abstract forms, Ansel Adams' sequence—the only one he ever made—is the most narrative of the three. Shadows from the cliff on which he stands indicate that all the photographs were made within a few minutes. The sequence itself charts an actual progression of time. Robert Adams' series is the most tranquil. Consisting of six very similar images, the sequence has no obvious musical, literal, or narrative progression, but together they evoke a state of calm meditation.
Alfred Stieglitz (American, 1864 - 1946), Music--A Sequence of Ten Cloud Photographs, No. III, 1922 palladium print. National Gallery of Art, Washington, Alfred Stieglitz Collection, 1949.3.831