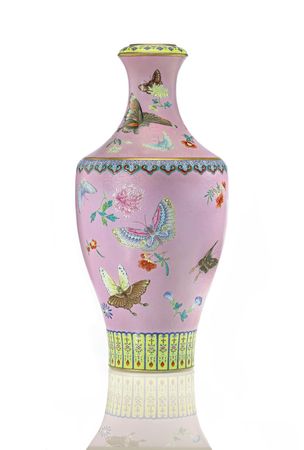 A Magnificent Imperial Famille Rose 'Butterfly' Vase. Qianlong Iron-Red Six-Character Sealmark And Of The Period (1736 – 1795). Image Christie's Ltd
45.7 cm. (18 in.) high. Estimate on request.
Following the success of the first sale in this series at Christie's in New York in September, Christie's is honoured to have been entrusted by the Ping Y. Tai Foundation with the sale with of the magnificent imperial famille rose 'Butterfly' vase in Hong Kong on December 3rd. This masterpiece of Qing Imperial porcelain will be the centrepiece of the Hong Kong series of Chinese Ceramics and Works of Art and is expected to fetch in excess of HK$40 million /US$5million

Qianlong vases of this large size decorated with such delicacy on an engraved enamel ground are extremely rare. Each of the butterflies is exquisitely painted in brilliant multi-coloured enamels with meticulous attention to detail while the other elements of design such as the flower sprays, ruyi band and the yellow-petal panels at the foot are equally well-rendered and balance the whole design creating a tour-deforce of Qing enamelling technique.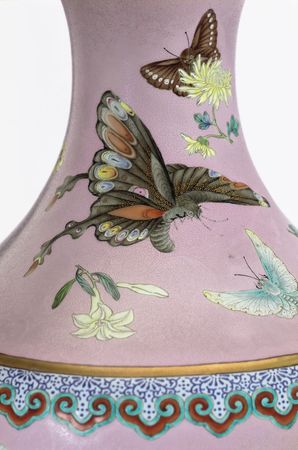 Image Christie's Ltd
The beauty and rarity of this vase is enhanced by its impeccable provenance. Formerly in the collection of Alfred Morrison (1821-97), one of the most famous 19th century English collections of Chinese Art, this remarkable vase is also published by Soame Jenyns in his seminal 1951 volume Later Chinese Porcelain - The Ch'ing dynasty. A large proportion of Morrison's Chinese porcelains and enamels were connected to the Yuanmingyuan, or Summer Palace, having been purchased in 1861 from Lord Loch of Drylaw (1827-1900), who brought them to Britain following the sacking of the palace in 1860; this present 'butterfly' vase is believed to have been one of the pieces that originated from the Summer Palace. Christie's has a long and successful association with the Fonthill Heirlooms collection, having conducted the first sale of the collection on May 31, 1965, again on October 18, 1971 (when the present lot was sold as lot 65) and more recently in London on November 9, 2004.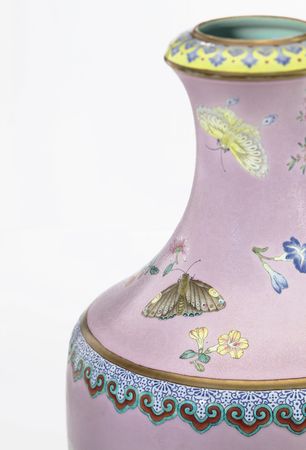 Image Christie's Ltd
The series of three single-owner sales of 151 Chinese classical paintings, ceramics and works of art is expected to realize between HK$170-220 million (US$22-$28 million). The collection was formed by the late Ping Y. Tai and is predominantly comprised of gifts to her from her husband Jun Tsei Tai who, until his death in 1992, was internationally renowned as the dean of Asian art dealers in the United States and affectionately known as J. T. Tai. Like her husband, Ping Y. Tai had exquisite taste and a deep knowledge of Chinese art and the present collection, now belonging to the Ping Y. Tai Foundation, is a testament to the ethos of refined connoisseurship and love of Chinese art that was widely prevalent in Europe and America around the mid-20th century.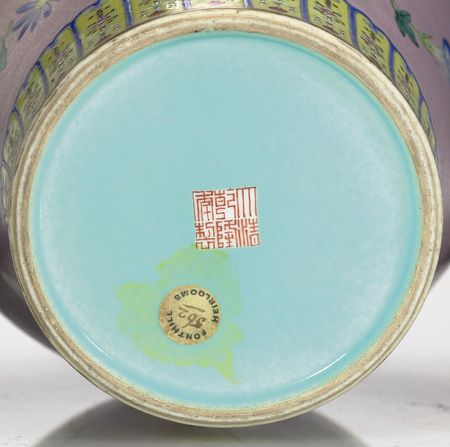 Image Christie's Ltd
Proceeds of the sale will benefit the Ping Y. Tai Foundation that regularly donates to American Red Cross, American Cancer Society, American Heart Association, UNICEF, City Meals on Wheels, Lighthouse International and Memorial Sloan-Kettering Cancer Center.

Christie's Hong Kong. Wednesday, December 3rd, 3pm - www.christies.com