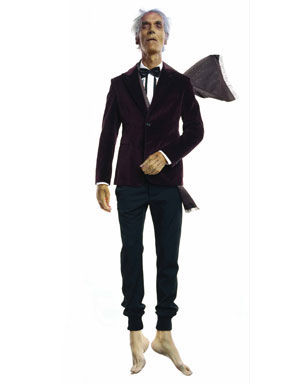 AES+F Group [Tatiana Arzamasova (b. 1955), Lev Evzovich (b. 1958), Evgeny Svyatsky (b. 1957), and Vladimir Fridkes (b. 1956)]. From the project "Defile", 2000–2007. Digital collages on light boxes. 205 x 106 x 20 cm. Courtesy of the artists and the Multimedia Art Museum, Moscow.
MIAMI.- Russian Dreams… presents a selection of cutting-edge works by contemporary artists from Russia. On view at the Bass Museum of Art from December 4, 2008 to February 8, 2009, the exhibition explores Russian art's evolution from the pre-Glasnost era to the present day. Russian Dreams… is a collaboration between the Bass Museum of Art and the Multimedia Art Museum, Moscow.

The exhibition is curated by Olga Sviblova, Director of the Multimedia Art Museum, Moscow and the curator behind the Russian Pavilion at the 2007 Venice Biennale, who is partnering with designer Yuri Avvakumov for the installation.

"This is an extraordinarily fecund time for Russian art, with a diverse group artists producing exciting and innovative work," said Olga Sviblova, curator of Russian Dreams... "To truly understand this incredible moment in contemporary art, we need to look back to the generation of artists who had been categorized in an oddly romanticized way simply as 'underground.' Russian Dreams… allows us to reexamine the works of these influential Sotsart artists in their own right and, in doing so, appreciate their impact upon artists working today."

The exhibition juxtaposes the work of modern Russian artists: icons like AES+F Group, Alexander Ponomarev, Vladimir Dubossarsky and Alexander Vinogradov, Dmitri Gutov, Alexei Kostroma, and the new generation of young artists – Julia Milner, Rostan Tavasiev, Haim Sokol, and MishMash Project. The first group of artists came to prominence in the 1980-90s, the epoch of the Russian underground and Perestroika—Mikhail Gorbachev's program of economic, political, and social restructuring which unintentionally catalyzed the toppling of Stalin's totalitarian state. This was a time when Sotsart—a satiric blend of Socialist Realism and Pop Art that parodied official stateproduced art—was the dominant artistic mode. The latter group of artists–currently between 20 and 30 years old–developed their work in a new, post-Perestroika Russia when government bans on personal expression were lifted, changing the scope of established artists' work.

Many of the pieces in Russian Dreams... are intimate, personal narratives, while others look back, referencing the bolder Sotsart of Yuri Albert and Yuri Avvakumov who participated in the underground art movement during the Perestroika era. Today, after seventeen years of living in a new socio-economic reality, Russian Dreams… reflects ambivalence towards a lost Utopia, as well as a sense of contradiction and tension that is today's twenty-first century Russia. The works in this exhibition resonate with the disconnected, random associations of dreams, and a sense of profound melancholy over what has been lost.

Russian Dreams… brings the latest in contemporary Russian painting, photography, video, and installation art to Miami Beach, and explores the mindset of a new generation.

Highlights of Russian Dreams… include:
Defile, 2000-2007 by the artists' collective AES+F (Tatiana Arzamasova, Lev Evzovich, Evgeny Svyatsky and Vladimir Fridkes) is a collage of video and digital photography, which blends images of unclaimed corpses in a morgue with images of haute couture dresses. Mimicking the runway shows of Paris, Milan, and London, the anonymous dead bodies, clothed in high fashion garments, float over an invisible catwalk. This bizarre fashion ritual will form the basis of a larger multimedia performance, The Dead Line Ball, which is still being developed.

Leonid Tishkov and photographer Boris Bendikov collaborated to produce the series Private Moon, 2003-2005. This visual poem--a series of sensitive, melancholy photographs--traces one man's journey through the world's boundaries and into dreams to protect his inner spirituality. The artists, borrowing from their personal histories, capture moments in their protagonist's path to enlightenment. In the work, Tishkov seeks his private moon as he transforms himself into a mythic creature who lives in the real world as if in a fairytale.

Olga Chernysheva, whose work has been featured at the 2007 Moscow Biennale, the 2001 Venice Biennale, and the 2006 Biennale of Sydney, offers a reflective series of images displayed in light-boxes, entitled Dream Street, 2000. These black and white images, taken outside of Moscow in 1999, hauntingly capture quotidian life in contemporary Russia.

Julia Milner, a former high fashion model turned photographer, was awarded the Silver Wreath prize for "Discovery of the Year" at the international festival Fashion and Style in Photography in Moscow and exhibited at the 2007 Venice Biennale. In Russian Dreams…., she presents the dynamic video installation Universe, 2008, which depicts the correlation among human beings, creation, and the galaxy.

Alexei Buldakov will show two, short animated films SEXLISSITZKY, 2007 and XXX MALEVICH, 2008, which offer a critique on pornography and parodies art-market pieties. A soundtrack of grunting and panting lovers accompanies the vivified, fragmentary images from Russian Suprematist paintings. The fragments mutate into limbs and body parts to form a shockingly primal cartoon.

Yuri Avvakumov created Black Bone Mausoleum, 2008 in homage to the acclaimed Russian architect Aleksey Schusev. The piece is comprised of 3,500 dominoes set with Swarovski crystals. The work will have its world premiere in Miami as part of Russian Dreams…

Alexei Kostroma's Feathered Aggression, 2008 is a new site-specific installation inspired by his 1994 project The Feathering of Names and Symbols, in which Kostroma feathered a Second World War howitzer on the bastion of St Petersburg's Peter and Paul Fortress whose barrel was directed at the State Hermitage Museum and, to this day, fires a blank shot every day at noon. In recent years, Kostroma has created a series of objects and installations entitled Feathering Aggression, the latest of which was created especially for Russian Dreams… and will premiere in Miami. For this piece, Kostroma has conceptualized a five-meter feathered cannon in a darkened room, which he has fitted with an interactive mechanism, causing a section of the gun barrel to suddenly drop before slowly rising again.

Andrei Molodkin seeks to expose the export of democracy for oil's sake. His liquid sculpture Democracy, 2000 is a series of transparent, bubble letter vessels filled with light, sweet, crude oil. By transforming oil from a natural resource into an aesthetic material, Molodkin questions the role of oil in Western democracies and explores the troubling intersection between art and money.

Russian Dreams… opens to the public on Thursday, December 4 and will be on view in the Gertrude Silverstone Muss Gallery through February 8, 2009.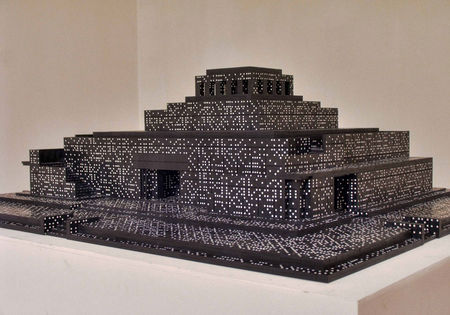 Yuri Avvakumov. Black Bone Mausoluem. Homage to the architect Shushev. 2008. Object. 62.5 x 170 x 142 cm. 3,500 dominoes with Swarovski crystals. Courtesy of the artist and the Multimedia Art Museum, Moscow