Salomone de' Grassi, The Trinity
MILAN.- The catalogue – consisting of over 140 lots – opens with a pictorial group of Fondo oro panels among which is a striking gold-ground painting by Salomone de' Grassi, The Trinity, commissioned by the Visconti family. Salomone, a renowned miniaturist and painter, is cited among the most significant Viscontean artists, together with his father Giovannino, from whom he inherited the post of draughtsman and painter of the "Veneranda Fabbrica del Duomo di Milano" (Venerable Workshop of the Duomo of Milan), while working simultaneously on a number of illuminated manuscripts commissioned by Gian Galeazzo Visconti for his personal library and for the Certosa (Charterhouse) of Pavia. The Trinity (71x40 cm.) has been estimated € 50,000-70,000.

We would like to draw your attention to two of the portraits featured in the catalogue: the first one, accomplished around 1563-64 by Girolamo Mazzola Bedoli, is the elegant and detailed Ritratto di bambina in abito rosa (Portrait of a girl in a pink dress), recognized as being Anna Eleonora Sanvitale – an outstanding personage in the refined circles of the Estense court of Ferrara – after comparison with the official portrait of Anna Eleonora, also by Bedoli, now housed by the National Gallery of Parma. The artist was a friend of Parmigianino and, along with Pontormo and Bronzino, is undoubtedly one of the most important Parma portraitists of the 16th century (oil on canvas, 36x29 cm., estimated € 30,000-40,000).

The second one is Ritratto maschile con crocifisso (Portrait of a man with a crucifix), also oil on canvas, painted by Domenico Tintoretto, son of Jacopo, of whom he was a close collaborator; the work, in fact, was initially attributed to his better known father, and has only recently been acknowledged as a youthful work of Domenico (109x89 cm., estimated € 20,000-30,000).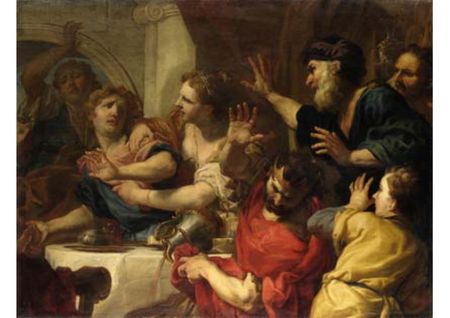 Antonio Molinari, Il Convitto di Baldassarre
The late seventeenth century marks the period of Antonio Molinari, a highly original Venetian painter and, for this reason, much sought-after by aristocratic Venetian and Italian families. His skill and fame contributed to his nomination to Prior of the "Collegio dei Pittori Veneziani" in 1699. The magnificent oil on canvas in the catalogue depicts the biblical episode of Il Convitto di Baldassarre (Belshazzar's Feast), and is one of the most monumental works produced by Molinari. It is estimated € 40,000-60,000

An outstanding representative of Rococo art in Bologna, Giuseppe Marchesi, called Sansone, painted various frescos for private customers and clergy; he is featured today with his Presentazione al Tempio (The Presentation in the Temple, 139x99 cm., estimated € 20,000-30,000).
Jacopo Cestaro, Cleopatra
The late Baroque Neapolitan painter Jacopo Cestaro, a pupil of Solimena, was one of the artists called upon by Luigi Vanvitelli to decorate the Royal Palace of Caserta; his oil on canvas Cleopatra (99x74 cm.) is a signed version of another portrait of the same subject exhibited at the Museo di Capodimonte (estimated € 20,000-30,000).

A careful selection constitutes the section dedicated to Landscape Paintings, which includes, among other things, a gouache on paper, entitled Capriccio architettonico con due monaci (Architectural caprice with two monks), (26x36 cm., estimated € 30,000-40,000) by Marco Ricci, nephew of Sebastiano, and a close collaborator in his uncle's Venetian workshop. In 1708, owing to his skill as a landscape artist, he was invited to London by the Earl of Manchester to create the sets for Italian opera in the King's Theatre in Haymarket, and execute a series of decorations at Castle Howard.

In the wake of the view painting by Sebastiano and Marco Ricci, there follows Capriccio architettonico con festa di paese e carrozze (Architectural caprice with village fair and carriages) by Gherardo Poli, an unconventional painter of "capricci" of the early Tuscan eighteenth century, estimated € 25,000-35,000 (62x140 cm., illustrated on page 3). By Jan Frans Bloemen, called Orizzonte, is a pair of Roman landscapes, mentioned by Busiri Vici in his study dedicated to Roman scenes by the Flemish painter (oils on canvas, 49x64 cm. each, estimated € 30,000-40,000).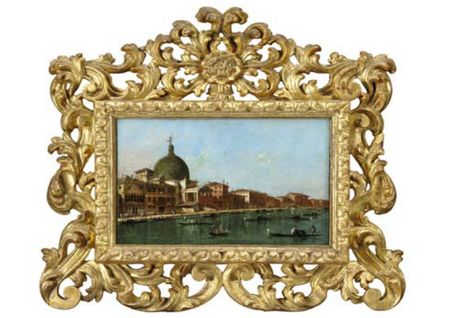 Francesco Guardi, Vedute
Venice is a small signed tablet of the mature Francesco Guardi, which depicts the stretch of the Grand Canal with the church of San Simeone Piccolo, a view much favoured by Guardi, who portrayed it in other versions, preserved in Vienna and Madrid (oil on board, 22x32 cm., estimated € 150,000-200,000).

The last page of the catalogue hosts Gaspare Landi (for whom Sotheby's Milan holds the auction record, registered in June 2008) author of the The Holy Family, undisputedly one of at least four works on the same subject documented in ancient literature, painted between 1790 and 1817 and commissioned, among others, by Maria Luigia of Parma. Certain details of our painting indicate that it pertains to the most mature production of Landi; it is estimated € 8,000-12,000.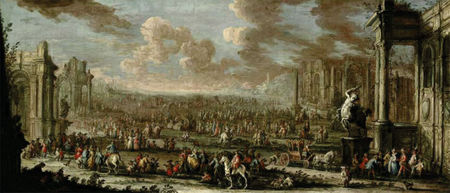 Gaspare Landi,
Sotheby's Milan, Palazzo Broggi, via Broggi 19, Monday 17 November 2008, 6.00 p.m.