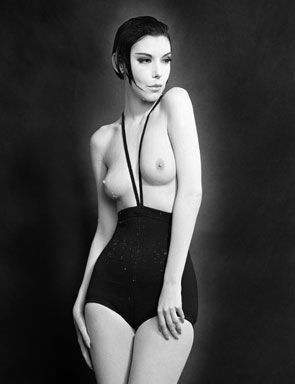 Peggy Moffitt in Rudi Gernreich's Topless Swimsuit, 1964. Photograph by William Claxton/Courtesy Demont Photo Management
NEW YORK, NY.- The spring 2009 exhibition organized by The Costume Institute of The Metropolitan Museum of Art will be The Model as Muse: Embodying Fashion, it was announced by the Museum today. The exhibition, which will be on view at the Metropolitan from May 6 through August 9, 2009, will explore the reciprocal relationship between high fashion and evolving ideals of beauty, and will focus on iconic fashion models of the 20th century and their roles in projecting, and sometimes inspiring, the fashion of their respective eras.

"The exhibition will examine a timeline of fashion over the past 100 years through the paradigm of the fashion model," said Harold Koda, Curator in Charge of The Costume Institute. "We look at the power of clothing, fashion photography, and the model to project the look of an era. With a mere gesture, or the line of her body, a truly stellar model can sum up the attitude of her time, creating an alluring synergy between herself and the clothing to communicate a designer's message to the wider world."

To celebrate the opening of the exhibition, the Museum's Costume Institute Gala Benefit will take place on Monday, May 4, 2009. Marc Jacobs will serve as Honorary Chair of the Gala. Co-Chairs are Kate Moss; Justin Timberlake; and Anna Wintour, Editor-in-Chief of Vogue.

The exhibition will feature approximately 70 masterworks of haute couture and ready-to-wear. Fashion editorial, advertising, and runway photography plus video footage of models, actresses, socialites, and rock stars who epitomize their epochs will be used throughout the galleries to explicate the fashion zeitgeist.

The exhibition, in the Museum's second-floor Tisch Galleries, will begin with a prelude to the model era in the late 19th and early 20th centuries, when society ladies and showgirls were chosen and were paid a pittance to appear in creations by Worth and Poiret in ateliers, out to theater, and on occasion in fashionable magazines. The emergence of the modern woman in prewar society and the photography of Edward Steichen set the stage for Marion Morehouse—one of the first models known to the larger public by name. Later, in the wake of the postwar resurgence of the American fashion and advertising industries, Dior's New Look and a proliferation of model agencies created an atmosphere from which highfashion models with celebrated personalities and distinctive identities emerged. Lisa Fonssagrives, Dovima, Suzy Parker, Sunny Harnett, and Dorian Leigh personified the '40s and '50s, an era that has since come to be regarded as The Golden Age of Haute Couture. Capturing their rarified gestures and haughty aristocratic grandeur, photographers such as Irving Penn, Horst, Richard Avedon, and Norman Parkinson portrayed these beauties in fashions by Balenciaga, Jacques Fath, and Christian Dior for advertisements and editorial shoots—many of which are now considered among the most important photographic images of the 20th century.

With the "Youthquake" of the 1960s, models chosen by Pierre Cardin, Courrèges, and Rudi Gernreich heralded the transformation from a womanly to girlish ideal, moving from Jean Shrimpton to Peggy Moffitt, Veruschka, and Twiggy. In the '70s, Halston and Yves Saint Laurent surrounded themselves with coteries of models who defined their brands. The "Halstonettes" promoted the American sportswear and active leisure aesthetic to a global audience, while Saint Laurent's cabine of models and muses expressed his nationalistic projection of French fashion. At the same time, avant-garde ready-to-wear designers Claude Montana, Thierry Mugler, and Gianni Versace began to usurp the authority of the haute couture.

In the late '80s, supermodels expressed an idealized glamour and a reign of supremacy, breaking down the old boundaries between runway, editorial, and advertising work to do all three for designers seeking to bolster their houses' identities. Naomi Campbell, Linda Evangelista, and Christy Turlington emerged as the "Trinity" and expressed the diverging moods of the era, appearing in global campaigns for the houses of Chanel, Versace, and Ralph Lauren, among many others. In the 1990s, grunge and street style led to a radical shift from a decisively glamorous beauty to the rebel chic of Kate Moss, much as Twiggy supplanted Jean Shrimpton in the '60s.

The minimalism of the '90s, as expressed by Giorgio Armani, Jil Sander, and Calvin Klein, and the eccentricity of young Belgian, Japanese, and British designers, still relied on supermodels, with newcomers like Amber Valletta, Nadja Auermann, and Shalom Harlow rising to "It Girl" status. By the close of the century, übermodel Gisele Bündchen elevated and branded the supermodel aesthetic, enhancing it with the added sheen of global superstar status—working all areas from print to runway to movie screen with unprecedented ubiquity.

Designers in the exhibition will include Azzedine Alaïa, Giorgio Armani, Balenciaga, Pierre Balmain, Geoffrey Beene, Pierre Cardin, Hussein Chalayan, Chanel, Courrèges, Jean Dessès, Christian Dior, Dolce & Gabbana, Jacques Fath, John Galliano, Jean Paul Gaultier, Rudi Gernreich, Givenchy, Gucci, Halston, Marc Jacobs, Donna Karan, Rei Kawakubo, Calvin Klein, Christian Lacroix, Helmut Lang, Lanvin, Ralph Lauren, Martin Margiela, Alexander McQueen, Issey Miyake, Claude Montana, Moschino, Thierry Mugler, Prada, Paco Rabanne, Nina Ricci, Rochas, Rodarte, Ralph Rucci, Yves Saint Laurent, Jil Sander, Giorgio Sant'Angelo, Versace, Viktor & Rolf, Vivienne Westwood, and Yohji Yamamoto.

Iconic models featured will include Nadja Auermann, Gisele Bündchen, Naomi Campbell, Janice Dickinson, Dovima, Linda Evangelista, Lisa Fonssagrives, Jerry Hall, Shalom Harlow, Sunny Harnett, Lauren Hutton, Iman, Dorian Leigh, Peggy Moffitt, Marion Morehouse, Kate Moss, Suzy Parker, Jean Shrimpton, Christy Turlington, Twiggy, Amber Valletta, and Veruschka, among others.

Photographers whose images captured the mood of fashion via their subjects, and whose work will be in the exhibition, include Richard Avedon, David Bailey, Louise Dahl-Wolfe, Patrick Demarchelier, Horst, George Hoyningen-Huene, William Klein, Peter Lindbergh, Steven Meisel, Helmut Newton, Norman Parkinson, Irving Penn, Paolo Roversi, Edward Steichen, Bert Stern, Mario Testino, and Bruce Weber.
Lud in Madame Grès, 1938. Photograph by Horst © The Condé Nast Publications Inc.