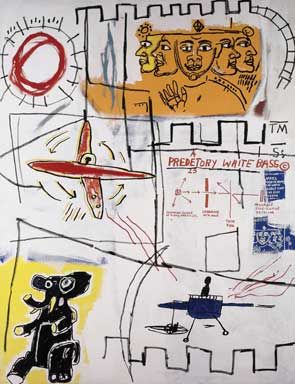 Jean-Michel Basquiat (1960-1988), Alpha Particles, signed, titled and dated '"ALPHA.PARTICLES" Jean Michel Basquiat 1984' (on the reverse), acrylic, colored oilsticks and silkscreen inks on canvas. 86¼ x 68¼ in. (219 x 173.3 cm.), painted in 1984. Estimate: $1,200,000 - 1,800,000. © Christie's Images Ltd. 2008.
NEW YORK.- On November 13, ensuing its Post-War and Contemporary Art Evening Sale Christie's New York will hold the Fall 2008 Post-War and Contemporary Art Morning Sale, followed by the Post-War and Contemporary Art Afternoon Sale. Offering over 360 lots over the course of the day, both sales are comprised of exceptional works by foremost Post-War and Contemporary artists including Richard Diebenkorn, Willem de Kooning, Alexander Calder, Lee Krasner, Ed Ruscha, Jean Dubuffet, Jean-Michel Basquiat, Damien Hirst, Sherrie Levine, Robert Gober, Subodh Gupta and Ron Mueck.

With works ranging from $14,000 to $3 million, the sales present an enticing opportunity for those looking to either begin or expand their collections. Morning Session –Leading this sale is Richard Diebenkorn's Landscape with Figure, 1956 (estimate: $3 to 4 million) – a rare and emblematic work that denotes Diebenkorn's ultimate decision to transition from the abstraction upon which he built his career to representational painting. Painted at a crossroad in his career; this is one of the rare paintings that fuses a variety of ideas and phases onto one canvas, demonstrating a resolve to push his work in a more challenging direction Among the highlights of this sale is Willem de Kooning's East Hampton VII, 1976 (estimate: $1.2 to 1.8 million). This exuberant painting embodies the perceptible transformation of de Kooning's work ensuing his move from New York City to East Hampton in 1963. Exploding with color and free expression, this work depicts a woman on the beach, executed in an elemental manner that has a powerful ability to communicate the bare essence of the subject and her surroundings.

Alexander Calder will be represented by eight lots in the morning session, including five classic works from the collection of the artist's close friend Joanna Cook Chess Bergson. Leading this selection is Untitled, circa 1939 (estimate: $600,000 to 800,000), a hanging mobile that perceptibly anticipates Calder's fêted "Constellation" series.

Also being featured in this segment is Lee Krasner's Untitled, 1949 (estimate: $300,000 to 400,000), a visually arresting work that is believed to be one of the last installments of the artist's breakthrough Little Image series. Additional highlights will include Jean Dubuffet's Femme assise au fauteuil, 1944 (estimate: $250,000 to 350,000) and Ed Ruscha's emblematic Rough Fireplace Study, 1977 (estimate: $350,000 to 450,000).

Afternoon Session – The afternoon session is comprised of a host of exceptional works led by Jean-Michel Basquiat's Alpha Particles, 1984 (estimate: $1.2 to 1.8 million). Executed in what many would describe as the apex of Basquiat's tragically short yet undeniably illustrious career, this work captures the energy of a young artist at the pinnacle of his creative capacity, taking the New York art scene by storm. Other highlights include the cover lot Afterworld, 2007 by Damien Hirst (estimate: $900,000 to 1.2 million), and Cecily Brown's sensual and captivating Puce Moment, 1997 (estimate: $600,000 to 800,000). Untitled Candle, 1991 (estimate: $400,000 to 600,000), a thought provoking and poignant work by Robert Gober leads the sculptural portion of the afternoon session. Executed at the height of the AIDS crisis in the United States, this work becomes a material prayer for those who lost their lives to the AIDS epidemic. Untitled Candle stands as a powerful symbol of the brevity of life while at once serving as a timeless and domestic monument. Also highlighting this section is Ron Mueck's Swaddled Baby, 2002 (estimate: $200,000 to 300,000), Subodh Gupta's brass Door, 2007 (estimate: 300,000 to 400,000), and Sherrie Levine's emblematic Fountain (After Marcel Duchamp), 1991 (estimate: $150,000 to 200,000). Auction: November 13, 2008. Viewing: November 8-12, 2008.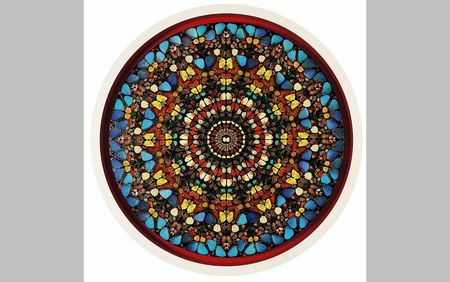 Damien Hirst (b. 1965), Afterworld, signed, titled and dated 'Afterworld 2007 Damien Hirst' (on the reverse), Butterflies and household gloss enamel on canvas, diameter: 48 in. (121.9 cm.). Executed in 2007. Estimate: $900,000 - 1,200,000. © Christie's Images Ltd. 2008