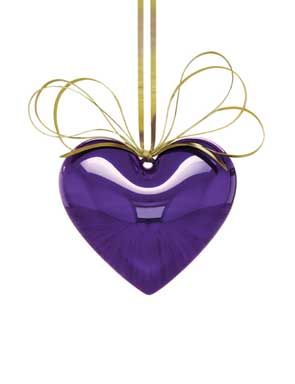 Hanging Heart Violet, high chromium stainless steel with transparent color coating and yellow brass. 106 x 85 x 40 inches, 269.2 x 215.9 x 101.6 cm. 5 unique versions (Red/Gold, Magenta/Gold, Silver/Blue, Violet/Gold, Gold/Red) 1994-2006. © Jeff Koons 2008
BERLIN.- Neue Nationalgalerie presents today Cult of the Artist: Jeff Koons - Celebration, on view through February 8, 2009. A National Gallery Exhibition, made possible by the Friends of the National Gallery, supported by E.ON. Jeff Koons is rated as one of most successful artists of the present day. And he is surely one of the few living artists who largely owes his popularity to the cult he has systematically built up around his own personality: the way he presents himself in and through pictures has time and again proved to be an essential component of his artistic work.

Jeff Koons works with the garish, loud and colourful, as well as with the playful and kitschy, while at the same clearly positing himself in art historical traditions. By doing so he draws on two of the most important artists of the modern day - Marcel Duchamp and Andy Warhol - as well as on the language of forms and theory of composition of the Baroque and Rococo.

Jeff Koons' art installation in the upper hall of the New National Gallery will prove to be a spectacular performance from this prominent contemporary artist. Koons will put on display the glistening giant sculptures from his famous 'Celebration' series, which he has been working on since the early 1990s and which instantly strike one as magnified children's toys or giant gift items. And so Jeff Koons' exhibits will take their place in a long line of impressive artist installations in the upper hall of the New National Gallery, as seen most recently for example by those on show by Jörg Immendorff (in 2005) and Jannis Kounellis (in 2007).

Presented by: National Gallery. Verein der Freunde der Nationalgalerie.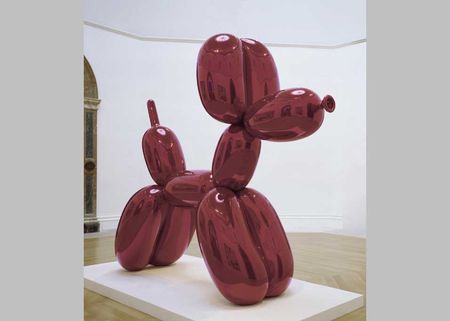 Balloon Dog Red, high chromium stainless steel with transparent color coating, 121 x 143 x 45 inches. 307.3 x 363.2 x 114.3 cm, 5 unique versions (Blue, Magenta, Yellow, Orange, Red), 1994-2000. © Jeff Koons 2008