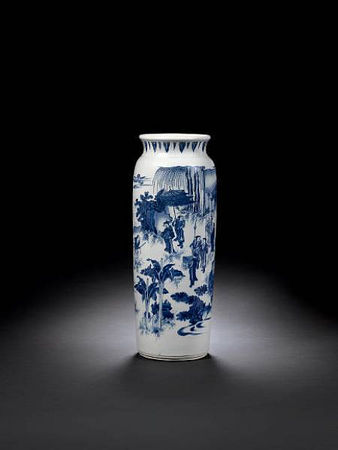 A blue and white cylindrical vase, rolwagen. Circa 1640

Finely painted with a farmer leading a water buffalo standing before a dignitary and his entourage including attendants, guards bearing spears, ladies with fans, flag bearers and a cart, all within a mountainous river landscape with plantain, shrubs, the characteristic V-shaped grass flanked by rocky outcrops and windswept clouds, the shoulder incised with leafy floral sprays below a band of pendent plantain leaves. 44.4cm (17½in) high.- Estimate: £15,000 - 18,000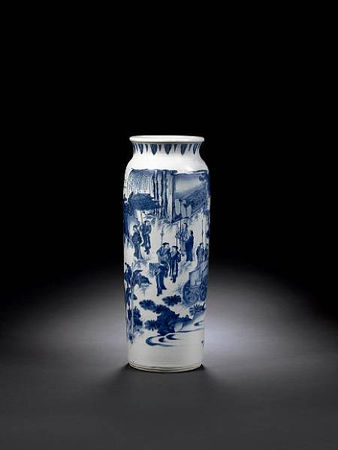 Footnote: The style of painting on the current lot is characteristic of the 17th century, with unusual twisted peaks and strong light/dark contrasts.

For a related blue and white cylindrical vase, also painted with a procession of figures in a landscape, see Mei Ninghua and Tao Xicheng, Gems of Beijing Cultural Relics Series, vol.II: Pottery and Porcelain, Beijing, 2004, p.148, no.135.

Compare also a similar but slightly larger cylindrical blue and white vase, inscribed with a date corresponding to 1639 and illustrated by J.B. Curtis, Chinese Porcelains of the Seventeenth Century - Landscapes, Scholar's Motifs and Narratives, New York, 1995, p.48, no.4.
Copyright © 2002-2008 Bonhams 1793 Ltd.,Images and Text All Rights Reserved
Bonhams. Fine Chinese Art, 6 Nov 2008. New Bond Street - www.bonhams.com