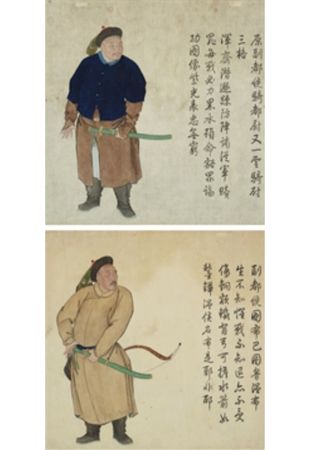 Two Very Rare Imperial 'Bannerman' Portraits. Attributed To Jin Tingbiao (Active 1757-67) With Inscriptions By The Qianlong Emperor (R. 1736-95)
Ink and colour on paper. 11¾ x 12½ in. (30.3 x 31.8 cm.) (2) - Price Realized £121,250 ($197,274)
Provenance: Acquired in Berlin, Germany, in the late 1950s.
Notes: The inscription can be translated:

The Late Vice Commandant, Commandant of Calvary, One-Cloud Calvary San Ge
He fled from the Battle of Hunqi; was demoted for jeopardising the defences. Rejoined the army in atonement for his negligence, he always advanced in battles. Lost his life in Heishui, he has gained merit and dispelled all previous wrongdoing. Now his portrait is in the Hall of Purple Splendour, to commemorate his boundless loyalty.

Vice Commandant, Loyal Hero Wen Bu
In his life he knows no fear; in battles he does not retreat, nor does he get injured. His head is made of bronze, his back of iron. His bow is strong enough to carry buckets of water, his arrows as forceful as ploughs. The Marquis Wen named Bu, is this him, or is this not him?
(Marquis of Wen, Lü Bu, was a famous Eastern Han warrior. Here the Qianlong Emperor used Wen Bu's name as a pun to evoke the bravery of Lü Bu as a comparison.)

These two bannerman paintings are fragments from a scroll, originally comprising fifty portraits and commissioned by the Qianlong Emperor from the court aritst Jin Tingbiao in the 25th year of his reign (AD 1760). The scroll commemorates the success of these military subjects in the campaign against the Uyghurs of the Western frontiers. Two scrolls apparently were made, featuring a total of one hundred bannermen, but only the first scroll, to which the current two portraits belonged, is recorded in the imperial catalogue Shiqu Baoji chubian. It is very possible that larger full-scale portraits based on these smaller studies were also commissioned, such as the one of the Commander-in-Chief of Xi'an, Ha Guoxing, from the von Oertzen Collection (see the introduction to lots 104-134 of the current sale).
The Qianlong Emperor commissioned in total two hunderd and eighty portrats of his loyal military subjects after the successes of various military campaigns during his reign. These portraits were stored in the Hall of Purple Splendour (Ziguangge), the current examples being among the earliest. Three portraits from the same scroll are in the Museum für Ostasiatische Kunst in Berlin, illustrated in Bilde für die Halle des Purpurglanzes, Berlin, 2003, cat. nos. 1-3; a set of ten portraits was sold in Sotheby's New York, 31 March 2005, lot 280; and another single portrait was sold in Sotheby's New York, 21 September, 2006, lot 9.
Christie's. A Private English Collection of White Jade Carvings. Fine Chinese Ceramics and Works of Art including Export Art. 4 November 2008. London, King Street. Image Christie's Ltd 2008 . www.christies.com