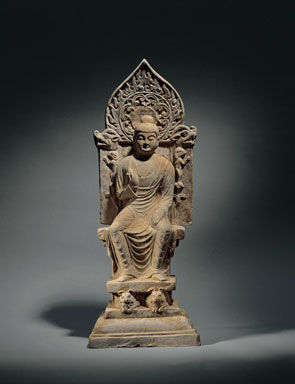 Anonymous, Chinese, Early T'ang Dynasty. Maitreya, 7th century terracotta. Gift of Robert Y. Turner
COLUMBIA, SC.- The Columbia Museum of Art will show, for the first time, a major gift to the museum of Chinese art in the exhibition, Eye to the East: The Turner Collection of Chinese Art. The exhibition opens on December 19, 2008 and will be on view through May 10, 2009. The donation to the Columbia Museum of Art of this collection is significant in that it now gives breadth and context to a strong and growing collection of Korean, Japanese and Chinese art. This constitutes the only public collection of Asian art created for the Asian market in South Carolina. The exhibition Eye to the East offers visitors a more in-depth understanding of Chinese art and a more complete study of the outstanding gifts of Asian art from Dr. Turner, who has donated more than 100 works to the Museum from ancient Roman heads to works by 20th century Modern masters.

Dr. Turner's collection is exceptional in that it covers a broad historical span with excellent examples from many periods. The approximately 70 works in the exhibition range from rare painted ceramics and bronzes of Neolithic times (ca. 8000 - 2000 B.C.) to superb ceramics, vessels, tomb figures and Buddhist sculpture from the Golden Age of China, the Tang dynasty (618-907). Beautiful works from almost every intervening period (Han to Sui dynasties 206 B.C. - A.D. 618, and Jin through Yuan dynasties 906 - 1368) are also included. A highlight of the exhibition is a very rare terracotta figure of the Maitreya - Buddha of the future - from the 7th century Sui/Early Tang Dynasty.

The earliest pieces in the Turner collection are from the Xiajiadian culture that flourished in Northeast China about 2000 B.C. The people of the time built permanent homes, farmed and raised domesticated animals. The two painted Xiajiadian jars in the Turner collection are excellent examples of their work.

Tomb figures in Eye to the East - guardian figures, chimera and spirited horses from the Han and Wei dynasties (206 B.C. - A.D. 534) show the remarkable skill of the ceramic craftsmen. Also included are stonewares and porcelains with simple forms and monochromatic glazes from the Song, Jin and Yuan dynasties (906-1279, 1115-1234, 1279-1368).

The exhibition is organized by the Columbia Museum of Art and guest curated by Donald A. Wood, Ph.D., chief curator, The Virginia and William M. Spencer II Curator of Asian Art at The Birmingham Museum of Art, Birmingham, Alabama.
Anonymous, Chinese, T'ang Dynasty. Earth Spirits, 8th - 9th century ceramic. Gifts of Robert Y. Turner