A blanc-de-chine seated Guanyin. 18th century

Modelled seated in dhyanasana on a large lotus pod surrounded by overlapping petals and supported on a short hexagonal plinth, gracefully holding in one hand a ruyi, wearing long flowing robes tied at the waist revealing the bare bejewelled chest, the face with a benevolent expression and framed by long ears with pendulous earlobes and wearing an elaborate headdress, impressed Boji yuren seal mark. 43cm (17in) high.. Estimate: £4,000 - 6,000 - Unsold.
Provenance: Richard de la Mare, Much Hadham Hall, England
An English private collector, acquired at the Much Hadham Hall auction.

The characters boji yuren may be translated as 'Virtue extends to all, even fishermen'.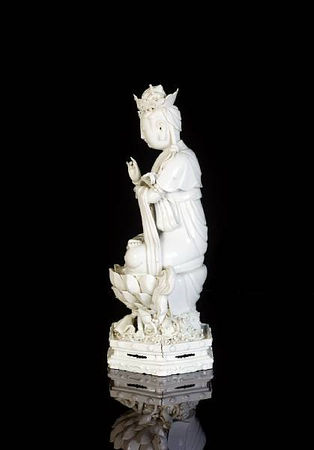 Copyright © 2002-2008 Bonhams 1793 Ltd.,Images and Text All Rights Reserved
Bonhams. Fine Chinese Art, 6 Nov 2008. New Bond Street - www.bonhams.com
NB: Un table ronde recouverte de Guanyin en blanc-de-chine, cela ne vous rappelle rien? Un de mes films culte, Visconti, Romy Schneider en Chanel, un palazzo romain...