Sir Thomas Lawrence, Portrait of Arthur Atherley as an Ethonian. England c. 1791. Oil on canvas. 49 1/2 X 39 1/2 in. Los Angeles County Museum of Art, Gift of Hearst magazines. Photo ⓒ 2008 Museum Associates/ LACMA
LOS ANGELES, CA.- The Los Angeles County Museum of Art (LACMA) presents Hearst the Collector, an unprecedented exhibition that reunites approximately 150 of the best works of art from the media tycoon's vast and varied holdings. William Randolph Hearst (1863–1951), one of the most flamboyant collectors of all time, assembled a massive and distinguished collection that was largely dispersed and sold during a liquidity crisis in the late 1930s. Primarily as a result of the negative portrayal in Orson Welles's film, Citizen Kane—a dark reinvention of Hearst's life—the collection never received its due acclaim. Now, with many of the most significant objects brought together once more, Hearst is finally revealed as an accomplished and discriminating collector.

The most important aspects of William Randolph Hearst's activities as a collector will be represented in LACMA's exhibition, including his particularly strong collections of arms and armor, silver, and Renaissance tapestries. In each of these areas, he surpassed virtually all his contemporaries, amassing the greatest quantity of top-tier works. Hearst also formed legendary treasuries of medieval and Renaissance goldsmiths' work and Limoges enamels. In addition, there were paintings by Boucher, Copley, David, van Dyck, Fragonard, Gérôme, Greuze, Lawrence, Lotto, Reynolds, and Vouet, with sculptures by Canova, Clodion, Marin, Sansovino, and Thorvaldsen, many of which will be on view. His classical antiquities boasted the illustrious provenances of historic British collections such as Buckingham, Hamilton, Hope, and Lansdowne, but his passion for California and the American frontier, exemplified by his collection of three hundred Native American textiles, set him apart from traditional American collectors in New York and Boston.

A number of extraordinary loans from Hearst Castle®, including the historic marble statue, the Lansdowne Venus by Antonio Canova, will be highlighted to show the breathtaking range of Hearst's interests. This is the first time that the statue has left the Castle since Hearst installed it there in the 1930s. A complement of four full suits of armor (coming from the Metropolitan Museum of Art and the Detroit Institute of Arts), a jewel-like sword, and a pair of intricately inlaid Baroque guns almost fifty inches long, will join them. From the Louvre comes one of the great masterpieces of Renaissance goldsmiths' work, the sumptuous mother-of-pearl box edged in vermeil, dotted with garnets, and topped by four spherical emeralds, that once belonged to King Francis I and dates from 1532–33. The exhibition marks the first time this splendid objet d'art has been shown in the United States. Other examples of goldsmiths' work will be displayed in an opulent treasury highlighted by a nearly 30-inch-tall gold cup that when filled could hold almost three quarts of wine. A full complement of drawings by Hearst's preferred architect, Julia Morgan—the first woman (and the first American) to earn a degree from the École des Beaux-Arts in Paris—will also be displayed. The exhibition will be augmented with several loans from private collections, with more than two dozen extraordinary objects from Hearst Castle®.

William Randolph Hearst
The heir to a colossal fortune stemming from the Gold Rush of 1849, Hearst transformed a single newspaper into a media conglomerate that included radio stations, magazines, newsreels, wire services, and movie studios. His 240,000 acre ranch in California was bigger than Washington, D.C., and his five-story apartment in New York was the largest in the world. He displayed his collections there and in five other spectacular residences: his castle of St. Donat's in Wales, his wife's neo-Gothic estate on Long Island, a Georgian-style mansion on the beach in Santa Monica, a Bavarianstyle forest retreat in northern California, and the opulent palace now popularly called Hearst Castle®, in San Simeon, about 250 miles (400km) north of Los Angeles, for which he is best remembered.

When Hearst's empire was threatened with financial crisis in 1937, half his collections were liquidated. For example, much of Hearst's Georgian silver was purchased (with funds provided by John D. Rockefeller, Jr.) to begin the collection at Colonial Williamsburg in Virginia, and fully twenty-five percent of the renowned Otto von Kienbusch Collection of arms and armor (in the Philadelphia Museum of Art) came from Hearst. Other treasures eventually found their way to the Rijksmuseum, the Louvre, Metropolitan Museum of Art, J. Paul Getty Museum, and many other museums ranging from Mexico City to Jerusalem. Hearst donated hundreds of works of art to the Los Angeles County Museum of History, Science, and Art (which opened in 1913), thus laying the foundation upon which LACMA was eventually established in 1965. Hearst the Collector celebrates this history in conjunction with the fiftieth anniversary of the 1958 opening of Hearst Castle® to the public.

Exhibition Genesis and Design
As William Randolph Hearst was the greatest individual donor to the early Los Angeles County Museum of History, Science, and Art, he is also LACMA's greatest individual donor. LACMA houses the second largest repository of Hearst's treasures after Hearst Castle® at San Simeon. Fundamental scholarly research into the long-neglected provenance of much of the collection that he donated, undertaken by LACMA curator of European Painting and Sculpture Mary Levkoff, prompted this timely re-assessment of Hearst's achievements.

The installation design of Hearst the Collector, conceived by David Hundley, who is noted for his work with Gucci, Ralph Lauren, Lexus, and others, is inspired by the grandeur of the Hearst residences, filtered through a minimalist design sensibility. The result is a neutral viewing experience that allows visitors to focus on the beauty of the individual objects, while suggesting the scale of rooms in which the objects were originally displayed.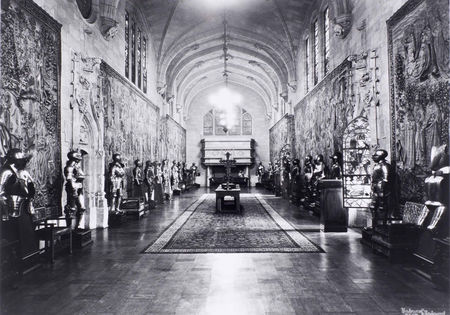 Underwood & Underwood, New York. View of the armory in Hearst's apartment in New York, c. 1929. Reproduced from the Collections of the Library of Congress. Photo by Underwood & Underwood