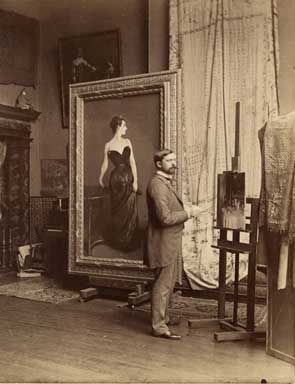 John Singer Sargent in his studio at 41 Boulevard Berthier in Paris, ca. 1884, with his famous painting Madame X. Sargent faces his painting The Breakfast table, in progress on the easel. Photographer unknown. Photographs of artists in their Paris Studios, 1880-1890. Archives of American Art, Smithsonian Institution
STOCKBRIDGE, MA.- The interplay between artists and their studios will be the subject of a major exhibition opening this winter at Norman Rockwell Museum. On view from February 7 through May 25, 2009, Artists in Their Studios will present a behind-the-scenes view into the lives of over 75 noted American artists through hundreds of rarely-exhibited photographs and primary source materials from the Smithsonian Archives of American Art.

With over a century of artists represented, from N.C. Wyeth to Willem de Kooning, Artists in Their Studios spans the sumptuously furnished salons of the late-19th century to the austere work rooms of the present day. The exhibition explores how studio spaces reflect – or in some cases belie – the personalities and aesthetic sensibilities of the artists who inhabit them. Alongside Artists in Their Studios, the Museum will curate an intimate installation of photographs showing Rockwell's studios throughout the artist's life.

"It is especially fitting that we present Artists in Their Studios this year as we celebrate our 40th anniversary and the seasonal reopening of Norman Rockwell's own studio on the grounds of the museum," said Laurie Norton Moffatt, Director/CEO of Norman Rockwell Museum. "The reopening will unveil A Day in the Life: Norman Rockwell's Stockbridge Studio, an installation that recreates Rockwell's studio in a particular moment and gives Museum visitors a glimpse into the intimate space where Rockwell welcomed people from around the world and produced many of his masterpieces."

Exhibition highlights of Artists in Their Studios include an 1884 photograph of John Singer Sargent with his notorious portrait of Madame X in the background as he works on the more salable The Breakfast Table in his Paris studio. (The deathly pallor and provocative dress of the model in Madame X shocked Parisian society in 1884 when it was exhibited, and Sargent only sold the painting in 1916, when it was acquired by the Metropolitan Museum of Art.) N.C. Wyeth is shown in his Denver studio, palette on arm, as a cowboy model sits astride a saddle and holds his hat as if riding a bronco. The Wyeth painting Rounding-up, Little Rattlesnake Creek rests on the artist's easel.

A 1964 photograph shows Andy Warhol at his original Factory in New York City. The artist, who famously oversaw assistant-produced works of art, stands in a deadpan pose while assistants cavort in front of a field of the artist's silk-screened Flowers. The studio of Alexander Calder – the artist who invented the mobile – is cluttered and overrun with works in development, befitting the workspace of the former engineering student, but in sharp contrast to his spare and elegant sculpture.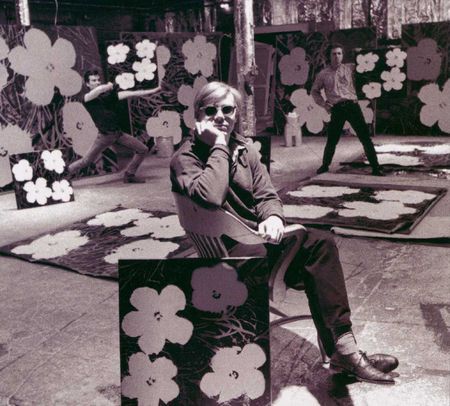 Andy Warhol at the Factory, East 47th Street, New York City (detail). Photo by Ugo Mulas. Miscellaneous Photograph Collection, Archives of American Art, Smithsonian Institution