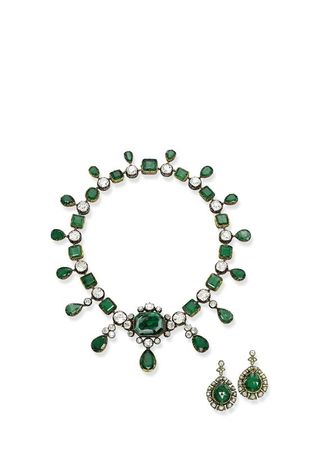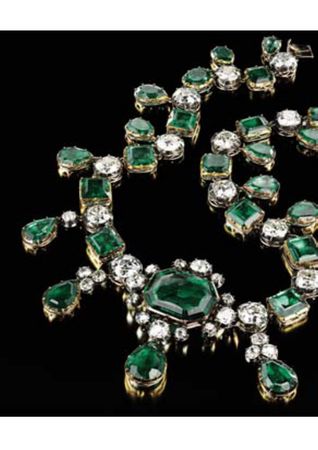 A Magnificent Suite of Antique Emerald and Diamond Jewellery
Comprising a necklace designed as a graduated line of rectangular-cut emeralds alternating with old-cut diamonds, each set in raised collets, suspending a pear-shaped emerald fringe, to the detachable centre set with an octagonal-shaped domed cabochon emerald with an old-cut diamond surround and emerald drop, and a pair of ear pendants en suite set with a briolette emerald within a diamond border, mounted in silver and gold, circa 1830, 33.0 cm long, ear pendants 3.5 cm long
Accompanied by reports no. 49181 and 49181 dated 14 November 2000 from the SSEF Swiss Gemmological Institute stating that all emeralds are of Colombian origin, with no indications of clarity modification (2)
Estimate : CHF1,800,000 - CHF3,000,000 ($1,517,347 - $2,528,912)
Formerly The Property Of The Family Of Marquis Of Lothian
The Lothian Emeralds

Every generation of the family of the Marquis of Lothian has believed that the majority of these emeralds were given by the Empress Catherine II to their ancestor, the Earl of Buckinghamshire, during his embassy to St. Petersburg 1762-1765. He was handsome, the Empress was particularly susceptible to good looking men, and with the vast wealth of the Russian empire at her disposal she was in a position to give valuable gifts to those whom she wished to attach to her person and throne. Gold boxes and jewellery were her usual rewards, and Lord Buckinghamshire was not the only English diplomat to be thus favoured: in 1770, for instance, the Empress presented Lord and Lady Cathcart with a magnificent diamond aigrette, estimated at twice the value of a similar ornament they had received from Louis XV of France. Whereas Lord Cathcart immediately sold the Empress's aigrette on returning to London, the Earl of Buckinghamshire apparently kept her emeralds for his heirs, and a necklace of this description is listed in the inventories drawn up after the deaths of his widow, and of their daughter, Amelia. Since Amelia's husband, Viscount Castlereagh (future Marquis of Londonderry), was Foreign Secretary she lived very much in the public eye and must therefore have worn the emeralds to great occasions in British and continental court life. As the man who, by promoting the career of the Duke of Wellington, had contributed greatly to the downfall of Napoleon, Viscount Castlereagh also received valuable gifts of diamonds as tokens of gratitude from the monarchs of Europe, and which he added to the collection of his wife. He also spent his own money on jewels for her including an emerald and diamond ornament acquired during the Congress of Vienna. Childless, all Amelia's emeralds and diamonds then passed to her sister's son, the Marquis of Lothian who had them reset in this superb suite, perhaps for the coronation of William IV in 1831, probably by the court jewellers, Rundell, Bridge and Rundell. The suite is in the grand court style created for the women of the Bonaparte family during the first Empire, designed as a harmonious arrangement of the deep velvety green emeralds contrasting with the brilliant white diamonds of different shapes and sizes. Its grandeur and beauty reflects the wealth and power of the British aristocracy in the most splendid period of national history in the years following the defeat of Napoleon. Such necklaces were designed for the low cut dresses displayed at important formal events in the Napoleonic period and then throughout the next two hundred years. At coronations, state visits, court balls and the opening of Parliament, this particular necklace, associated with the Empress Catherine, has always been a talking point. As so many jewels have been broken up and sold, the Lothian necklace is one of the few jewels with a historic provenance to survive intact to the present day. It therefore compares with the Empress Maria Theresa's bracelet in the collection of the Duke of Buccleuch, and the Marchioness of Londonderry's amethyst chain from the Emperor Alexander of Russia. Diana Scarisbrick
Provenance:
John Hobart, 2nd Earl of Buckinghamshire (1723-1793)
By family tradition, the emeralds were a gift to the 2nd Earl during his Embassy to the Court of St Petersburg from Catherine the Great, Empress of Russia.
Caroline, Lady Buckinghamshire (d. 1817)
Listed amongst her collection after her death were 'a necklace of emeralds mounted in gold and another of unidentified green stones'.
Amelia Anne, 'Emily', Viscountess Castlereagh, later Marchioness of Londonderry (1762-1829).
Their daughter was married to Robert Stewart, Viscount Castlereagh, later 2nd Marquis of Londonderry, the Foreign Secretary; upon her death, the Crown Jewellers, Rundell, Bridge and Rundell, listed amongst her effects 'an emerald and diamond necklace with drops'.
John Kerr, 7th Marquis of Lothian (1794-1841).
As Emily died without issue, the emeralds passed to her nephew, the 7th Marquis of Lothian. Lothian remounted the emeralds in 1832 into the present necklace which has remained unaltered since. The necklace has passed through subsequent generations of the Lothian family, including the 12th Marquis, whose wife wore the emeralds at the coronation of Queen Elizabeth II on 2 June 1953.
Notes: The long-held family tradition, that the emeralds from the necklace were presented to the 2nd Earl of Buckinghamshire by Catherine the Great, is an intriguing aside to an already prestigious provenance. Although there is no verifying literature regarding the Russian history, the emeralds remain an intrinsic part of a jewel that has decorated the necks of generations of the aristocracy.
Christie's. Jewels : The Geneva Sale. 20 November 2008. Geneva. Image Christie's Ltd 2008. www.christies.com