International fine art auctioneers Bonhams are delighted to announce that on 4 December 2008 it will sell an impressive collection of jewellery, formerly owned by the late Hollywood screen icon Deborah Kerr. The sale will take place at 101 New Bond Street, London.


Deborah Kerr (1921-2007) starred in over 50 films over four decades. Some of her best-loved movies include From Here to Eternity (1953) with Burt Lancaster, The King and I (1956) with Yul Brynner and An Affair to Remember (1957) with Cary Grant. She was also a leading lady to Robert Mitchum, Clark Gable, James Mason, Stewart Granger, David Niven and Spencer Tracy.

Lots 21 to 25 in Bonhams' Fine Jewellery Sale include beautiful items owned and worn by the much-loved British actress Deborah Kerr when she was at the height of her fame during the 1940s and 1950s, including her diamond three-stone engagement ring from her first marriage to Squadron Leader Anthony Charles Bartley. Dating from circa 1945, the year they married, Lot 21 is comprised of three brilliant-cut diamonds of yellow tint, weighing 2.32, 2.98 and 2.17 carats respectively. It is expected to fetch £20,000-25,000.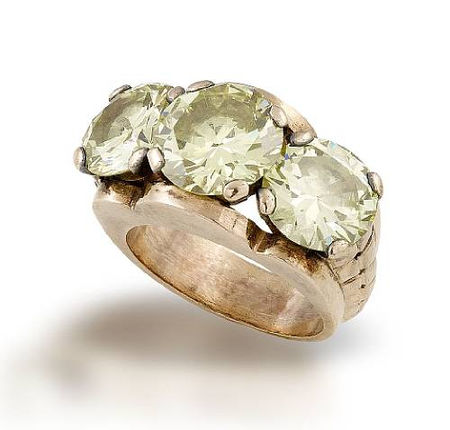 A diamond three-stone ring, circa 1945
Lot 22 is a mid 19th century gold and turquoise long snake-like chain, which Deborah Kerr often used to wear around her wrist, is estimated at £2,000-2,500. The entire piece is highly articulated and set with collet mounted cabochon turquoise. It also has a detachable tied ribbon-bow pendant/brooch with a swing drop.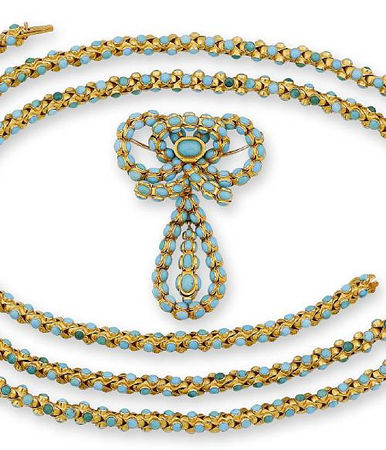 An mid 19th century gold and turquoise demi-parure, circa 1840
Lot 23 is a stunning 20th century collar necklace composed of a row of oval-cut amethysts, which graduate slightly in size from the centre towards a hexagonal-shaped amethyst clasp. Suspended from this row is a fringe of seven similarly-set amethyst drops spaced by filigree floral motifs. The whole fringe is embellished with spherical bead drops. Its estimate is £1,500-2,000.
A 20th century amethyst necklace
Lot 24 features a 19th century diamond-set ring at £800-1,200 and Lot 25 is a circa 1945 cultured pearl, emerald and diamond bracelet, which is expected to fetch £4,000-6,000.
A 19th century diamond-set ring
The collection, which Bonhams will sell on behalf of Deborah Kerr's family, has been sitting in a bank vault in recent years.

Of Scottish descent and educated in Bristol, Deborah Kerr originally trained as a ballet dancer, which she gave up in favour of drama. Early in her career she acted in British theatre and read children's stories for the BBC before performing in several distinguished wartime films. After the Second World War, she was signed by MGM and went to Hollywood. Louis B Mayer, of MGM, is reputed to have pronounced "Kerr rhymes with Star!", not least to avoid incorrect pronunciation of her surname.

Her refined British accent and manners appealed to Hollywood audiences and she was often typecast as the quintessential "proper" English lady. All this was to change in her performance in From Here to Eternity where her character famously embraced Burt Lancaster on a Hawaiian beach as the tide crashed over them. The film earned her a second Oscar nomination and subsequently the American Film Institute named it one of the "AFIs top 100 Most Romantic Films".

Deborah Kerr was nominated six times for an Academy Award and four times for a BAFTA, but never won. However, in 1994, she received an Honorary Academy Award in recognition of her career as an "artist of impeccable grace and beauty, a dedicated actress whose motion picture career has always stood for perfection, discipline and elegance." She received her Oscar to a standing ovation.

The actress retired from Hollywood in 1969 and subsequently received a BAFTA special award in 1991. She was also awarded a CBE (Commander of the British Empire) in the 1997/8 New Years Honours List.

Kerr married twice, first to Anthony Charles Bartley, a squadron leader in the Royal Air Force, in 1946, and secondly to the novelist-screenwriter Peter Viertel in 1960, to whom she remained married until her death. In frail health caused by Parkinson's disease, she died on 16 October 2007. Peter Viertel died three weeks later on 4 November 2007.

The jewellery will go on public view at Bonhams, 101 New Bond Street, London from Sunday 30 November to Wednesday 3 December inclusive. For further details please go to www.bonhams.com/jewellery .