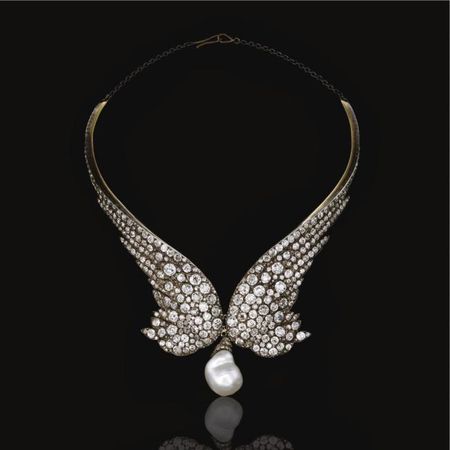 Countess Orloff Davidoff Diamond necklace, 1860s
Designed as a pair of wings, set with circular- and rose-cut diamonds, suspending at the front a later baroque cultured pearl drop, fitted case by Gianmaria Buccellati.
LITERATURE AND REFERENCES: 'Countess Orloff Davidoff is the only daughter of Baron de Staal, late Russian ambassador to England. Her wedding, which took place four or five years ago from the Russian Embassy in Chesham Place, was a very brilliant function, and was attempted by the king- then Prince of Wales. In appearance the Countess is more than usually tall with a singularly graceful figure and carriage. As is perhaps natural from the circumstances of her girlhood as an ambassador's daughter, she is an accomplished linguist, and went about a great deal in English society accompanied by her popular parents. Her husband, Count Alexis Orloff Davidoff, will succeed to great riches upon the death of his father, who is a well-known Russian magnate.' Extract from The Bystander, October 26, 1904.
Provenance: Countess Orloff Davidoff and thence by family descent.
NOTE: By family tradition this necklace was previously part of a tiara made by Fabergé in the 1860s and later redesigned as a neckalce by Buccellati in the early 1990s
Sotheby's. Magnificent Jewels. 19 Nov 08. Geneva. Photo courtesy Sotheby's. www.sothebys.com