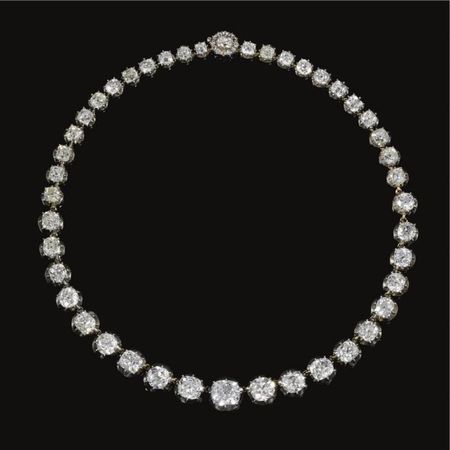 Mary, Duchess of Roxburghe's Important Diamond Rivière Necklace, mid 19th Century.
Designed as a graduated row of forty-three old mine and cushion-shaped diamonds mounted in collet settings, to a clasp of cluster design similarly set, mounted in silver and gold, twenty links detachable, hinged pendant bail to centre, each collet numbered. length approximately 465mm, Estimate 400,000—600,000 CHF - Unsold.
PROVENANCE: Property of Mary, Duchess of Roxburghe
Rivière (stream) is a term used to describe a necklace designed as a sucesssion of gemstones individually set in simple collet or claw mounts without other ornamentation and often used as a synonym for a diamond set neck ornament. It is likely that the simple structure of the rivière was used for necklaces prior to the 18th Century, but it was only in the second half of that century that rivières came to the forefront of jewellery design. These were formed of a line of gemstones of graduated size and mounted in closed collets. By the turn of the Century most rivières were set with gemstones mounted in open collets which remained the typical way of mounting until the end of the 19th Century. A distinguishing feature of late 19th Century rivières is the replacement of collets by claw settings.
Sotheby's. Magnificent Jewels. 19 Nov 08. Geneva. Photo courtesy Sotheby's. www.sothebys.com