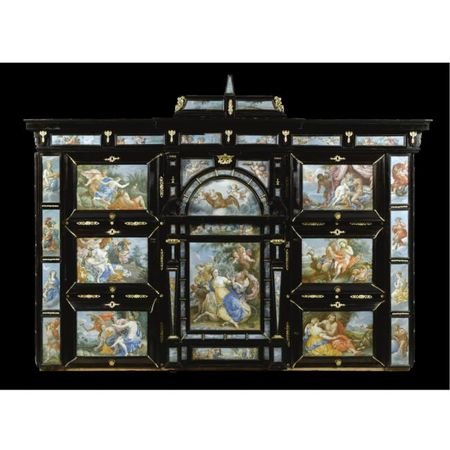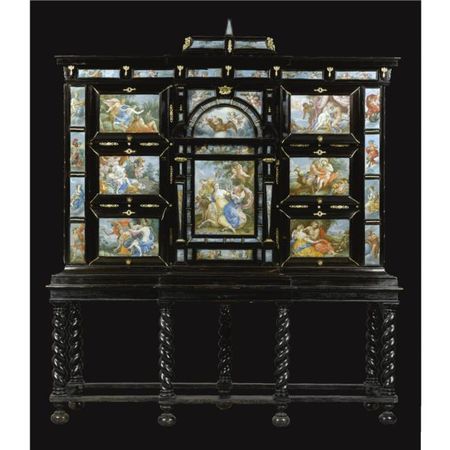 A magnificent and rare Italian gilt-bronze-mounted, ebony and ebonised cabinet on stand, the cabinet mounted with gouache panels on vellum heightened with gold, depicting scenes after Simon Vouet, Neapolitan, second half 17th century
the cresting above a panelled frieze interposed by seraphim above an architectural niche, the upper section concealing a drawer above a swan neck pediment and a drawer flanked by tapering Solomonic columns opening to reveal a fitted interior with nine short drawers centred by a recess with five mirrored arches flanked by faux mabre tapering pilasters with a stylised octagonal fountain on a chequerboard ivory and ebony floor flanked on either side by three drawers, the stiles with rectangular painted panels each side with a pair of raised painted panels with canted borders similarly painted, the whole painted with mythological and allegorical scenes in gouache on vellum behind glass panels, the breakfront stand on seven spirally turned legs joined by stretchers on flattened bun feet. the cabinet approx.: 143cm. high, 210cm. wide, 58.5cm. deep; 4ft. 8¼in., 6ft.10¾in., 1ft.1in. the stand: 99cm. high, 220cm. wide, 72cm. deep, 3ft. 3in.wide; 7ft. 2½in., 2ft. 4¼in. Estimate 300,000—500,000 GBP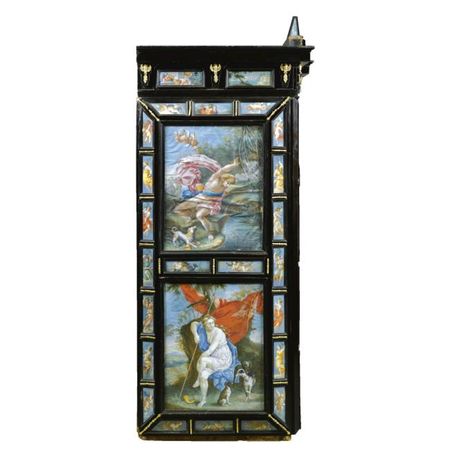 Comparative Literature:
L. Feduchi, Historia de los Estilos del Mueble Espagñol, figs. 296 & 297.
Alvar Gonzáles-Palacios, Il Tempio del Gusto, Milan, 1986, Vol II, , p. 223 & 231.
Jacques Thuillier, Vouet, Galeries nationales du Grand Palais, 6th November -11th February 1991, Paris, 1990, pp. 80, 134, 321.
Stephane Loire, ed. Simon Vouet, Paris, 1992, pp. 417-418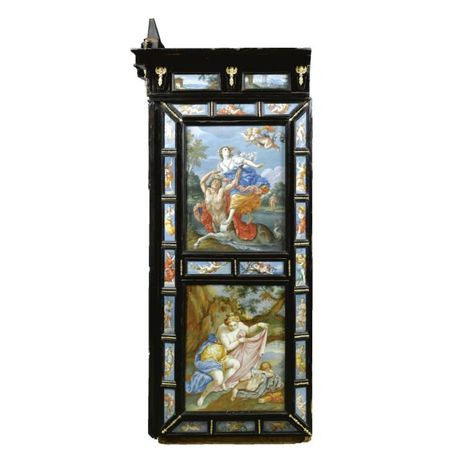 Notes: This magnificent cabinet in ebony with painted gouache on vellum panels represents the pinnacle of Neapolitan cabinet-making in the 17th century. These cabinets convey the taste for luxurious materials and the refined aestheticism of their anonymous patrons. The glass paintings on some of these cabinets have traditionally been attributed to pupils of Luca Giordano (1632-1705) and in certain rare instances the compositions correspond to known images by Giordano.
However, the rarity of this piece is due to the fact that on this cabinet the panels can be traced to engravings after Simon Vouet (1590-1649), from which the artist who painted the panels on this cabinet clearly took inspiration. See for example, Thuillier, op. cit., p. 80, fror an engraving by Michel Dorigny, after Simon Vouet, of La Toilette de Venus, c. 1651, upon which a scene on one of the drawers is based, reproduced here in fig. 1. Also see Thuillier, op. cit., p. 134, for another engraving by Michel Dorigny after Simon Vouet (1642), Mercury and the Three Graces, also depicted on a drawer front, reproduced here in fig. 2. Thuillier also illustrates, op. cit., p. 321, a painting by Vouet of the Abduction of Europa, reproduced here in fig. 3, upon which the scene on the central door is reproduced. It is also worthwhile comparing Loire, op. cit., pp. 417-418, for another engraving by Dorigny, after Vouet, of Pan and Syrinx, (Musée du Louvre, Paris,) found on another of the drawers.
Alvar Gonzáles-Palacios, op. cit., p. 223 & 231, discovered some time ago documentation which indicates that painted glass panels were already being used to decorate cabinets in the first half of the 17th century. It is recorded that Vittorio Billa charged 60 Ducats in 1635 for supplying glass panels which were painted for two ebony cabinets. Furthermore, it is known that at least by the 1670's, one Neapolitan workshop was specialsing in producing these pieces. Although there are a number of these cabinets in Spanish collections, they originate in Naples as there were very strong ties between Naples and Spain as the former was part of the Spanish Dominion Empire at this time. Similar pieces are listed and are described in the documents from the archives of the Prince of Avellino, the Duke of Calabritti and the Cardinal Carafa. A bill dated 22nd October 1679 records a payment to Giovanni Battista Tara for a pair of these cabinets,see A.G-P. ibid., pp. 222-224. A.G.-P., op. cit., illustrates a related Neapolitan cabinet, last quarter of the 17th century, in the Museo delle Arti Industriali, Palazzo Barberini, Rome, reproduced here in fig. 4.
In 1676, Sir Thomas Isham, one of the earliest Grand Tourists returned from Naples with a pair of cabinets mounted with paintings on glass which are still in the family seat at Lamport Hall, Northamptonshire.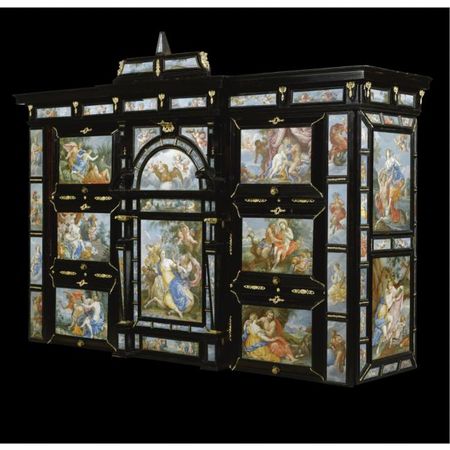 Cabinets recorded in Private Collections and sold at auction are as follows:
1. The set of four cabinets in the collection of Marquess de Campo-Franco, Palma de Mallorca, illustrated by Feduchi, op. cit., figs. 296 & 297-reproduced here in fig. 5.
2. A pair of cabinets sold in these Rooms, 18th May 1984, lot 54.
3. A pair of cabinets painted in the manner of Luca Giordano, with mythological and allegorical scenes, sold in these Rooms, 20th November 1990, lot 45.
4. A pair of cabinets sold in these Rooms, lot 67, 15th December 1999..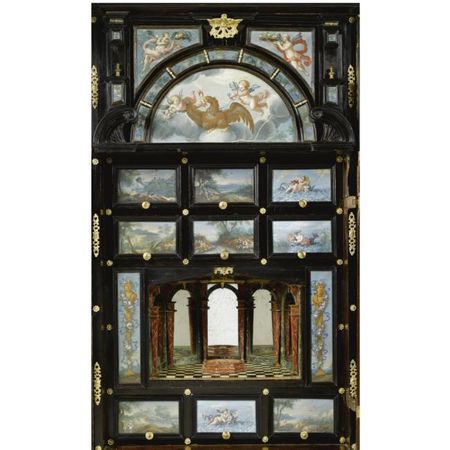 The history of this cabinet is fascinating as there exists in old Spanish the transcript of a letter addressed to the Inquisition in Navarra by Mr. Salvador Bertiz on May 18th 1804 from the archive's copy. It addresses the issue of the immorality of the scenes depicted onthe cabinet which are based on mythological and allegorical subjects:
`I own a house at El Carmen Street in Pamplona where there are some valuable old cabinets with inlaid paintings. These paintings are very beautiful indeed but a little indecorous. I have not managed to retouch them although I tried to find a restorer who could hide the indecency without ruining the whole painting which is beautiful. In these circumstances, I received a letter from Fr. Serapio Castejo, a Carmelita monk from the Tribunal of the Inquisition, (which I enclose), who aware of the content of these paintings, asks me to order you not to touch the cabinet or paintings in it. And please in case any decision is taken in regards to this don´t forget to inform me. I will, meantime make sure that the paintings are covered and not shown to anyone.'
Sotheby's. Important Continental Furniture, Ceramics and Clocks. 02 Dec 08. London - www.sotheby's.com