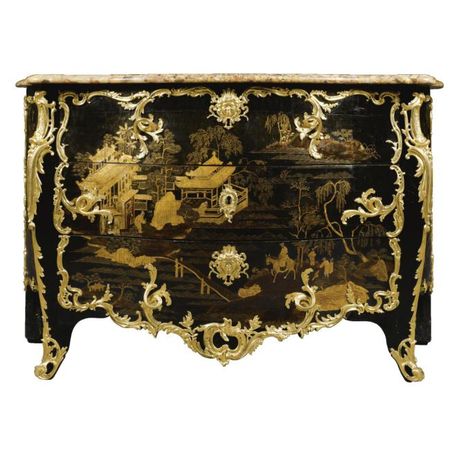 A very fine and rare gilt-bronze-mounted Chinese black and gilt lacquer commode stamped Delorme, early Louis XV, circa 1730
with a later moulded serpentine brèche d'alep marble top above three long drawers decorated with chinoiserie figures amongst pavilions and a river, the flared sides decorated with birds on branches with crysanthenums and rockwork, the front with gilt-bronze foliate and scrolled mounts with two ribbon-tied espangnolette female masks, the knees with c-scroll and foliate cast mounts terminating in gilt-bronze scrolled feet; mounts re-gilt - 90cm. high, 148cm. wide, 64cm. deep; 2ft.11½in., 4ft.10¼in., 1ft.9¼in. Estimate 200,000—300,000 GBP
PROVENANCE: Collection of Madame A.-L. Guérin, and illustrated in the Catalogue des Objets d'art et d'ameublement, par suite du décès de Madame A.-L. Guérin, Hotel Drouot, Paris: 23rd-25th June 1909, lot 32-reproduced here in figs.1 & 2.
Monsieur Ed Guérin
Private Collection, Paris, France
Private Collection, USA
Sotheby's, New York, 21st May 1988, lot 185.
It is worthwhile noting that the husband of Madame Guérin, was the closest friend and private curator to Monsieur Camondo, who formed the celebrated collection now housed in the Musée Nissim Camondo, Paris.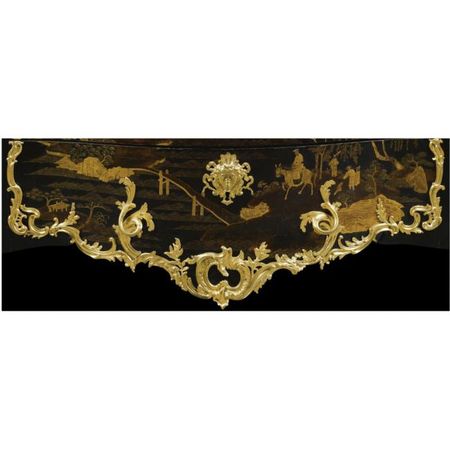 EXHIBITED: Exposition du Goût Chinois en Europe au XVIIIe Siècle, 1953, Union Centrale des Arts Décoratifs, 1910.
Les Meubles Signés, Musée des Arts Décoratifs, 1955.
T. Wolvesperges, Le Meuble Français en laque au XVIIIème siècle, Paris, 2000, p. 299, fig. 163.
LITERATURE AND REFERENCES: A. Pradère, French Furniture Makers, The art of the ébéniste from Louis XIV to the Revolution, Tours, 1989, p. 179, fig. 163.
Partridge Fine Arts Ltd, Summer Exhibition, 1989, pp. 108-109, no. 41, illustrated.
Partridge, Visions of the East, Autumn Exhibition, 5th November -10th December 1999, illustrated p. 30.
This commode is mentioned by comte de Salverte, `Les Ebénistes du XVIIIe Siècle, ', p. 90, who, while discussing Delorme mentions the commode in the possession of Ed Guérin.
NOTE.
Comparative Literature: Peggy Genestie, Les Faizelot Delorme ébénistes de père en fils, L'Estampille l'Objet d'art, No. 409, January 2006.
The deep apron of this impressive commode probably indicates that it is almost certainly an early production of Adrien Delorme. It is rare due to its design, as it is most unusual for such an early commode to incorporate three rather than the usual two drawers.
Delorme's father also specialised in the production of furniture veneered in Chinese lacquer. Furthermore, the apron mount and corner mounts can also be found on lacquered commodes produced by a maker with the stamp DF, whom Pradère op. cit., suggests might be Delorme's father François Fazelot-Delorme (1691-1768), as the inventory taken at the time of the latter's death in 1768, records a number of lacquered pieces and also carcasses waiting to have lacquer applied to them. It is not entirely fanciful to suggest that perhaps this rather early looking commode was made by the father and stamped at a later date on completion by his son. This is reinforced by the fact that D.F. and Delorme are known to have specialised in the application of lacquer as, for example, Bernard Vanrisamburgh supplied them both with carcasses which they either applied with lacquer or marquetry.
A two drawer commode stamped by Delorme in Chinese black and gilt lacquer with pagodas and chinoiseries figures was sold at Sotheby's, New York, 4th May 1985, lot 336.
Adrien Delorme received Master 1748, active until 1783.
He belonged to a family of Parisian ébénistes and like his father produced pieces in Chinese lacquer very rococo in style as can be seen in the commode in the Rijksmuseum in Amsterdam. Later on however, he specialised in marquetry pieces. Delorme's reputation as a craftsman in marquetry was such that he was mentioned in contemporary almanacs as `one of the most adept and renowned in the production of marquetry'. He moved to the rue du Temple where he was both an ébéniste and dealer. In 1768, he was elected ajudicator to his guild in the place of his deceased father. On his retirement in 1783, a public auction was held of his stock which comprised `a quantity of commodes, encoignures, serre-papiers and bureaux decorated with gilt-bronze mounts and tops of marble or alabaster' (Annonces, affiches et avis divers, 28th February and 29th April, 1783.)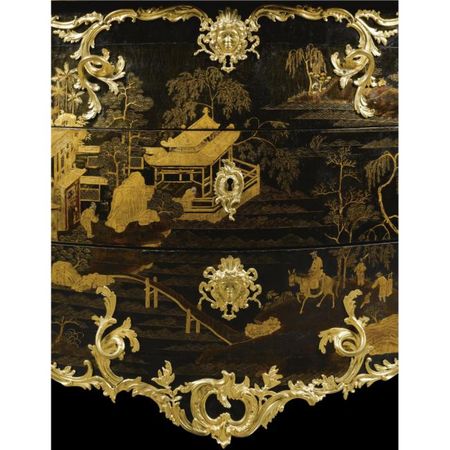 Sotheby's. Important Continental Furniture, Ceramics and Clocks. 02 Dec 08. London - www.sotheby's.com