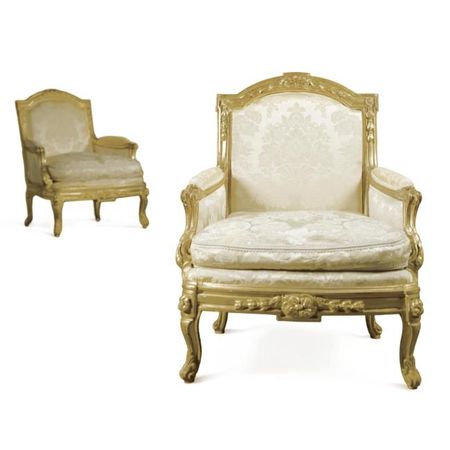 An important carved giltwood bergère stamped Tilliard, Louis XV/Louis XVI, circa 1765, together with a later identical bergère
with an arched padded back, the top-rail centred by a patera flanked by laurel leaves, the side-rails headed by a roundel above a trail of laurel leaves above padded downscrolled arms and bowed loose cushion seat, the seat-rail similarly carved to the top-rail on cabriole legs headed by a flowerhead terminating in scrolled feet, the frame carved with laurel leaves and foliate motifs; regilt. each 98cm. high, 78cm. wide, 70cm. deep; 38½in., 30¾in., 27½in. Estimate 150,000—200,000 GBP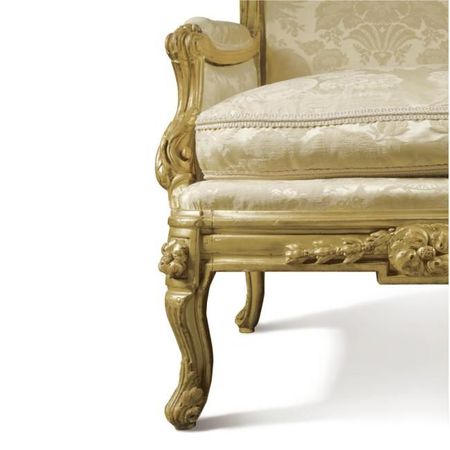 Provenance:
Princesse Marie-Louise de Bauffremont Courtenay, Château de Brienne, France (1874-1955), the granddaughter of Louise-Thérèse, Infanta of Spain
Prince Amaury de Mérode (1902-1980)
Thence by descent
A full genealogy is available from the department upon request.
NOTE:
Jacques-Jean-Baptiste Tilliard, received Master in 1752.
The applied rosettes and laurel garlands are typical of three ébénistes who were working for the Garde-Meuble de la Couronne around 1768-1772. This very sculptural bergère is closely related to four fauteuils stamped Tilliard, formerly in the collection of Karl Lagerfeld, sold Christie's Monaco, 29th April 2000, lot 311 (prior to that formerly in the Collection of Maurice Ségoura). The aforementioned fauteuils are identically carved with the exception of sculpted piastres on the frame.
Furthermore, this bergère is strikingly similar to a set of chairs by Nicolas Quinibert Foliot. The rosettes are close to those found upon a bèrgere ordered on the 27th July 1771 for the Comtesse de Provence at Versailles, the carving of which is probably by Toussaint Foliot. In addition, this bèrgere is close to other fauteuils ordered by the same furniture-maker but carved by Pierre Edme Babel in 1770, for the appartments of Madame du Barry for the Château de St. Hubert and illustrated in Le Mobilier de Versailles, Dijon, 2002, vol. I p.184, and vol. II, pp. 224-226 nos. 78-79. The same back construction is also to be found on a piece stamped by Lebas from the former Royal Garde-Meuble in the 19th century. (see Le mobilier de Versailles. Op cit. Vol. II, pp.232-234, no 82).
A bergère with identical feet and carved with garlands of flowers was sold at Hotel Drouot, 24th March 1993, lot 136.
Sotheby's. Important Continental Furniture, Ceramics and Clocks. 02 Dec 08. London - www.sotheby's.com